Supercars
From the archives: the V8-engined Ariel Atom 500 in Italy
So, you want the ultimate track-day car? You want an Ariel. Better yet, you want the special-edition, super-bonkers V8 Atom 500
That a miniscule West Country sports car manufacturer is riding out the recession is remarkable enough. That it has just built something on a performance par with the current rat pack of blue-chip supercars is nothing short of incredible.
When you say the three words 'Ariel' and 'Atom' and 'V8' to someone, the three words that come back at you are usually 'Jesus', 'Effing' and 'Christ'. And with good reason. Here is a car that weighs a smidgen over half-a-tonne, but that now puts out 500bhp. That's almost 1,000bhp per tonne, which is getting on for twice as much as a Bugatti Veyron. In terms of out-and-out performance, on any given surface in any given gear, this may well be the fastest road car on Planet Earth. And Top Gear has been let loose in it before anyone else outside of Ariel's factory.
Advertisement - Page continues below
This feature was first published in Issue 209 of Top Gear magazine (2010)
Images: Lee Brimble
So, you might well ask, is that, strictly speaking, a good idea? The Atom 500 is road-legal, but heavily oriented towards the race track, both in terms of gearing from its Sadev six-speed sequential gearbox and that insane power-to-weight ratio. Its super lightweight and compact V8, built using two Suzuki Hayabusa engines, revs to over 10,000rpm. At that point, helmet or no, the horizon is likely to be a blur, the sound in your ears a petrifying scream.
Advertisement - Page continues below
We've taken the Atom to Modena, home of the modern supercar, whereabouts the likes of Ferrari, Pagani, Lamborghini and Ducati peddle their wares. The sunburnt hills here are constantly alive with mid-engine madness, cars being shaken down before delivery to expectant punters the world over, and top-secret prototypes being put through their blistering paces. If there is anywhere on earth where a road-going V8 Atom belongs (and we're not sure there is), this is probably it. 
At an ungodly hour, in a dusty lay-by up a winding road, the Atom is slowly lowered from the back of Ariel's bright red transporter. The first thing to appear is a front wing, an F1 style, all-carbon affair that is so low to the ground it threatens not to clear the stony surface it's heading for. Next is the familiar Atom nose, and then a first glimpse of that unique tubular steel, finished this time in a burnished gold. These are complemented by gold five-spoke alloys, separated by enormous ducts for the intercoolers, sat low and wide on both flanks. A huge rear wing finishes what is still a remarkably compact creature, glinting gently in the weak morning sun.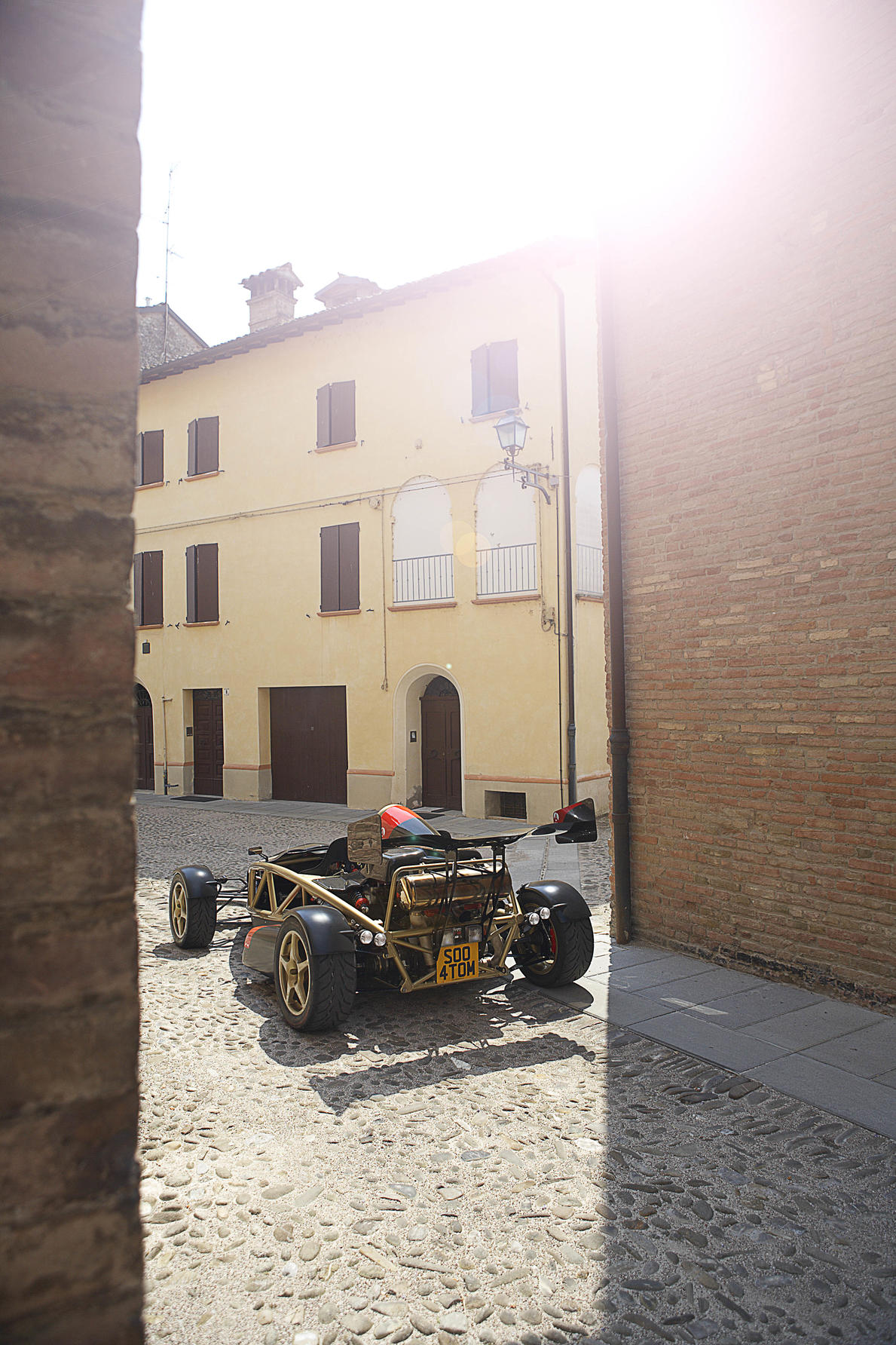 The cockpit is still Ariel's less-than-no-frills affair, but the demands of power and race readiness have ushered in a dizzying array of switches and buttons behind the Alcantara- trimmed steering wheel. The 500 has small and beautifully crafted carbon paddles on either side of the wheel, and beyond them toggles for things like traction control, launch control and even wet and dry settings. The digital display scrolls through a myriad of on-board information, but keeps the vital bits – gear indicator and arcing graph of a rev-counter – to the fore.
Strapped in, hands soft on the wheel, fingers feeling for the paddles, quickening breath steaming up the visor, someone reaches forward, flicks a toggle marked 'ignition' and plunges the black, rubberised starter button. A few seconds of churning turnover and wallop, the US-built Hartley V8, this maniacal mating of superbikes, punches into life. Even at idle, the sound is replete with menace. Unencumbered by the luxury of soundproofing, driver and drivetrain are terribly, brilliantly intimate in any Atom, but a 500bhp V8 bubbling and spitting in this sort of proximity is like nothing this side of single-seat racing.
With a gaseous slap, first gear engages, and as the clutch comes up, with barely a tenth of the available rpm in effect, the Atom surges forwards. The best way not to stall and endure hearty humiliation here is to keep the courage and revs up in equal measure, so with a firm prod of right foot I leave the gravel lay-by and turn hard and fast onto tarmac.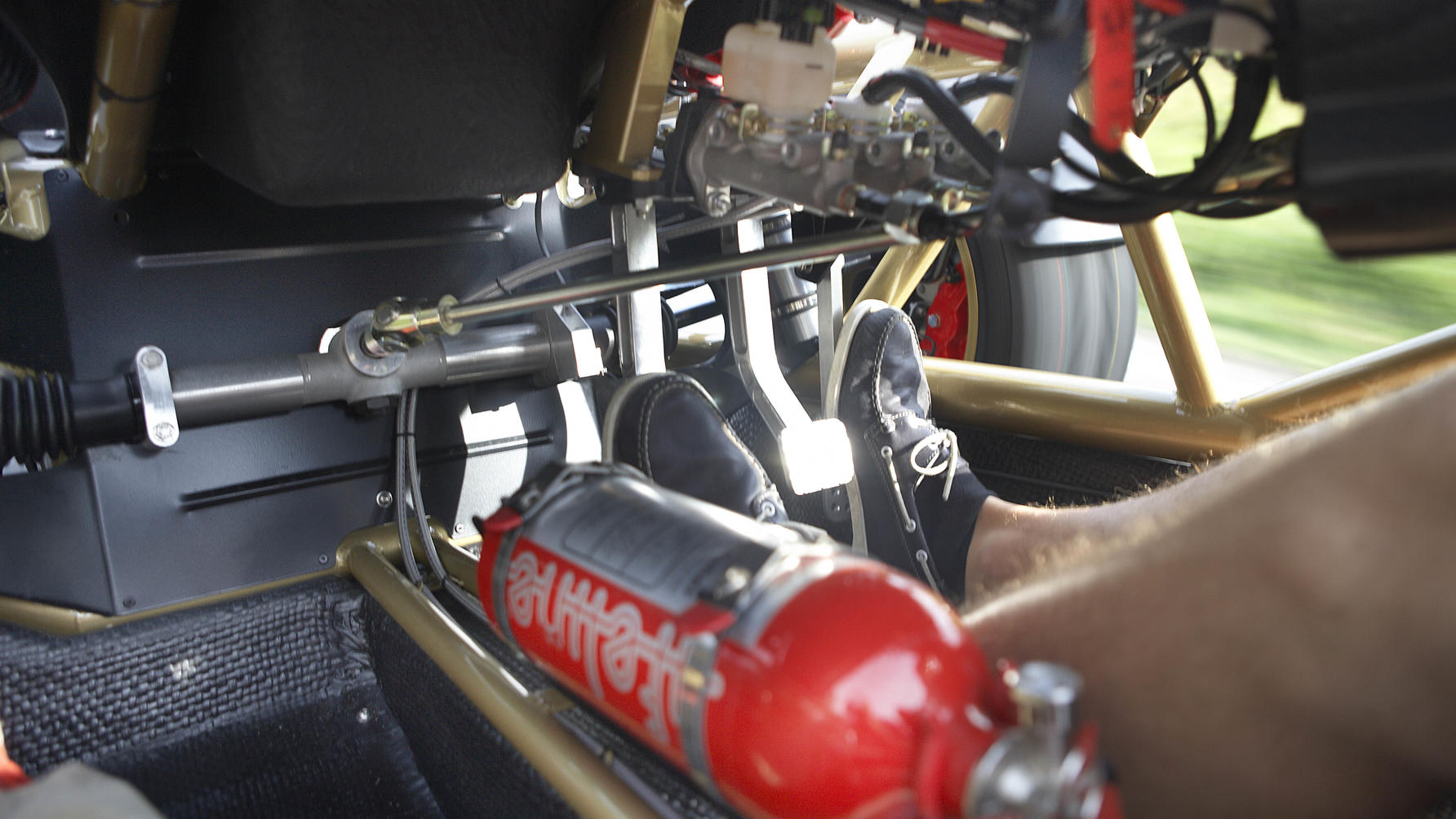 It's difficult to step straight from any normal road car into an Atom. When the last thing you drove was a leggy Italian rental, the differences are so extreme as to be comical. The tiniest of input, be it steering, throttle or brake, has profound and dramatic effect. The Atom 500 responds with staggering immediacy, like it's just told you what you wanted to do, ahead of time, quicker than your own nervous system. And what you wanted to do, apparently, was go fast. Very, very fast.
The sequential gearbox is as rapid as anything on the road today, clutchless, shifting up and down the gears with a seamless, addictive smack that affords you vital time to concentrate on the road ahead. Road which, you can be pretty sure, you are eating up at an unprecedented rate. The 0–60mph time is estimated to be 2.5secs, with a top speed of 168mph. Which is nothing compared to what the torque of a V8 offers you in the gears.
As astonishing as this Atom's instantly available speed, however, is the ease with which said speed can be accessed. The boys from Ariel were keen to stress that the 500 was incredibly tractable, easier to drive, in fact, than the less linear supercharged car that sits (far) below it in the range. This sounds like the sort of nonsense you hear a lot, both from highly talented drivers and people with an understandable degree of bias towards their products. But this car, with its 1,000bhp per tonne, racing gearbox and Sex for Breakfast approach to creature comfort, was honestly easier to drive smoothly than the Alfa Romeo MiTo we hired at the airport. (And it had a very similar turning circle.) Hard to believe. Even harder from the driver's seat, but there it is. Bonkers-fast but utterly approachable, this car is astonishing – that much is clear after less than 10 minutes' driving.
Top Gear
Newsletter
Thank you for subscribing to our newsletter. Look out for your regular round-up of news, reviews and offers in your inbox.
Get all the latest news, reviews and exclusives, direct to your inbox.
Astonishing never comes cheap however, and the news that might take a few feverish Ariel addicts aback is that the 500 is likely to cost around £140,000 depending on your exact specification. And there will only ever be 25 of them. And at the time of writing, 21 have already been sold. So even if you are suitably rich and suitably bonkers, you'll also need to be quick. 
As the tight bends and sharp cambers of the hills ease off and we drop south towards our first stop at Maranello, it becomes possible to stretch the 500's legs a bit. And what legs. Think Usain Bolt at full chat, huge, lunging, powerful strides. 
The linear power delivery made possible by normal aspiration means you don't get that peaky turbo shove in the back, but instead the sense that you've just been rear ended by a bullet train. One that has no intention of stopping.
There's barely time to check your mirrors for an overtake, so fast have you hauled in the car ahead. Drop a gear, prod in the power and the scenery liquefies, screwing past you in a sickening blur. The revs build to the 10k redline and the scream in your ears and the loss of focus and the fear, the very real, visceral fear in your stomach, in your groin, in the pounding of your heart, makes you sure beyond the faintest trace of a doubt that this is the quickest thing in the world today with four wheels and a tax disc. 
The 500 is mega fast, then, but it's also mega money. And it's light years from the leather-clad, air-conditioned exotica that populate these parts. What will Ferrari make of it? We gave head office a call and asked if they'd be interested in providing an official spokesperson to have a look at the Atom. They said no, they did not make comments about other people's products. What earthly interest was it for them? So we went there anyway. And it turns out the interest was plenty. Young, old, men, women, mechanics, suits, consultants, cooks and cleaners, the 500 was swamped in the heart of Maranello village. After all, it's not a thorn in Ferrari's side this, but a kindred spirit, and the crowds it drew were testament to that. Everybody there loved the Atom 500, from the excited child who just saw big wings and bucket seats, to the experts in greasy red boiler suits who poured over the engineering details of the Hartley V8 and the beautifully finished exhaust system.
This is just the sort of thing we wanted for the atom, unabashed enthusiasm for something a bit mental and quintessentially British.
With a big, unofficial, thumbs-up here, next stop Pagani. (Lamborghini goes on holiday for the entire of August – sensible – and Ducati was too busy eating pasta.)
It's only a half-hour drive from the immense pomp of the Maranello village to Pagani's humble industrial estate, a wiggle through road works and single carriageway where the Atom remains frustrated but amenable. We attract the inevitable attention of the Carabinieri, doing a proper good cop/bad cop with a strong emphasis on the bad. A spot of 'no hablo' fans the flames, but once the incredulity regarding the Atom's road-legal status has subsided, we are on our way with a cheery smile and a click of jackboot heel. Everyone, it seems, loves the 500.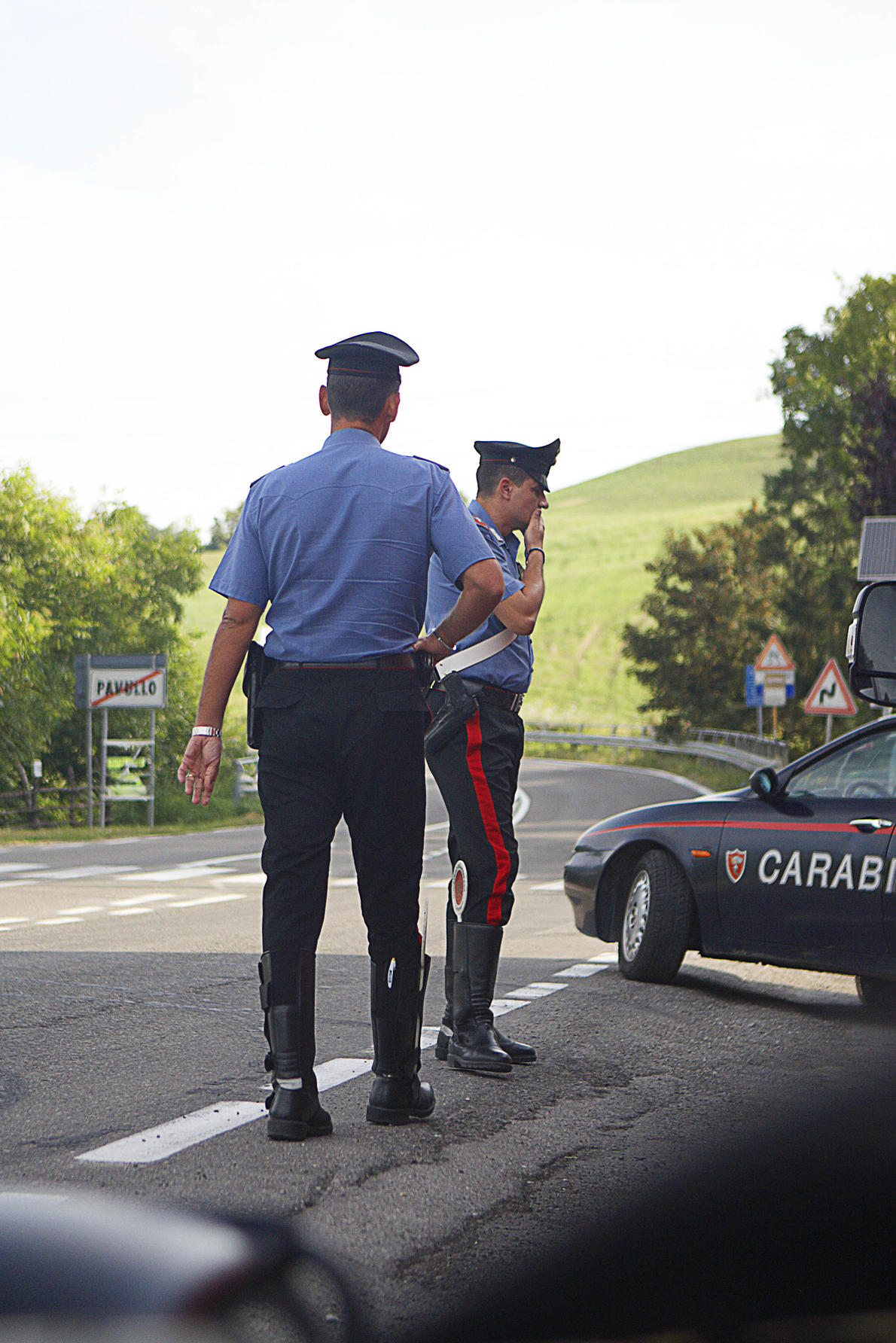 And the goodwill hits its peak at Pagani, where the electric gates trundle back on our arrival and the Atom is instantly overrun by the firm's tiny team of madly enthusiastic mechanics. They pore and poke and smile and ask endless pertinent questions, simply delighted that such a thing exists. A few yards away, up a paved pathway, one of five Pagani Cinque Roadsters ever to be made is being fettled, and there is a faint sense of pride amongst us that the folk capable of creating that million-pound hypercar are full of such genuine admiration for something so comparatively modest. Pagani's chief test driver asks for a ride – what greater endorsement could you ask for? – and we return him several minutes later, a couple of shades whiter and grinning from ear to ear.
When the Pagani crew head back to the workshop, we are taken inside and offered a drink. In the corner of the foyer, a widescreen TV is relaying some onboard footage that catches my attention. This is the moment in July of this year when a Zonda R achieved the lap record at the Nordschleife for a production road car. The time was 6.47 minutes, which took 11 seconds out of Ferrari's own record in the process, one that was achieved with the 599XX, a car that isn't road-legal anyway. All of which says a lot about small seeds and mighty oaks, and makes me think about just where Ariel might be in a few years' time if Pagani can achieve all this in less than 20.
Geared to a top speed shy of 170mph, the Atom 500 is not going to trouble the top spot at the Nordschleife any time soon, but with a few tweaks and adjustments, it'd be a brave man who'd bet against it in the future. And a braver man still who's prepared to get out there and give it a go.