Hot Hatch
From the archives: Volkswagen Golf R32 vs Audi S3 vs BMW 130i
A throwback to a 2007 hot hatch shoot out, featuring some extremely wet Stig laps
We're reaching crisis point in Hatchbacksville. These cars are fundamentally basic bits of kit, designed to sell in their dull, diesel droves to an unquestioning demographic of A to B motorists who fill them with sweet wrappers and baby sick. Only a small percentage of these worthy little runabouts get given any sort of performance treatment. And then it's a matter of technology surmounting physics and corporate budgeting to produce and market something deserving of, and capable of, garnering a sporting reputation. The upshot is usually a front-wheel drive family car with a bodykit, boot spoiler and implausible amounts of power being spun away at every T-junction. A tiny minority think you're the bees knees, while the majority think you're an estate agent. 
The inevitable evolution of this engineering/marketing stalemate is to utilise four-wheel drive. If you want more power, and with it more performance kudos, that's the only way you're going to get it on the floor and keep it there. Hence the fact that Audi's new S3, with a 2.0-litre turbo engine somehow eking out a full 261bhp, comes with four-wheel drive as standard. As does the 247bhp Volkswagen Golf R32. The other solution, favoured by BMW for its 261bhp 130i, is rear-wheel drive. A handling purists' dream, or so BMW would have you believe. But can any of it really convince a proper driver, and thereby justify hefty premiums for the punters? Risky as it is, we've decided to unlock the Stig for an answer. Oh, and because of all that traction, it needs to be really bloody wet. So we arranged that too. 
Advertisement - Page continues below
The Top Gear track is where things kick off, rain breaking in horizontal waves over the windscreens of the three cars. With visibility down to a matter of metres we don't see the Stig until he's upon us, resplendent in fire-retardant white, the water evaporating in a halo of steam off his superheated form.
Images: Mark Bramley
This feature was first published in Issue 162 of Top Gear magazine (2007)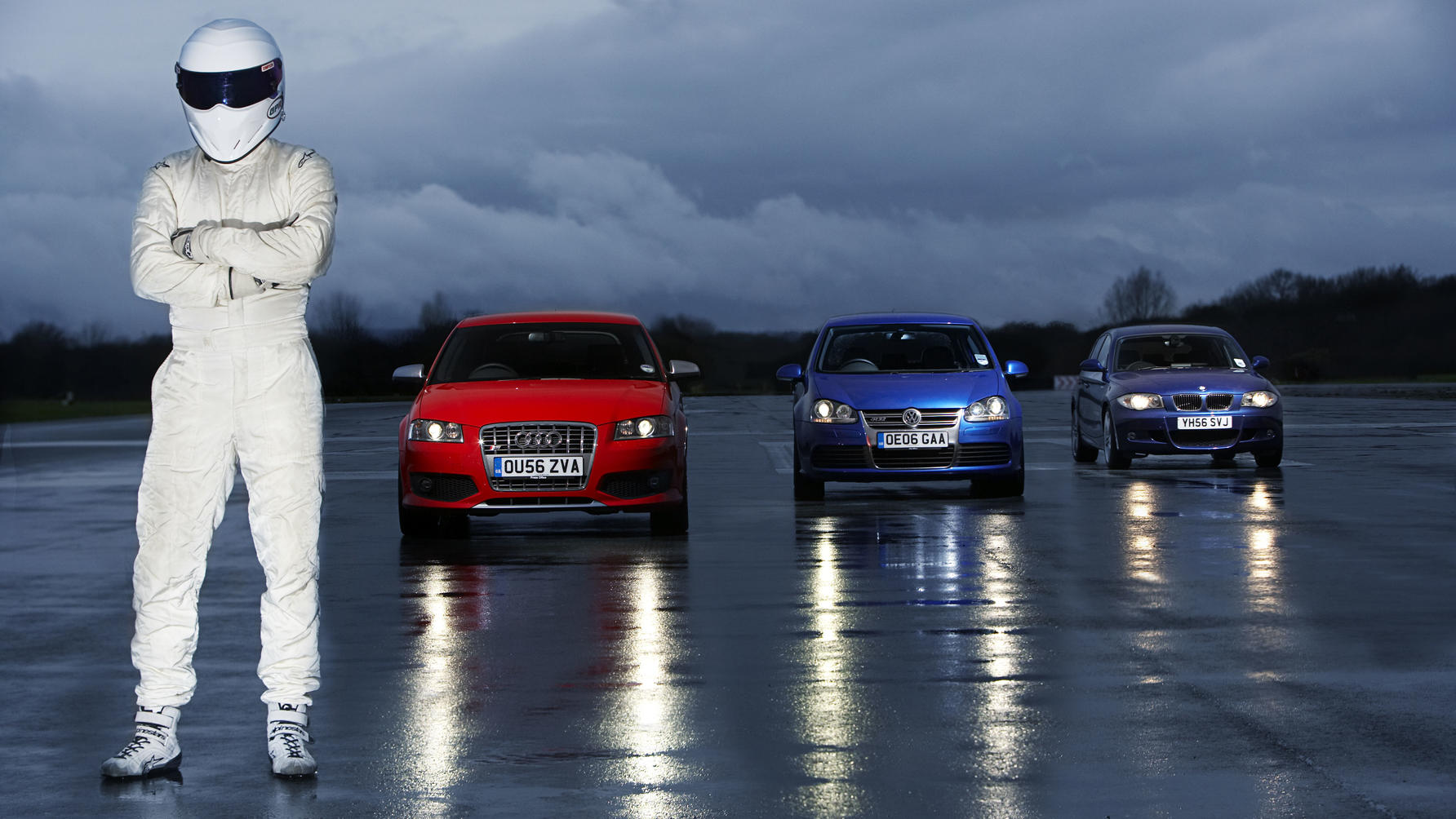 The first car he heads for is the S3. Maybe because it's the one he's never driven. Or maybe just because, in bright red, it's the only one he can see in Guildford's first monsoon. 
Advertisement - Page continues below
The car seems to start broadside. We've barely realised it's in gear before he disappears sideways. The exhaust note reaches a pained roar somewhere before the first hairpin and then silence. Blinking against the wind, with hands thrust deep in pockets and cold ears cocked in expectation, I'm counting under my breath. It can't be a minute later before there's another bark from the S3's twin pipes and a flash of red under massive braking. Searing out of the gloom with headlights blazing, the Audi slides round the final corner. Everybody takes a reflex step backwards as a monumental four-wheel drift threatens to halve the Top Gear editorial headcount in just the sort of incident Auntie's Health and Safety are a bit touchy about at the moment. But at the last gasp the S3 is gathered up and dives across the line.
The Golf is next, and gets a similar neck-wringing. The V6 howls up the road and the last thing we see is a vigorous and defiantly late explosion of brake lights. A couple of times the rhythmic thrumming of rain on the Audi's steaming bonnet is broken by a burst of distant throttle, but no one utters a word. Pre-empting the inevitable, we take another synchronised step backwards as the first glimmer of VW's trade- mark 'R' blue hammers down the back straight. As the car leans into the final corner it, too, is punched horribly sideways. But this time on-board intervention kills the power, and the Golf passes with a burp of re-applied throttle.
The Stig strides with alarming conviction for the BMW. We all take another step back for good measure and cast a sympathetic glance at the disadvantaged rear-wheel drive alternative. There's a momentary pause while a Nomex finger stabs at any button relating to safety, followed by another wail of six-cylinder revs as the clutch is brutally side-stepped. The rear tyres displace enough standing water to light up on dry tarmac before catapulting the car out of sight. The thought that that very same rubber has to get us to Wales and back amidst a forecast that would get Noah into his oilskins fills me with dread. But not as much as the moment, a minute later, when the right rear drops onto the grass beside us, carving a deep furrow through the turf directly in line with our cowering cluster. A six foot divot pirouettes over our heads as the car fishtails wildly back on to the track, completing the lap on a generous armful of lock.
The thing about hatches, and hot hatches in particular, is that the best of them are getting so good that they're threatening to render most other cars obsolete. Our editor swore by his GTI Lifer, and our publisher went and bought a Focus ST. Compact outside yet spacious within, overwhelmingly practical, and now with unprecedented levels of poke, you do start to wonder exactly when you'll need anything else.
On the long, wet shlep to Wales, all these cars prove to be highly capable cruisers. Lots of torque and reasonable economy make for a lazy and largely uninterrupted passage. The BMW comes in for a bit of stick for its bobbly ride, an edginess that demands that bit more steering input than either the Audi or VW asks for, but ultimately there isn't an uncomfortable car here.
So we've thrashed these cars on a circuit, and stretched their legs on the long haul. And none of them has been found wanting. What's left to do, and what Wales offers in abundance, is the quick, tricky, and, crucially, empty A and B roads. The other thing about hot hatches, something that any supercar driver will only admit through gritted teeth, is that they can be quicker point-to-point than anything else out there. If your route takes in narrow, twisting back roads and tongue-biting hairpins alongside anything remotely urban, and unless you were Satan's getaway driver in a previous life, the blown 2.0-litre is likely to leave a mid-mounted V12 for dead.
Top Gear
Newsletter
Thank you for subscribing to our newsletter. Look out for your regular round-up of news, reviews and offers in your inbox.
Get all the latest news, reviews and exclusives, direct to your inbox.
Early morning near Aberystwyth amid what turns out to be a record rainfall for a 24 hour period, these cars, and their drivers, are going to have their mettle tested. The first few miles are uncomfortable for all as we get used to the tightening bends, sudden camber changes and plunging hillsides. There's enough standing water in places to induce a fatal aquaplane and progress is steady at best. Hopping rapidly from car to car, their qualities and flaws are brought into sharp relief in a place like this. The BMW continues to feel considerably less settled than the others, and it's not all down to an absence of four-wheel drive. Standard runflat tyres severely compromise the ride, and a feeling, perhaps just in our heads, that this car is somehow taller, makes it feel a lot less planted as you pitch it in. The Golf brings considerably more weight with it than either of the others, and this translates into a comforting perception of solidity. The downside is a shortfall in immediacy and tactility in the steering. It still feels controllable and relatively agile, but there's a heaviness to the nose of the R32 that you'd never feel in the GTI. And it isn't there in the S3 either. Sharing the same 2.0-litre turbo powerplant as the GTI, but tweaking a full 64bhp more out of it, the S3 combines both lightness and power to such effect that its superiority here is immediately apparent.
That by no means makes it the outright winner though. If you had to get across country in the shortest time possible with the least likelihood of sudden and unpleasant death, the S3 is definitely your car. But it looks fairly bland, returns just 25.7mpg and costs a wholly unreasonable £26,995 before toys. Which you need in abundance in the flagship A3. In stark contrast the R32 looks superb (threatening to veer into Chessex cruiser territory though it may be), returns 26.4mpg despite those extra cylinders and costs a far more tempting £24,740. And for that you get all the aural as well as visual drama that's so lacking from the S3. From inside or out, it's impossible to overstate just how theatrical and emotive the R32 both looks and sounds.
Which leaves the BMW, a car with even less visual garnish than the S3. No 'M' badge here; instead just beefier body-coloured skirts and 18-inch double spoke alloys. There's the odd hint of 'M' detailing in an otherwise very conservative interior, but ultimately this is a hugely straight play. And maybe that will appeal to some buyers. But BMW buyers? BMW buyers who are prepared to shell out £26,540 on a car most people couldn't distinguish from the 116i M Sport costing almost £7,000 less? The 130i's superb straight-six does return 30.7 mpg, but whether that's enough of a difference to persuade a performance-oriented buyer out of a better handling and quicker car is doubtful. Perhaps in the dry, with more confidence to explore the BMW's limits, it might convince us, but in the maelstrom of a drenched mountain switchback we're all for the speed and safety of four-wheel drive.
The Stig's laps went like this by the way: BMW: 1.36.9, VW: 1.35.4, Audi: 1.33.1. Less intervention and less weight than the Golf, and bags more traction than the Beemer, give the S3 a comfortable advantage. It's a clinical bit of engineering, possessing exactly the right balance of performance, comfort and refinement. But maybe it's just too clinical. For my part, I was confident before I even drove these cars that the Audi would come out on top. But I was equally sure that if I had to go home with one for good, it'd be the drama of the Golf that swung it. And a week behind the wheel changed nothing.