Big Reads
From the archives: when Colin McRae took on Le Mans
Ahead of the 90th running of the 24hrs, here's McRae's diary from when he tackled Le Mans in 2004
Despite Colin McRae's God-like standing in global motorsport, the opposition gathered on the La Sarthe track at Le Mans might have been a little nervous of coming face to face with the kilted one in the dead of night out on the Mulsanne Straight at over 200mph.
Even if his last competitive passing manoeuvre took place way back in 2002 midway across the Masai Mara. His first excursion into the world of Le Mans was to be at the wheel of a Prodrive Ferrari 550 race car in the GTS class, alongside established drivers Rickard Rydell and Darren Turner.
Advertisement - Page continues below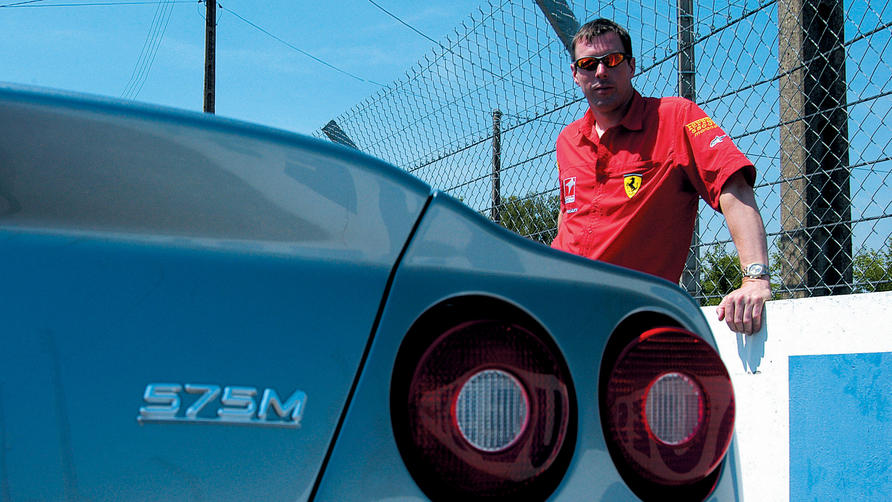 Words: Jeremy Hart Images: Lee Brimble
This feature was first published in Issue 131 of Top Gear magazine (2004)
And there were plenty of the predictable pit-lane jokes flying about before McRae made his first appearance at the famous French track.
Advertisement - Page continues below
"I'm sure he'll get bored and find some gravel or grass to drive on," joked one British racer before the start of the 72nd 24 Heures du Mans and the start of McRae's career as an international circuit racing driver.
Ex-rally driver and Le Mans legend Henri Pescarolo reckoned this cynic had it all wrong. He has seen the Flying Scotsman in action and believes he'll set La Sarthe alight.
"Colin is clever and to see him here is great," Henri whispers to me. "It's like the old times when drivers did rally, F1, Le Mans. The lot. And well."
True, McRae is about the only driver on the planet to get one wheel on the grass at Silverstone's Woodcote corner in an F1 car, giving it full opposite lock and keeping the 800 horsepower on. However, make no mistake, McRae is no hooligan. Since Jim Clark, there has been no more complete racer to come out of Britain. Give him any car, any surface and he will have them tamed in seconds.
That's why we had to be there with him as he broke his Le Mans cherry. Here's his diary detailing how his race panned out...
14.00: Tuesday, June 8. Preparing for the race
It is the Tuesday before Le Mans. McRae has just arrived from Scotland, having flown down in his own helicopter. "What I make from this weekend will barely pay for the fuel," shrugs the out-of-work 1995 World Rally champ. "But I'm not here for the money. Le Mans is one of the great races of the world. With no WRC, I wanted to do a few of these different things this year, like the Dakar. It's one race that every driver would love to have a go at."
Top Gear
Newsletter
Thank you for subscribing to our newsletter. Look out for your regular round-up of news, reviews and offers in your inbox.
Get all the latest news, reviews and exclusives, direct to your inbox.
Sitting in the pits is McRae's Italian stallion - 600bhp and 210mph worth of Ferrari 550. He describes it as "extreme". Which for any normal mortal means it's hellishly frightening. It used to be a road-going 550. Since then it has been stripped down to a carcass and rebuilt as a GTS class racer for the Care Racing Team, run by Prodrive - the same Prodrive which ran Colin's World Rally Championship-winning Subaru.
Even his engineer, David Wilcock, is an old rally veteran. The omens are good. "What I am after is a class win. It is possible, although it won't be a walk in the park," he warns as he swaggers out the back of the pits towards another Ferrari which, given a brain, would have scarpered long ago at the prospect of being manhandled by the donut king of rallying.
It is a Ferrari 575 Maranello – the closest modern variant of McRae's race car. With less than a week of testing under his belt, and only a couple of days of that round Le Mans itself, Colin is desperate to get any extra mileage he can round the track on which the 24-hour race will be run.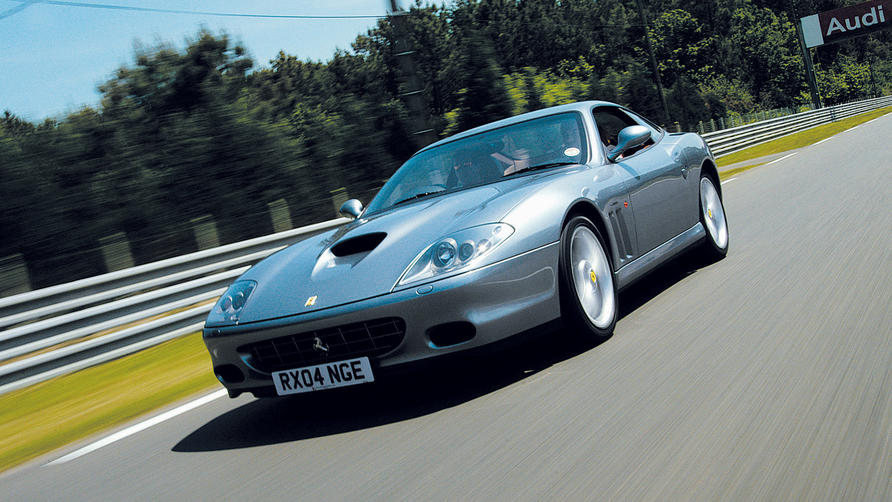 The 575 is not quite a race car, but it is as close as he will get until race day, so he grabs the chance to drive it round the circuit with both hands. Except that once behind the wheel, he immediately has hand trouble. Selecting, or deselecting, the right mix of traction control devices proves problematic. The paddle shift is proving a bit tricky too, as we cruise round to the top of the Mulsanne straight.
Clearly he is too used to his Murcielago. All leather and suede and CD and climate controls, the 575 would be absolutely perfect for a 24-hour drive. The 550 race car's only luxury is a mobile phone, for use if the radio goes down. The rest is hard and black and utilitarian and tight – it's as mean-looking as a cell at Alcatraz.
So Colin enjoys his last minutes of freedom and luxury wrapped in leather and cooled by icy air. Never mind that the 575 is about to get the workout of its short life. The Mulsanne is so arrow-straight you half expect to see a few Roman centurions driving a chariot down it.
The lure of the most famous straight piece of tarmac in racing, long enough on which to land a B52 bomber, focuses McRae's mind. He buries the accelerator somewhere out near the front bumper and starts playing tunes on the paddleshifters like Elton John tinkling the ivories. The Bridgestones behind our backsides wail like banshees in the fight between grip and grimace. We blast into the world where McRae excels...
10.00: Saturday, June 12. The wait is over. Le Mans beckons
Eighty-four hours have passed since McRae's first taste of Le Mans - that's the same as three-and-a-half Le Mans ago. The last half-week has dragged on inexorably. There have been two practice sessions, including one at night. But most of the time McRae has spent kicking his heels, even kicking a football round his chateau hotel grounds with his teammates. I'd no idea McRae could even play football. But now he's getting agitated. This is his day of reckoning...
"I got in at about 9.30am, which seems very early for a 4pm race start, but the traffic would have been even worse if we left it any later. I have been trying to relax a bit before all the start procedures, but there's not much time before we're called for duty." At about 2pm, McRae joins the parade lap, being presented to the crowd on the back of a road car. The number of Union Jacks fluttering makes the grandstands look more like the last night of the Proms than a race in France. "There's must be at least 200,000 fans here. All round the track there's loads of cheering. It's amazing."
16.00: Saturday, June 12. Tensions build for the start
The plan is to let the established racers - Rydell and Turner - kick things off with a two-hour stint each. There's a brief adrenalin rush as McRae watches the start of the most famous sports car race in the world, and only the fifth circuit race he'll have entered, from the pit wall.
"I'm not going to be driving until about 7.30pm, so after the start I'll be trying to get a bit of rest, then I'll get myself a massage and something to eat."
Colin is keen. He gets his racing suit on and sits on the pit wall, listening to the radio. Rydell is in the car. In just two more laps, it will be McRae's turn to take over. His helmet looks as if it is about to explode with expectation.
"Darren made a great start to get ahead of the Corvettes, but unfortunately their pit stop was a bit quicker than ours so they're leading the GTS class. We're still very much in touch, though."
With that, McRae is set like a sprinter waiting for the start gun. The bug-splattered red Ferrari lumbers down the pit lane. Its brakes, its tyres, its ducts, in fact just about everything on the car disseminates heat. Through the haze, Rydell erupts. He is barely clear of the car as McRae slides himself into the hot seat, buckles up and waits for the refuel to finish.
19.20: Saturday, June 12. A Le Mans virgin no more
Disaster. McRae is on the radio. He's spun at Mulsanne Corner. And worse, he's torched the clutch. He is coming back to the pits. Faces in the Ferrari garage are as long as the Mulsanne Straight. But not nearly as long as McRae's.
"I moved over on the track for a prototype on the Mulsanne corner, got onto the marbles and the car started spinning - just a small spin. I tried to catch it, recover and carry on, but you either need to do it gently or very aggressively. I was somewhere in between, which is not good, and the clutch started slipping. I feel bad for Darren and Rickard. We've lost eight laps."
20.00: Saturday, June 12. Unhappy daze for McRae
Colin is buzzing so much he cannot sleep. His first stint has been exhilarating. But not in a good way. He is in no mood to doze. McRae talks me round the track which has so nearly taken him prisoner. We start at the top of that famous and furious Mulsanne straight...
"I'm flat out (past the Hunaudieres bar). There's people and lights all down the Mulsanne. But I'm looking for the cottages, which is the braking spot for the first chicane. These things brake a lot better than you expect and the barriers are not very high given how fast you are going. That's a good reason to keep it on the track.
There is no time for relaxation, even on the straights. I've been on the edge
"Mulsanne is fast, but Indianapolis and Porsche Curves are fast and technical. That's where Mark Webber went flying a few years ago. No barrier is going to save you when that happens. If you overcook it there, you are off in a big way. There is no such thing as a small accident at 200mph."
McRae has fallen foul of the one thing that concerned him prior to the race - traffic. He's even had a bit of advice on the subject from Johnny Herbert. "In our GTS class, we will be passed and do a lot of passing. Johnny's advice is to hold your line - and it is up to them to get past you. Especially at night."
Rydell is doing a double stint until midnight. Then McRae is back in the firing line. He will have to do a triple stint, which means almost three hours of relentless driving - and at a time when the body is at its lowest ebb. He's eaten pasta and other long-burn foods. He should be fully charged, but three hours in a Le Mans car is like playing three hours of football in a sweat chamber.
"I have no worries about falling asleep. The adrenalin pumps far too hard for that. But the doctor has given me a caffeine pill anyway. Now I am wired."
01:00: Sunday, June 13. Not scared of the dark
McRae is back out. He is determined to show he has what it takes for Le Mans. Rydell has made up some time and soon McRae gets into a good rhythm himself. The main opposition is the Corvette team. In the dead of night, Colin comes across one of their cars all on its own. It is in his sights. He decides to engage.
"I know this is a 24-hour race, but it is still a race. I got past him and held him off for an hour. It was so exhilarating, racing in amongst all the traffic too."
After an hour of combat, the Corvette gets one over on McRae and the dogfight ends. McRae is pleased. Until he trips up again. He out-brakes himself into a corner and spins the Ferrari once again. The tyres have been going off and he finds himself having to brake earlier and earlier. Then he races up so close behind a slower car, he thinks he's going to ram it. So he yanks on the anchors so hard that he loses control.
"Things happen a lot faster at night," he explains. But the only damage that's been done this time is to his pride. It is not the only `moment' of the stint. His whole race is like driving in the centre lane of the motorway without being allowed to change lane, constantly judging the right speed to pass and be passed without colliding. One time that equation comes perilously close to disaster.
"At the end of the pit straight, I came across a prototype and a slower car busy looking at each other. I had a split second to decide whether to go for the gap. Just as I did, it started to close. I thought: 'I'm not going to make it'. But I did."
04:00: Sunday, June 14. McRae's nighttime shift is over
McRae has been to hell and back. He's shattered. He has not slept for 22 hours. He has just driven at 200mph for four of the last seven hours.
"It rates as one of the hardest things I've ever done in a car - and the most uncomfortable! I am a bit taller than the other two, so my driving position means my legs are at such an angle that I've got serious lower backache."
Sleep is not an option. McRae needs intensive physiotherapy. There is even a concern he might not be able to continue. But the physio works his magic on the Scot's bruised, hurting body. The massage also brings some much-needed relaxation to the rally man. The concentration needed over the last few hours has been intense and he needs to be able to let go for a while.
05:00: Sunday, June 14. Into the arms of Morpheus
"Because this is not my normal discipline, I need to focus even harder than the racing drivers. There is no time for relaxation, even on the straights. I have been on the edge and watching out for the car trying to slide."
McRae's priority now is some shut-eye. His next stint is not until breakfast time.
"I've had a snack and shower. Now it's time for some sleep. We have a Portakabin, but it's not really insulated and the noise from the track and pits never subsides. "I try to sleep, but mostly it's dozing. I think constantly about the race and what I could have done better. I am pleased with my times, but cross about the two spins."
McRae gets a couple of hours of fitful sleep. Not much, as there's still nearly 12 hours to go. It is not going well out on the track. Car 65 continues to have gearbox troubles which cause a long stop in the pits, but rule number one in endurance racing is you never give up. The 'box is fixed and by the time McRae is woken from his slumber things are looking up.
"It doesn't seem like any time at all between when I stopped the last time and being woken up to go back to the pits again."
McRae's body is refuelled with a light breakfast. But he is not worried about energy. His legs are still in agony after his cramped nighttime stint. With seconds to go before his dawn raid, he requests painkillers.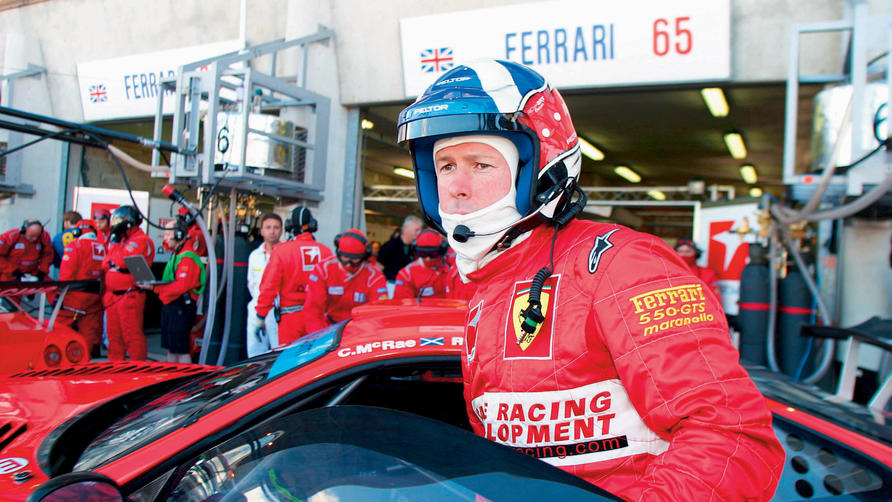 Some doubts still exist whether the iron man of rallying has what it takes to finish this race from hell. McRae put in a time of 3:54:08 in this session, not far off Darren Turner's race best: a GTS-class lap record of 3:52:22. So he has the speed, but does he have the stamina?
07:00: Sunday, June 14. Vital lessons learned
"The painkillers worked a treat. I'd have hated to let the team down at such a crucial stage." Crucial is an understatement. McRae is still some way behind the class leader, the Ferrari's sister car 66, but they have all sorts of mechanical dramas and McRae finds himself driving a car which is now third in its class.
McRae has learned one important lesson in the last 16 hours, and that is not to risk anything when the race is only at two-thirds distance. He opts to avoid the other cars on the track, keeping himself to himself and minimising the chance of another `moment'. It makes for some long hours in the driving seat.
"You find yourself thinking about all sorts of things. Mainly to do with the race, but also family and stuff. Never for very long, mind. The corners and the chicanes make you concentrate all too regularly."
Worried about his legs, which are still causing him pain, the team make sure McRae's morning stint is a short one.
10:00: Sunday, June 14. Perchance to sleep
McRae is back in the pits. He tries to snatch a few more refreshing zeds, but can't. He finds breakfast and a shower a nice alternative. Relaxed, he even manages to call home.
"Alison, my wife, was no more worried about me doing this than any other event, but it is new, so that makes it a bit different."
12:00: Sunday, June 14. McRae's farewell blast
The Scotsman blasts out of the pits with more confidence than ever. He's getting used to this game by now, but is all too aware that Le Mans can have a vicious bite.
He puts in some good lap times, determined to preserve the team's third in class and ninth place overall. He savours the last few laps of Le Sarthe, enjoying this new experience at last, before the call to come in for the last time echoes over the radio.
"I felt a real sense of anti-climax when they called me to come in, that's for sure," he says.
16:00: Sunday, June 14 The end is nigh, for now...
"All sense of tiredness and pain go for a while," says McRae. "Darren and I were on the pit wall at 4pm to see Rickard cross the finish line - a podium finish is good, considering all the problems we had. Just to finish this marathon race feels like a victory in itself."
The hour after the race is lost in a haze of celebration and commiseration. The result is a good one, but the Corvettes have stolen the Prodrive team's GTS class trophy.
With the emotions draining from Colin's body, the pain and the fatigue rise to the surface. It takes McRae a week to recover from his first 24 hours of Le Mans. The obvious question is: would he do it again?
"This kind of thing could get addictive. Driving a rally car is more fun, but this is Le Mans. Would I have another go? I reckon so."