Big Reads
Audi R8 RWS vs Porsche 911 GT3
The R8 now comes in purist, rear-drive form. Primed to take on the hardcore road racer boss, then
Water is wet, the sun is hot, Snowdonia in winter is freezing. But for some reason, it's still a bit surprising exactly how aggressively frigid this bit of Wales can be at 5am when the cold leaps out and ambushes your breath, slipping down your throat with a burn like cheap whiskey.
It is exactly, precisely and entirely the wrong place to test a supercar in winter. So we brought two. Not only that, we brought a pair of very specific rear-wheel-drive variants, when both manufacturers make exceptional four-wheel drive versions of the same car. Go us. 
Advertisement - Page continues below
To be fair, we didn't plan it this way. With the UK in the grip of the first major snowfall millennials have experienced, there are seven-foot snowdrifts in the lanes outside my village, and my drive becomes the north face of the Eiger without winter tyres or four-wheel drive. Of which we have neither. But if you're careful, you can get about. To Wales, if you're feeling particularly brave. 
Words: Tom Ford/Images: Mark Riccioni
The brand-new Audi R8 RWS is the real newbie here. A rear-drive only version of the previously AWD-only R8, 'RWS' standing for 'Rear Wheel Series' rather than 'rear-wheel steer'.
Advertisement - Page continues below
Only 999 will be made, with no front diff, dynamic steering nonsense or adaptive damping, but a mechanical locking rear differential, the usual naturally-aspirated 5.2-litre V10 – this time with 533bhp/398lb ft – and a 50kg weight drop over a standard car, at 1,590kg.
It still has a paddleshift DSG, but given that Audi's seven-speed is very good, that doesn't feel like a particular hardship, even though if we're being entirely honest, it would have been great to see that old exposed-gate six-speed manual between the front seats.
And yes, it's a rear-wheel drive R8, which is a good thing. A car for 'drivers'. Not so much stripped out as pared back a bit, but definitely one aimed at the kind of people who like things a bit livelier. It goes up against the Porsche 911 GT3 here, with both cars appealing to enthusiasts, costing in the region of £110k and with roughly the same power and potential. Game, as they say, on.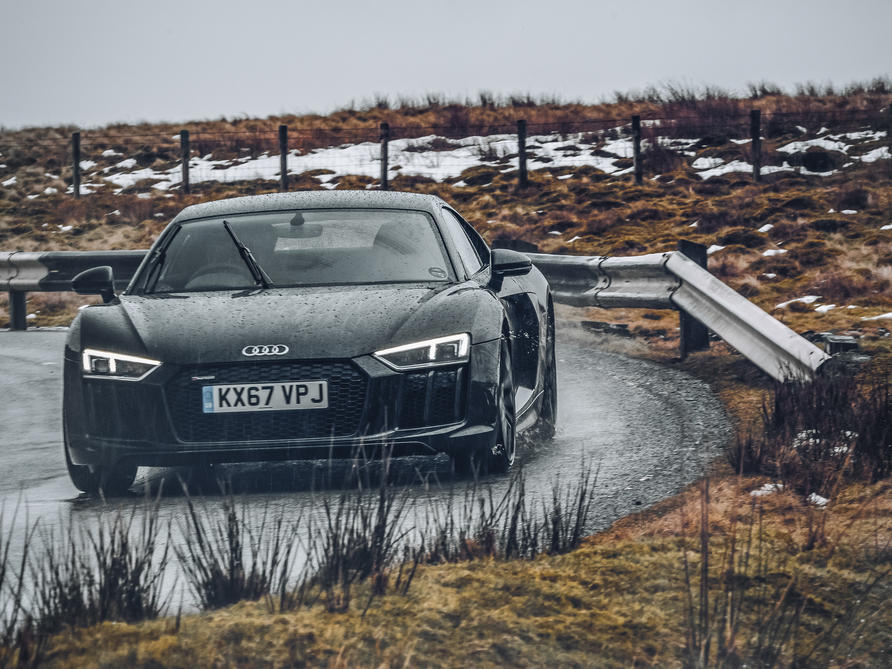 The first impression is that the R8 isn't actually that different. Still a DSG, still with a full-fat R8 interior and comfy electric seats. There are no wings or even badges externally, just a little '1 of 999' plaque on the dash alongside all the usual interior bells'n'whistles. The V10 fires with the familiar operatic crackle and there's still a gentle, unseen diligence to the way it goes about things.
Heading out into the hinterlands, mottled with the greens and browns of spring and the shocking white of winter, it's easy and compliant and bloody fast. Natural aspiration rocks, and this V10 at high revs is still utterly glorious, building power in a cultured, hungry, metered wave right up to 7,800rpm.
Go faster, and the front end feels more precise than the AWD car, lighter, more connected, uncorrupted by the slight tugging you get from the standard vehicle when its slippy out. It's also more confident than you might imagine, even when surprised by mid-corner drifts. And by that, I mean snowdrifts rather than deliberate sideways action. Yeah, Snowdonia. 
A lot of the conclusions are surprising. Mainly that the R8 doesn't really need all the accrued tech that seems to have washed up against it during its lifetime. The steering is more transparent, even though it has the same ratio as the normal car, while the perfectly simple springs and dampers (without adaptive capability, but firmer, with a thicker anti-roll bar) are suited to all types of driving, from cruising to pressing on.
Top Gear
Newsletter
Thank you for subscribing to our newsletter. Look out for your regular round-up of news, reviews and offers in your inbox.
Get all the latest news, reviews and exclusives, direct to your inbox.
It might be the first rear-wheel drive production car Audi has ever produced, but it certainly doesn't feel like it. I'd go so far as to say that on these demanding, badly-scarred backroads, it's the sweetest R8 I've ever driven, and I like R8s. It's got manners, and traction to spare. Though be warned, that rear diff is mechanical and not electronic-clever, so if you do spit it sideways, be prepared to wind the lock back off sharpish.
It takes few prisoners coming back, and booting it out of a junction is best left until you've really got a handle on the car. But all in all, the impression is solid, even if the R8 is battling a positive phalanx of Good Stuff in this corner of the market - everything from the Mercedes-AMG GT to the McLaren 540C, Honda NSX and the Aston Vantage. Not to mention the obvious elephant in the room…
It's the sweetest R8 I've ever driven, and I like R8s
The Porsche 911 is a similarly familiar, known entity. This GT3 is a manual, possibly the apogee of the road-driveable trackday car. Half caged, lightened and tightened, immediately precise. The seats are tight, straight-backed, pious and pew-like, the slim-rimmed Alcantara wheel neat beneath your fingers.
It crashes to life with an unglamourous bark, then settles to a dirty chunter, sounding industrial rather than particularly fancy or immediately exotic like the R8. But here's the thing with most Porsches, and 911s in particular: they are, for most sizes of human, ergonomically fabulous. The wheel sits perfectly, with that weird little elbow-to-arm ratio easy to find, the gearlever dropping into your palm like a best-friend's handshake. The pedals are straight and standard, and their weights and positions as good as it gets. 
There's a lack of sound-deadening up in those rear arches – gravel sparkles noisily up inside them every time it gets a chance – the 'cage creaks a bit, the suspension is short-stroked and initially feels very firm. It's also on flat-faced and decidedly trackday-ish Cup2 tyres, which have as much grip in slush as an excited greyhound on a polished wood floor. Possibly less.
It feels a bit nervy next to the Audi, more wound-up, more intense. It feels like it's going to kick even at relatively slow speeds where the R8 is confident, has that slightly feral edge lurking around the corner of the next two centimetres of throttle. And then, when you expect it to shimmy, it doesn't. It just digs a bit. Then a bit more.
The engine has 493bhp and 339lb ft and is punchy and strong, but nothing ridiculous below 5,000rpm and it's all just a bit… well… a bit 911. Lovely steering, no sense of rear-engine bias, a slick transition car that you can carry speed and trust in, as long as you're smooth. But it's got some more revs to expose. Which is when it makes the Audi feel like a trim line.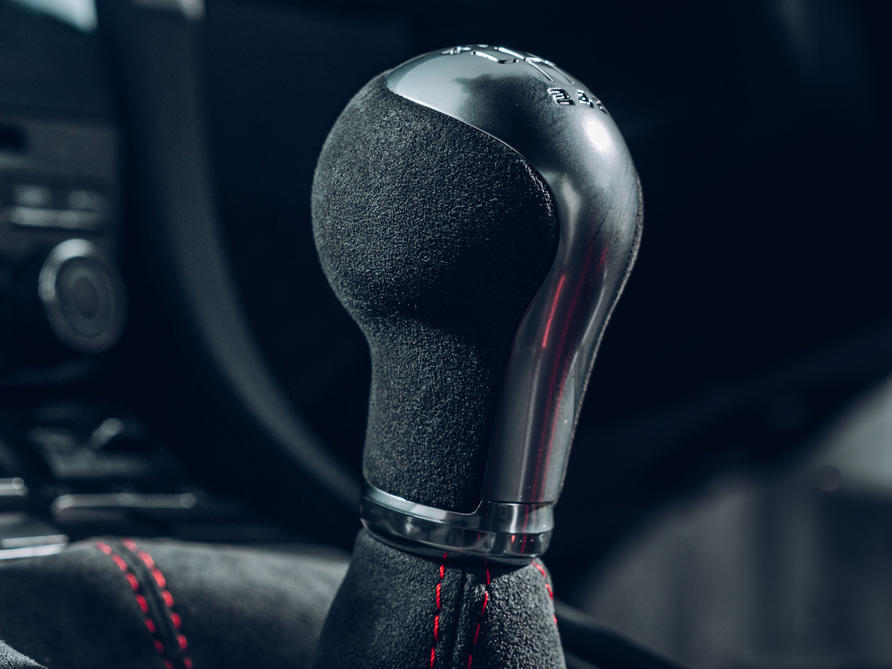 This is a car that does not exist in its entirety until it is going fast and, frankly, getting the s**t kicked out of it. Oh, it's nice enough, fun and exciting. But the whole car locks into its mission statement at about 6,500rpm and doesn't let go until 9,000. The experience is born in third gear with the rev-counter at four-o'clock on the dial. Addictive? It's like crack cocaine. Or possibly Krispy Kreme donuts. Restraint sold separately.
Where the Audi builds a wall of power and changes its engine note on a smooth scale, the GT3 switches character with each 500rpm. You can make a fiction of any stretch that's even vaguely straight. Ball up the physical distance and simply step across the fold, gravity pulled 90-degrees rearwards, your skull cradled by a little pad instead of a headrest. The engine making a fist of its fury and howling, reverberating through the cabin like feedback from God's own stadium stack.
It's not easy – it hops and moves and darts and is generally less compliant than the R8, but it's intense and involving in a way that the Audi isn't. You'd buy it for the steering alone. The information and feedback is so dense that it takes a little while to start to unpack it. We're so used to fake feelings that when we get the real thing, we suddenly get what must be the equivalent of haptic pins and needles as real feelings return. 
I don't think it's quicker than the R8. They're pretty much similar down the same road – to my mind at least – and they both provide an experience that's worth the price of admission. But where the Porsche scores is that it feels joyously intense. It's a bit harder to drive, to get the best out of, and, for this type of car, at least, that's a good thing. 
After a day or so, and mourning the death of any remaining body heat, the result is clear. On paper, these two are squaring off. Both around £110k, both purist-catnip rear-wheel drive and naturally-aspirated. They both have in the region of 500bhp – a bit of a sweet-spot for current road cars, in my opinion – both clocking high threes zero to 62mph and with the same 'surely they could have got 2mph more?' 198mph top speed.
And yet they don't even really compete. The Audi R8 RWS is an excellent addition to the R8 line-up, and a pleasingly 'cheap' one. It's possibly the best R8 full-stop, because it's more fun to drive and has barely less grip in most situations, yet adds that extra keenness and extra feel. But it's not really a full-on 'special'. If it had a manual – and R8s used to have those – even if it were slower, it would be a totally different proposition. But it hasn't. As such, it's a tidy, entertaining footnote that will probably end up selling for a premium simply because of its limited-ish run.
At the opposite end of the family tree, the Porsche 911 GT3 isn't 'just' a version of the 911. It feels like a thing all on its own, a honed, specific commitment. It's less comfortable than the R8, less cosseting, but that's the point. It's a weekend blast, a drive to a trackday then kick some ass kind of car. As a manual, in this specification, it becomes superlative. It'll take more than just an R8 with rear-wheel drive to change that.