Big Reads
Audi's Q8 SUV predicts a wilder future
Audi's design boss explains how the Q8 means no more same-again styling – and a heap of new tech
Audi revealed the massive, schuper-schporty Q8 e-tron concept at the Detroit motor show last week. It's a four-wheel crystal ball for the future of Audi, so Top Gear caught up with Marc Lichte, the boss of Audi design and the man drawing every car to wear the four rings for the foreseeable future.
Lichte is a friendly and extremely enthusiastic chap. The enormous Q8 is lurking under a sheet nearby and he's visibly itching to show it off, but Audi's chief of crayon resists long enough to explain how he's changing Audi design into something, well, sexier.
Advertisement - Page continues below
"The first thing I did when I created an Audi design strategy was a proposal for a new A8", he explains. "When I arrived here, we made a full-size clay model which showed my vision. On February 2nd, I arrived here in Ingolstadt from Wolfsburg. Three days later, we had a meeting with five designs of A8 – and they chose mine. And this design strategy was very simple."
Course, you might think that'd be because all Audis look the same. Big grille, lots of LEDs, job done. Lichte has to change that. And he's got themes to work with…
Advertisement - Page continues below
"Audi's core design values are sporty, simple, and progressive," he reasons. "And if you look at our competitors, you'd say that you have to be sophisticated too. BMW and Mercedes are very sophisticated. BMW, I would say, is very sporty, but Audi is becoming more and more so. The differentiation is being progressive."
So, is that a tacit admission that recent Audis haven't been as striking as they could have been? Lichte politely agrees.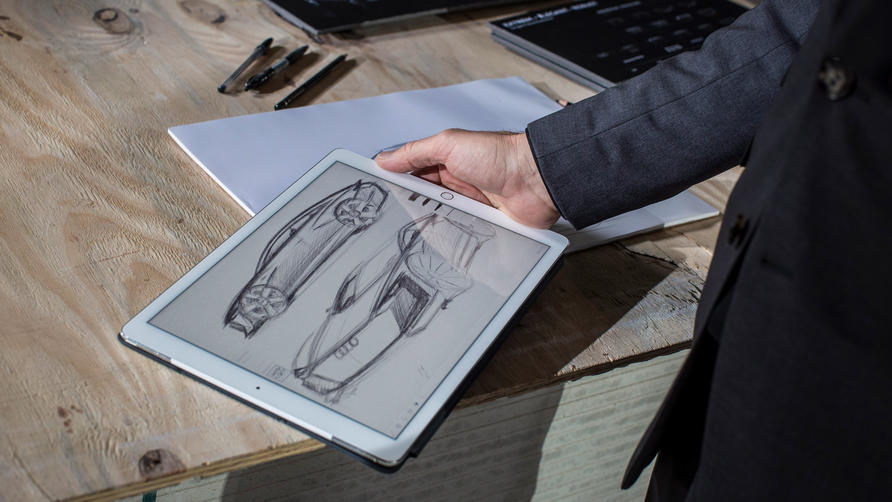 "The products, when I arrived here, were maybe too conservative. In the past, Audi had been very progressive – take the TT, or the Ur-Quattro. This is something I wanted to figure out in every future Audi. The second thing I wanted to do is visualise Audi's technology. Audi stands for Quattro, and today, it's just a badge. BMW and Mercedes have rear-drive, so they have a cab-back, short front overhang design, lots of prestige, but Audi is different because we have the engine in front of the front wheels, so we will never have proportions like this. Then you have VW cars like the Scirocco which are cab-forward, front-drive, and everything is leaning forward. Audi is about having balanced weight over the front and rear wheels."
A simple enough design theory, but how will that actually manifest itself on cars that have to be sold worldwide and not offend a wide spectrum of tastes? The German has a bullish response locked and loaded.
"In future, each Audi will have its own character. Each will visualise Quattro, but say, an A6 or A8 will have a very different character. In detail, the next A6, A7, A8 and so on will all be very different in muscularity. Immediately you will see the difference. A car is in production for maybe six or seven years. I think it's dangerous to have all of our cars based around one design [in different scales]."
The cover is still on the Q8's hulking silhouette, but Marc moves the conversation toward SUVs.
"The Q models, in the future, will have an octagonal 'Singleframe' grille, where the 'A cars' have six corners. From a distance, you'll immediately spot it as a Q model, from Q2, Q4, and so on…"
Top Gear
Newsletter
Thank you for subscribing to our newsletter. Look out for your regular round-up of news, reviews and offers in your inbox.
Get all the latest news, reviews and exclusives, direct to your inbox.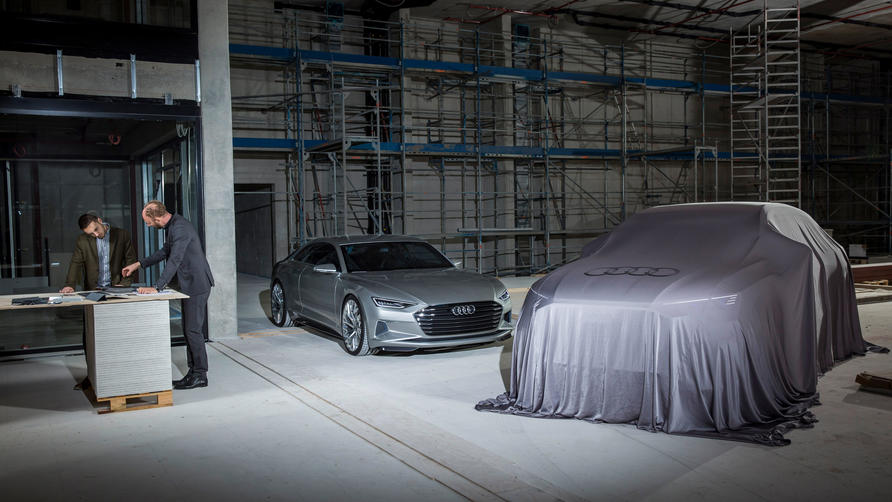 The Q8 is supposed to be the sportiest of all, filling a niche Audi's left curiously unoccupied for a long time. Hesitation? Well, Lichte argues they were biding their time, being careful not to fall into traps other rival cars were caught out by.
"I think our competitors are really successful with the GLE Coupe and the X6, and I have a lot of respect for this," he starts diplomatically. "They did something new – they put a coupe roof on an SUV body. It looks sporty – and somewhat strange – but the problem is the head clearance inside is 'over the border' – it's like a 2+2. Mercedes did it a bit different, but not as nice-looking." He's being extremely well-mannered there.
"So we said, 'When Audi does a car like this, we have to make it completely different'. The Q8 has the Q7's wheelbase, but the wheels are bigger, the track wider, and in comparison with the Q7, the rear overhang is shorter."
"The roof is 70mm lower, horizontal for better head clearance, and then we add this really 'fast' D-post to give the sportiness and coupe feeling our customers want. And we have a completely different outline to our competitors!" He's sketching furiously as he talks. You can see the results above. "You will see this D-pillar on the new Q3, Q8, and our new hatchbacks as well… our new S3 successor will get this Quattro-style post. You can imagine, they will look good…" he smiles.
The extra intakes and vents – these are all elements you will see on future S and RS models
Covers off time. The Q8 stands, brooding and enormous in the gloom next to the utterly gorgeous Prologue concept. It looks mighty. Lichte dives off to point out some details.
"Shall we start with the front of the Q8? This car is top of our range, so it has to look different than all the other Q models. Customers who will buy this sort of car want this. I would say it's a statement. Those three intakes above the grille – they're inspired a little by the Sport Quattro. The Singleframe has a completely new, very powerful shape, very wide, and wide headlights. Some competitors have narrow headlights, which is something of a problem…."
Why did he choose blue detailing for that 'X' shape in the light? "In future, we will have a blue X – it is not allowed to be seen from dead front-on [so you don't imitate a police car], but from certain perspectives in production cars, this will be our laser light signature." There are other clues to future Audis at work in this tiny area. "We have an air intake, and the idea is you cannot see where the headlight ends and bodywork begins. Also, the e-tron slashes will become a trademark across all e-tron models."
Marc caresses the Q8's bodywork. "The Q8 has really strong muscles, with big shoulders over the wheels to visualise Quattro. The cabin appears quite narrow from the rear because of this. Honestly, this is a show car, but [he knocks on the chassis with his knuckles], this is a metal body, so this is almost a production car. This is a very concrete teaser… the metal is all for the production car, then we have added extra details for the concept. But these extra intakes and vents – these are all elements you will see on future S and RS models."
"The black band across the rear will also be seen in production cars, that's another detail inspired by the original Quattro, and we can express it in gloss black or carbon fibre. It's not retro, but we use our classic cues in a modern way."
"For me the proportions are perfect," he glows. "We have a long wheelbase, big wheels – just like a sketch come to life." Too right. I admit I'm not a massive SUV fan, but the Q8 looks like an overgrown RS3 racecar, a proper hot hatch on steroids, except with a faster-swept roof. It's difficult not to be awed by its proportions and seduced by Lichte's masterful details.
I wonder aloud if creases and vents like the Q8s are so intricate, they simply weren't possible when BMW first created the coupe-SUV sector. Mark considers for a moment, studying the lines of his creation, and replies: "Audi is very good at metal press techniques and is getting better still. To make metal with creases this sharp is very difficult – you couldn't make a car with this body five years ago."
Time for a gander at the cabin. I ask Lichte whether those rear seats are higher than the fronts, like a football stadium.
"I'll show you. Please step inside and I'll show you around. You are 6ft? Yes, and you have plenty of head space, and yes, good rear visibility. This is a big difference to our competitors." Right, that's the X6 taken care of, then.
We exit the rear doors and get seated up front in the most minimalist car cabin you can possibly imagine. "When you enter the car, we present our new machine interface," Lichte trumpets excitedly. "Next year with the A8, we present this interface, with no rotary MMI knob and almost no buttons. You operate the car with touch displays, which is, for me, logical. It will be really clean."
I grimace. As the likes of Peugeot and McLaren have discovered, if you're going to make a car with lots of touch-sensitive surfaces, the interfaces need to be really, really good. Fast, easy to navigate, and responsive to inputs made when a car is, y'know, moving. Marc immediately aims to assuage my fears Audi is about to ruin all the progress it's made with stunning cabins. 
"We will have haptic response, so it's impossible to make a mistake, as a car moves when an iPhone in your hand does not. There will be feedback. We developed it so you can use it without taking your eyes off the road."
Since he's making so much effort to make Audis look different outside, does the new touchscreen approach mean they'll all feel like iPad shops inside? Apparently not. "Each future Audi will have its touchscreen integrated into a piano black surface. The A8 will have a straight dash but the sportier cars will tilt the interfaces towards the driver."
I notice the Virtual Cockpit's readouts look not at all related to the current TT's. More like a Peugeot 3008, if anything. The designer hints he's not totally satisfied with the current set-up. "We started with round dials in our Virtual Cockpit, but if you imitate round dials you are imitating the old world. I want to use our technology in a more modern way. In the future, we will have different graphics. Remember, this isn't a just a show car or a vision. This is the future of all Audis."
I look at Audi's history, and I see cars like the IMSA GTO. Wow… that stance, those wheelarches – you will see that in future Audis
You can't talk about touchscreen-heavy, ultra-clean cabin design without mentioning the T-word. Surely Lichte has an opinion on Tesla? The Q8 will have to fight off the hugely impressive Model X, after all...
"I have a big respect for Tesla," says Lichte, "but [having] one screen destroys the proportions of the interior. That's why we separate ours. To operate them, it's just as easy, but aesthetically, it's a better solution."
Changing tack, I ask Marc if he worries that cramming his cars full of screens will make them feel perhaps a bit cold, a bit clinical. Lacking luxury, perhaps. He nods fervently as if this is an issue he's spent some time wrestling with.
"In the future, we have to show luxury in a new way. Before, lots of buttons meant big luxury. Now we do this with material, using organic leathers with no chemical treatment, real metal, real wood and carbon. Using fewer chemicals also makes our cars more sustainable."
Before we depart the Q8's tactile and genuinely jaw-dropping interior, I ask Lichte how Audi keeps ahead of the competition, now rivals are doing screens-for-dials and better quality switchgear. "I am already working on cars for the next decade, and I see a future with gesture control being really important." Makes a change from the usual gestures preferred by Audi drivers.
Time for one final question; a question I ask all car designers, simply because of the disparate answers they give. While some take cues from Olympians - perhaps a sprinter - or carnivores in nature, where does he draw inspiration from?
"I get it everywhere. From when I go to the supermarket, to when I go sailing at the weekend. Basically, everywhere. But then I look at Audi's history, and I see cars like the IMSA GTO. You know it? Wow… that stance, those wheelarches – you will see that in future Audis, I would say..."