Big Reads
Bernd Rosemeyer: on the trail of Auto Union's 269mph hero
The fastest road car ever? An 80-year old Audi. This is its driver's story...
Four rings emblazoned on its nose, the furious machine scythes down the autobahn. Its young driver has tunnel vision again. A great rival has described the road "like a narrow white band, the bridges like tiny black holes ahead. It's a matter of threading the car through them."
Words: Ollie Kew / Photography: Dennis Noten
Advertisement - Page continues below
More than five hundred horsepower rages behind his head as a gale-force headwind pummels the windscreen. Ninety seconds ago, all was still. Now, a kilometre disappears under the 24-inch tyres in 8.38 seconds. A timing line beckons the four rings, but will remain unbroken. Bernd Rosemeyer won't bask in the glory of being the fastest man on-road. 
This isn't really a story about taking a 5.2-litre Audi R8 V10 Spyder to Germany's fastest roads. It's the story of the individual who set the benchmark. If we're going to consider road cars capable of 300 miles an hour, it's worth remembering the maverick racer who came closer to that speed on a public highway than anyone since.
The memorial to a national hero who lost his life shortly after reaching 269mph in the beautiful and terrifying Auto Union Stromlinienwagen is poignantly unassuming. You'll find it 70 yards from a layby next to the southbound A5 motorway, 10 minutes below Frankfurt. Venture past the picnic tables, and between the trees there's a pocket of history. I park the R8 and wander through the woods.
Advertisement - Page continues below
A path has been worn through the undergrowth to the spot where an engraved stone pillar and wooden plaque commemorate Germany's "Silver Comet". It's hidden enough that those who are just stopping to dump litter and wring out children will never know it's there, but not so secluded to have been forgotten.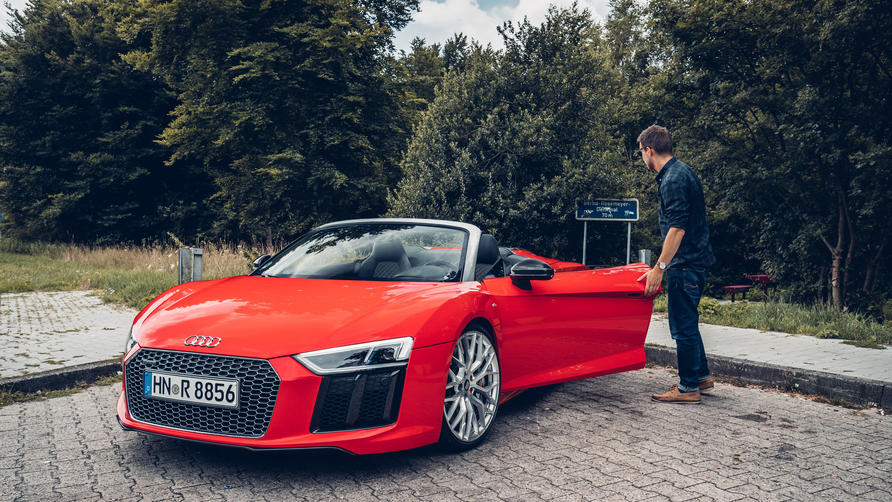 The bedding plants are tidy, the grass tended. Oblivious traffic roars past feet from the Armco, but here, it's peaceful. I'd be lying if I didn't admit that arriving here is eerie, because it's the first time Bernd Rosemeyer has ceased to be a dashing face smiling back from a history book and become a person who really lived, set sensational records, and died yards from this spot almost 80 years ago.
The Thirties was the decade of speed. Between 1929 and the start of World War II, the land-speed record was increased 11 times, upped relentlessly from 231mph to 369mph. This arms race was played out between Brits, mostly on American soil, which annoyed the dark undercurrent to this story: the Nazis. 
Hitler was obsessed with establishing a resurgent Germany as a scientific, engineering and sporting might, and while American athlete Jesse Owens and a British steam locomotive humiliated different strands of that plan, the Nazis seized upon newly constructed autobahns as another PR coup. If Germany couldn't build the fastest automobile on Earth, it would instead showcase its peerless motorway network by creating the undisputed fastest road car.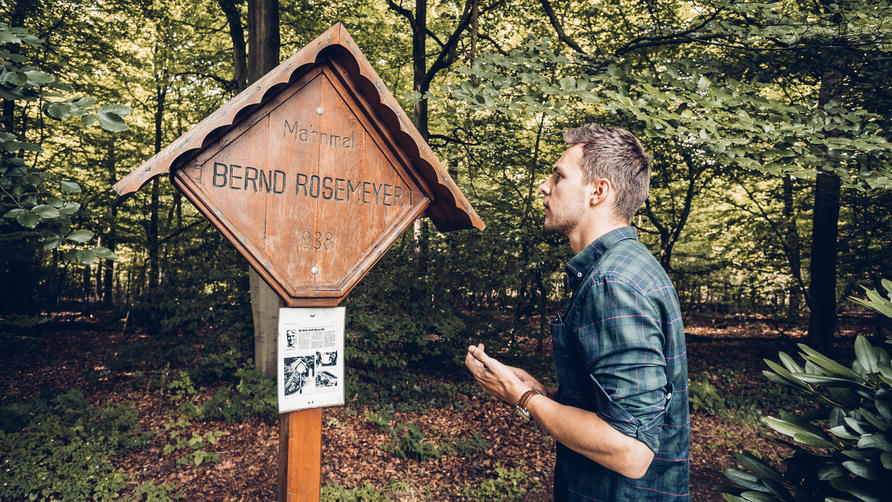 Bernd Rosemeyer found himself spearheading one half of this titanic battle after a meteoric rise through motorsport, despite the fact he wasn't what you'd call a model National Socialist. Quite the opposite, actually. All German racing drivers were "given" honorary membership of the SS, but well-liked Rosemeyer was let off wearing the uniform and allegedly mocked high-ranking Nazis on the podiums of his Grand Prix victories. This precocious young man who'd won over one of the most eligible women in Germany – national sweetheart and world-renowned aviator Elly Beinhorn, who'd flown around the globe aged just 25 – was more interested in racing than politics. 
The son of a mechanic, Rosemeyer was born in Lingen in north-west Germany on 14 January 1909. This is where I'm headed next – a four-hour haul on the autobahn with snapper Dennis uncomfortably astride his camera bag. I'd like to slash the journey time, but the modern reality of derestricted roads isn't a utopia of wailing revs and three-miles-a-minute speed. 
Top Gear
Newsletter
Thank you for subscribing to our newsletter. Look out for your regular round-up of news, reviews and offers in your inbox.
Get all the latest news, reviews and exclusives, direct to your inbox.
Too. Many. Roadworks. All maintaining Germany's reputation for immaculate asphalt. Brief sprints, dropping a handful of gears on the R8's left paddle, rousing the V10 and fast-forwarding the monotony are moments to savour. Outrun the baleful song chasing us along, ignore the speedo, pray that trucker is checking his mirrors… squeeze the ceramic brakes, activate cruise control, watch the arrival time creep back in the wrong direction. 
Just like the roadside memorial, hometown tributes are subtle. Aiming to park the Spyder directly under the "Bernd Rosemeyer Strasse" roadsign, I inflict the dregs of my GCSE German on the taxi driver who's resting in the balmy evening sun awaiting the next commuter train of fares. 
"Bitte, sprechen sie Englisch?" He frowns. "Of course." "Er, can I park das auto under der Rosemeyer sign… danke?" His expression cracks from quizzically territorial to a broad grin, and he demands we visit the Italian restaurant across the street, its walls covered with pictures of Lingen's fastest son. My new best friend – Oliver, it turns out – also suggests a detour. 
"Go 300 metres to the turning circle (roundabout doesn't translate), take the first road, and you will find Rosemeyer's garage. They prepared all his racing cars there." I'm agog. "Wow, it's still there, after all these years?" "Nein, it was knocked down years ago. It's now a Lidl." Scheisse.
The odour of bolognese und parmesan is tempting as we investigate the archive photo tip-off, but we've lingered too long in Lingen, especially after a €120 fill-up of 102RON fuel and limited-edition Haribo. I like Germany. Our hotel's kitchen shuts at 10pm, and the R8's nav says we won't arrive until twenty past. But it's an exquisite evening, and the blazing sunset bathes the R8's crackling tailpipes in an afterburner glow. 
The car is mighty cross-country. We arrive on the correct street at 9.52pm. I love Germany. I love the R8. The street is closed for emergency roadworks, the diversion is to Godforzäken via Narnia, and the only restaurant still serving by the time we arrive just after midnight has a McBloody enormous, rowdy queue. I hate Germany. I still love the R8.
This isn't just the best car Audi makes. I've been lucky enough to drive the Honda NSX, McLaren's Sport Series, and the evergreen Porsche 911 Turbo, but for me the R8 is still the most complete super sports car on the planet. It has pace, comfort, and savagery. It has a forgiving, gratifying, endlessly tweakable personality and one of the very finest engines of my lifetime. 
It's the first time Bernd Rosemeyer has ceased to be a dashing face smiling back from a history book and become a person who really lived, set sensational records, and died yards from this spot almost 80 years ago.
And you want the Spyder. No, really, I know the image is a bit GTA: Vice City, but to be intimate with that soulful V10, giving its operatic all to a world-class paddleshift gearbox and quattro drive at its absolute peak is life-affirming, infectious, addictive. We'll miss these engines when they're gone, and the R8's is one of the last atmospheric 8,250rpm sopranos left standing. It elevates the whole experience, so much so I'm not fussed the "dynamic steering" doesn't have the dexterity a 570S pours back at you. It's not perfect, but little worth falling in love with ever is.
This isn't the new, more powerful R8 V10 Plus. It's the standard version, with "just" 532bhp – almost exactly as powerful as the 6.5-litre, V16-powered Stromlinienwagen in which Rosemeyer went head-to-head against Mercedes's Rudolf Caracciola in 1937 and 1938, trading speed records through the Rekordwoche (Record Week) and beyond. The Auto Union was a tuned Formula One car wearing streamlined dress (hence the literal name), and Bernd was one of the few racers who'd mastered this terrifying heavyweight's evil handling. Because he'd grown up a talented motorcycle racer, and hadn't taken four-wheeled racing seriously until the mid-Thirties, he thought all cars handled this waywardly.
Bernd won five GPs between 1935 and 1937, and the Vanderbilt Cup in the US in 1937 (he stored a portion of his $20,000 prize money in a New York bank account, eyeing sanctuary if war broke out.) Meanwhile, his record runs were becoming ever more dangerous. On 16 June 1937, crosswinds twice pushed his car onto the grass at speed. On 26 October, he was the first man ever past 400kph (248mph) on a public road. 
The next day, an engine failure caused fumes to fill the cockpit at over 250mph. Rosemeyer kept the car on the road, brought it home safely, and had to be lifted unconscious from the cockpit. On 27 October, when the repaired car broke down, he swapped into an open-wheeled, 4.9-litre racer and set flying-start records over 5km and 10 miles. Yes, a day after nearly being suffocated at velocities only pilots knew, Rosemeyer got three world records. As Rekordwoche drew to a close, he was the fastest man on-road, and a German hero.
Mercedes, scorned for its failure to overthrow Auto Union during an event of national pride, reworked the aerodynamics of Caracciola's car over Christmas, and did away with drag-creating radiators, in their stead installing an ice tank to cool the W125 Rekordwagen's 725bhp supercharged V12. By the turn of 1938, Merc was ready to race again, and Auto Union had a problem on its hands. Due to the cost of hiring the autobahn for complete closure (during 1937 the road was only shut in one direction, and Rosemeyer made a speed run through traffic – the mind boggles) Auto Union and Mercedes kept a gentleman's agreement to split the Reichsmarks, and share the empty straights. 
The rebuilt AU wore deeper side skirts and its own ice system that bought 90 seconds of running before the engine overheated. Rosemeyer was bolted in under a streamlined shroud. If the V16 detonated, he would have no escape. The ice tank upset the car's centre of gravity, and the skirting made the Stromlinienwagen super-slippery but dramatically unstable. 
Hasty wind-tunnel testing showed just a six-degree deviation from the straight-ahead was unrecoverable, but there was no time for a redesign. On 28 January 1938, the road from Frankfurt to Darmstadt was closed for the showdown.
It was bitingly cold. Rosemeyer's mechanics didn't add ice to the car's cooling tank – they just pumped in water at the ambient temperature. At 8am, on his first run, Caracciola's Mercedes tore through the flying kilometre in 8.4 seconds, and the second pass averaged out at 268.8mph. 
Rosemeyer's response was a 266.5mph test run. "Passing under bridges the driver receives a terrific blow to the chest", he said. "Because the car is pushing air trapped under the bridge aside. When you go under a bridge, for a split-second the engine noise disappears and then returns like a thunderclap when you're through."
What he couldn't see from his cramped cockpit was the buckled panels along the car's flanks, warped by the monumental ground effect the car was generating at top speed. Nearly 40 years before Lotus, Auto Union had inadvertently created the world's first downforce-critical car, but the forces being inflicted on this infant technology weren't understood. Bernd told his mechanic "I'll only try once more to approach [the record]", and accelerated south. His previous pass had been 0.02sec faster than the Mercedes – at 269mph. Repeating that to seal the higher average would steal the glory. 
Rosemeyer's response was a 266.5mph test run. "Passing under bridges the driver receives a terrific blow to the chest", he said.
The official explanation of what happened next was a gust of wind in a clearing unsettling the car. It's also possible the bodywork simply disintegrated under massive aerodynamic stress. After the windshield was found intact away from the wreck, it was suggested it'd detached at speed, causing Rosemeyer to flinch and lose control. Snaking tyre tracks betrayed that, even over 250mph, the 28-year old fought to save his swerving car left then right before it hit a grass bank and somersaulted twice, slicing through several trees and a stone milepost. 
Bernd was found 23 metres from the road. There wasn't a mark on him; his arms lay resolutely by his sides. When team physician Dr Gläser reached him, he found a faint pulse, which quickly ceased. Auto Union never attempted a speed record again. Hitler turned the driver's funeral into a political rally. Rosemeyer's wife was disgusted. Elly and her 10-week-old son Bernd Jnr survived the coming war. 
Caracciola, angered by what he saw as unnecessary risks robbing a young life remarked afterwards: "Bernd literally did not know fear. Somehow I never thought a long life was on the cards for him."
What fascinates me about this story is that even in 2017, the speeds make for ludicrous reading. Two-hundred-and-sixty-odd miles per hour. That's still in the rarefied atmosphere where few cars have dared to breathe. 
The fastest I manage in the R8 the following day is 179mph, while the Spyder charges my phone, plays my music, and air conditions my pinned right foot. Four rings emblazoned on its nose, the furious machine scythes down the autobahn, its young driver remembering speed didn't always come easily.