SUVs
The big off-road test: Defender vs G-Class vs Bronco vs Wrangler
Four of the world's toughest off-roaders, one vast Welsh wilderness and tarmac only in the rear view mirror. Let the adventures begin
You join us in a remote cottage in the woods, where pizza and beer have just been consumed. Well, Ollie Marriage turned up with kegs thoroughly shaken in the boot of a Defender. There was a minor kitchen detonation when they were unpressurised, but it would have been rude not to have toasted our safe arrival in a location known only to lost ramblers, murderers and able readers of OS maps.
Welcome to a world beyond. To a world of grease in your winches, grit in your britches and army surplus. Outside lurk today's four most capable off-roaders. Representing Europe we have the Land Rover Defender and Mercedes-Benz G-Class, from America the Ford Bronco and Jeep Wrangler.
Advertisement - Page continues below
Normal practice would be to take them to a quarry and see which one fell over first. But that lacks ambition. And genuine jeopardy. So instead we've come to the remote byways of mid-Wales, and more specifically the Strata Florida off-road trail. The sort of place where men wear camo and Land Rovers fear to tread. But that's tomorrow. Tonight it's warm and snug on a cold, howling winter's night. The log burner is roaring and as we need to choose who drives what, Ollie Marriage has come armed with socks...
Ollie Marriage: It's not Christmas. Quite. But I've pinned socks up, each with a key in. Go ahead and choose.
Jack Rix: Smells like these haven't been washed since Christmas 1987... but who cares because I've got the Defender! Shall we pack up and
go home now gentlemen? *insert smug face emoji*
Advertisement - Page continues below
Rowan Horncastle: I've got a... verruca! Only joking, I've got the Bronco. The one that I wanted, until I saw it outside. I'm sorry, but I've been catfished. This 'Outer Banks' looks a bit weedy compared with the Broncos I've been lusting over online.
Ollie Kew: Hands off my sock, mate. I've got the rural romance you'd hope for: 392 cubic inches of Jeep Wrangler Rubicon V8. Probably more displacement than the rest of you combined.
OM: Which leaves me with the G. I'm looking forward to a massage as we go round tomorrow, but I could do with a bed right now – where am I sleeping?
RH: Not that I'm bitter or anything about your Sock of Destiny, but you're the last to arrive and there's no room at the inn. Your cottage is half a mile down that way. And we forgot to turn the heating on. Soz.
The weather is as bleary as we are next morning, yet we're up and out... dark, heavy clouds are blurring across the sky and dripping like a wrung towel. A metaphor coincidentally repeated indoors. We have five miles of roads before the fun begins.
JR: This is the way to start the day – mug of tea, a breakfast of bowel blocking Welsh cakes and now the Defender humming along serenely. Happy boy. The Defender does roads very well, and this 90 is more nimble than the 110. Doesn't feel ridiculously oversized on these narrow lanes either, unlike our American friends I suspect.
OK: How can there be so little elbow room in something that's wider than an entire Welsh village? The Wrangler's first impression is one of being sat on your dad's lap pretending to drive the family car. The 35-inch balloon tyres mean I'm comfortable over the potholes, which is just as well given its remote steering offers few clues where they're pointing. If this water gets any deeper I imagine I'll be able to simply drive across the surface like those Icelandic drag buggies.
RH: Erm. Should someone call the water people? Wales appears to have burst a pipe. I'm pretty sure rivers are meant to run under bridges, not spew over them. The Bronco feels a bit 'My First 4x4' and compared with the ridiculous crenellations of your Falken Wildpeak tyres, these Bridgestone Duellers look and feel anaemic.
Top Gear
Newsletter
Thank you for subscribing to our newsletter. Look out for your regular round-up of news, reviews and offers in your inbox.
Get all the latest news, reviews and exclusives, direct to your inbox.
OM: Don't panic, we have tow ropes. No concerns onboard the Merc though – what a machine this G400d is. Our American cousins are clearly so eager to be off-road that they're jouncing and lurching over smooth tarmac. How do they do that? The G is serene. Even down this first section of lightly roughened track they appeared to be making mountains out of molehills. Ah, stand by, first obstacle: rocky stream bed. The Wrangler looks fearsome, pitching, rolling and roaring, but then the Defender calmly eases through. As easy as it looked Jack?
JR: Absolutely not, you just witnessed years of practice and white hot skill in action. OK, yes, I just twisted the twisty thing to 'Auto' and off I went. It's so easy to use. And so smooth when it does it. Long way to go, but with my snorkel and departure angles, I can't see anything getting in my way, besides a puncture and running out of crisps.
RH: Look at you getting into the lingo. Have you been swotting up from our secret weapon? Simon Bond, the Top Gear office's off-road enthusiast. He's usually found wearing shorts and wellies year round. He's leading in a Ford Ranger which *nerd facts* shares the same fully boxed, high-strength steel chassis as the Bronco. But I'm hiding at the back as I can't help but feel a little timid in comparison to the jacked Raptor thanks to skinny tyres, small arches and a sopping canvas toupee. This thing feels flimsy. Flimsy doors. Flimsy roof. Flimsy attitude.
OM: I'm nervous about the G for entirely different reasons. It is super robust, built like a brick outhouse. But it is very nicely trimmed, all glossy screens, subtle tones and burnished metalwork. The others are rugged enough to feel part of the scenery, this is like driving Boujees through the boondocks. Nice touch whoever switched the ambient lighting to purple for the full nightclub vibe. I'm owning it.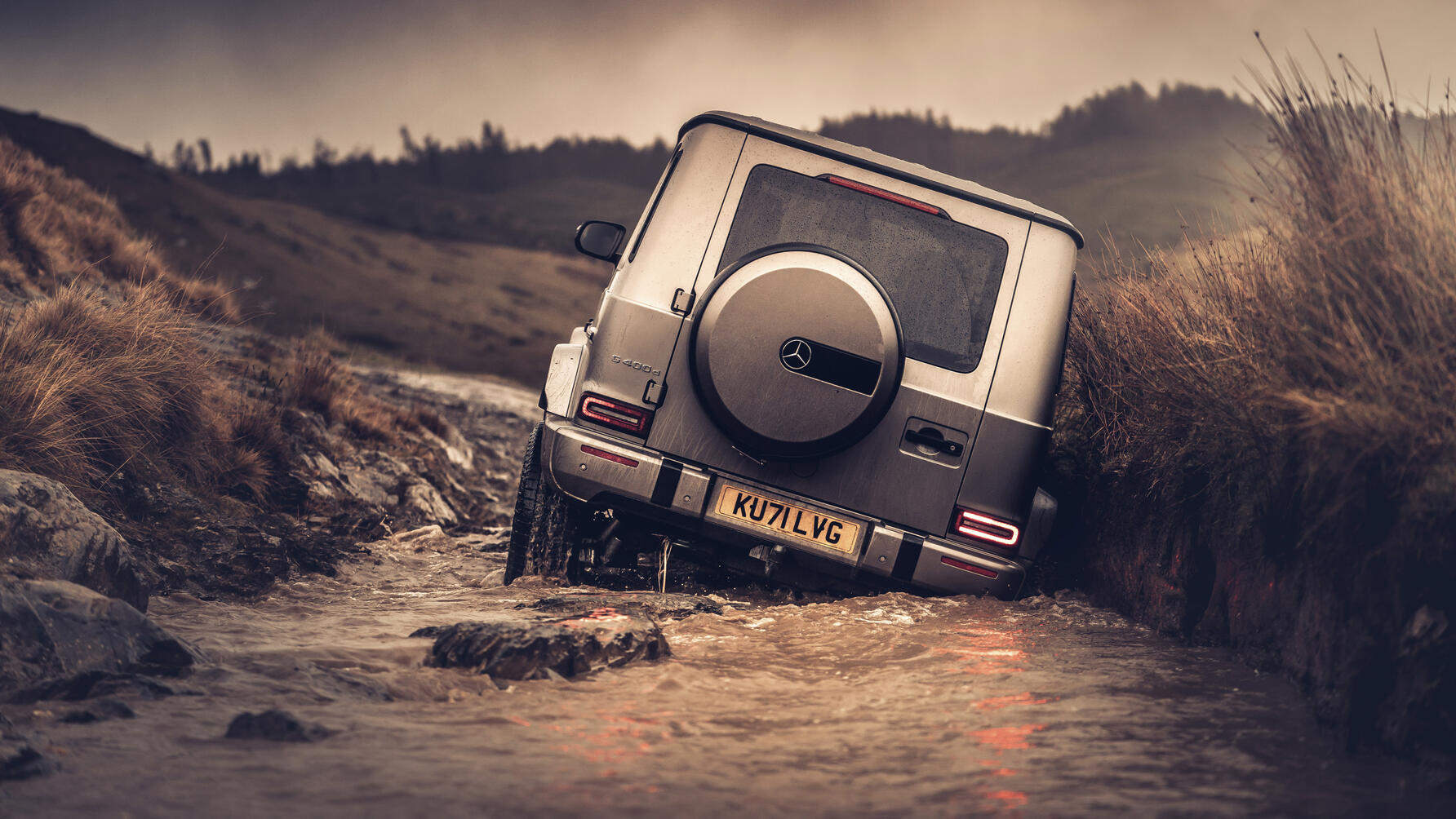 OK: That was me. Quite want a bit of G in my life right now. The Wrangler appears to believe it's a Trophy Truck, but what I need is precision. Bit narrow along here isn't it chaps? And that sheer slope a tyre's width to my left is peppered with tree stumps like battlefield tank traps. Squeezing the Jeep down here is like using a combine harvester to mow your front lawn. So far I haven't needed to do anything besides breathe in – but hey, look, the first major wading point. Time to engage low range. Wow the lever takes one heck of tug – none of your namby pampy electrified buttons or dials for the Jeep. There's a crackle and Bondy's on the radio: "Go in slowly Ollie, you want a gentle bow wave." Nah mate. Gonna test the HydroGuide intake that claims it can process 57 litres of water per minute.
JR: Why do Americans have to be quite so... route one? And why is the Wrangler steaming like someone's smoking a brisket under the bonnet? Can't be good. Bloody amusing though, it's basically its own fog machine every time it drives through water. No such drama here, thanks to the Defender's raised air intake. In fact, it's becoming apparent as we forge onwards through these increasingly wet trenches that the Defender is the guinea pig, the point man, the first one into gnarly situations to gauge how the others will fare. Ah, that looks more problematic. We have arrived at a broad, dark river crossing. Bondy jabs his patented umbrella measuring stick into the depths. It goes up to his elbow. The snorkelled Defender might be able to make it, but we can't risk the others, so now we're reversing down a narrow trench, pulling Austin Powers-style three-pointers and heading back.
RH: This is not an ignominious retreat. OK, it is. But I'm quite glad because we haven't had phone signal since sometime yesterday afternoon and I've got soggy socks as the Bronco's door seals couldn't handle the first crossing.
OM: Undo your diff locks chaps, we've got a road section to do. Strata Florida is actually the quickest and straightest route through this part of Wales, so attacking it from the other end requires a massive detour. More time for me to be smug in the Merc, and Rowan to look increasingly bedraggled in the Bronco. I can't believe how spec sensitive – both dynamically and visually – that car is. The Sasquatch I drove back in the summer felt unstoppable. And I think this Bronco is about to get stopped. Along with everything else. Bondy's beckoning, but first up at the far end is a slick black lumpen rock face.
JR: Defender ahoy! I did actually twist Terrain Response to Rock Crawl for that one. And used the clever 'see-through bonnet' camera view.
I could see what was under the car. Mainly rock as it turned out.
RH: This Bronco just doesn't have the hardware. It's got low range gears, but the Goat modes aren't goaty enough. To be fair, I'm amazed it made it up at all, but it was a bit worrying: jarring, bucking, hopping and rocking as the electronics worked out what to do with the power. Which appeared to be 'Give All of It' or 'None of It'. I nearly fired myself off the cliff.
OM: Pretty view off that side. A crumpled Bronco would've ruined the serenity. Once you were up I knew I'd have no issues in the G. What's surprising is that although I don't have the articulation or clearance, it just gets through. Despite the shorter travel it's so well damped. No lurching or rocking, it just eases over and around stuff.
OK: I just throw tyres and torque at the problem. That cross axle bit where the Bronco looked like a scared little lamb? The Jeep romped right through. Didn't even scuff its undergussets. I'm beginning to understand why all Americans feel invincible as soon as they saddle up their Wranglers.
RH: What's this place called? The bumhole?! I don't think I have that mode in the Goat selector.
SB: The bomb hole...
RH: Sod that for a game of soldiers.
JR: That does look quite senior. Look, it's starting to get dark and if we've got to retrace our steps and do the road home it'll take hours. What about that forestry track we saw?
OM: Has to go somewhere doesn't it? I'll lead. Raalllyyy! Ah, dead end.
JR: Pfffft, Ollie's supposed to be the proper rally driver here, but I've got a secret weapon – my phone's just picked up signal and Google Maps is pointing the way home. The light's fading, Ollie's overshot, I'm in the bloody lead, Defender for the win!
RH: This is my kind of off-roading – fast, loose surface with the strong possibility of a massive accident. The Bronco's much better here – it's controlled and steers with clarity thanks to independent front suspension. Mind you its wheezy 4cyl petrol is noisier than either diesel.
OK: Hang about, that's tarmac. Actually quite relieved, looked for a while like we might be stuck in the dark forests for the night, but instead it's campfire time. Homeward!
Wood crackles on the fire, drinks are drunk, tales are told and an excursion to Beulah for phone signal (yes, really) tells us tomorrow's weather forecast is looking much brighter.
RH. Who fancies a swap? Someone needs to experience the Bronco. Especially with that flapping canvas roof. Sounds like a skydiving gazebo at 30. If the weather stays good we might be able to remove it.
OM: We'll never get it back on, but go on, I'm game. Had it easy so far – you feel more separated from these stunning surroundings in the G, so at least I'll get to know them better. But hang on, this is significant wheelspin and I've only just gone round the first hairpin on the Devil's Staircase. There are 25 per cent slopes ahead! Ah, 2WD mode. Should have checked that.   
OK: Amateur. But tarmac's way more treacherous than trail when it's icy isn't it? Beautiful at the top though, the road frosted white, and did you notice how the water is going under the bridges today?
JR: I did and tell you what, the G is even easier to operate than the Defender, and this diesel really is miles more appropriate than the Kensington-special G63 isn't it? Love how you just stick it in D, then there's three chunky buttons to lock your diffs when the terrain turns tetchy. In the Defender, Terrain Response is operated using the driver's heating dial. Still, better that than the Wrangler where mysterious buttons have been plastered wherever they could find space on the console.
OK: Traversing the same path as yesterday is interesting. The Defender is much easier to place than the Jeep with its vast bonnet and hidden pontoon wheelarches. And I'm more confident in this old-school A-pillar snorkel than the Jeep's Gillette ProGlide plumbing or whatever it's called. Ro, you should have a go in this. That bit where the ragged dino teeth jut up from the surface is ahead.
RH: Holy moly this Defender is impressive. Brief wheelbase, short overhangs, smooth six-cylinder diesel, fabulous packaging – tiny boot, mind – and at once furiously capable but humble. It's the well read guest at this off-road dinner party. That Wrangler appears to be the brash type who wants to play beer pong after the bread course.
OM: Well, the Defender made plunging into the bomb hole and then climbing the 45° waterfall exit look totally casual. The Wrangler was gung-ho and since we don't fancy roping up we're not testing the Bronco here. The G doesn't look like it has the angles and clearances, but I'm resolved to try. Some diligent arm waving from Bondy has me in position, the Merc tips back and up we go. Have some of that!
OK: Bloody children. This Bronco is only the second toughest Ford in this test. The structure shakes, wind howls through the gaps in the superstructure, and it lacks 'unstoppability'. It's a fish out of water in the UK, but what a backdrop. And at the back I can enjoy watching the others conquering the trail one diff lock at a time.
RH: It's an obstacle course in the middle of nowhere. Anyone else feel vulnerable? In environments like this you're reliant on your car, and in many parts 4x4s are lifelines. And the Defender's the one I trust to get me anywhere. Such a pity 95 per cent of them will be school run taxis.
OM: If anything the Land Rover makes stuff too easy, perhaps the ultimate off-road compliment. I've just had a go in the Wrangler. It's very confident in itself, isn't it? But it doesn't do it with the easy panache of the Land Rover. It's a V8 headbutt, hitting things with a holler. Sounds brilliant, but feels old and hugely out of touch. And this one's £110,000!
JR: Both the Wrangler and Bronco are imports and we couldn't be choosy about the spec, so both have one arm tied behind their backs. The Wrangler is hard to recommend at that price and the Bronco doesn't have all the bits it needs to shine here. Have to say though, the Wrangler knows its audience well. The Bronco needs to be specced with care and the G-Wagen (still can't get the hang of calling it the G-Class) is basically a luxury Terminator with strip club lighting... costly and a bit too flash for me. So it's another vote for the Defender.
OM: The sun's nearly down and I've got little to add. The Defender is just so thoughtfully designed for this environment. The Wrangler wants to be in Moab and – when it grows up – the Bronco wants to be a surf truck. The G knows exactly what it's capable of, but draws a veil of glitz over it. So I'm going to nab the Defender and do something daft – a night run back across the whole 10 miles of Strata Florida. Bondy, you with me?
RH: Maniacs. It's been a punishing two days, we're taking the roads like sensible people.
Postscript: Fast-forward 45 minutes and Rowan and Jack, in the Wrangler and Bronco, are stationary on a single lane road covered in black ice, staring at an abandoned van, wedged in the road, at the bottom of a severe slope.
JR: This is fun. No signal, can't get past the van without crashing into it, next to no fuel left, the tow ropes are in the Ranger and we're only 10 minutes from home if we can get past... an hour and a half if we can't.
RH: Wait! Look! Lights coming down the hill over there, must be Ollie and Simon at the end of the Strata Florida. Quick flash your lights! Yes... I think they're stopping. Nope, nope, they've sodded off.
JR: Great. The world's biggest detour with no fuel it is. And the moral is, if you want to get somewhere quickly in Wales, off-road is the best road.
MERCEDES-BENZ G-CLASS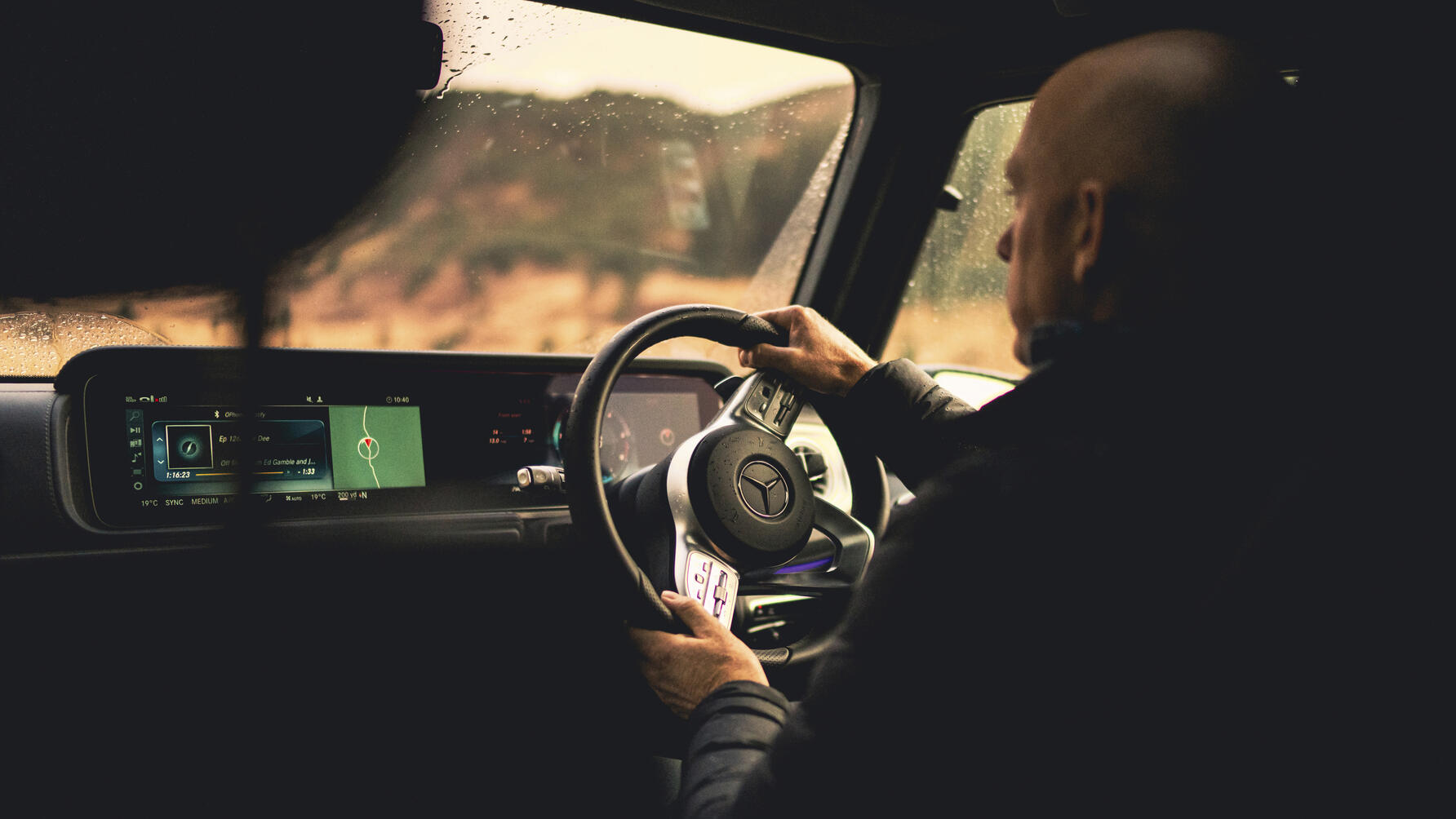 By Ollie Marriage
Officially this is the G-Class now, but to us it'll always be the G-Wagen. There's no reason for this car to exist in the Mercedes portfolio any more: if you want a five-seat 4x4 with a big boot you can have a GLE.
The G-Wagen only continues to exist because it's built such a cult following as it's morphed from utilitarian army surplus to Chelsea school run chariot, Mercedes has deemed it worthy of a ground-up redesign that's modern underneath, but still looks reassuringly boxy.
The aerodynamics are atrocious, the windows archaically flat, the door locks still sound like a firing squad cocking their weapons and inside, amid the multi-colour ambient lighting, hi-def widescreens and quilted leather, the dashboard centrepiece is three (beautifully knurled) buttons for locking the G's front, centre and rear differentials.
Oddly for what is Mercedes' least sporting car, it's become synonymous with AMG – 577bhp G63 AMGs complete with twin side-exit exhausts seem to outnumber black cabs in the capital. But there is another way to G-Wagen... this: the G400d. The bumpers are – believe it or not – softer looking and more rounded than the square-jawed 63.
It's the entry-level model, replacing the discontinued G350d but using an uprated version of the same 3.0 twin-turbo straight six. No tri-turbo or V8, but a useful power hike of 43bhp and 74lb ft, for totals of 325bhp and 516lb ft, the latter delivered at a mere 1,200rpm.
And that's what matters. Having that much thump available so low down offers performance commensurate with your expectations. It does 0–62mph in 6.4secs, which is swift enough – quicker than a Range Rover D350 (7.1secs). And by plumping for turbodiesel power, the sacrifice of two seconds from the G's 0–62mph time is repaid with a £55,000 price cut – down to £108,815. It's still a phenomenally expensive machine, but at least this one might crack 20 to the gallon.
FORD BRONCO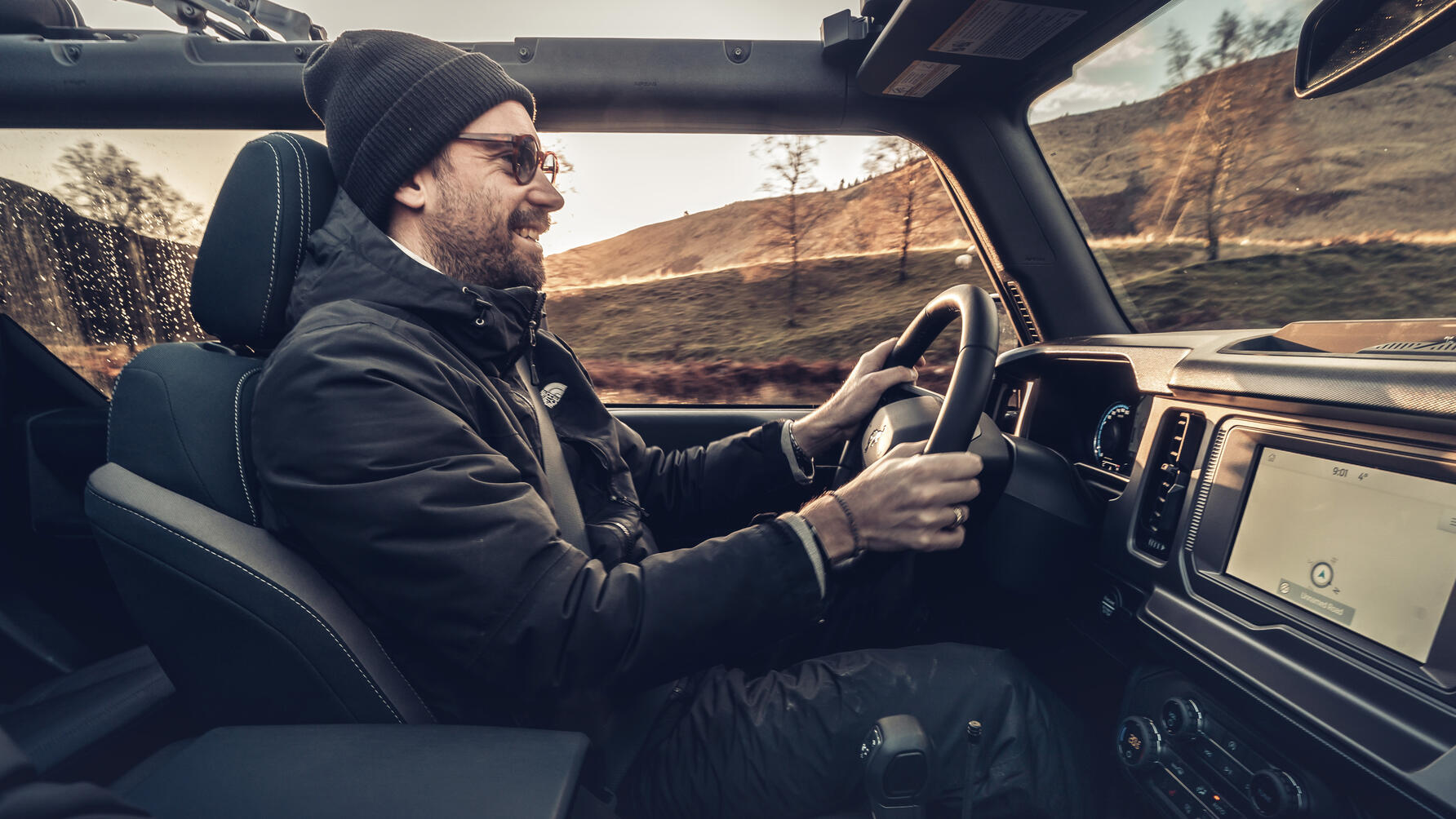 By Rowan Horncastle
Before we get tucked into the numbers, you may be wondering why it looks a bit softer and tamer than other bulbous bull-barred Broncos you've seen. Well, Ford made the Bronco infinitely speccable. You have a choice of two or four doors, seven separate trim levels, three kinds of roof, plus five separate packages. And that's before you've even got to the options list that's the size of the Argos catalogue.
There are two engine flavours: a 2.3-litre 4cyl EcoBoost with 270bhp and 310lb ft or a 2.7-litre V6 with 310bhp and 400lb ft. We've got the smaller four pot with a 10spd auto. It can also be had with a 7spd manual that includes a crawler gear for when things get super gnarly. Could've done with that.
Being a modern off-roader, underneath there's some proper off-road software including Goat modes (Go Over Any Terrain) – a selection of seven drive modes, including Sand/Baja, Mud/Ruts and Rock Crawl. The satnav gives access to topographical trail maps... in the USA. Useful when you're in Wales.
Ford promises 295mm of ground clearance, breakover and departure angles of 29˚ and 37.2˚ and an 851mm wading depth. Independent front suspension (an optional semi-active front stabiliser bar disconnects for better axle articulation) is backed up with a five link solid axle at the rear.
Unlike the Mustang and Mach-E, the Bronco isn't coming to the UK. Well, it isn't meant to. Luckily, we know a man called Clive. He has this very car up for sale at £75,000. Which is the thick end of new Defender money. And a mile off the Bronco's US starting price: $29,995 for a 3dr and $34,695 for a 5dr.
JEEP WRANGLER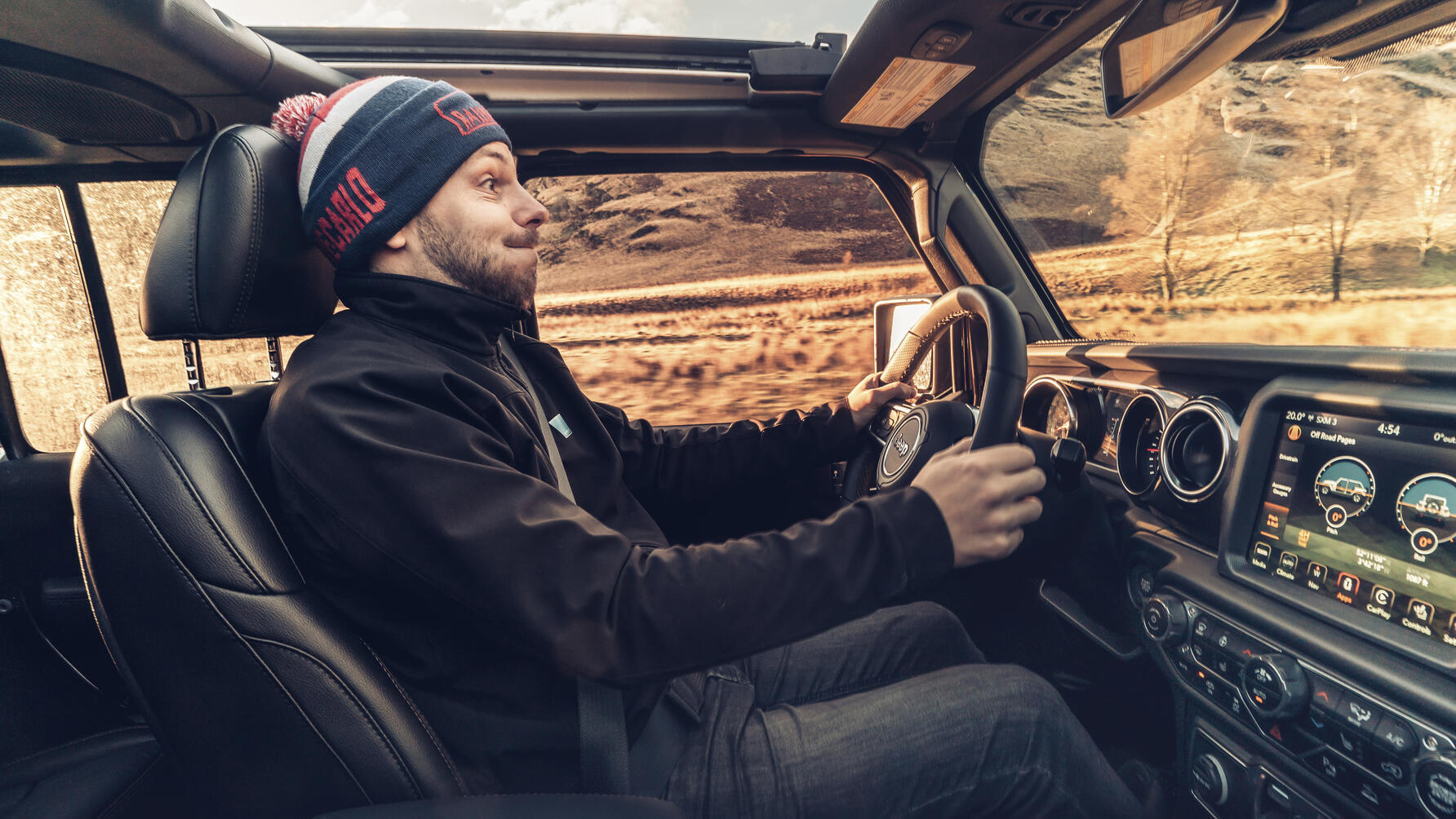 By Ollie Kew
I like my history. The latest Merc G-Class tips its feathered hat to the Geländewagen military vehicle first sold to the public in 1979. The Bronco pays homage to a rudimentary American truck founded in the mid-Sixties. And the Defender is the spiritual successor to an icon which can trace its empire-rambling ancestry back to a drawing in the sands of Red Wharf Bay, Anglesey, in 1947.
But none of them would exist at all if not for the Jeep. The car that won the war. Since 1941, synonymous with getting you places where failure is not an option. So it's interesting that the Wrangler – which most closely follows in the tyre tracks of the Nazi-conquering Willys – is the silliest car here, by ooh, a good three litres.
This version has been around since 2017, still an old-fashioned body-on-frame, solid axles truck. In the UK, you can buy a Wrangler that looks pretty much the same as this – in full fat 'Rubicon' trail-ready spec, powered by a sensible 2.0-litre 4cyl petrol. Jeep says it'll crack 20mpg, if you're careful. You get an 8spd auto with low-range, front, centre and rear locking diffs and hill descent control. For this, you'll part with £55,000.
In the USA, $75,000 buys you what we present to you here: the Rubicon 392. All the tech, all the toys, but instead of a paltry 272bhp, this true off-road datum point is fitted with a 6.4-litre, 470bhp V8, with 470lb ft of torque and good for 0–60 in 4.5 seconds. Over anything.
It's a different approach to off-roading. Instead of tiptoeing over every crag and through each puddle gently, what happens when you lob Porsche 911 GTS-crushing power at the situation? This import is also here courtesy of our friend Clive, who's got it up for sale for £110,000. America, truck yeah.
LAND ROVER DEFENDER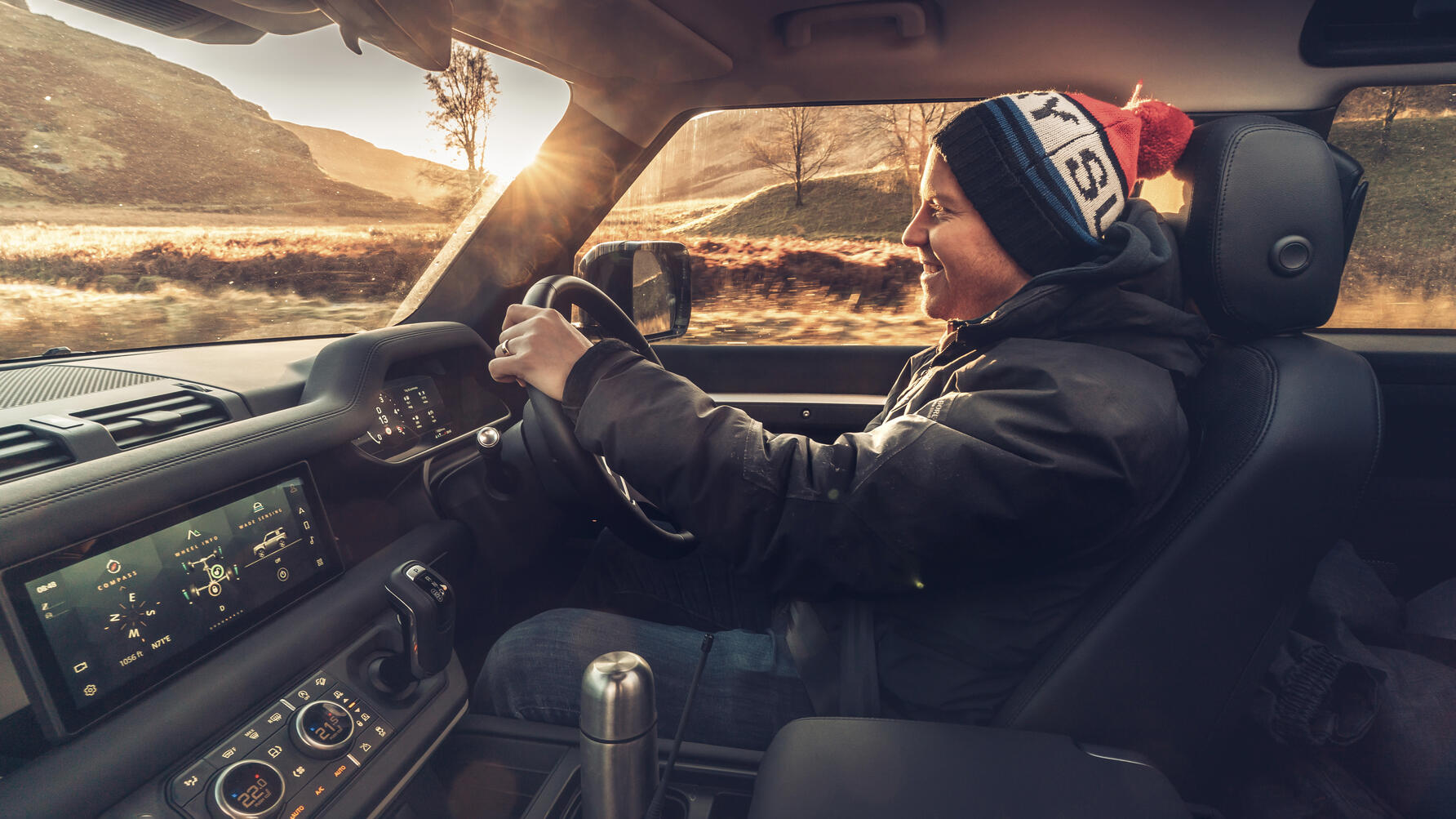 By Jack Rix
When we named the Defender Car of the Year in December 2020, the protests – which oscillated between "How can you award something that will break down every five minutes?" to "They've totally cocked up the design" – were deafening. Now the kneejerks have died down... I'm sorry internet, we were right. There's something so right about the way the Defender looks, operates and goes that fills you with confidence.
It's not just the warm, fuzzy glow of heritage, the attention to detail is obvious. Our test car was a 3dr 90, D250 SE (£61,125 as tested) with the 246bhp straight-six diesel (our pick of the engines) with all the off-road goodies: raised air intake (£649), front underbody protection (£844), off-road tyres (£255), air suspension (£1,615), electronic active differential (£1,020) and folding fabric roof (£1,800). Alright, that last one isn't strictly off-road necessary, but ideal for sticking your head out and yelling at whoever's nearest when you're stuck in rising water.
Where the Defender feels ahead of the pack is its electronics. The 360˚ cameras are magic, and can use the front feed to create an 'invisible' bonnet and project the exact position of your front wheels on the screen. The wade sensing mode shows how close you are to the maximum 900mm depth. The cleverest part is the Terrain Response system, which you can leave in Auto, select low-range, raise the air suspension for max clearance and pass over stuff that would skewer other members of this party. But not everyone wants the computers in control, so you can dive into the sub-menus and open/lock the diffs as required, y'know to make it feel like you're contributing something, when in fact the car's the star.