Big Reads
BMW 8 Series Gran Coupe vs Porsche Panamera vs Audi S7
The gap between saloon and coupe has narrowed. So which treads the tightrope best?
What should we call them? It was a debate raging in the office as locations were scouted and a photographer booked. Saloupes? Coupaloons?
We ought to have a name by now. The Mercedes CLS effectively launched a whole new niche of car when it first melded the saloon and coupe worlds back in 2004, looking like an E-Class that'd been for an eyebrow wax and a mani-pedi, and it's accrued a swathe of rivals since.
Advertisement - Page continues below
Words: Stephen Dobie // Photography: Jonny Fleetwood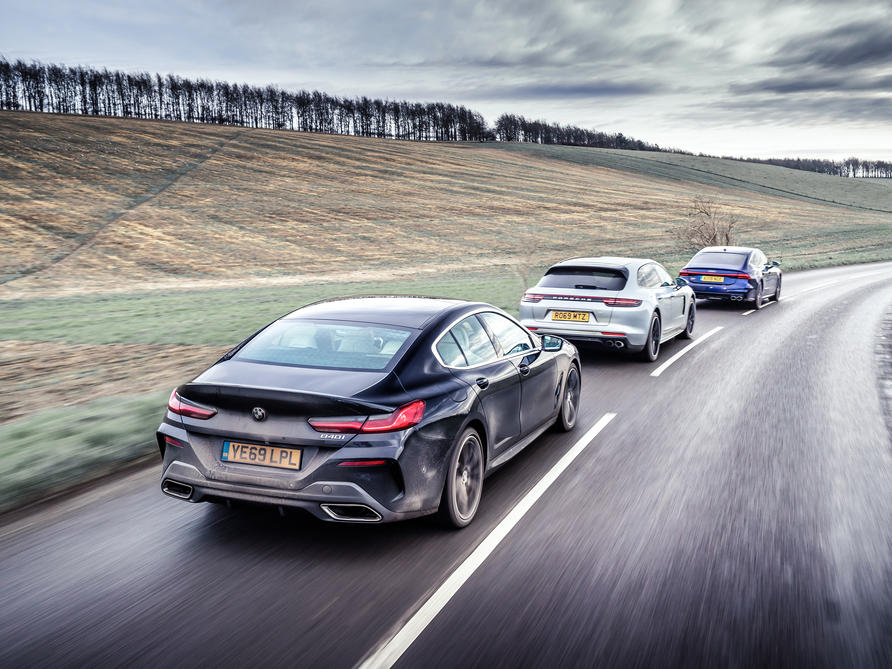 A diverse trio of which you see here. Newest of the bunch is the BMW 8 Series Gran Coupe, a car approaching its sub-genre from the opposing direction of the CLS, given it's a 2+2 with an extra set of doors. It's here in 840i trim, using the 335bhp 6cyl turbo engine also found in the Toyota Supra and costing £69,340 before options (but close to £79,655 as you see it here).
Then there's the Audi S7 Sportback, the madras of the A7 range where the RS7 is the vindaloo. It's newly diesel-only in the European market, using a 344bhp V6 engine to power its quattro all-wheel drive, and it's priced close to the BMW at £68,680, or £78,455 in the spec before you. A slicker version of the A6 saloon rather than an elongated coupe, it's a proper five-door, thanks to a whopping great hatchback.
Advertisement - Page continues below
Our oldest contender is the Porsche Panamera Sport Turismo, the ever-so-slightly estate-y version of the Panamera, which brings a bigger boot and an extra seat to Stuttgart's saloon car. Another flavour of the breed again, then, especially as you see it here in 4 e-Hybrid form, using a petrol-electric powertrain that pumps out a total of 456bhp and claims 86.5mpg (expect low thirties in the real world). Much larger figures than the other two, but then at £85,865 base – and an eye-watering £104,181 as tested – it's also priced much more heavy-handedly (although ST prices start at £75,037).
It doesn't own the best engine in the Sport Turismo range – sorry, Greta, that's still the V8-powered Turbo – but it's undoubtedly the most relevant and probably the easiest to justify to yourself. And others. These cars are all rather cocksure, so all credit to the Panamera, capable of around 20 miles on electric power only, for shaking off a bit of swagger and aggression by gliding away silently in the morning and sailing through towns and villages without a fuss.
All three embrace you in a quiet cocoon on a long journey, but it's the plug-in Porsche that takes the feeling to its nth degree when the V6 drops away entirely. Perhaps it goes too far, given that the tyre roar – kicked up by rear rubber twice the width of an original 911's – has so much chance to dominate.
It's fairly brilliant to drive, mind, even without the handful of chassis options so vital on a Cayenne. At 2.2 tonnes it cannot hope to act the role of a sports car without fluffing a few of its lines, but the magic dust Porsche sprinkles on all of its cars is here in abundance: sweet steering, expensive damping and even fantastic brake feel, something few hybrid cars get right.
It feels ginormous on a tight back road, but that's its biggest weak spot. It'll otherwise attack that road with dizzying speed and ability, just with a layer of complexity between you and the road that a Cayman or 911 conspicuously lacks. If you're still unconvinced, then the witchcraft of energy recuperation means a mischievous thrash actually charges the battery up pretty quickly, should your end destination not have a socket. Driving hard to save the world. We can get on board with that.
The Porsche encourages driving hard to save the world. We can get on board with that
The boot is big (if 100 litres down on non- hybrid versions) and it's the only car here that'll seat the tallest of adults in the back without making them contort their body like they're in a 'how many people can you fit in a Mini?' record attempt. The Sport Turismo is perhaps the car the Panamera should always have been, the gawky looks of the first-gen saloon having matured wonderfully like a gangly teenager that's grown into adulthood.
Top Gear
Newsletter
Thank you for subscribing to our newsletter. Look out for your regular round-up of news, reviews and offers in your inbox.
Get all the latest news, reviews and exclusives, direct to your inbox.
And the Gran Coupe is arguably the new 8 Series at its least awkward, too. See, the two-door hasn't yet set our world alight, feeling too big and bloated to be a sports car, but not roomy or soft enough to work as a GT. The four-door treatment is sympathetic to both causes: less expectation of racetrack refugee handling, more space and comfort to boost its luxury credentials. The regular Eight can barely fit a toddler in their kiddie seat in the back, but anyone under six-foot ought to be fine in the hindquarters of the Gran Coupe.
We've got the cheapest version – a diesel and a pair of V8s, including a full-strength M car, sit further up the range – but my suspicion is it might be the sweetest on sale. It's certainly the purest, the only Eight with a petrol straight-six up front and the drive sent solely to the rear axle, making its layout pleasingly akin to BMW saloons of old. It drives with a deft balance that suggests every member of the engineering team has an E46 3 Series at home, in fact... though with a £1,750 caveat.
That's how much it costs to add rear-wheel steering, and it's money well spent if you're a driving nerd, as it metaphorically shaves some length from the car in tight corners. But it makes me feel a touch melancholic, too. Just as there seemed to be a collective industry effort to slim performance cars down a bit, their makers suddenly discovered the four-wheel-steer cheat code that, alongside fitting a suite of parking cameras, allowed their products' briefly stunted growth spurt to resume.
If it makes a big fat Eight drive like an old Three I'm less offended, mind, and the handling flair on display here proves BMW still cares about a good old sports saloon (and a handsome one, at that). If the company is to survive the enthusiast malaise brought on by the hideous X7 and front-driven 1 Series, cars like this are pretty crucial. You can forgive some rough if there's a sparkling diamond among it, and I'm not talking about the godawful gear-selector betwixt driver and passenger. It helps control a joyous powertrain, though, this 6cyl full of vigour and attached to an 8spd paddleshifter that really knows how to extract the best from it.
The S7 lands at the same time as the thoroughly excellent RS7, one of the best fast Audis in a good while. It arrives as quite a different proposition in our shores, though, missing a petrol engine from its options list and idling like an upper-class airport taxi as a result. The engine is quiet on a long cruise and augmented by some petrol-aping noise under heavy acceleration – until you see sense and turn it off – but there's no escaping its power source when it's at a standstill.
There's some mild-hybrid stuff at play, which helps the engine coast and the stop/start kick in a little more smoothly, and it'll achieve the best real-world fuel economy of this lot with said assistance. It also has the most luggage space despite not visually channelling the estate car vibe like the Panamera, while it'll be the one least foxed by the trudge of a British winter, thundering through appalling conditions with nary a concern where the BMW will exhibit an occasional flicker of traction control light.
But it's stereotype Quick Audi in a way its hotter RS sibling simply isn't. The ride is too fiddly in its Comfort setting, the steering is vague and the whole thing just feels aloof. Some will love its mix of assertive looks and relaxed demeanour, and the ease at which its monstrous mid-range torque can be deployed will please people who care not for the vagaries of 'feel' and 'feedback'. But if you're among them, may we suggest a regular A7 diesel? If you can live with a 0.6sec-slower 0–62mph time, a 50 TDI is 10 grand cheaper in still-chintzy S line trim.
The S badge brings more speed and muscle, but no tangible character shift, which is a shame, and something that could so easily have been provided by nabbing the mild-hybrid V8 diesel from the SQ7. Snubbing it feels like a missed trick, both in terms of badging parity and giving this car the personality its striking looks deserve; it's unarguably a lovely object, if that's all you're in this weird old corner of the market for. For a true window into the S7's soul, consider the use of Audi's latest 'hockey stick' rev-counter – so cool in the RS7 – but with a red line so low it's shaped like a boomerang. Or simply have a gander at its fake quad tailpipes.
In short, the S7 is form before fun. It offers a wonderful cocoon from the rigours of the outside world, but then so does the less practical but more exciting 840i. They both just lack the flexibility needed to feel like a one-car-fits-all solution: they are fine trinkets, but trinkets nonetheless, where the Panamera is a properly sized car that'll swallow people and their things with a nonchalant shrug of its shoulders. The BMW wins as a driving experience, but Porsche's shooting brake wins as an overall experience. Neither coupe nor saloon, yet somehow, the best coupaloon here.