Big Reads
BMW M3 Touring vs Audi RS4 Avant: can an old estate do the M3T's job for a fraction of the price?
The new M3 Touring is an *expensive* car. For the price of its options, can a used B7 RS4 compete?
Don't you hate it when old people moan about everything being expensive 'these days' and it being better way back when? When all this was fields and you could get a brand new hatchback for six grand and a holiday to Spain for 300-quid? When a pint was £1.50? Well, I am now old. Because the first thing I thought when I saw the cost of the new BMW M3 Touring was… that's A LOT of money for a 3 Series Touring. But a base 3 Series estate - a 320i Sport - is £41,615 in '23. For us people with creaky knees, financial expectations need to be revised.
And it's no wonder so many cars are on the never-never - PCPs and leases are one of the only ways to drive an actual new car. But still, the argument that this could be 'all the car you ever need' is always a good one. Sports car when you want a fun drive, family hauler, good-looking and practical. Value? That's subjective. But Top Gear likes a challenge, so we decided to look at some cheaper options.
Advertisement - Page continues below
Photography: Mark Riccioni
Hence to a hefty assault of configurator dawdling and questionable optioning choices. If you take the basic list price of the BMW M3 Competition Touring xDrive as of this morning from the BMW UK website, you're looking at a base price of £86,365 including VAT. Without playing too fast and loose with the configurator, you can add the 'Ultimate Pack' - which, to be fair, does include a wide-bore injection of desirable hardware like the carbon seats, LED laserlights, heated wheel and M styling bits - for £13,815.
Advertisement - Page continues below
Then there's the 'M Pro Pack' (gold calipers and carbon-ceramic brakes) for £8,395, a UK service plan for £2,289, and the paint we had on the test car (Frozen Portimao Blue Metallic) for £2,985. Which tops off the price a bit. Then if you click on the nice wheels for £935 (bargain) and some nicer leather for a couple of grand, you're about finished. All of which means you can quite easily come up with £28,419-worth of options. On a BMW 3 Series. Which is £149 more than the current list price of a base-spec BMW 1 Series (£28,270).
Choice is good. Having a car that you can option to be just as you want it is good. But that's a lot of very expensive choice, and I don't think that's me being an old fuddy-duddy. In fact, the car I specced for fun ran at a base price without VAT of £69,537.50 (the 50p is important, obviously), with £26,682.50 of options. Add in £18,644 of 20 per cent VAT and a £2,920 on-the-road fee, and you're looking at an M3 Touring that has a Buy-It-Now price of £114,784. Cough. Best price up those kidneys, prepare to mortgage the dog.
Which got the brains at Top Gear thinking (specifically Captain Lateral Ollie Kew); what car does the M3 Touring's job, but for the cost of its options? Enter the obvious answer; a pre-loved Audi RS4 Avant from the much-lauded B7 generation. Now obviously we didn't go and view cars and poke them with spanners, and we're completely accepting the fact that finding a completely unmolested B7 Avant is like trying to find the proverbial needle in a haystack made of haystacks, but there are cars out there. High miles and lots of owners are sub £20k, with more modest total mileages/ better condition nearer the £30+k mark. Bang on.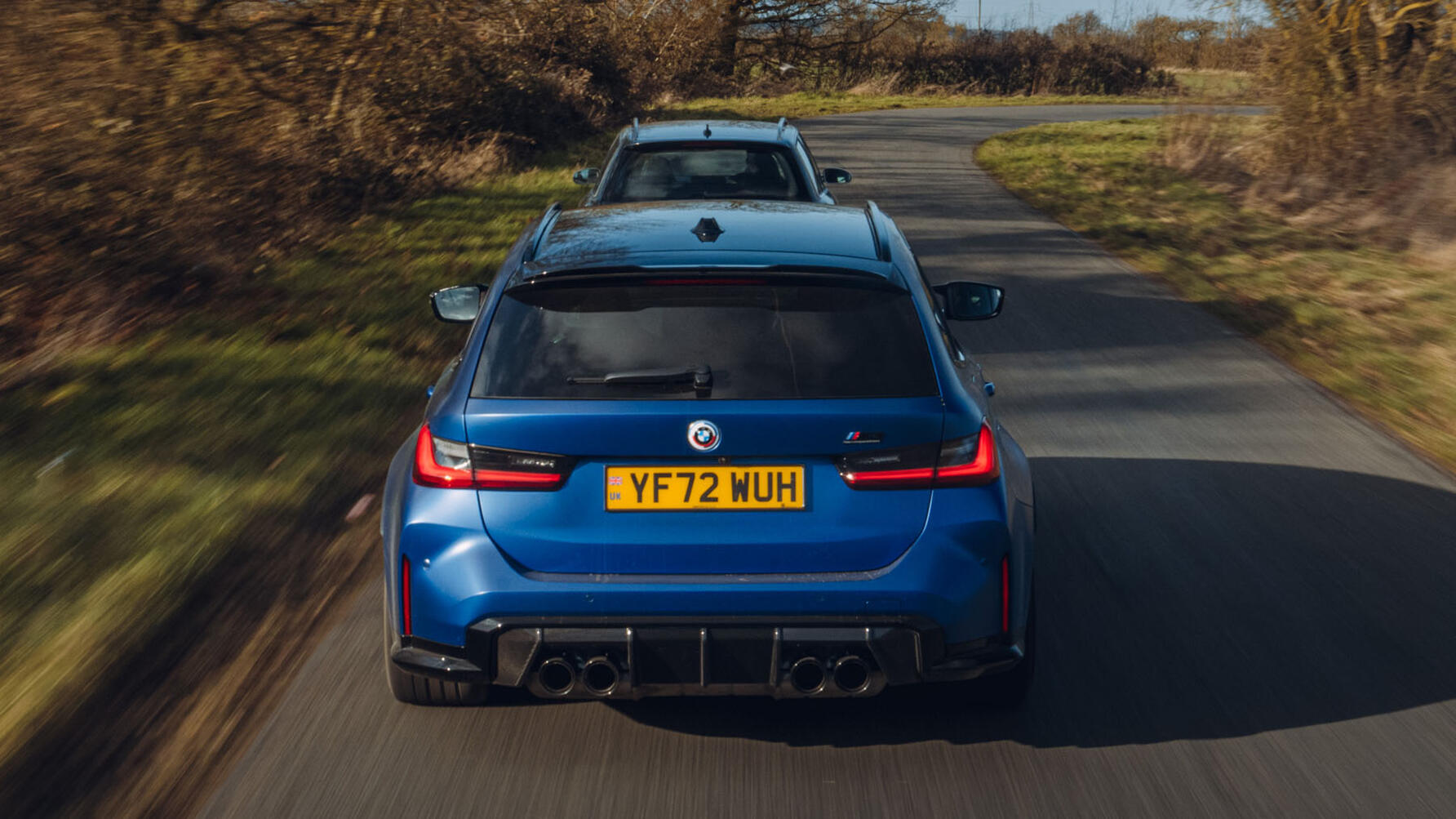 And the RS4 looks… absolutely brilliant, even in the car equivalent of middle age. The B7 RS4 got little shark gills on the front bumper just ahead of the front wheels for extra oil coolers, muscular flared aluminium arches (and an aluminium bonnet) nicer wheels than stock and and twin oval exhausts. There are other changes - the silver mirrors are a giveaway - but next to the aggressive M3 it's a lesson in understatement, and very much an 'if-you-know, you-know' kind of car.
Inside it's got the batwing seats (2007's most stolen seating option), a six-speed manual (there was no auto) and a pretty standard high-spec A4 interior. Which is nice enough, if not gobsmacking. Some of the leather is a bit squeaky, and there are some laughter lines in the black leather, but generally, the one we have here is looking good. A bit of bodywork and trim botox and it'd be good as new.
But the real gem is the fact that the B7 RS4 Avant comes with a naturally-aspirated 4.2-litre V8 stuffed under the bonnet, driving through an all-wheel drive system with a 40/60 front/rear split. Yep, that's essentially an R8 motor with some of the ancilliaries swapped about, shoehorned into a practical estate. Even the engine itself looks great, where the BMW looks … like it ate a plastic tray for breakfast.
When new, the RS4 was a family car that produced 414bhp and 317lb ft, hit 62mph from rest in under five seconds and a limited 155mph. It also revs to a cut at 8,250rpm. Sixteen years ago, it hit price-lists at a smidgen over £51k. Inflation be damned. With BMW not having a Touring in this size at the time, and the B7 being on the verge of legendary status, it looks like a good match up.
Except, as you might expect given the age gap, the BMW is better than the B7 at pretty much every objective metric you can throw at it except weight and redline. It has more power and torque (503bhp/479lb ft plays 414bhp/317lb ft). It has more speed (3.6 seconds to 62mph from rest versus 4.8), and although they both have 155mph limiters, the BMW can be optioned for more. The BMW has a better power-to-weight ratio (270bhp/tonne v 246), a bigger boot (500-litres v 442), more gears (8 versus 6 forward), better efficiency, more toys, more sophisticated traction control and several AIs-worth of advanced driver assistance.
Top Gear
Newsletter
Thank you for subscribing to our newsletter. Look out for your regular round-up of news, reviews and offers in your inbox.
Get all the latest news, reviews and exclusives, direct to your inbox.
The two it doesn't quite beat the RS4 on though - weight and redline - are two of the most important. At 155kg heavier, the BMW has to work hard to feel lighter. And the 8,250rpm cutout of the RS4's V8 is worth the price of admission alone. The fact that you have to get there via a manual 'box is the icing on the cake. No, it's not as convenient in traffic, and it's ultimately not as fast as the BMW's slick-shifting 8-speed auto, but from the light and hollow-feeling gearknob to the way it slots into third and tries to headbutt the horizon, the B7 bleeds character. And that's what we're talking about here; character. Something that's hard to define, but you know it when you feel it.
The M3 might have three different modes for the xDrive all-wheel drive (normal AWD, sport AWD and rear-wheel drive), five different, configurable parameters for various dynamics from steering weight to throttle response and ten, yes ten, different traction control settings, but is it better, or just more adjustable? That obviously depends on definition. Ultimately, it offers more fine-tuning and variation in character, but it also offers you the ability to get it completely wrong, set it up badly and end up getting frustrated. The Audi has a Sport button. It makes the exhaust a bit louder.
And here's the thing. The BMW is a better driver's car, exceptional in so many ways that it can make your head hurt. It works on slick, greasy surfaces better than you can imagine, with BMW's xDrive undoubtedly one of the very best sporting AWD systems in existence. And then, on a dry surface, it essentially feels rear-wheel drive, turning and stopping and existing in a place where it feels nimble and light but endlessly surefooted. It also goes really quite startlingly fast, with the kind of mid-range teleportation that makes overtaking both safe and easy.
The Audi feels heavier, even though it isn't, is more prone to understeer with only a whiff of oversteer if you stay on the throttle and really power the car through. It has more body roll, less precision, ultimately less grip and less finesse in the ride. Though not by as much as you might think. And yet the RS4, against this amazing BMW, feels like the car you can bond with. You get used to the car's quirks and adapt, rather than coding them out. It requires a bit more from you, the driver, more of the time. It also makes a lot of operatic noise, the good kind, where the BMW can sound exactly like what it is; a turbo engine getting rid of a load of air. In a lot of circumstances, it sounds like a dog coughing. Even though the BMW can go faster more easily, in a world full of speed cameras, that doesn't seem like the bright idea that it once was.
This sounds like I don't like the M3 Touring, but I do. Fast estates are just cool. The issue is that I don't think there really is one car to do it all. I'd be scared witless to chuck a load of wood into the back of the M3 T for fear of scratching the carbon. It wouldn't be the car I'd choose for a track day (though that would be amusing), and for family hauling duties, comfort and ease of use are probably more important. The fact that I could have a B7 RS4, a pickup of some sort and a BMW i3 for town/short hop duties, and enough left over to run them for the same price as one M3 Touring just makes me wince.
Like I said at the start, this sounds like moaning about when things were cheaper and better from a man with more creases in his face than his trousers - but in this case, I really do remember when all this was fields. And I preferred the view.