Big Reads
BMW M5 vs Mercedes E63 AMG: 1,200bhp saloon slugfest
Two 600bhp, AWD monsters. One 1,500 mile road trip to decide which is better
This is going to be hard. Perhaps impossible. The power wars between M Division and AMG have been raging for a long time, and with the pair's latest 600bhp four-doors, they appear to have reached some kind of deadlock.
The new BMW M5 and Mercedes-AMG E63S have clever all-wheel-drive systems that make them useable in winter, but with a naughty rear-drive 'drift' mode to appease the purists. Both have a twin-turbo V8 engine with around 600bhp, each one mated to a long-legged but snappily reacting automatic gearbox.
Advertisement - Page continues below
Each one has a suite of driver modes and traction control settings to make it malleable to all talent levels and handling tastes, too. I'm professional though, and I promise I'll reach a verdict. Hopefully without resorting to a coin toss. I know, #FirstWorldProblems.
Words: Stephen Dobie/Images: Mark Riccioni
It's in situations like this where immaturely skidding around on a frozen lake has some real use. Honest. With cars whose limits are so stupendously high – the AMG's performance displays prove you're using laughably little of its 604bhp on ordinary roads – slippery conditions bring the extremities of their behaviour down to low speeds, and with loads of lovely run-off. Handy when you've got five metres of car not inclined to go in a straight line.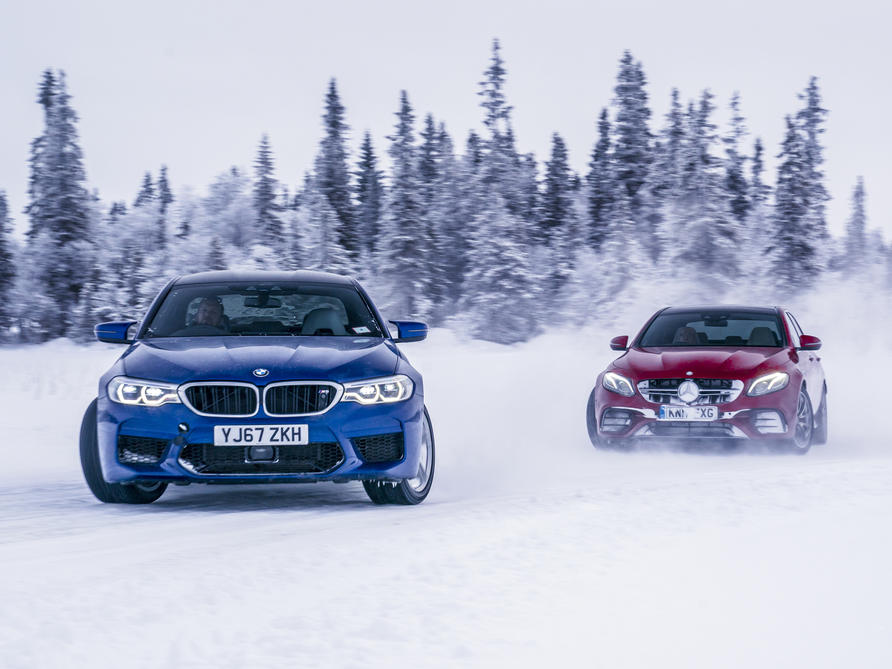 Advertisement - Page continues below
That car is the E63S. Yeah, there's a load of fancy new AWD tech beneath you, but it's still happiest with you've got a load of opposite lock on. I begin with its electronic nannies in their halfway house mode, but after just two corners of the Top Gear Winter Games track, I switch everything off and act a bit of a loon. Yes, it can be driven in a smooth, neutral manner, utilising the rear-bias of its transmission to combat understeer... blah blah. It immediately implores you to drop mature pretensions and indulge its inner scoundrel.
The BMW M5 is keener to knuckle down and be serious. Its 592bhp lags slightly behind the E63S, but it feels more agile, and to a greater degree than its slim 25kg weight advantage suggests. It favours assertiveness over aggression, and its steering is quicker, its pedals more responsive and its front tyres more willing to bite. That also means it can snap a bit quicker than the Merc, which seems to slide in slow-motion. The M5's engine has sound fed into the cabin, and it's sharper and higher pitched. The thunderous AMG appears to be gargling its own mechanical components in comparison.
Both are staggeringly capable and – importantly – welcoming cars with AWD. It adds to their repertoire and opens up the chance to enjoy them more often, rather than being a killjoy that stifles their fun. The more gifted can switch them to RWD with some simple button presses, but their power distribution's so rear-biased as standard that it's an added bonus rather than a downright necessity.
Mind, I make sure they're both in AWD early next morning. We're driving them from Sweden to Britain. I could spend all month on a frozen lake and not stop grinning, but these cars aren't only for acting an oaf in. They're for vaporising distances and turning German motorways into the European equivalent of Elon Musk's hyperloop.
There are rather a lot of countries before we get to the pair's home soil, though, including almost a full day on Sweden's roads, which aren't much gripper its lakes when it's minus 20. I choose the cars' middle ESP settings, providing security when what's left of Bambi's immediate family clumsily stroll into the road (a startlingly common occurrence), yet some freedom to enjoy the numerous corners and junctions in the 500 miles between us and tonight's destination, an overnight ferry from Oslo.
A few years ago, driving a combined 1,200bhp of German sports saloon half the length of Sweden would have been a certifiable activity. But the proliferation of winter tyres and brilliant new AWD systems make the M5 and E63S as useable as an old Volvo estate out here.
The BMW remains a touch more serious, and the more cossetting car, while the Merc's a touch more aloof, more willing to have fun. The M5 may be the one piping its sound through the speakers, but it's the E63S that bombards you with engine noise, even at sedate speeds. It's the one I can't help immaturely hoofing out of junctions, V8 rumble soundtracking a quarter-turn of opposite lock. While the pair's performance and abilities are impossible to split, the attitude they encourage from their driver is starting to diverge.
Top Gear
Newsletter
Thank you for subscribing to our newsletter. Look out for your regular round-up of news, reviews and offers in your inbox.
Get all the latest news, reviews and exclusives, direct to your inbox.
Even the firmer-riding Merc is making mincemeat of our journey, though. While I'm not craving a disaster, a road trip needs some spirit of adventure, and worryingly little is troubling these cars. Until we leave Swedish backroads and arrive on Norwegian motorway, that is.
There's clearly been a warm snap (well, it's 2degC), and as we cross the border and hone in on Oslo, the mounds of snow at the side of the motorway are rather quickly and dramatically melting. The cars around us are changing lanes with the measured discipline of a Russian dash cam video to avoid the rather sudden, deep puddles.
A few years ago, driving a combined 1,200bhp of German sports saloon half the length of Sweden would have been a certifiable activity
Winter tyres that proved invincible on lethally frozen roads are less helpful here. I've got my hands full in the BMW, and I can see vexed face of Ollie Kew in the Merc behind me. When we pull into Butikk services, we can barely afford a snigger at the name as we swap pale-faced tales of almost being driven into. Kew points out that messing around on ice must have sharpened up our responses in such dicey conditions. Further validation for the fun we had testing the cars on a frozen lake…
As we arrive in Oslo, the cars suddenly feel large, too. Quite rightly – they're 5m long and 2m wide – but some of the Norwegian capital's barely fathomable traffic calming measures feel like a squeeze. We navigate rush-hour traffic to the ferry without too much drama, though. As we lock the cars up in its belly for the night, it's the grumblier, older-school Merc I'm most enamoured by.
We wake the next day as the ferry pulls into Frederikshavn. Now, perhaps we're in the wrong bit, but Denmark is quite a boring country to drive through. Plenty of nice architecture to admire, but little that driving enthusiasts should be cancelling trips to the Alps for. Answers on a postcard, offended Danes with a good road to recommend. The pent-up need to drive like the clappers as we pass the German border is palpable.
With winter tyres on our cars, there aren't going to be hell-bent attempts at their top speeds. But that doesn't mean what happens next isn't utterly extraordinary. Both cars, from 80mph and without RSI-inducing downchanges nor a hint of turbo lag, just catapult at the horizon like two tons of medal simply shouldn't.
The Mercedes comes with warning stickers telling us not to take its cold-weather rubber past 130mph, so its driver – TG's friendly Australian, Craig Jamieson – sits back and watches the M5 carry on to an indicated 175mph, not far short of its optional 189mph limiter. With a load of revs still left to go.
Its shedload more torque ensures the Merc wouldn't have struggled to keep pace, but what the BMW undoubtedly does better is more sedate cruising. At, um, 120mph. It sits at that speed for 20 miles straight, rock solid, comfortable and eerily quiet. If the very best sports saloons offer an everyday Dr Jekyll with a fierce Mr Hyde beneath the surface, then this M5 feels unbeatable. Until a set of quirkily shaped headlights appear in the rear-view mirror. Conscious I'm holding up something far quicker and more exotic, I pull into the middle lane. To be overtaken by a Renault Scenic…
The Mercedes is hardly a thrashy trackday special in comparison, but its more extrovert character dents its refinement a bit. Its 23.5mpg trip average also lags the BMW's 26.5mpg, despite the Merc regularly deactivating four of its eight cylinders. The power is shifting in the M5's favour.
The final day sees the home stretch from Hamburg to the UK. Once we're out of Germany, our need for speed sated, it's a good chance to settle back into normal cruising speeds and to assess the minor details of these cars. Because they really might decide this.
Inside, the BMW feels techier. Its media system is a step up from the Merc's and its dials, an analogue/digital hybrid, are nicer to look at. It's better at corralling your favourite drive mode settings into one button press (well, two, given you can set both 'M1' and 'M2' buttons for different moods). But then the E63S's interior touches are classier, eschewing the M5's chintzy red detailing for stuff that really matters to enthusiasts: tactile metal paddles, Alcantara at nine and three on the steering wheel and a slim-back sports seat.
I'd always been left a bit cold by the me-too spec wars of these brands. It's easy to feel bored by their constant power and 0-62 battles, when they could be focusing on cutting weight and size. But when M and AMG's willy-waving leads to two extraordinarily talented cars like this, it's hard to argue. In the ten years I've done this job, I can't remember a battle this closely fought in any class.
Even after 1,500 miles, I'm torn. The BMW is the more rounded, comfy car. It covers all bases with a staggering depth of engineering, and might well be the most complete sports saloon ever. To an enthusiast, though, such completeness can be a help and a hindrance. The Merc is less couth, bigger hearted and encourages its driver to be more playful. Particularly if they're on a frozen lake. Oh, and it comes as an estate, too. The AMG edges it.
See the rest of Top Gear magazine's Winter Games tests in the latest issue