Big Reads
Bugatti Chiron vs... the VW Up GTI
Brilliant new £14k Up GTI scraps with £2.5m Bug'. Fun comes in all shapes and sizes
Vibration is pushing through the Up GTI's pedals and reverberating through its phat-bottomed steering wheel. Odd, given the littlest VW's usually good as gold; refinement-wise, top of the tots. But it's not the newest, teeniest VW hot hatch to blame. This being a German prototype, it's finished to an immaculate, eat-your-dinner-off-the-tartan standard. The heated plaid is simmering gently; its crystal-clear reversing camera is hooked up to the pin-sharp radio readout. Everything functions at showroom demo quality. But in the onslaught of an 8.0-litre, 16-cylinder, turbocharger-squared hurricane, it's trembling. An Up GTI at eye level with a Bugatti Chiron's gaping rear void is buffeted like a sparrow in the wake of an Airbus A380. And the Bug's not even selected a gear yet. It's idling.
Words: Ollie Kew
Photography: Mark Riccioni
Advertisement - Page continues below
The ends of the Volkswagen empire's going-fast spectrum have met to answer one of the most enduring petrolhead debates. Let's prove, one way or the other, that there isn't a linear relationship between outright performance and the amount of fun you can have. Or perhaps, in the face (or backside) of the world's fastest car, anything else is undercooked. We'll see. Bugatti's minders are keeping me at arm's length from their multi-million-quid projectile. The insurance costs would've topped the asking price of the new GTI – likely to be around £14,000, and not on sale until early 2018. Question is, will I feel hard-done by, slumming it in the city car?
A drizzly haze is smothering the Ehra-Lessien test-track complex in northern Germany, as if the 2D grey sky has been trodden down to smother the ground. There's not a breath of wind in the air, and the only sentient beings seen all day – besides a handful of humans looking after the two polar ends of VW Group performance – are a pair of rude-sounding gulls that make a low pass over the noodly handling circuit before disappearing over the treeline and melting into the murky horizon. It's as if Volkswagen even has dominion and privacy over nature in its inner sanctum of testing. I've negotiated less secure airports than the gates to this place.
You know Ehra as home to the fastest circuit on Earth: the 12-mile, squashed-oval loop headlined by a five-mile straight that serves as the only spot on the planet a driver can safely max a car with a top speed north of 240 miles per hour. Once dominated by Andy Wallace and the McLaren F1, it's now synonymous with the Veyron's straight-line majesty. The original 987bhp Piëch brainchild did 253mph here. The 1,183bhp Super Sport hit 269mph. One day, a Bugatti Chiron, temporarily unshackled of its 261mph limiter will plunge headlong down the same tarmac and attempt to breach 275... 280... and beyond. Hopefully, it'll enjoy more favourable weather.
Advertisement - Page continues below
Today, this absurdly menacing clear-coat carbon Chiron has a far less intimidating foe than physics and thermodynamics invading its natural stomping ground. It – and us – are the first to get face-to-face with a fully finished example of VW Group's slowest fast car. At last, MkI Golf and Lupo GTI fans, your lightweight, back-to-basics hot hatch is ready. The VW Up GTI is here to play, and it looks spot on.
The GTI bodywork mods are oh-so-subtle. Just a slightly tapered rear aerofoil and a chin splitter bookending chunky side skirts. The blackened front bumper is cute and purposeful, like a hamster wearing a gumshield. They haven't bothered with a token diffuser, and fitted just one miniature chromed tailpipe, hanging out the left hand side, in a just-so nod – like the black mirrors – to the MkI Golf GTI, the true inspiration for the project. We'll come back to that later... I've got more details to fawn over.
The lipstick under the bonnet seam, the honeycomb grille, and the red calipers gripping modest brakes (the rears are drums, for goodness' sake): it's hot-hatch-by-numbers stuff, done elegantly. Same story inside. OK, the fish-scale red/black dash insert is a poke in the eye, but that GTI steering wheel is perfect in the hands. The Porsche 924-style one-piece chairs are unchanged from a standard Up's (besides the "Clark" tartan), but the driving position feels sorted, and more purposeful than usual because you're gripping a sportier wheel.
Still no reach adjustment in the steering column, but for the first time, a sixth choice on the stubby gearlever. Some red stitching to pump up the ambience, but no chintzy pedals or sportier clock faces. The budget's been spent on what you'll touch, and vital bits you can't see. Even in the company of hyperexotica brandishing titanium wiper stalks and a steering wheel skeleton milled from a billet aluminium slab, the Up GTI is lovely to sit within, enjoying its cheeky details, marvelling at the mature ergonomics. All will come loaded with spec, offering heated chairs, auto-city brake, electric windows and heated mirrors. Yes, VW is going to do a purer three-door Up GTI as well as this five-door. All will have manual gearboxes. This isn't a poor man's Golf GTI. It's a patient person's 911R.
Everyone always fixates on how the 1,479bhp, W16-equipped, 261mph-and-the-rest Bugatti has to comply with all of the VW Group's endurance and quality control testing, but isn't it more impressive that the ickle Up GTI, from the opposite end of the empire and likely to cost 178 times less, has been subjected to the same hot 'n' cold torture ordeal? It exudes robustness. It feels over-engineered. And yet it's not clinical. Three things you'd also level at the mighty Chiron, which has eight times the cubic capacity, produces as much power as 13 Up GTIs, passes 150mph by the instant the VW has thrummed from standstill to 60mph, and weighs exactly twice as much. I could boggle your mind with number comparisons all day, but both of these things exist for the joy, the folly, of enjoying how a car makes you feel, rather than purely being pragmatic transport, or, in all honesty, a particularly profitable exercise. So, let's escape the category-five flatulence of Molsheim's finest son. Time to meet Up (sorry). Engine on.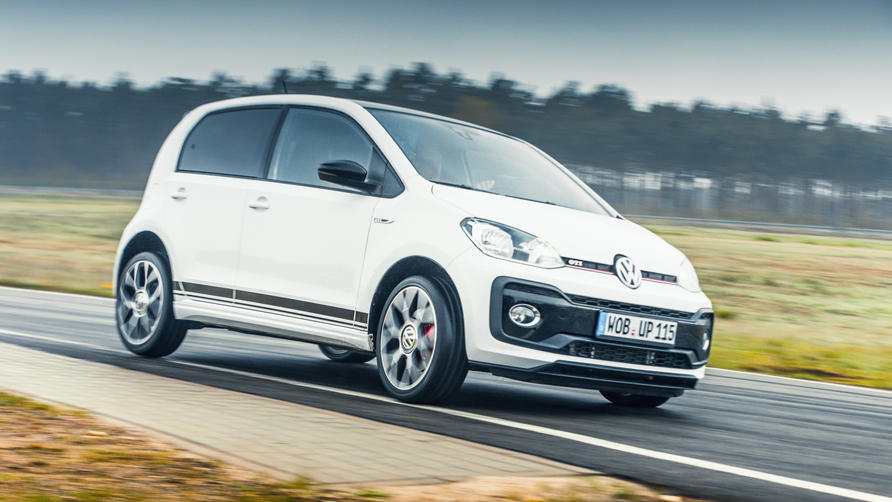 This is accomplished by twisting a key, not pressing a button, so we're immediately in old-school territory. The GTI's 1.0-litre turbo triple tick-tocks into action worryingly smoothly. There's no flourish of revs or exhaust parp at idle. The clutch is its usual light self. I mooch through Ehra's dangerously Milton Keynes-esque maze of roundabouts and immaculately surfaced trunk roads following our security escort to the handling circuit. Everything feels unnervingly Up-like. Oh dear. It's too normal, too sanitised. The world's best-engineered city car is too polite, too clever for its own good. Partly distracted by being utterly crestfallen after the visuals promised so much, and partly because I just fancy pushing my luck in VW's back garden, I drop back as far as I dare from Herr Schecurityperzon, select second and bury the throttle. Come on GTI, give me something.
Top Gear
Newsletter
Thank you for subscribing to our newsletter. Look out for your regular round-up of news, reviews and offers in your inbox.
Get all the latest news, reviews and exclusives, direct to your inbox.
At 1,500rpm, it happens. As the wee turbo comes online, the intake warbler goes to work, just as it does in a Golf R. As boost fills the Up's lungs and ignites its traction control light, an earnest, rumbling burble resonates up the pipes hidden in the car's A-pillars, using the car's structure itself as a kind of tuning fork for engine noise. It's a brilliantly elegant solution, adding next to no weight and keeping the soundtrack way more authentic than mucking about with the hi-fi. If the guard glanced in his rear-view mirror and wondered why the rapidly approaching British journalist was giggling like a lunatic and slapping the steering wheel with sheer delight, he didn't let on. But he didn't bark "Das ist verboten" down the walkie-talkie either, so I like to think he understood the importance of that moment. I was busy being transported back to the afternoon I passed my driving test and set off on that very first solo drive, windows down, radio up, 138,000 mile-old Fiesta valves tapdancing through the corroded bonnet. Remember your version of that? That undiluted euphoria of freedom, of it being you and your little car versus the big bad world? The new GTI – like its granddad – has captured the magic.
It is quick, but VW has cottoned on to quality of punch being more important than quantity. Seems an odd idea, given the presence of an art-deco rocketship in the vicinity, but it's so important in making a modern car feel exciting. That crescendo of trumpeting burble has you chasing revs you don't strictly need, and a far slicker gearshift that we're used to in an Up means downshifts that weren't really called for just sort of… happen. It's positively tapping you on the shoulder the whole time, saying: "Get involved, enjoy yourself, live a little. It's not as if we're going to get into trouble."
In the Up I'm loving life because it's flat-out everywhere
You won't, either, because you can't turn the traction or stability control off. Is that a problem? I'm calling it: no, it's fine. Traction itself is well managed, even in the slimy damp of a dank spring morning, as the turbo's not overly boosty and it's running a respectably chunky 195mm tyre. Plus, this is supposed to be a GTI for a younger, less experienced, more immature customer. There's no shame in being that individual. I'd include myself in those crosshairs. If there was a big shiny button that turned off all the assists in your back-to-basics 113bhp hot hatch, don't pretend you wouldn't prod it immediately, following the words "watch" and "this!". More Up GTIs will make it to adulthood because of that sensible decision. And it's not a frustrating killjoy of a nanny. It'll still fidget and toddle around on three wheels as is. It's also excellent at handbrake turns. Mary Poppins was fun once you got to know her, too.
I've only had a matter of laps around the tricky waltzing corners of the chassis set-up circuit before the spectral Bugatti slinks out onto the lap, bullying the misty air through its intakes, oozing across the slick tarmac. It's futile to try to distance a car that can compress time like a rubbish compactor in a hatchback outrun by a diesel 1 Series, but the GTI begs for a fighting chance. Got to love an underdog. The handling circuit nestles within the western end of the high-speed track, shielded from the severe banking by another ominous battalion of fir trees. This isn't really the Chiron's chosen amphitheatre. It's not a streetfighter – it's hemmed in and claustrophobic – whereas the GTI is in its element.
Like the engine and its throat-clearing moment, you've only got to lean on the GTI's chassis mildly to start revelling in the rewards of its go-faster training. The steering is sharper than a normal Up's, offering a meatier weight and accuracy instead of feel. It goes glassy-light if you're overly greedy with entry speed. The brakes are diligent, and it's super-stable on the stops. Stand the Up on its nose from 80mph and it digs its nails into the ground and halts arrow straight, where, say, a Mini Cooper S makes its driver check each side window like a tennis umpire. I can now hear the Chiron devouring space-time over my shoulder.
Push a bit harder. Though the GTI's running 15mm lower and stiffer than standard, again, it's been sensibly honed, not hammer-blown for track focus. You can attack the rumble strips, and feel the inside rear touch back down after a hairpin, but it's always in control of what it's up to, handling with sophistication, a sense of humour and a safety net. Hey, Renault: if I were you, I'd take the half-arsed Twingo GT off sale quick, before the Up GTI demolishes it.
Oh Lord. No car on the planet looks more intimidating in your rear-view mirror than the octo-eyed glare of a marauding Chiron. It is distilled automotive evil, intimidation on four Seventies Formula One steamroller tyres. And the vibration, well, how they stop the wing shaking itself to pieces verges on voodoo. Tremors fizz through the earth and jiggle the Up as the low-flying stealth bomber warps past, all gleaming struts and billowing heat haze, rudely pebbledashing the world's only finished Up GTI with a shotgun blast of off-line grit and spray.
Course, I'd love to be there in that Chiron, breathing on the throttle, begging the road to open up just for a nanosecond, master of all I survey. The Bugatti drugs you with anticipation, forever seeking that tantalising moment when you might get to bury it, just for a moment. In the Up, I'm loving life because it's flat-out everywhere. Look at it this way: the GTI did about 27mpg even when utterly rinsed, then forced to idle for about two hours during photos. Bet it'd do over 40 in the real world. And that's over 300 miles on regular unleaded. Brim a Chiron's 100-litre tank with super, cane it and you require another pit stop seven minutes later.
Every squirt in the Bugatti is a £2.5m, 4.0mpg risk. Every rev-limiter assault in the Up is a three-wheeled adventure. Ideally, our lottery garages would have one of each, because they both offer a pure, addictive satisfaction the other can't. VW has summited the hot hatch game, beyond RenaultSport's once unassailable pole position. The Golf GTI and R are the best all-round hot hatches on the planet. The sold-out Clubsport S is currently the hardcore nutter king.
And now there's one for those of us who felt we'd been priced and teched out of the scene. VW's Up GTI can emotionally teleport you directly to the moment you felt happiest and most alive in a car. That's quite a special result from just under a tonne of steel, plastic and wires. Looking at what else this behemoth of a company can engineer when utterly unleashed, that shouldn't have been a surprise. But praise be, a band of engineers have poured similar enthusiasm and dedication into a people's car. A new bargain TG hero has arrived on everyman street, where speed isn't everything.