Best of 2022
Celebrating Lamborghini's V12 engine... in a V12-powered Lambo boat
V12 Aventador meets Boaty McV12face in this enormously amusing two-vehicle setup
To quote the great Albus Dumbledore: "Where once there was before the naturally aspirated Lamborghini V12 engine, there will now be after." At least we think that's what he said – nobody really paid any attention to the Fantastic Beasts Harry Potter spinoff series did they? Could have got away with anything in that script.
Anyway, yes, Lamborghini has now built its last road-going car powered by a non-hybrid V12. A statement that would have been almost unthinkable just a decade or so ago, such has been the importance of 12 cylinders in the history of the company.
Advertisement - Page continues below
Images: Dennis Noten & Archive
You see, back in the early Sixties when Ferruccio Lamborghini first decided to branch out from tractors to build truly great grand tourers and bedroom wall supercars he tasked one Giotto Bizzarrini to design an affordable, road-going engine that would best the watered-down V12 racers being put together by Enzo Ferrari. Rumour has it that Lamborghini also offered Bizzarrini a bonus for every additional horsepower he could extract over the equivalent Ferrari engine.
The result was a high-revving, dry sumped 3.5-litre V12 with downdraft Weber carburettors – essentially a racing engine. History tells us that Lamborghini wasn't happy. Bizzarrini refused to change his engine design, so Ferruccio refused to pay him (until a court order forced him to). The engine was subsequently detuned and simplified by another engineer – Gian Paolo Dallara – and remarkably it was that exact V12 that served in every big Lambo from the 1964 350 GT right up until the last of the Murciélagos in 2010. Almost half a century of service. And yes, it means that technically Lamborghini as a manufacturer has only built two different road car V12s in its history, with the second generation developed from scratch for the Aventador.
More on that later though, because once Dallara had adapted Bizzarrini's design it was bored out to 4.0 litres for the later 350 GTs and the following 400 GT. Then, in 1968, Ferruccio gave the engine one hell of a blessing...
Advertisement - Page continues below
Doing rather well for himself, the Perugian ordered a Riva Aquarama – a glorious, handbuilt mahogany motorboat that was the darling of the original jet setters. However, Lamborghini wanted more power than the standard V8 engines could produce, and so it was that two of his 4.0-litre V12s found their way into the back of a boat.
With each engine making 350bhp, Ferruccio's Aquarama was the fastest ever built, with a top speed of over 50 knots (around 60mph). How apt.
Lamborghini kept his unique toy for 20 years – using it to break water skiing speed records and to generally look supremely cool like only older Italians can. He eventually sold it to close friend Angelo Merli, although quite how close we're not sure, because Merli decided that the 350 GT engines were too unreliable and tragically returned the one-off back to its standard specification.
Thankfully there are those out there who care little for reliability, and when hull number 278 was found under a tarp in 2010, the new owner decided that it should be brought back to its former glory – V12s and all.
So, that's how we find ourselves on the shores of Lake Iseo, piloting the Riva Lamborghini as wood meets water for the first time in a long while. And what better way to celebrate the end of the unassisted Lambo V12 than by bringing along the last of the breed to meet its forefather.
The engine in the Aventador LP780-4 Ultimae is nothing short of a masterpiece. When the Aventador first arrived in 2011 it sported an all-new V12 codenamed L539, and although the previous Bizzarrini V12 had also grown to 6.5-litres by the time of its replacement, this new unit was more powerful, produced more torque and yet still weighed in 18kg lighter. Still not a turbo in sight either. Heaven.
In the Ultimae it makes even more power than in the bewinged SVJ – 769bhp to be precise – and for a bit of extra theatre Lamborghini prints the firing order on top of a sea of carbon fibre and gold paint. Not that it's lacking in drama, of course. Put the Aventador into Corsa mode, switch the ESC off, foot on the brake and a little message saying "Thrust Mode Possible" appears. Build up the revs, release your left foot from the brake and in 2.8 seconds you're doing 62mph and wondering how far you might have to reverse down the road in order to reconvene with your internal organs.
Top Gear
Newsletter
Thank you for subscribing to our newsletter. Look out for your regular round-up of news, reviews and offers in your inbox.
Get all the latest news, reviews and exclusives, direct to your inbox.
If the second generation Lambo V12 is a bit of a banshee, then the old 350 GT engines in the boat are probably best described as brown bears. Without the Aquarama's cushioned sundeck muffling the noise, the V12s – each with six twin Weber carbs on top – emit a deep, mechanical burble as they rev to 4,500rpm.
Given that the gloriously restored Riva is worth an unimaginable amount of money and its new owner is watching closely over the head of a cigar, I decide it's best that someone with a little more captain's experience steers us out of the busy Bellini Nautica boatyard. Giuseppe Pievani flicks a perfectly polished lever behind the steering wheel into drive, before edging the two hand-controlled throttles (one for each V12, of course) into their most minimal of settings. There really is nothing quite like the art deco interior of a Riva. Ferruccio's is now a shoes-off environment with reclined, rattan-backed white leather seats, and everything is so spick and span you need sunglasses to read the myriad dials in the midday sun.
Out in the relative safety of the lake, Pievani hands over control and I use a little more of the 700bhp on offer. I've lost all sense of direction, and in trying to navigate I learn that boats don't really do steering feel like cars – even when compared with a 1,550kg (dry) Aventador that's wearing tyres wider than the Suez Canal. In fact, the Ultimae might just be the most engaging of all the Aventadors on a twisty road thanks to its super stiff carbon tub, pushrod suspension and Lamborghini's fancy dynamic steering system.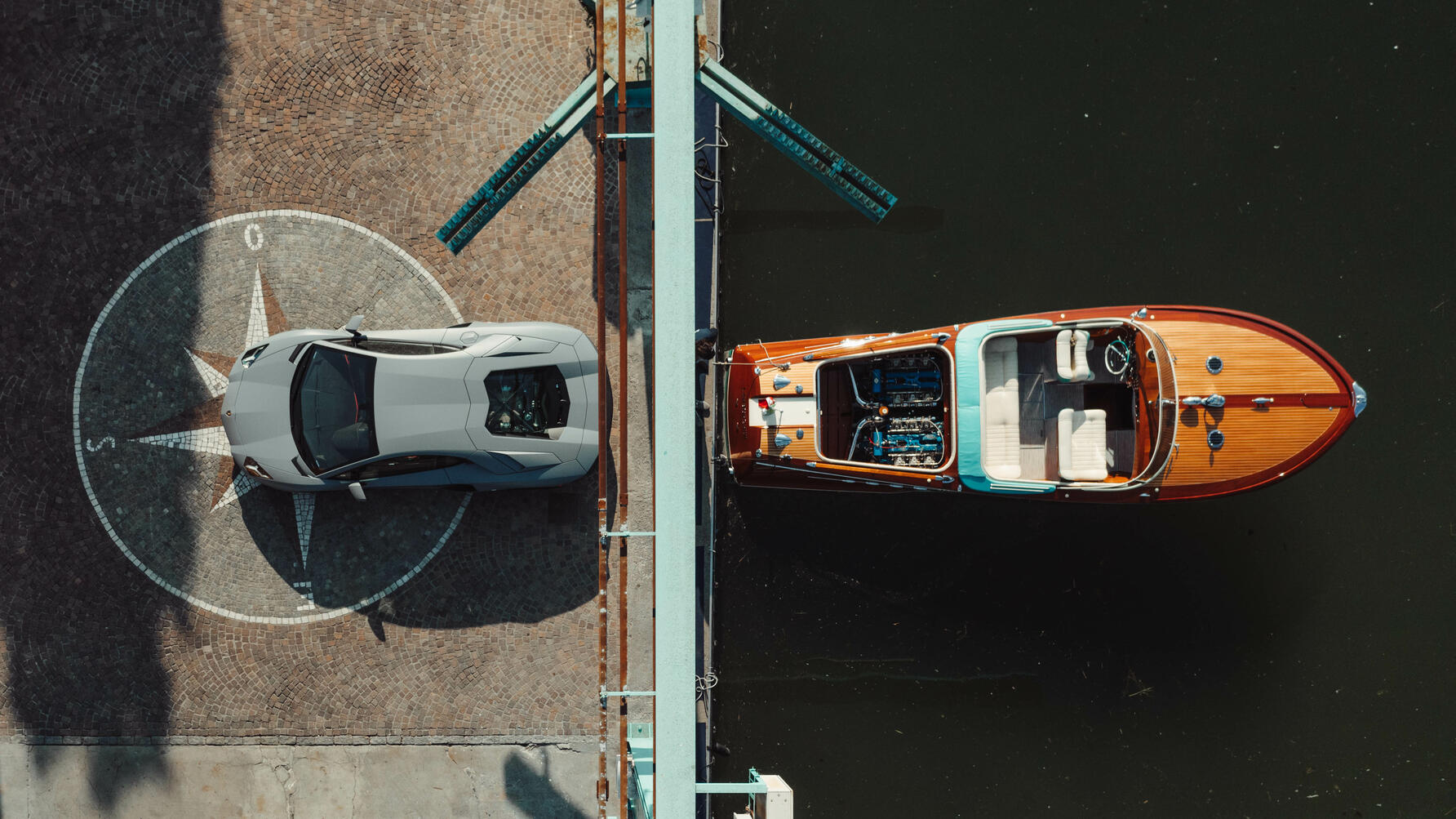 In the Aquarama you can't help but relax, taking in the sights while breathing in the smell of Sixties V12s. Unfortunately – and perhaps predictably – reliability does cut short our time on the water, with a fuel pump issue meaning we have to head back to base. Once there we're told that all of the set-up was done a week previously by Lambo's legendary test driver Valentino Balboni – not that we're blaming him here, of course.
Still, even our short experience of this gloriously Lamborghini piece of history has given us an even greater appreciation of the firm's venerable first-generation V12, and the 100-mile motorway free drive back to Lambo HQ in Sant'Agata Bolognese just reaffirms how masterful the free-breathing second generation is too. Let's just hope the hybrid future doesn't dampen any of the V12's spirit.