Big Reads
A closer look at the new, electric Ford Supervan
Ford's unhinged Transit monsters have become legendary over the decades – now number four's gone electric
Remember Clarkson's V8 blender? No idea why that didn't catch on, because at its core the idea was sheer perfection. Souping up any mechanical device with a lot more power than it strictly requires is always going to have joyous results and get two thumbs up from Top Gear. Or two thumbs off in the case of Clarkson's Corvette Magimix. Take the Dodge 8300 Tomahawk from 2003, a motorbike powered by an 8.3-litre Viper V10, nothing wrong with that. How about the 24-litre aero-engined Napier-Railton that's broken 47 separate land speed records, or Jonny Smith's 800+bhp Enfield 8000 EV conversion capable of sub-10secs quarter miles? You see, it's a formula that works.
Especially when the chassis's top hat is as inappropriate as possible. Pick something that has no business going quickly, make it fast enough to bring supercars out in a cold sweat... and you're onto a winner. And so it was in the early Seventies, in a small room in Dagenham full of flares, perms and cigarette fog, that the idea for Supervan was born. Its mission was clear: to combine the unmistakable box-on-wheels body of the Transit, with the performance of a full-on racing car, thus creating the mother of all promo vehicles. This is our kind of advertising.
Advertisement - Page continues below
The first Supervan arrived in 1971. It was built for Ford by Terry Drury Racing, it matched up an actual Ford GT40 chassis and running gear – including a 435bhp 5.0-litre V8 – to the body of a classic 1965 Transit van. With its distended arches and steamroller tyres it looked like a head-on collision between a fridge and an F1 car, but that was the point. It was magnificent, a Transit theoretically capable of 168mph, and people flocked to see and hear it at full chat whenever it was wheeled out.
This feature was first published in Issue 362 of Top Gear magazine (August 2022)
Images: Olgun Kordal 
Advertisement - Page continues below
Supervan 2 followed in 1984, based on the chassis of a Ford C100 Group C racing car with a 590bhp 3.9-litre Cosworth DFL V8 (the long-stroke endurance version of Ford's famous DFV F1 engine). Sure, the body was a fibreglass replica of a second-generation Transit, but it featured a spoiler, air inlets and a front air dam. It also managed to hit 174mph at Silverstone. Despite its popularity, Supervan 2's tour of duty lasted only 15 months before it was retired, meaning fans of ludicrously overpowered commercial vehicles had to wait until 1994 for their next fix.
Supervan 3 was an evolution of Supervan 2, it used the same C100 racing chassis, but swapped out the engine in favour of a wild 650bhp 3.5-litre Ford-Cosworth HB. A few years later Ford changed the engine again for a less powerful but more practical 3.0-litre V6 to improve drivability. And then everything went quiet.
This is the new one – the fourth time in the past 50 years that Ford has gone a bit giddy and decided to fit the backbone of Britain with a comically potent powertrain. And it is – by quite some margin – the most 'out there' of the lot. It produces approximately 2,000bhp and 1,328lb ft of torque and, you guessed it (probably because you can read stickers), it's electric. Official name: Ford Pro Electric Supervan... we'll stick with Supervan 4.
Why now for the fourth instalment? You might remember the one-off Mach-E 1400 from 2020. A 1,400bhp drift-tastic electric SUV designed to remind you the Mach-E was on sale. Ford recently opened order books on the E-Transit, so what better tool for herding customers into showrooms than this? An E-Transit with over 10 times more power than the showroom version, and bodywork that would give a Transformer FOMO.
I'm just outside Vienna, in a workshop belonging to STARD – the racing company Ford of Europe has partnered with on the design and build – staring at a carcass with no wheels on, a lot of scaffolding and carbon fibre, and several expensive looking components on trolleys that should probably be plugged in. This was not the plan. We were hoping to be on track photographing, filming and experiencing it by now, but we've been parachuted into a live project. Its world debut at the Goodwood Festival of Speed – flying up the hill in the hands of Romain Dumas (current FoS hillclimb record holder in the VW ID.R) – is a little over a week away and while the build is complete, the calibration and coding to get all the systems to talk to each other nicely is not. Mechanics with a spanner in one hand and a laptop in the other swarm all over it. The atmosphere is... tense. We're asked to move our flights back on the promise that it'll be ready for us at 4am the next morning.
Bit of time to kill then, but the perfect opportunity to get to grips with what we're dealing with here, piece by piece. This project began when someone took an angle grinder to an E-Transit Custom leaving the floor pan and battery slot, and not a lot else. On top of that grew a tubular spaceframe with bespoke front and rear subframes, clothed in an all carbon-fibre body. The team's best guess at the van's kerbweight is two tonnes.
In the exact same battery slot as the donor vehicle is a 50kWh, liquid-cooled lithium-ion pack – a trade-off between required range and unnecessary flab, although the battery size can always be expanded down the line if the application calls for it. Let's face it, they're not short on space. Total range as it stands? About 22 miles at race pace (or a lap and half of the Nürburgring), and we do mean race. There's Alcon brakes – with steel discs, so they work in as wide a variety of situations as possible – double wishbone suspension and a full FIA-spec roll cage. There's even a mounting point for a detachable tow bar to haul up to 2,250kg... you have to admire Ford's commitment.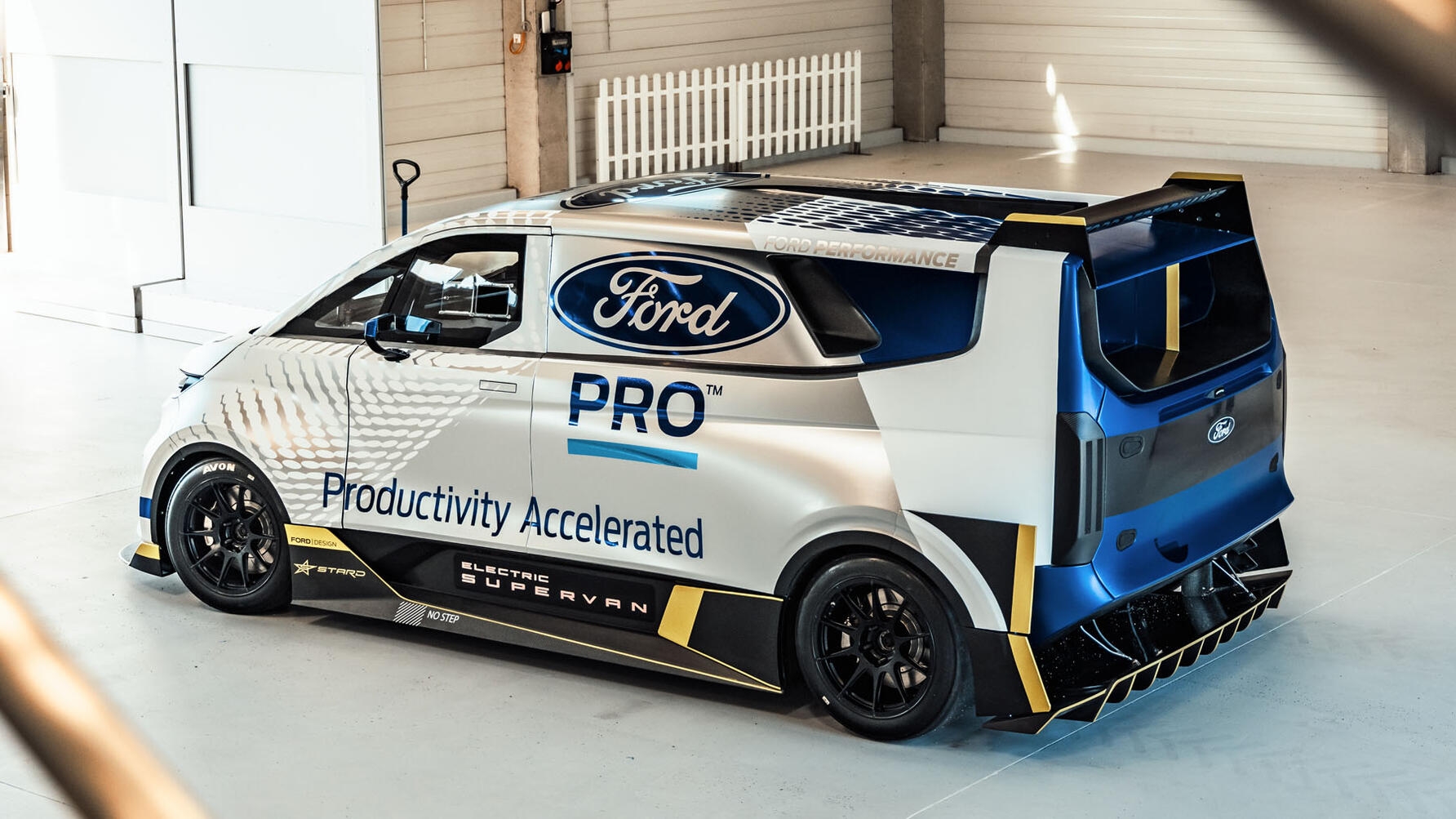 The battery feeds four electric motors, two at the front, two at the back, both bundled up with a diff and a gearbox on each axle. This means you forfeit infinite e-motor-per-wheel torque vectoring capabilities but gain flexibility. Don't need the full 2,000bhp and want to save some weight? Just unbolt a motor or two and carry on. A single-speed gearbox on the front axle and a two-speed gearbox at the rear, like the Porsche Taycan, means lightning acceleration off the line (0–62mph in under two seconds) but also a top speed north of 200mph. Just imagine how quickly you could deliver parcels in this thing. Think about it Amazon, that's all I'm saying.
Top Gear
Newsletter
Thank you for subscribing to our newsletter. Look out for your regular round-up of news, reviews and offers in your inbox.
Get all the latest news, reviews and exclusives, direct to your inbox.
Our enforced downtime is also an opportunity to catch up with Dumas – two-time Le Mans winning legend and holder of the Nürburgring and Pikes Peak electric course records in the VW ID.R. He's a slip of a man, power-to-weight ratio clearly the key to his success, and he's even itchier than us to get some seat time. Understandably, as it's him that'll try and tame this thing in front of thousands of spectators, with little or no time to learn its quirks. Is Dumas confident that it will be ready? "I hope it will be ready, for sure! At the end of the day, I will be impressed at the start line when we have all the power. Whatever happens, people will be shocked. The first time we came to Goodwood some years ago with an electric car everybody was laughing, but not anymore with projects like this."
And the hardest part to master? Not the explosive torque or higher centre of gravity apparently, but the noise. Or lack of it: "It's very difficult, you have no sound feedback, so you need to take a speed reference from the dashboard to know whether you got the braking point right for that corner. Also at Goodwood this car is very wide and some of the corners are very tight, so I need to watch out." Rather you than us Romain.
Dawn breaks over Vienna, a broken man hauls himself out of bed and we're treated to a sky pink-rinsed by the sunrise. We arrive at the track and there it is, fully screwed together with its scowling front end, absolutely slammed to the tarmac. It's a bizarre shape to try and get your head around because design tricks like these are usually found on racecars half the height. Circulate on foot and it morphs as you move, from square as a spiky Lego brick dead rear, to stretched out from the side and hollow from any three-quarter angle. It's every bit as loopy as I'd hoped.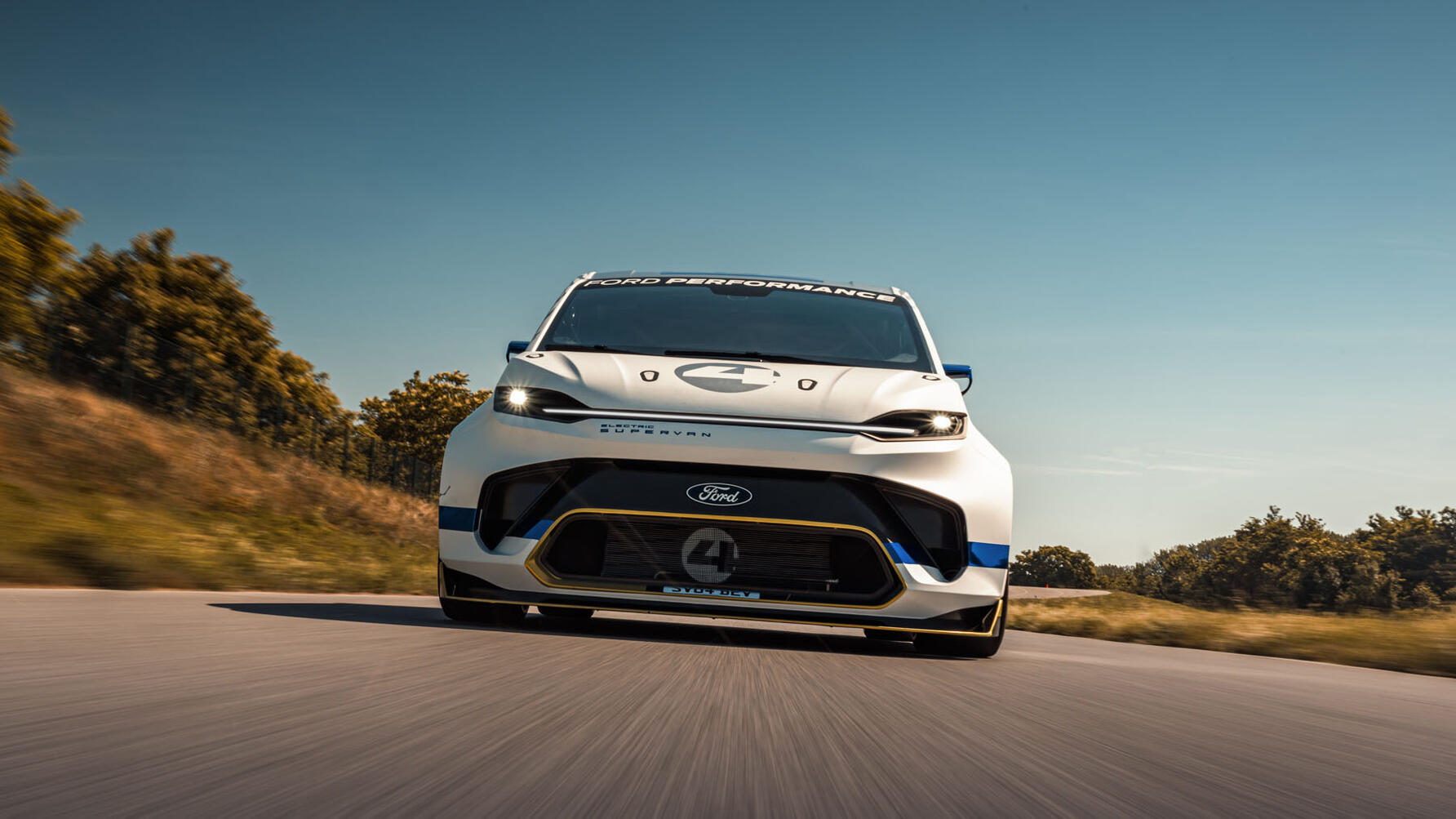 Something with the frontal cross-sectional area of a bus stop is never going to be ideal, aerodynamically, but Ford has delved deep into its bag of tricks. To avoid all that air having to go over, around or under the van, a slot vent in the nose feeds air into a massive carbon-fibre tube that bisects the interior and exhales above the rear numberplate. Then there's the Ford GT-style air tunnels that clean up airflow around the back, and look utterly superb, ably supported by a front splitter, side skirts, a roof-mounted wing and a suspended rear diffuser. And it's not all for bragging rights down the building site either – Ford claims 500kg of downforce at 186mph.
Despite my pleading, it's too early to have a drive ourselves, but I do secure a passenger ride next to Manfred Stohl – boss of STARD and ex-WRC rally driver. We can't go full beans, but even so there are things to learn. You sit (swallowed by the bucket seat and bone-crunching harness) quite low for a Transit but surprisingly high for a racing car. We set off and it's noisy, a shrill wail from the motors even at low speeds with various bangs from the suspension and clicks from the gearbox on percussion. I'm used to zero sound deadening in race machinery, but here you're inside a carbon-fibre echo chamber that amplifies everything.
Each lap gets a little quicker, each corner reveals a little more until we're sliding about and you can tell Manfred is desperate to light it up fully, but is trying his best to behave. We come back in before he caves, and he gives us a gratuitous donut for the cameras and fills the cabin, and our lungs, with smoke. Good lad. There's so much more to come, but already you can feel the rigidity, the fact that it's built for speed and precision... up to a point.
Yep, that's a hydraulic handbrake, which speaks volumes about Ford's plans for The Van. The target is versatility, so it can be set up for hot laps, or to be a dragster, or to drift about toasting its tyres or to take a bit of rally punishment... and that's the beauty with electric motors, the possibilities around where you send the power are endless. Back to Dumas: "You have two axles, you can play around a lot more than with a combustion engine, which brings lots of advantages. But it's really an engineer's car at the end of the day, you have to collaborate well with your engineer to analyse everything and make it fast."
For now there are only three modes built into the 15.5-inch screen pinched from a Mach-E – Road, Track and Drag – although Rally and Drift are coming soon. Delve into the settings submenu and you can really nerd out by telling the launch control what type of surface you're on, or selecting your grip level on a sliding scale. Our personal favourite is tyre cleaning mode (aka massive smokey burnout mode), which locks either the front or rear to let you spin up the opposing axle and give them tyres a good scrub.
This is the point where I'm supposed to deliver a nice balanced summary, weigh up the van's pros and cons, perhaps recommend whether you should buy one. Clearly that's not even remotely necessary, for all we must do is revel in the insanity and brilliance of a 2,000bhp van with a race-spec chassis and genuine downforce. But we must also celebrate the fact that Ford, a juggernaut of a company with shareholders to keep happy, still finds the time and effort for hilarious one-off marketing projects like this. Go well, Romain – it's a powerful tool, Supervan 4, in more ways than one.