Big Reads
Don't call me 'baby': meet the coolest Vauxhall ever
Baby Bertha is the Vauxhall worth travelling around the world for
Here's a question - would you book a two week holiday off work, fly half way around the world with your wife and two kids in tow, just to see a Vauxhall?
Thought not. But that's exactly what an Aussie family did at the Goodwood Festival of Speed, and you're looking at the reason for that mammoth trip right here. She (and yes, 'she' is definitely the correct term) is called Baby Bertha.
Advertisement - Page continues below
Words: Piers Ward // Photography: Jonny Fleetwood
A bit of background first. Bertha hails from the mid-70s, a time when the wildly popular British club racing scene (think British Touring Cars at the height of their late 90s pomp), featured drivers with mutton chop sideburns and cars with cartoonish proportions. She was built by Blydenstein Racing for Dealer Team Vauxhall, which was set up in 1971 and was funded by contributions from 600 Vauxhall retailers.
This was the era of minimal TV channels, zero Instagram influencers, Grandstand and Frank Bough's beige jumpers; when a win on Sunday meant the dealers got mobbed on Monday. And one place you could really earn the public's adoration was the Tricentrol Super Saloon championship.
Advertisement - Page continues below
So it was that Bill Blydenstein and his team created Bertha. Vauxhall had form here: a Firenza Coupé (nicknamed 'The Old Nail') and a Ventora (dubbed 'Big Bertha') had set the scene, but Baby Bertha was an altogether different beast. Although she was based around a Firenza, she was an out-and-out racer with a V8 Repco-Holden engine (these days, it's a 5.7-litre Chevrolet engine, producing 530bhp), de Dion rear axle, trick inboard front suspension and spaceframe front and rear.
With a 0-100mph time of 7.8 seconds, she was 6.2 seconds faster than a contemporary Lamborghini Countach. Bertha was designed for one thing only: to win the Super Saloon championship.
Two seasons later and she'd won it twice on the bounce: box very much ticked in terms of DTV's brief. In her first year in 1975, she won 20 of the 24 races she entered. The following year it was 10 from 13, with two retirements and a second. That season also happened to include six lap records, all bar one of them with an average speed of over 100mph.
In fact, Bertha was almost too successful – contemporary media reports talked of boring racing and, combined with budgets starting to get too much for much of the grid, the club racing focus shifted elsewhere. Bertha was retired in 1977 - her last appearance was at Thruxton, fittingly also her last win.
With those sorts of stats, it's no wonder she's famous. Even now, 45 years after her first race, Bertha is still one of the biggest crowd-pullers whenever she appears. But, as ever with well-known cars, it's not just the metal that appeals. In Bertha's case, it's also about her legendary driver: Gerry Marshall.
Even now, 45 years after her first race, Bertha is still one of the biggest crowd-pullers whenever she appears
As owners look like their dogs, so Gerry was the perfect match for Bertha. Both were larger-than-life – Marshall was famous for his hard-racing, hard-partying lifestyle, and that's even measured against the standards of the day, when the playboy James Hunt was the F1 world champion. This was before the era of sponsors' caps and polite photocalls – a Vauxhall and Castrol publicity shot had Marshall surrounded by a group of half-naked women.
Top Gear
Newsletter
Thank you for subscribing to our newsletter. Look out for your regular round-up of news, reviews and offers in your inbox.
Get all the latest news, reviews and exclusives, direct to your inbox.
But he backed up all his largesse with amazing speed and car control. Few were as successful as Marshall over the course of his career – there were over 600 race and class wins, and he could count many famous scalps among those. To see Gerry hustle a car in the rain, completely crossed up and yet perfectly in tune with it, was to see one of Britain's great drivers at work. Towards the end of his life (he died in 2005), the partying slowed down(ish) but there was still a twinkle in his eye. Characters like him, with that sort of longevity, are largely missing these days.  
You may be wondering about the Australian family we met at the start. The reason I got to know them was because I was the lucky sod driving Bertha that year – my connection to the car and Gerry is thanks to my dad. When my father was looking for a gearbox for his Group A Opel Monza – a car he freely admits that ruined by dropping a Chevy V8 engine into it – he rang Gerry to see if he had a rock-crusher gearbox for sale. It turned out that Gerry did, only the 'box in question came with a car: Bertha. That was in 1986 and my dad has owned her ever since.
She languished in a garage for a number of years as there wasn't a UK race series where she could compete. But then the Festival of Speed came calling and the interest picked up. I've been lucky enough to drive Bertha a few times and she goes like she looks, ie. not a car that takes well to being driven gently.
In the historic photos of Gerry driving, virtually every single one shows the car at impossible angles with the big man sawing at the wheel. It was Innes Ireland's autobiography that was called 'All Arms and Elbows' but it could just as easily have been written about Bertha.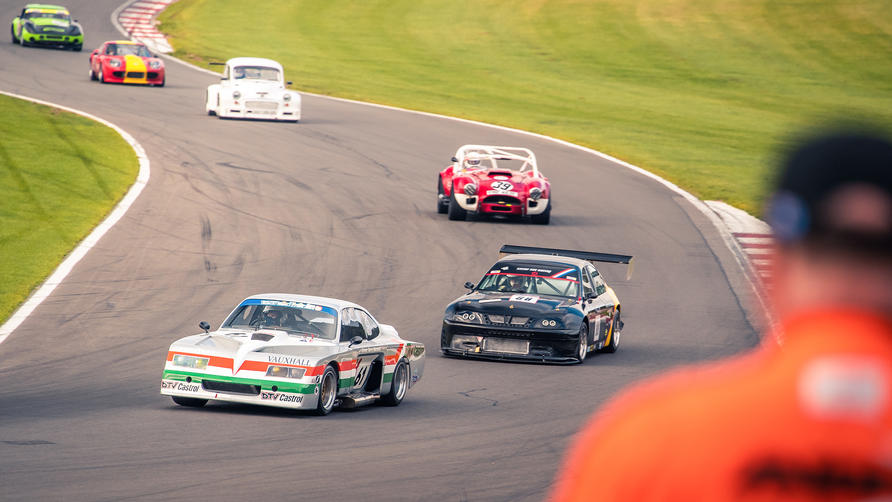 As soon as you sit in the car, the old school, slightly relaxed seating position makes it obvious this is from a different era. All the controls are wonderfully mechanical, with nothing electronic, and solid metal connecting solid metal. Fire up the V8, though, and it's not the noise I expect. It's not a deep rumble like some, but more of a bark, and definitely with a harder-edged pitch than you'd imagine. To hear her at full chat is certainly memorable. Vicky Butler-Henderson once did a photo shoot with Gerry at Silverstone – I can still hear her squealing with delight when Gerry first came past at flat chat and she even tried to get the noise as her ring tone. Bertha does that to people.
Like most racing cars, the harder you lean on Bertha the better she gets. There's definitely a window that you need to push through, to take a deep breath and then get on with it. It's easy to be intimidated by her, but if you start using more aggressive steering inputs and make the body pitch in and through the corners, Bertha becomes amazingly responsive. I wouldn't say she's docile, but she's far more predictable than you'd think. It's all that mechanical linkage, tapping you into the Firenza's thoughts and reactions. This is the sort of car that demands respect, but doles out rewards. It's an occasion car, one that you remember each and every time you sit in it.
I'm the last person to get sentimental about machines – they're cool, but they are also just bits of metal. But being called Baby Bertha (even my childhood cat was called after her) and with my close family connection to Gerry, there's an emotional link to this Vauxhall that is rare elsewhere. I first raced her at Silverstone less than a year after Gerry died, at the very same circuit where he passed away. It's an emotional moment that I still feel to this day, 15 years later. Maybe that Australian family weren't so daft after all.
With thanks to the Classic Sports Car Club, who couldn't have been more helpful in setting up this photo shoot at Donington Park