Big Reads
Dreamweaver: a closer look at Porsche's sublime 911 Sport Classics
Standard Porsches too... standard for you? Welcome to Exclusive Manufaktur, where your wildest dreams come true
It's one of those gristly German words where you have to chew through the consonants and spit out the vowels. Its translation – 'special wish' – is positively light-hearted and amiable, but it's not some charity. Rather, the genie that can grant you any Porsche wish of your dreams. And today, I get to rub the lamp. 
Stumbling around Exclusive Manufaktur (an atelier and autocorrect nightmare repurposed out of a historic Porsche Racing repair shop in the courtyard of Zuffenhausen) is as close as you can get to physically walking down your keyboard and into one of those time-sapping online configurators. It's just this one has seemingly endless boxes to tick and many drains to pour your money down. 
Advertisement - Page continues below
See, Sonderwunsch is the top level of customisation that Porsche offers. It was officially established in 1978 with the 930 Turbo Flachbau (Flatnose) – a race-inspired launchpad for sporadic limited-run series production cars. But hardcore Porschephiles were going off-piste with bespoke requests way before then.
Photography: Mark Riccioni
The first ever off-menu item was humble; a rear wiper for a 356 coupe back in 1955. But there have been plenty of potty requests since: from a fur-covered 356 to Count Rossi's road-legal 917 and Mansour Ojjeh's one-off 935 Street. There was even a retired fighter pilot who wanted to have a pilot's seat in his 911 Turbo.
Advertisement - Page continues below
Noticing the demand for customisation during the tuning boom of the Eighties, Porsche set up a dedicated department just for tailored tastes: Porsche Exclusive. In 2017 it was renamed Porsche Exclusive Manufaktur, and given the array of wacky bespoke GT, Taycan, Panamera and 911 models on display today, it's obviously a lucrative and prosperous business. But this modernist showroom is not for public consumption. It's home for the elite: people with flexible attitudes to spending money and dubious taste.
Inside there are drawers and drawers of painted Porsche-shaped pucks in colours to challenge the most enthusiastic LSD user's fever dreams. If that's not enough, Porsche's Paint to Sample Plus allows you to match your car colour to your dog's toenail clippings. Or, if you're that way inclined, a £100k hand-painted shade that uses the same holographic pigment you get in banknotes – which is exactly what someone recently commissioned.
At the outer edges of the space are minimalist upholstery rooms full of vibrant yarns, countless threads and swatches so your leather steering wheel or gear lever can complement your favourite blend of loose leaf lapsang souchong. Or, if you so want, the ultimate garage, a Turbo S to match your Embraer Phenom 300E business jet.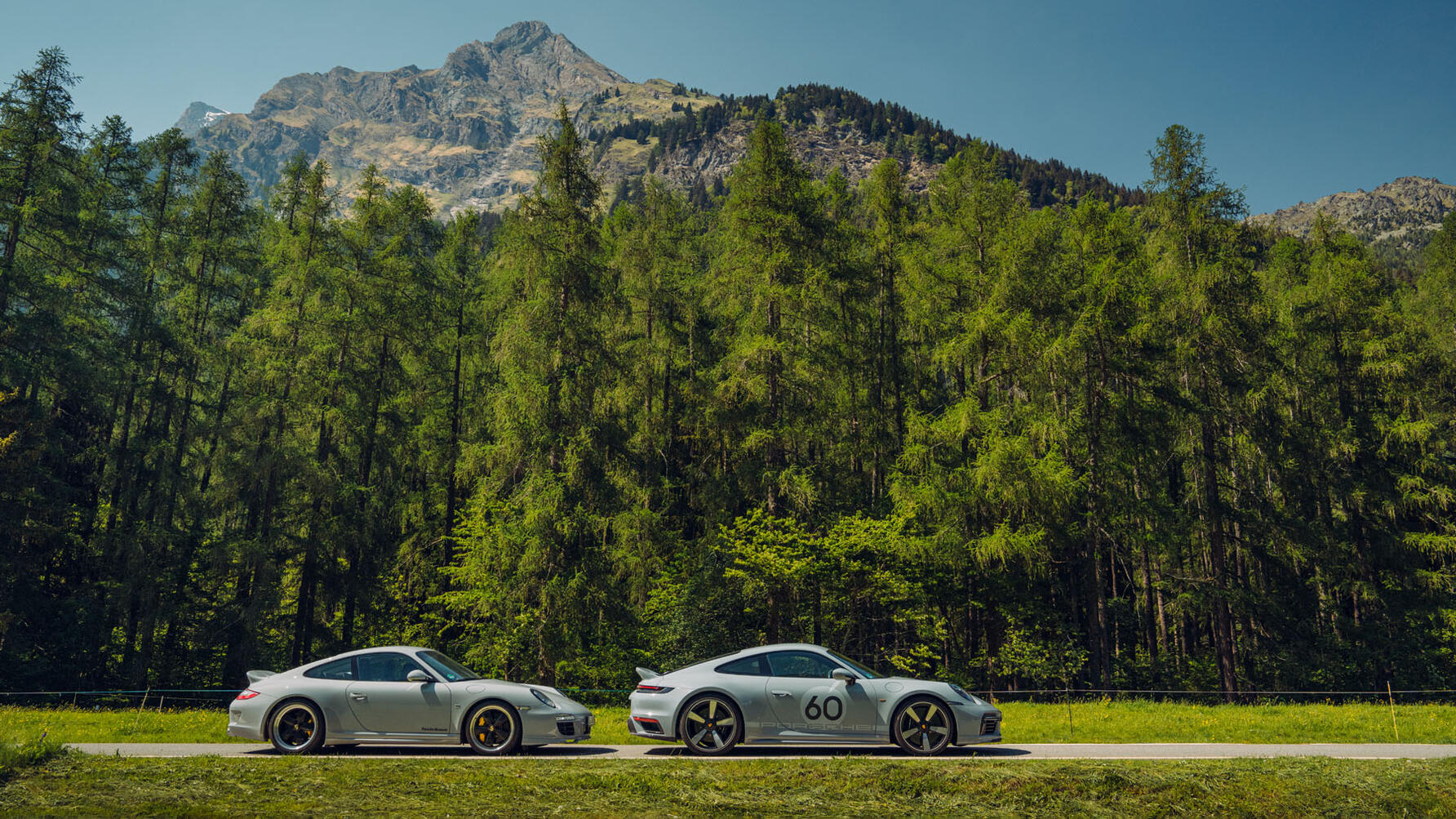 Outside is the most recognisable work of Porsche Exclusive: a 997 Sport Classic – a grey anomaly in the 911 range and the result of a few beers and sizzling bratwursts. See, Porsche's Boris Apenbrink and Grant Larson decided to pitch the revival of limited-run Porsche Exclusive cars at a barbecue in 2005 – 18 years after the last Porsche Exclusive car, the Leichtbau 964 Turbo S. The head of marketing thought it was a good idea, so once they dusted off their hangovers and wiped down the meat sweats, the folks in Stuttgart got to work.
The plan was to mash the most modern 911 at the time (997.2) together with iconic details from Porsche's past; including a 1972 Carrera 2.7 RS imitation ducktail spoiler, vintage Fuchs-style alloys as well as casting it in a wider body, with new interior trim, paint and plenty of other heritage Easter eggs. They charged buyers £140k to go find them – over twice the price of an equivalent standard 997 Carrera S and a chunk more than a 911 Turbo of the time.
For some, it was quite hard to swallow and left a few people scratching their heads. But hindsight is a fabulous thing, as the original Sport Classic can now be seen as some sort of canary in the mine for the explosive retro movement we've since lived through. It was a pick 'n' mix throwback 911 before the whole retro and restomod bomb had exploded. And, in the now incredibly fashionable world of limited production Porsches, they're as rare as hen's teeth with only 250 ever made – making them four times as rare as a Porsche 918 and five times rarer than a Ferrari F40. As you can imagine, the people who did buy them are now smiling, as they're worth a small fortune.
So Porsche has decided to cash in and do another one. And this new 992 Sport Classic is rather juicy; a limited edition, 542bhp widebody 911 with a twin-turbo flat-six, rear-wheel drive and – wait for it – a manual gearbox. That's 1,250 units of old school analogue vibes wrapped up in some funky retro looks thanks – once again – to an overexcited bobblehead's worth of nods to the past.
But where the first Sport Classic was based on a standard 911, the new one shares a lot of its componentry with the bigger, faster 911 Turbo. Including some new hips. Where the original Sport Classic had a C4S body, the new one is 50mm wider than a standard Carrera or Carrera 4. And looks great because of it. Helped in part by not having the Turbo's intakes carved into the side so your eye is drawn to flush bloated bodywork and huge 20/21-inch centre-lock wheels tucked up into the arches adding to some seriously meaty 315/30 rear tyre stance. Anyway, enough ogling. I've got a mission.
Top Gear
Newsletter
Thank you for subscribing to our newsletter. Look out for your regular round-up of news, reviews and offers in your inbox.
Get all the latest news, reviews and exclusives, direct to your inbox.
Being one of the first outside Porsche to drive the new 992 Sport Classic, Mark Riccioni and I have been tasked with delivering it to a public unveiling at Fuori Concorso, a celebration of Exclusive Manufaktur's rarest and raddest work on the shores of Lake Como. Tough gig, I know. And as it's here, we thought we'd take the old 997 with us too. Because we can. 
Our double ducktail voyage starts with a fail. The first thing I do is smash the brake with my left foot as some sort of PDK Pavlovian response. And what a treat it is to have a stick to stir the gears with. I know people get incredibly hung up on the #savethemanuals campaign, but from the first dip of the clutch pedal to the hesitant journey to the biting point, it proves that having a gearbox you need to move yourself makes a difference. 
Driving through the clogged arterial roads of Stuttgart the effortlessly light and easy-to-use seven-speed stick becomes entertainment in itself, completely changing how you interact with that familiar turbocharged flat-six engine. Rather than slotting a lever down to D and sitting there, you can play the engine like an instrument, taunt it, tease it and make it produce childish whooshy and burbly noises through tunnels I've never heard a normal 992 911 Turbo make. A PDK wants to rush up the gears, now I get to decide; choosing to chase the revs in a lower gear or surf the torque in higher cogs – it becomes instantly more experiential.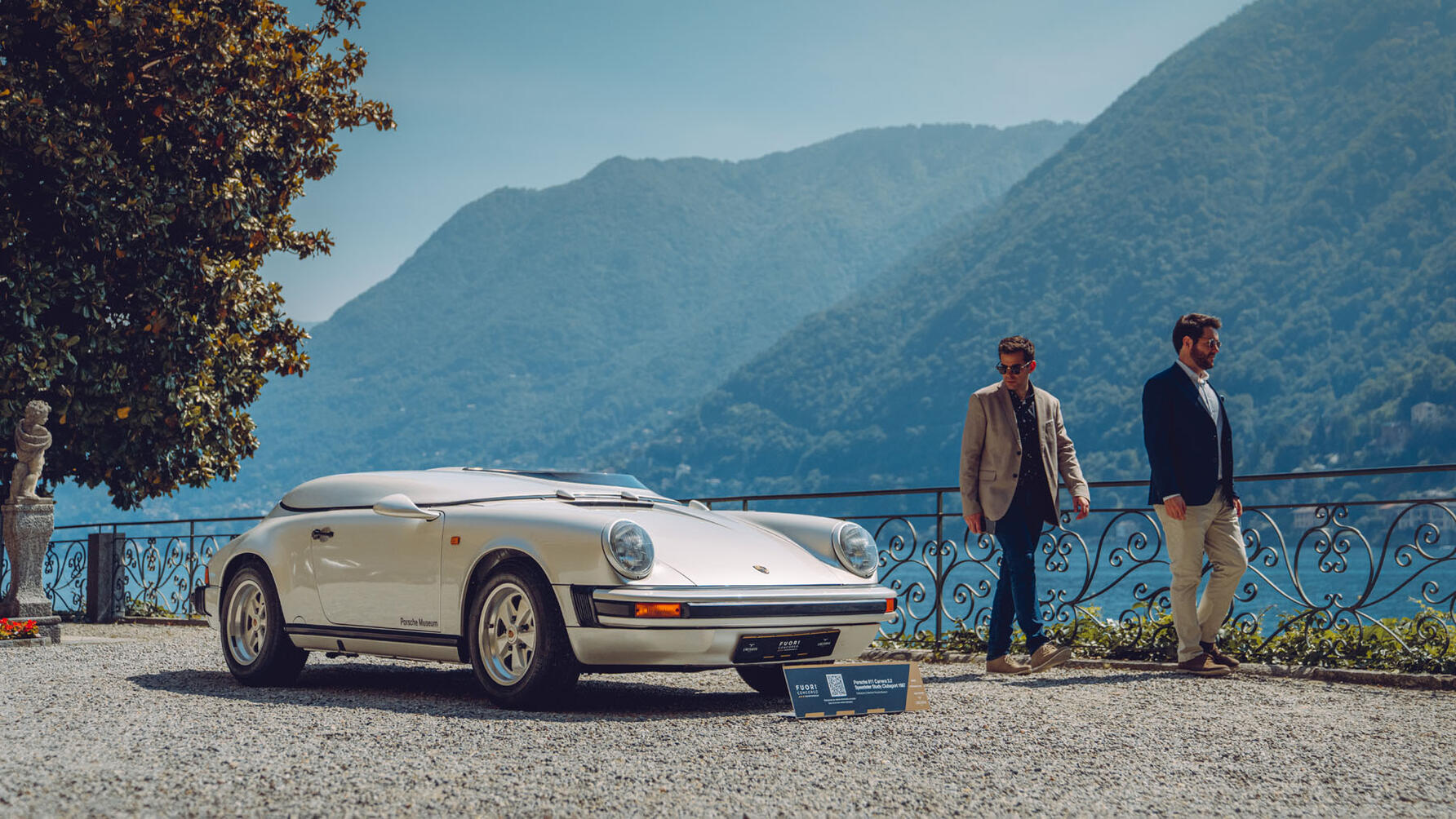 Breaking free of urban monotony, we quickly see the hallowed sign: four black lines diagonally across a base layer of white – derestricted autobahn. And the new Sport Classic can serve up speed. However, unlike our 997 company that came with a 23bhp bump in power to produce 408bhp, the opposite is the case in the 992. To ensure the manual gearbox doesn't melt from all the low-end turbo torque, the 3.7-litre engine has been turned down from 572bhp to 542bhp, while torque has been shackled from 551lb ft to 441lb ft. Even so, the 997 is left for dust in the rearview mirror. The speedo rapidly reads 170+mph as the glistening analogue rev counter's white hands rush around the dayglow green markings (just like an old 356) with each shift. There's really no rush like it.
I lie. There is. Doing it again in the 997, which feels naughtier because you have to work it harder and it feels so much smaller (you can mistake it for being Cayman-sized next to the 992) and more skittish when hitting its top speed. In fact, the nat-asp engine and car as a whole feel a lot more subdued than I was expecting. It's a proper mellow spec rather than anything performance oriented. I guess since it was released we've been peppered with shouty GT products and endless go-faster models so you assume it's one of those, but it's not. And with one lift of the heavy clutch, jab at the baggier steering and stab of the first-gen ceramic brakes, you realise plenty of progress has been made in the past 15 years.
After a quick service station Sport Classic switcheroo, we make our way past Lake Constance and settle down into a steady canter given Switzerland's sense of humour failure when it comes to speeding. To be honest, I really don't mind. Because you wouldn't think it, but the 992 car is an incredibly enjoyable thing to drive slow. 
The cabin has a fantastic ambience, one akin to a trendy members' club thanks to a seriously cool two-tone leather set against a deliciously light open-pored wood dash embedded with gold emblems (it's genuine gold too, Porsche uses 7kg of the stuff for all the badging, worth about £300 per car) and the iconic Pepita houndstooth in the doors and seats. This, plus the fact it's quiet and not harshly sprung makes it an exceptionally easy and comfortable GT car in which to unfurl hundreds and hundreds of miles. Which we do, and in no time we're in Davos. Home of the World Economic Forum where the world's most powerful one per centers come together each year to keep capitalism as healthy as possible. The Sport Classic should help, given it starts at £214k, making it the most expensive 911 ever made. 
Now, I'm not sure if it's the debilitatingly beautiful snow-capped landscape, but at the Flüela Pass everything seems to click into place. The 992 Sport Classic just works here. On the fast, flowing mountain roads the electronically assisted steering and damping (based off a 911 Turbo and 911 GTS) work together ironing out most of the road imperfections but also providing crisp feedback unobstructed by all-wheel drive. And no matter how hard you dare to push, the chassis feels like it can take so, so much more. It lulls you into travelling at speeds that you just didn't think relevant, or actually possible. It's a deceptively, wickedly fast thing. But like the 911 R, the Sport Classic is not really a car about figures, as in all honesty they're secondary to the experience. An experience with one constantly entertaining trait: BOOST.
Engineers will hate me saying this, but the time between mashing the throttle and feeling the rush of torque from a turbocharged engine is an event. One I think should be celebrated. But sadly, turbo lag is being eradicated through technology, clever gearboxes and electronic torque fill. Having to self-swap cogs makes lag more present and adds a sense of nostalgia to the driving experience that's exciting. It's foreplay for driving. No one wants to get straight to the action (ask your partner) – something EV supercars with their instant torque are quickly finding. Yes, a performance quickie is fun for a few times but gets boring after a while. But with the SC you have to manage where the optimum performance is, using all three pedals (or the spectacular auto-blipper) to prod the engine into a yowl with every downshift and find the power. 
In fact, the Sport Classic combines so many elements of enjoyable driving it adds up to feel like a super 911; from quick, communicative steering that's unobstructed by driveshafts, to the staggering carbon brakes, exceptional grip and that unique flat-six intake noise that fills into the cabin. You wouldn't think it looking at the pictures, but the Sport Classic has a completely different attitude to other cars in the Porsche range. It's a car that offers effortless GT appeal and pulverising performance, all within a purposefully muscular yet wonderfully austere and mature package with a unique sense of tactility and old school engagement. It's a cracker and needs to be shown off to the public. So that's exactly what we'll do.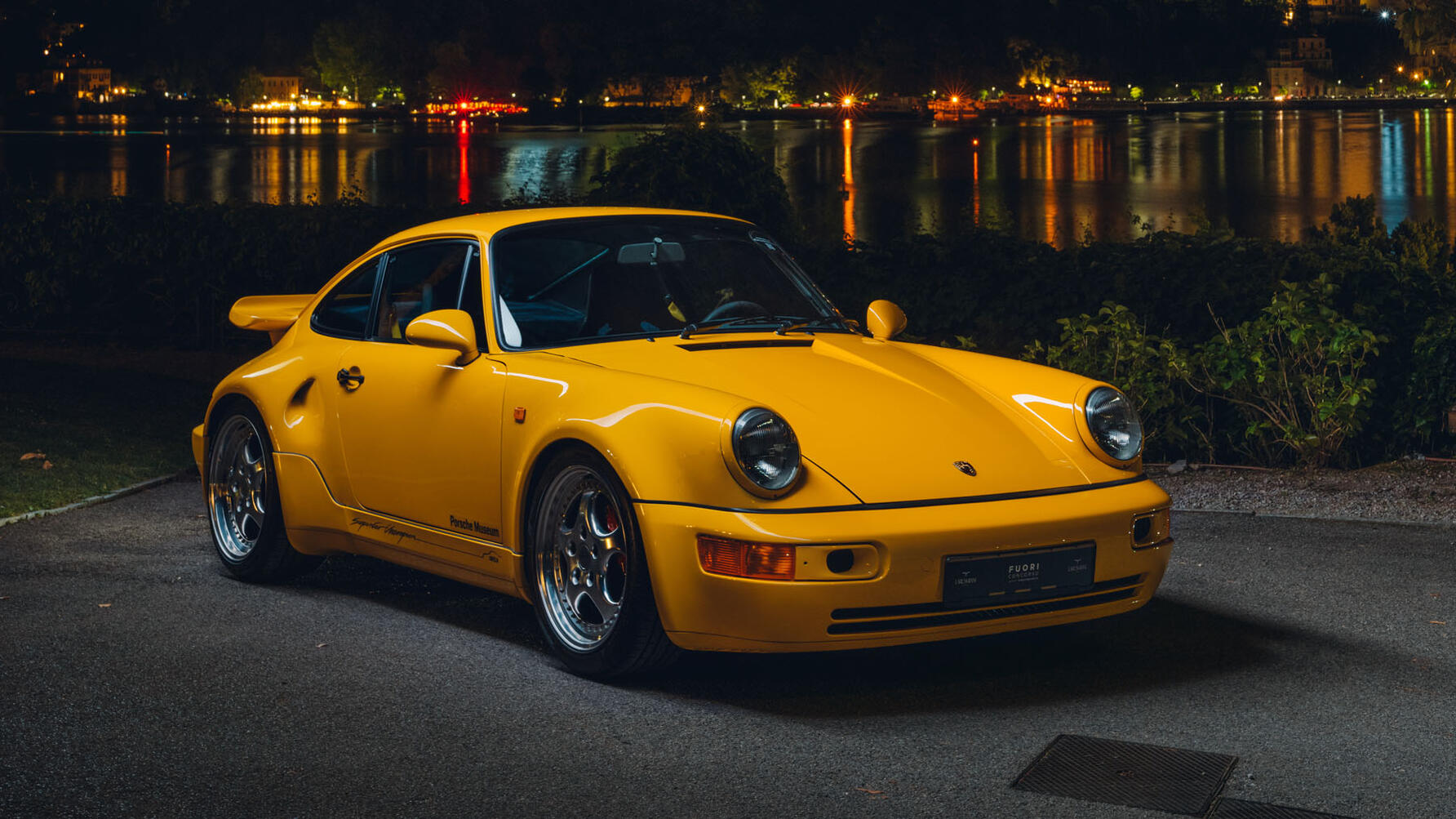 In St Moritz we pull into a lay-by full of I-have-something-you-don't have: pretty much every generation of 911 with some owner's Sonderwunsch/Exclusive dream attached; including a 996 Carrera 4 nicknamed 'The Joker' due to its wild purple leather interior with contrasting green stitching and green wooden inserts. But this is just the starter, the main course is further south.
Peppered around the pebbly driveways and lush grounds of Villa del Grumello and Villa Sucota are rare Porsches that even the most ardent Porsche fans may not have seen. It's like opening a pack of Pokemon cards and having nothing but shiny First Edition Charizards. There are Porsches many may not know existed, including not one but two of Abdelaziz bin Khalifa Al Thani's seven (yes, seven) Exclusive 959s, a 3.2 Carrera Speedster Clubsport, the 911 Vision Safari, 968 Roadster and a first-generation Cayenne Cabriolet. And there are going to be plenty more limited series cars to celebrate in the future.
Our delivery is the second of four 'collector's items' that Porsche will present from a so-called 'heritage design strategy'. That's where Porsche's general styling team has teamed up with the Exclusive Manufaktur team to reinterpret four iconic 911 models from the Fifties through to the Eighties. The first of these was 2020's 911 Targa 4S Heritage Design Edition (tipping its hat to the Fifties and Sixties) while the Sport Classic is the second and represents the Sixties and Seventies. What the third and fourth are is anyone's guess. A proper Safari car? Modern 959? If the new Sport Classic is anything to go by, they're worth waiting for.