Adventures
Driving the Baja Boots in... Baja
We head south of the border in Steve McQueen's Baja Boot to see if its modern incarnation lives up to the legend
"It's not a delicate flower. If you flip it on its roof, don't worry. We'll just roll it over and keep going."
As pep talks go, this one is being filed under 'encouraging'. I'm in the middle of the Mexican desert, sweating heavily into the underside of a five-point harness, having ratcheted myself down into one of the most bizarre-looking and perplexingly engineered road cars on the planet. With exposed bodywork, the headlight structure of a jumping spider, huge off-road tyres, supersized suspension and Tonka-toy dimensions, it's all rather imposing. Especially as it wears a supercharged V8 engine like a teenager's rucksack, has a roof-mounted snorkel and two Gatling gun exhausts straddling a full-size spare. It's a visual assault. One that could easily be mistaken for some sort of childish marketing joke – a 1:1 scale cereal box toy or something. But it isn't. It's a very serious, very real, very four-eyed, 650bhp middle finger to the Lamborghini Urus, Rolls-Royce Cullinan and Aston Martin DBX. 
Advertisement - Page continues below
It's called the SCG Boot, the latest project from film director, car collector, race team owner and car manufacturer Jim Glickenhaus. If you don't know the name, in recent years Jim and his iconoclastic Scuderia Cameron Glickenhaus (SCG) outfit have made a name for themselves by ditching rose-tinted spectacles for reality by putting deepfakes on hardcore motoring nostalgia. Take the P4/5, his $3m coachbuilt Enzo throwback that initially went down at Ferrari like a mouthful of sick. Modulo, the extra-terrestrial concept wedge from Pininfarina that Jim got running and approved for road use. Or SCG003, the class-winning VLN car that any Billy can go and buy. Now, his crusade continues – this time going for the jugular of the zeitgeist: performance SUVs. 
Words and Photographs: Rowan Horncastle
Steve McQueen images: Photographed by Milton H. Greene © 2019 Joshua Greene www.archiveimages.com
Advertisement - Page continues below
"I'm fed up of seeing all these super-SUVs," Jim says. "The Urus isn't an SUV! Look at it! It's just a 4dr Lambo. Real SUVs should be able to drive to the Baja 1000 [the world's longest and most gruelling non-stop off-road race], compete, then drive home again." 
So that's exactly what he's doing. Being a slightly frustrated, high-functioning and financially fruitful individual, unlike misanthropes of the internet, Jim hasn't turned his contempt for the new breed of marketing-led SUVs into bilious internet comments and spittle on his computer screen. Rather, he's simply built his own £200k performance SUV. In just 17 months. From scratch. Well, sort of scratch, as he did have something in his garage to act as a muse: Steve McQueen's 1967 Baja Boot. 
The original Baja Boot was the product of one of America's greatest technical minds, Vic Hickey. Born in 1919, Hickey served in WWII before returning to California to work on hot rods, dragsters and the famous Novi Indianapolis racecars. In 1959, he was picked up by GM as a research and development engineer. There, he conceptualised vehicles like the Trailblazer, Lunar Rover and, later, the Humvee. He was somewhat of an off-road savant, and the original Baja Boot was one of his skunkworks specials.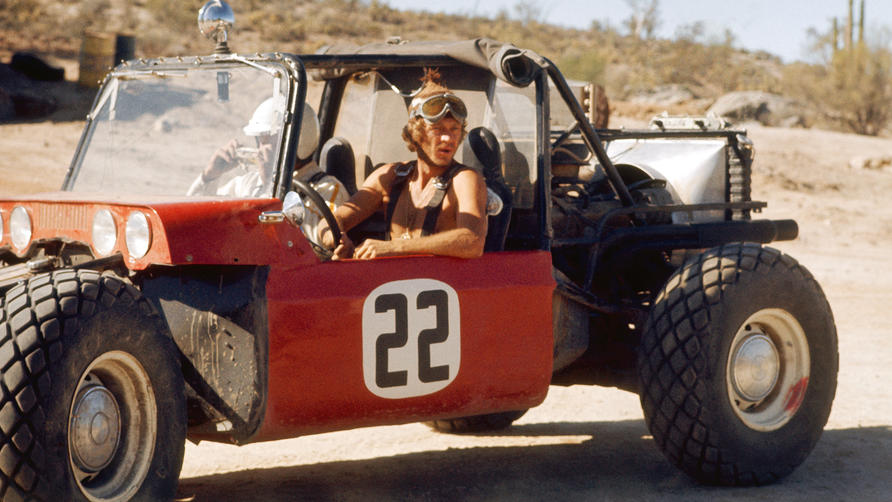 Back then, many off-road racers were based on the ubiquitous VW Beetle. But Vic wanted to make a bespoke engineering masterpiece for a new race down the Baja peninsula. He had just 26 days, so constructed a steel tubular frame, dropped a Chevy Camaro V8 directly behind the driver (like a Grand Prix car) and hooked it up to an automatic gearbox (to make driving off-road more manageable). He then added Corvette differentials, four-wheel drive, a trick transfer case, close-ratio power steering, torsion-bar suspension, chunky tyres and disc brakes. He christened it the 'Baja Boot', as it raced down the length of Mexico, grabbing the attention of Hollywood's Steve McQueen, who competed in it the following year. 
For the time, Vic's design was wild. So wild that people didn't cotton on to it. But solid logic never ages – you just have to wait for technology to catch up and do it justice. And, spurred on by the rise of the super-SUV, Jim believes that time is now. And having bought the original Boot (only two were ever made) at auction a few years ago, Jim had its technical drawings, so assembled a team of off-roads' brainiest brains to give these blueprints a 21st-century twist. Two-time Dakar and six class-title Baja 1000 champ Darren Skilton would lead the project, while Elliot Pollock and Armada Engineering (known for pushing boundaries with King of the Hammers builds) were drafted to make designer Michael Young's 2019, erm, reboot a reality. And, less than two years later, it is very much a reality. How Jim. 
Twenty-four hours ago, we were in Los Angeles, California. That's where Jim agreed to meet. I rocked up on an unassuming residential street to the sight of Steve McQueen's Boot casually sat on the back of a trailer, interrupted by the noise of a thunderous V8 and fresh, squeaky brake pads coming the other way. It was Darren, commuting back from the Boot manufacturing facility in Chatsworth in the new generation. "F*ck!", was the most articulate phrase I could muster at the time. These things look incredible together. Especially on a street, juxtaposed with bland crossovers and pickups. But Jim being Jim, wanted to prove a point. So instead of trailering the new Boot to Mexico for me to have a go, he threw me the keys and told me to drive down while he'd bring Steve McQueen's car along for a desert thrashing too. Win, win.
Top Gear
Newsletter
Thank you for subscribing to our newsletter. Look out for your regular round-up of news, reviews and offers in your inbox.
Get all the latest news, reviews and exclusives, direct to your inbox.
There's so much to drink in with the new Boot, it's hard to find somewhere to begin. Fundamentally, it follows exactly the same principles and layout as the original – just modified for better performance. There's still a tube-frame chassis and independent suspension, but real strides have been made in the tech – especially the suspension – over the last 50 years. In the Sixties, the original Boot was deemed cutting-edge for having 9in of travel and Bilstein dampers. That's child's play compared to the new Boot's monster 19in of travel and internal bypass coil-over dampers from Fox – the same shocks that are on Dakar Minis, no less. Wheels and tyres have grown too, now 17in Method Race beadlock wheels wearing massive 39in BF Goodrich tyres. Remarkably, the engine follows the same philosophy as Vic had intended: a small-block Chevy V8, turned 180 degrees and mounted out back. But now it's a supercharged 650bhp, 6.2-litre LT4 from a Camaro, and pushed even further back to help balance. It's hooked up to a GM 4spd 4L80-E automatic transmission that's pretty much nuke-proof and comes with a switchable 4WD system. And a winch. Because every car needs a winch. And a light bar. It's componentry to make hardcore Defender boys and their muddy fingernails dizzy. 
We headed down to San Diego, where people swarmed to it, utterly baffled by the preposterous proportions and hilarious scale. It's over seven feet wide, yet shorter than most American pickups and taller than pretty much anything on the road. Children stare at it through camera phones. People want to have their picture taken next to it. But piloting it takes some getting used to, as you're aware that giant wheels are sprouting out of each corner, but you don't know exactly where. Given you clog up most of a lane, you're fearful you may accidentally trample over a Prius – especially with the steering set-up. It's an ultra-quick rack, meaning economy of movement is key. This combined with soft, lollopy suspension (plus acres of roll you need to fight through) means you have to be patient, allowing for the truck to settle on its springs. When it does, you can lean on it and trust it. But you've got to be careful, as the weight can see-saw the other way, making it easy to get in a pickle and an almighty tank-slapper. 
Surprisingly, we crossed the border in Tijuana without a hint of a rubber-glove treatment and entered the estranged sliver of land known as Baja California. Home to powerful criminal groups smuggling cocaine, heroin, marijuana and methamphetamines north to the United States, it's a part of the world that gets plenty of newspaper column inches. Mexico's brutal drug war claims thousands of lives every year, and Baja has one of the highest homicide rates. A fact that sharpens the mind when driving a far-from-inconspicuous mode of transport through it. But, like drugs, the annual 1,000-mile race is big business. It's the biggest sporting event in the country, with an estimated 1.5 million spectators lining the course each year. So when something as wild as the Boot wanders in, people tend to roll out the dusty red carpet for you.
Luckily, the Boot has handy distractions to keep your mind off getting your cabeza lopped off. Notably, noise. Lots of noise. Being a development car, no sound-deadening or glass has been fitted, so Perspex sheets thwack against the cabin, while yelping straight-cut gears fight against supercharger whine and a throaty V8. It's like driving through a dubstep playlist. It's comfortable, though. Not plush ("You can throw up on the floor and hose it out," Jim says), but the interior is spacious, a trait accentuated by the full-width panoramic 'Moon Roof'. You snuggle into remarkably comfortable and supportive carbon-backed seats from Sparco (the same as a Lotus Evora), there's Apple CarPlay, USB ports and cupholders. It's genuinely usable. And, when the production car goes on sale next year, Jim plans to make a 'Gotham Pack': a sealed and soundproof cabin that might be the ultimate go-anywhere GT cruiser, especially when the four-seat, four-door version comes along later next year.
We rested up in Ensenada, waking up early to offload Steve's Boot and head off-road, simply making the endless horizon our destination. To understand the performance of the new Boot, Jim said I should drive Steve McQueen's car. Gulp. I was on the Baja 1000 course, in the same seat, on the same roads, doing what one of the world's biggest icons had done nearly 50 years ago to the day. Pinch-yourself moments don't get more pinchy than that. Well, actually they do. As Jim told me to give it the beans. Problem was, the old Boot requires quite a lot of grit to drive quickly. It's basically a pedalo with a honking great V8 and a spare wheel lashed to the back; you sit legs wide – manspread wide – with two shoebox-sized pedals at your feet. They're oversized for a reason: so that they're always there. You're constantly jiggled and jumped around by Baja's rugged scenery, with all nine inches of suspension travel being spent easily, so when you get to a particularly deathy bit of landscape, you want to stop when you want to stop. But it's surprisingly easy to drive: steering is light and manageable, and it's amazing how a car with no doors or windows can have such a vibrant musk – pure vintage with a hint of military. But God knows how Steve and Bud Ekins used to hammer this thing at 120mph through the desert, in the dark, and not turn to dust after 40-odd hours. They were made of different gravy.
Having sampled Steve's car for a stage, I handed it back. Primarily because the crippling and very real anxiety that I could be the one that stuffs Steve McQueen's historically significant car started getting the better for me. Time for its son, Boot v2.
With Jim's words of potential rollover encouragement ringing through my ears, I bury the throttle just to see what happens. Ho-lee-s**t. The two rear wheels bury themselves into the dusty floor like circular saws, throwing the scenery behind the truck until it hooks up and accelerates unlike any other road car on sale. First, you're hit with a wall of noise as the angry LT4 roars round until the rev-limiter on the Motec dash starts looking like the Blackpool illuminations. That's compounded by a high-pitch supercharger harmonising proceedings as the gearbox starts sounding like a hamster in a blender. But noise quickly turns to movement. A hilarious amount of movement. With each throttle input, the rear suspension compresses until you've used all the travel, where you then start to plane above the desert like a speedboat. Stomp the brakes – and with no servo assistance, it is a stomp – and the bonnet points itself at the floor... literally at the floor. Tip into a corner, and the body roll makes it feel like the whole thing is about to pitch right over.  
The closest thing to it on sale is an Ariel Nomad. And I don't mean to cause any disrespect to the scrumpy enthusiasts in Somerset – in fact, I've been quoted as saying the Nomad is "the most entertaining four-wheeled driving instrument on the planet". Well, I was wrong. The Boot is a Nomad that's been to Hell Week, got jacked and angry. In the off-road Atom, you can happily hit toaster-sized boulders all day. In the Boot, fridges. Commercial fridges. That's the scale of hard, unforgiving desert furniture you can simply fire it at and drive over with ease. It's mind-scrambling. You wince, expecting the suspension turrets to fire out of the top of the arches like mortars, but it just compresses and swallows them whole. You have to condition yourself, mind. It's very easy to overdrive, as the dynamics quickly become trustworthy and unbelievably confidence-inspiring. So much so, I just huck it over a jump for the sake of it. I've never smiled so much behind the wheel in my life. 
Marauding across Mexico's ruffled, pitted and jump-laden landscape in the Boot never gets old. And despite being 2,517kg, it's surprisingly agile and adjustable. See, the SCG has got that very rare quality of being set up properly, by people who care and use quality hardware. As soon as you strap in, it's like you've docked directly in the chassis and become part of the machine. A well-set-up car means you don't need to think; it becomes intrinsic, natural and telepathic in its communication. This is what you need when racing for 1,000 miles across the desert, across booby-trapped fields with six-foot whoops that go on for hundreds of miles during the night. The fact it's got numberplates and can be used on the schoolrun is a bonus. A brilliant bonus. 
From an entertainment point of view, it's simple: it's the best car I've ever driven. And being able to make progress through places no cars should rightly go is a significant selling point. The SCG Boot is the modern-day Lamborghini LM002. It's the car many wanted the Urus to be but never got. And, at £197,000, it's a similar price. Which, when you consider it's a small-time manufacturer using ritzy bits, seems like a bit of a steal. Especially as Jim's now done what he'd said he'd do (surprise!) and proved you can rock up and finish the Baja 1000 in it. Try that in your Cullinan, Urus or DBX. 
Boot vs Bronco: The Rematch
In 1969, the Baja Boot raced the Ford Bronco in the Baja 1000. Exactly 50 years later, and one week after we drove the car, this duel was reignited as the new SCG Boot raced the new Ford Bronco in the 2019 Baja 1000. 
Just as Jim had intended, his road-legal race Boot drove down from LA to the start line. For the race, beefier, longer-travel dual shock suspension was used, a race box and a non-s'charged, 450bhp LT1 Chevy engine for reliability. All of which can be specced in your Boot if you like.
The Bronco R prototype (testing the new engine and drivetrain for the road car) and Boot competed in their own class. As expected, both were pummelled by the terrain. But there was only one finisher. And as everyone knows, to finish first, first you have to finish. 
The Boot crossed the line with less than 47 seconds remaining of the 34-hour race cut off. With 33 hours gone, a front brake caliper cracked and seized the wheel. So the support crew raced to fix the issue, breaking two wrenches just trying to get the wheel off. Meanwhile, the Bronco and team Ford retired just shy of the 600-mile marker. And if that's not a statement of intent from Jim, we don't know what is.