Big Reads
This is the F1 car that changed the game
Williams is turning 40. Time to uncork Mansell's FW14B and party like it's 1992
Normally, it's F1's drivers that do press-ups as a pre-race psych-up routine. This time, it's the car. And never has a single-seater looked so anthropomorphic – sitting quietly under the fluorescent strip-lit pits of Silverstone's Wing, bobbing up and down and flexing from side to side on its suspension struts like it's warming up for a high-pressure boxing match. It's captivating. And gif-worthy. But I can't help but think that wasn't the intention, given it was designed over 25 years ago.
The car in question is Nigel Mansell's 1992 Championship-winning Williams FW14B. It's currently plumbed into what's nicknamed the "washing machine", and five minutes from finishing flushing, cleaning and bleeding its pioneering and race-changing technology – active suspension – that made it one of the most dominant and iconic racecars of all time.
Advertisement - Page continues below
Words and Photography: Rowan Horncastle
See, this year marks Williams F1 team's 40th birthday. And not content with a cake, the team decided to do something a bit bigger to celebrate. They invited 50,000 fans to Silverstone to watch some of their most iconic cars scream around the track while legends mill around the pit lane.
Nico Rosberg (who drove for Williams 2006–9), his father Keke (who won his only Driver's Championship with Williams in 1982) as well as other champs such as Nigel Mansell, Damon Hill and Williams's last race winner Pastor Maldonado are all present, gawking over a very visual and noisy chronological timeline of their back catalogue as they fire up and head out on the track like it's a Carlsberg track day.
Advertisement - Page continues below
But there's one car disrupting the regimented timeline of F1 flotsam in the pit garages: Mansell's FW14B. It's right at the end, next to the modern F1 cars requiring a rugby team of mechanics and intensive care to keep them alive. Its positioning and reliance on being near the modern tooling is a fitting visual aid of showing how this car was one of the first to take a giant leap into a brave new world for F1.
The 14B is from a time when the two lines of driver talent and car tech started to blur. Where, in the cockpit, old-school brawn and balls started to joust with digital brains. With bleeding-edge hardware such as active suspension, traction control, a pioneering blown diffuser, Renault V10 engine, anti-lock brakes (briefly) and a semi-auto 'box, the 14B wasn't just a step up in technological aptitude, but a Fosbury Flop into a whole new, more digitised and complicated dimension of technology that laid the foundations for F1 as we now know it.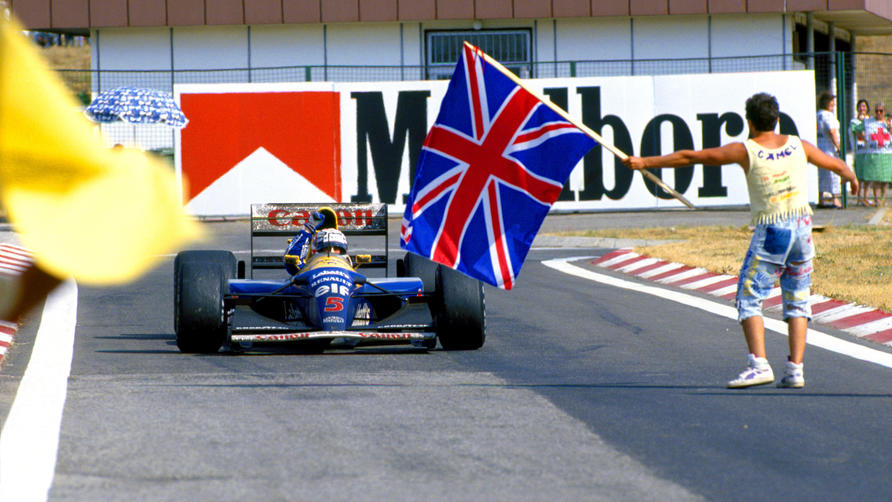 It's also the headline act for the 40th celebrations. Problem is, the car hasn't run since it won the '92 Championship, 25 years ago. And it's just dropped every millilitre of fuel that's been guzzled into it onto the floor. The whole engine and 'box have to come off to identify the problem. And the car has to run in a few hours' time. Otherwise, Dickie Stanford, the FW14B's chief mechanic and general manager for Williams Heritage, will have to deal with 50,000 very upset fans.
We have time for some history then. See, back in 1977, having been sidelined and bought out of the first team he'd set up, Frank Williams wanted to get back into racing. So he phoned up a young talented automotive engineer to come with him. That young engineer was Patrick Head. He agreed, forming one of the most critical bonds in F1 history.
Patrick designed a succession of seminal and winning cars, while Frank masterminded the operation and dealt with the tangled politics of F1. Over the last 40 years, Williams has won 16 F1 World Championships (Ferrari is the only team that's won more Constructors' Championships), as well as claiming seven Drivers' titles and scoring 114 victories, 311 podiums and 128 pole positions.
What started out in a dingy lock-up with just 17 people tinkering away (plus storage for secondhand racing car parts that Frank was buying and selling to keep the bailiffs at bay) has exploded into an engineering and F1 company on a sprawling industrial campus with more than 600 employees on its books in leafy Grove, Oxfordshire.
Williams has been a proving ground and petri dish for big names, both on the pit wall and in the driver's seat. The team gave Ayrton Senna his first F1 test in 1983. It was with Williams that Nigel Mansell scored his only world title. Damon Hill took all but one of his 22 race victories and the '96 world title with them. Then there's some of F1's cleverest people, including Adrian Newey, Paddy Lowe, Ross Brawn, Neil Oatley and Frank Dernie, who all cut their teeth here.
Top Gear
Newsletter
Thank you for subscribing to our newsletter. Look out for your regular round-up of news, reviews and offers in your inbox.
Get all the latest news, reviews and exclusives, direct to your inbox.
But it's the FW14B that really resonates in the Williams story, proving that an enthused engineering firm can take the fight to the big-walleted manufacturer teams through engineering nous, a bit of self-belief and two talented drivers.
Needing to break McLaren's four-year dominance for the '92 season, a supergroup of Williams engineers hit the drawing board. They included technical director Patrick Head, chief designer Adrian Newey and a young electronics engineer called Paddy Lowe. Their names will be quite familiar now.
Overseen by Head, Newey came up with a fantastically anorexic aero package that was an evolution of the FW14 but with a few, what Paddy would call, "secret weapons" attached. Namely the active suspension system for which he was one of the main architects. This, plus a lot of newfangled electrical gizmos (data logging, semi-auto gearbox and traction control) made for the most technically advanced F1 car of its time.
However, the most important component on the FW14B is a piece of suede Velcroed onto the front of the car, under the nosecone. It's there in case a driver had a crash and ripped off the front, which would expose Williams's trump card over its competitors: the active suspension system.
Although active systems weren't new to F1 (see below), Williams was the first to master it. Which proved to be a crucial factor in the FW14B trouncing its opposition. The system was initially developed for the FW11B in 1987, but it took a few more years to harvest its potential performance. And also gain trust from drivers that it was safe while also alleviating anxiety from mechanics that it was dependable.
As there was no refuelling while racing at the time, what the system did was to allow hydraulic actuators at each corner to provide a consistent ride height for the car at both low and high speeds, so providing a stable aerodynamic platform, helping to optimise downforce (and speed) throughout a lap. The incredibly complex system would also act as an anti-roll bar, have zero warp stiffness (good for traction on uneven surfaces like banking or cornering) while an electronic control system would constantly apply corrections to dial out oversteer/understeer. There was also a partly predictive system that would respond to inputs received from lateral and longitudinal accelerators mounted on the floor of the cockpit to allow for maximum attack all the time. Especially with the help of the new traction control. It was game-changing stuff.
It required the driver's trust, though. Something made harder by the 14B's unique characteristic of momentarily losing all its rear-end grip (up to 600kg of downforce) for a split second on the turn in to high-speed corners.
"With any new technology, you're sceptical because it has the potential to kill you," Mansell tells us. "Ultimately, I never trusted it [the active suspension] in totality. Basically, the car was trying to kill you and throw you off the circuit at every single corner, but it was up to me to stop that happening. Being strong, I had faith that when it kicked out in a high-speed corner I had the skill and the strength to hang onto the car. If it really lost grip, I would drive straight over the kerb, hoping after I went airborne I'd land OK."
Williams's ability to get a stranglehold on this technology and make it reliable through thorough technical reappraisal allowed them to build a car that gave Mansell unrivalled dominance, vanquishing opponents and other drivers via an engineering package such as F1 had never seen before.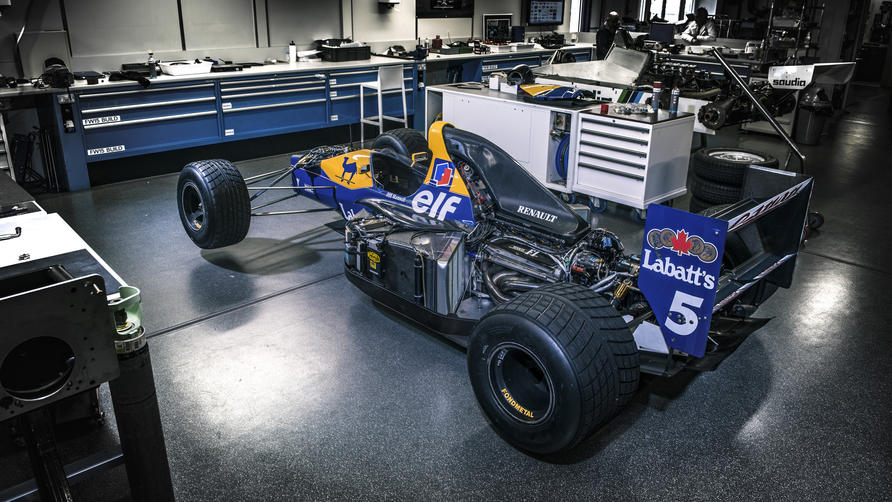 The FW14B started its championship campaign with a pole position, fastest lap and a victory for Mansell at the first round of the 1992 season in South Africa, taking the chequered flag by 24 seconds from team-mate Riccardo Patrese to give the car a 1–2 on its debut. Mansell went on to win the first five races, there were 1–2s for Williams at the first three rounds, and at the end of the 16-race season, the FW14B was credited with ten wins, six 1–2 finishes, 15 pole positions and 11 fastest laps. Humiliating the likes of Senna and Schumacher in the process and bringing the Drivers' and Constructors' championship back home to Blighty. Not bad for a car signed off just six weeks before the season.
It became an icon. Immortalised and smashed into skirting boards around the land for children with Scalextric sets (this writer included) who dreamt that one day they too could grow a 'tache and become a champ. It's the same reason the dust sheets were pulled off for the big 40th jamboree.
After a few thousand hushed swearwords, Mansell's old mechanic, Dickie, is still working on FW14B. After a few hours, he's fixed the fuel leak. I peer under the bodywork – the packaging and intricacy of components in the 14B is exquisite. The cockpit is tiny, looks dangerous and houses three 10-stage knobs down to the right for the driver to adjust the active suspension on the fly. Something they have to do blind, with the wrong hand, and at many miles per hour.
The car is given the thumbs up to run. With so many legends in the pit lane – including both Nigel Mansell and Ricardo Patrese – who gets the honours of driving it on such a momentous and poignant moment? Um… Karun Chandhok. See, Williams's policy only allows for current drivers or their dedicated heritage driver, Karun, to get behind the wheel. And it's just started chucking it down. No pressure, Karun.
The garage door opens, and the crowd erupts with applause at the sight of the legendary blue and yellow livery. Slinking out into the rain shower, the car looks magnificent, but it's more of a sensory experience. The shrill of the Renault V10 reverberates around the pit lane, reminding us that F1 used to sound good. But it's the rich, rich smell of high-octane race fuel that filters up my nose, satisfyingly burning sinuses, that bookmarks the moment in my brain.
As Karun opens the taps out the pit lane, everyone is vicariously transported back to the early Nineties. Hearing the car fire out the back of the circuit – never out of earshot – then come back round to the pit straight, the engine becomes muted by the overpowering sound of cheers as Red Five rides again – flames licking underneath the bodywork with a rooster tail of spray pouring off the back. As a 40th birthday present goes, it sure beats blowing out the candles on a caterpillar cake. Happy birthday, Williams. 
Active suspension in F1
The FW14B was not the first F1 car to have active suspension. That honour goes to the Lotus Type 92, which took to the track in 1983 – four years before active suspension scored its first win and nine years before FW14B secured a maiden Championship.
The idea for an active system came from Lotus during the height of the ground-effect era in 1980. They found that the Lotus 80 would generate so much downforce that when the car pitched and rolled under braking, accelerated out of a corner or hit a bump (basically, all the time) it would 'porpoise' – sucking itself down at the front, then bouncing back up violently in a see-saw of terrifying grip loss. The solution was to have a system that allowed the centre of pressure to remain constant by continuously monitoring and adjusting the ride height. Active suspension was the answer.
Nigel Mansell, who was driving for Lotus at the time, developed active systems from their infancy. He complained they added weight (12kg), stole power (to run the hydraulic pumps), and never really trusted them, as he'd had some scary moments during development. But by the time he was back at Williams in '92, the boffins had mastered the tech, and the rest is history. Until it was banned by the FIA in 1994, that is.