Retro
Fantastic Fours: inside the workshop that specialises in classic 4cyl Porsches
California isn't short of workshops prettifying Porsches. But a peek inside Benton Performance reveals a fascination with something different
John Benton is a coiled spring of a man. His Californian workshop may be tucked away in Anaheim, southeast of downtown LA, but that doesn't mean Benton Performance is a quiet little corner in which to show hushed reverence to shiny old Porsches. There's enough of that going on elsewhere in California. John's eyes are wide and his energy fizzing as he leads me and photographer Jonny on a tour much longer than his modestly sized shop had led us to expect, Motown pumping loudly throughout the building as we try our best to keep up with both his legs and his anecdotes.
It'd be a bit strong to call Benton the anti-Singer, not least because they aren't directly comparative. You're looking at a resto business here rather than a restomod business. But there's an everyman spirit to Benton's work, not least because John specialises in four-cylinder Porsches – chiefly the 912 and 356 – though there's the odd flat-six 911 lying around.
Advertisement - Page continues below
Photography: Jonny Fleetwood
"I've built all sorts of engines over the years," he tells me. "Ferrari, Lotus, water- and air-cooled, small block Chevy. Engines are largely the same – it's like a doctor learning the human body when they study to be a surgeon. But there are little differences in them all."
John has beaten 911s in his 912 racecar and clearly likes playing the underdog on and off the track. "I'm a bit of a troublemaker. I have fun doing a lot with less. European usability and size was never a sensibility that grew here when these cars were new. I've been a champion for this cause for a long time."
Advertisement - Page continues below
His love for Porsches began with his cousin's 912, which he borrowed at 16 for his high school prom. "I had a Volkswagen at the time. I went out to prom but I couldn't wait to drop my girl home and drive the Porsche all night. I drove that car into sunrise, it was incredible. Next day I cleaned her all up and brought her back. I was hooked."
That VW was the real seed that sprouted into the kingdom John now surveys, though. "A lot of what I know was self-trained, but I always sought out experts. When I was 14 I got my hands on a '59 ragtop Beetle. I painted a house to get it. It was a total pig but it was my first love. I didn't know much, but I was driven. So I rode my BMX with a broken carburettor on the back to a shop near home called Tony's Auto Repair. That's the beginning of it all, right there. I could take you to the exact spot now."
Plenty happened between Tony's and where we stand now, though, including a teenage John turning down a $4.8m trust fund when his dad passed away in a plane crash. "My father was a rambler," he says. "I said 'the man's an a******, I don't want it'. I gave away that trust to my younger brother. I chose my own deal. When you grow up without a pops, you find yourself growing up under other people. I've had many mentors in my life but they've all been good dudes."
John was headhunted through various well-paid vocations – amassing electrical, welding and metallurgy skills along the way – before deciding to set up a workshop on his own terms. "I always had my little garage building stuff and I used to race. Then I got out of my professional career as a facilities engineer in 2005 and that's how this occurred. It went incrementally, it kept getting bigger and bigger. There was the big financial crash in 2009 but my wife and I have the same house we've always had, we live a fairly simple life. We weren't damaged too badly. I still had a 401k and I liquidated it, then hired all the dudes nearby that had shops like mine. We used to drink beers together on a Friday and commiserate. I thought we could all work together and have fun."
'Fun' is certainly what emanates through the building. But while his son also works at the shop, there's no nepotism here; Ian Benton had to develop his talent elsewhere before he could work with his own pops. "I used to help out when my dad did work in the backyard," says Ian. "By the time I was at the age I was helpful – 13, 14 – he sent me out to work in other shops. I was working on upholstery, breaking cars down, then a machine shop. By the time I was 18 I'd amassed enough experience for him to say 'come and work for me'."
Ian isn't the only apple in John's eye. Sat in the middle of the workshop, gleaming brighter than everything around it, is the Green Meanie. "Back in the day this was actively raced on the SoCal scene," says John. "It belonged to a guy called Steve Schmidt. It's always been that colour – Smyrna Green. It's in old school race trim before all the mega rules; it took the final chequered flag at Riverside in 1989. Then it got lost and disappeared.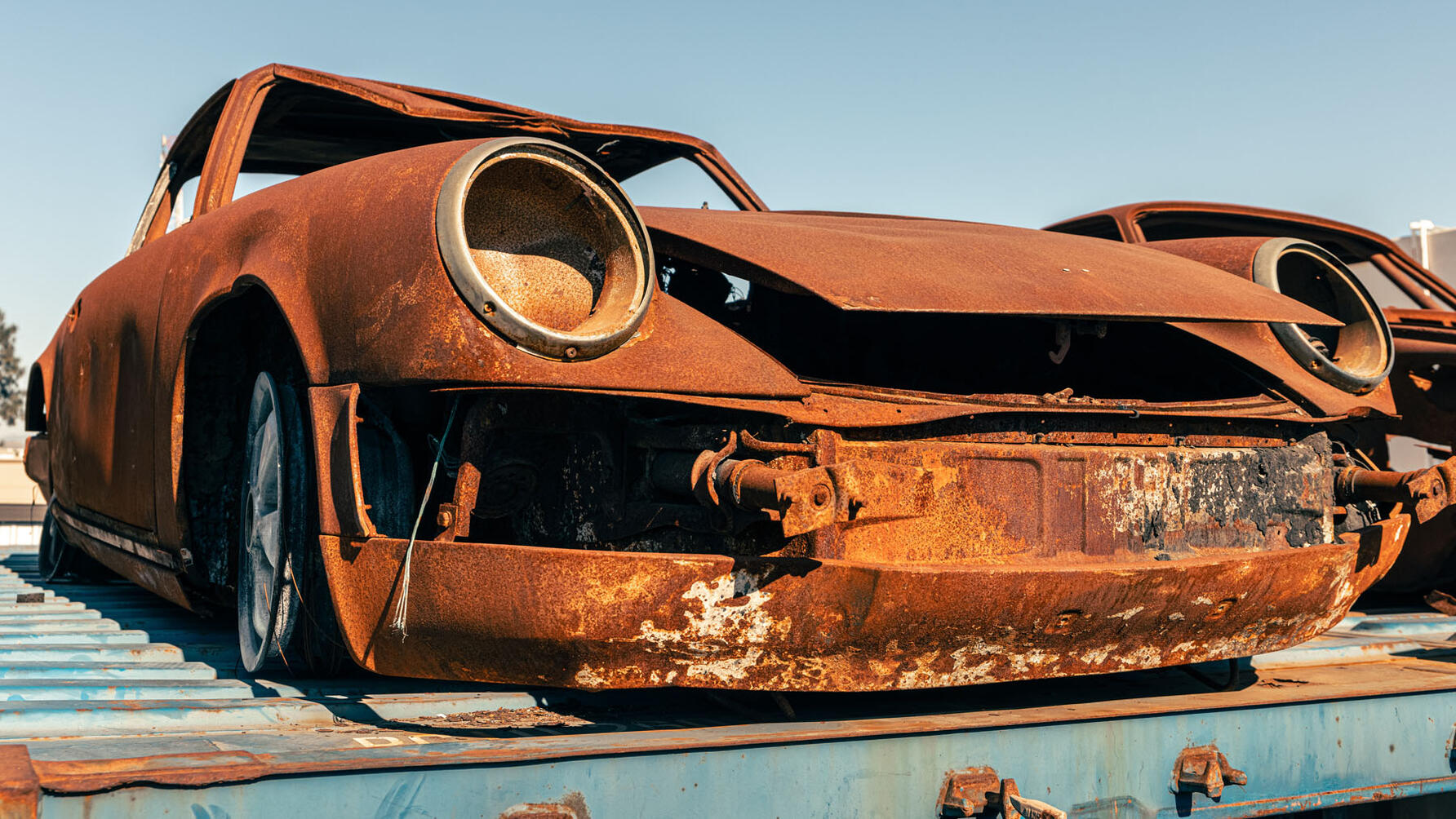 "Several years ago, one of my clients found it on an online auction. He got it for around $55,000 but the engine was worn out. Fast forward a few years and someone tells Steve via social media that the Green Meanie is in my shop, and he says he has the original matching numbers engine for it. I call up and we get it for six grand. A tasteful little 125hp motor. My client hasn't decided to part with it just yet, but I take it out like it's my car. I drive it and have fun with it. I'd love to race it in historics but he doesn't want it wrecked. When he decides to sell it, it's mine."
But it's clear that 912s hold just as much of John's affection. Perhaps more. "People finally get it. At its inception it's a car that saved its company. This was never a poor man's Porsche. It was owned by doctors, lawyers, pilots. They cost a lot of money in 1966. For a while they were a bargain but they're coming of age now. It'd cost the same to restore a Ford Pinto or a Ferrari at my shop, though. It takes x number of hours to take a car apart, whatever it is. But now that 912 values have gone up, it makes more sense to put money into restoring one.
Top Gear
Newsletter
Thank you for subscribing to our newsletter. Look out for your regular round-up of news, reviews and offers in your inbox.
Get all the latest news, reviews and exclusives, direct to your inbox.
"Conversations with clients don't always start with 'how much?' Some people turn up and are in love with their car. I send the bill at the end and I get paid. Perfect. Most cars are with us about a year but some I've had for three or four. I have a recipe and if one particular ingredient isn't available, I'm not interested in your timetable to get the car back. But I get the impatience, too. I've got a Cosworth-powered Formula car at home and I'd love to get it running but I'm waiting for the parts from England."
There's no typical job at Benton – and no typical bill once it's done – but John points me towards a 912 going through roughly $10,000 of restoration work while an engine rebuild has a median cost of $20,000, he tells me. "It can be $40,000 if you want internals that are really made to take punishment. The good thing about 912 people is they drive the hell out of their cars. They're rarely garage queens. One customer I built an engine for goes autocrossing and every year he'll bring the car here for a week for us to look over it."
But for all his obvious expertise and effervescence, John has no interest in rivalling the million dollar approach to Porsche renovation you might find elsewhere in Cali. "I'm quite capable of building almost anything. But when I see somebody defile these cars to make a reimagined version? It's a free world, but I'm not into it."