Big Reads
Is the Ferrari Purosangue the only true SUV on sale today?
The new four-door, four-wheel-drive Purosangue is the most controversial Ferrari yet. Fortunately, it's also the most versatile...
It's snowing. The sky sweating fat, lazy snowflakes that give the impression that they can't really be bothered to fall, the horizon blurred the colour of regret. The Dolomites in late February; majestic, romantic, and if you don't like the weather, just wait a bit. It looked happily imposing just an hour ago, but now the weather gods have got all grumpy and drawn a veil across the view. Admittedly, it wouldn't be so bad if the ill-equipped chase car hadn't slithered off, snapped a snowchain and proved itself incapable, but that's where we are. We forgot to have breakfast, gloom is going viral, and everyone is getting lightly annoyed and hangry. Except me. I'm confused.
Advertisement - Page continues below
Photography: Olgun Kordal 
Some of the things make sense. I'm in a Ferrari, with a recognisable Ferrari steering wheel festooned with the usual sticky out bits. There's a big capacity V12 trying to inhale the mountain and making Ferrari noises, and the rear wheels seem to castor around a central pivot when you apply too much throttle on hairpin exit. Too much throttle on hairpin exit is fun. The big central rev-counter is sunshine yellow, and the needle keeps bounding merrily to one o'clock before jerking backwards as the big paddles do the usual; a snappy keychange while that engine keeps blaring Super Unleaded's greatest hits at full volume. All is as it should be. 
And yet there are generous floofs of snow on the ground slicking themselves over sheet ice, and I'm not currently face first into the valley via a brief crunch of Armco and several seconds of alarming, silent free fall. Bespoke snow tyres are witchcraft. I also feel like I'm sat about a foot above where I should be. There are unfamiliar sonar echoes in the cabin, two decent seats behind me and an unmistakable hatchback in the rearview mirror. This is a new, different kind of Ferrari; a four-seat, four-door antidote to overblown SUVs that have forgotten what those three little letters actually mean. It is the Purosangue. A Ferrari, but one that comes with new perspectives, both literally and metaphorically. It takes some getting used to. 
So then, the Purosangue. In literal terms 'pureblood', though finesse the Italian translation a little and it refines as 'thoroughbred'. Apt for a brand whose identity is centred around a famously flamboyant horse, hell on those who can't do convincing Italian accents. There's a V12 up front and all-wheel drive, but more importantly, four doors and four seats. The conventional front doors reveal a cabin with new architectures and materials (85 per cent of the upholstery is sustainable, including a special new Alcantara), the rear-hinged, independent rear doors ushering you into a pair of slick, electric bucket seats that ape the fronts. These are not the seats of the forgotten rear passenger, but more equal billing. There's a hatch and a decent enough boot, plans for ski and bike carriers – carbon fibre and fabulously expensive, obviously – and the sense that if practicality had been skinned down to the bare essentials in favour of Ferrari-ness, you'd be looking at it. 
Advertisement - Page continues below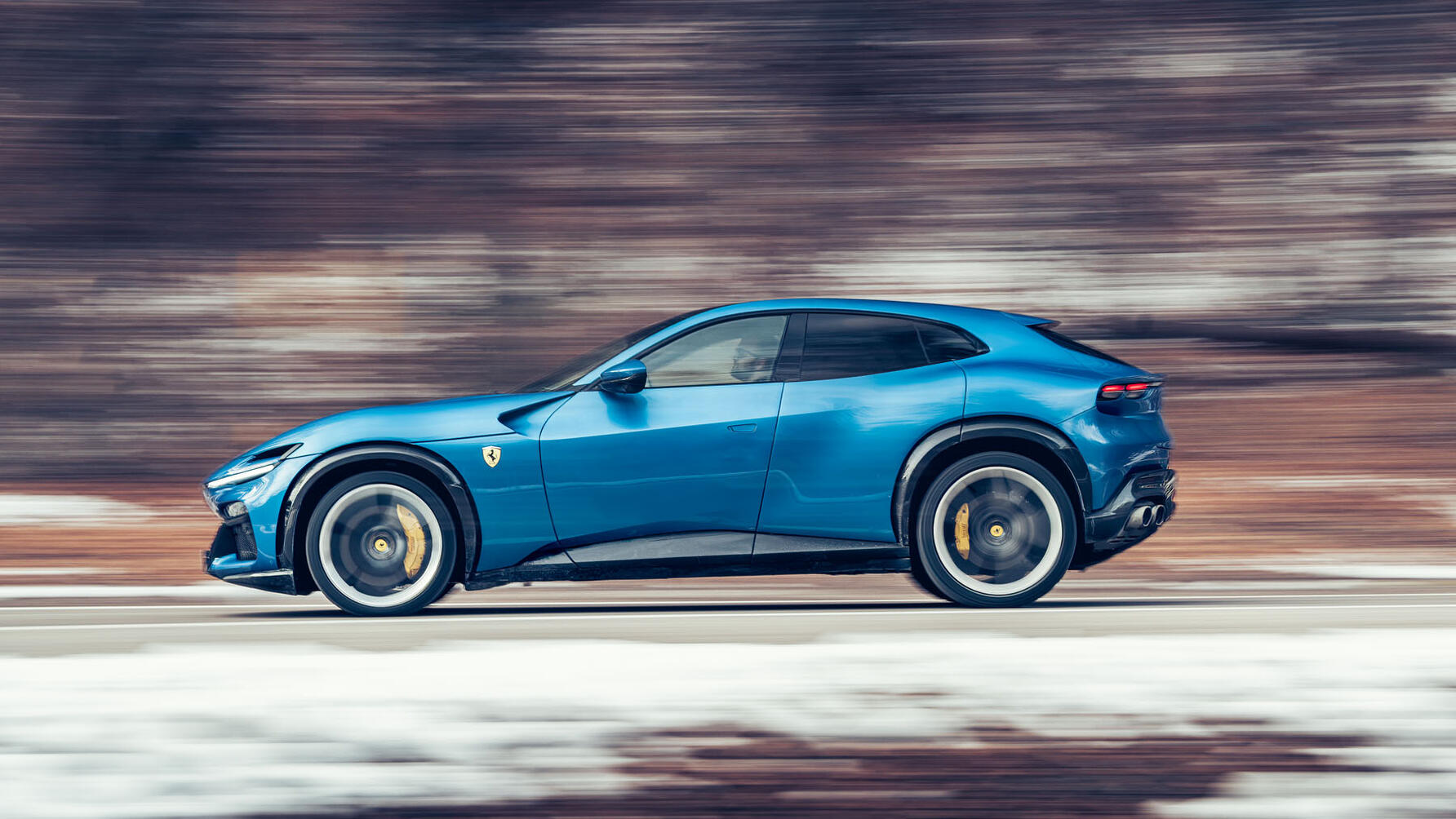 It looks... interesting. Intriguing. Though one would hesitate to call it pretty. Flavio Manzoni's layered design slicking a fat coupe shape over a bottom section defined by undercut wheelarches linked by carbon sills. There are shades of SF90, whiffs of 296 GTB in a kind of allroad variant. Out here on a bare, snowy mountainside, it looks better and better as time goes on. So new territory for the brand, and something of a reconsideration; Ferrari made some definitive statements about never producing this kind of car five or six years ago. But things have changed, both technologically and in terms of the market, and there's no shame in recognising commercial opportunity.
This car does feel different. The rear doors are suicide style, and completely independent of the fronts, slung on a single curved spar concealed in the rear wing. There's a button on the B-pillar for electric operation, something that also works if you pluck and hold the hidden exterior handle tab. Getting in and out is largely graceful thanks to the door arrangement and there's plenty of space once you're in, although those with particularly huge feet might need to curl toes. Up front there's a twinned cockpit, as well as a new user interface and many threads of haptic annoyance. The information screen ahead of the driver is configurable using the swipeable pad on the right-hand side of the steering wheel, and the rest is controlled on the rotary knob in the middle of the dash. Tap the top and it rises up, tap again to select a function, rotate to adjust. Sounds simple, and it works. Standing still. Once moving, the whole set-up is fiddly and the haptics inconsistent in reaction, and the car's screen mirroring (which brings CarPlay maps up in the dash) is built for touchscreen. Cue much swiping, looking down and general faff – in a car as fast and reactive as this, it's not brilliant.
Is it a problem? Possibly not in a supercar where daily comforts are less of a concern, but in a daily driver the UX is a big deal – and I don't think Ferrari has nailed it yet. But once you've annoyed yourself, there is a salve for the wound. And that's mounted up front, features an anachronistic 12-cylinders and breathes via pure atmospheric pressure. At 6.5 litres and around 715bhp, this is an engine that likes to sing – although it's wise to note that 80 per cent of the 528lb ft of max torque is available at just over 2,000rpm, so the Purosangue never feels anaemic. You can slither along at a relaxed pace, or jab at the paddles, flick the drivetrain into a more aggressive setting and scare entire flocks of birds from the trees – the Purosangue is loud. But it's also fast, direct and light feeling. On a big mountain road, with the skyline framed by a sharp underbite of geography, it just feels like a Ferrari. And that's a big compliment.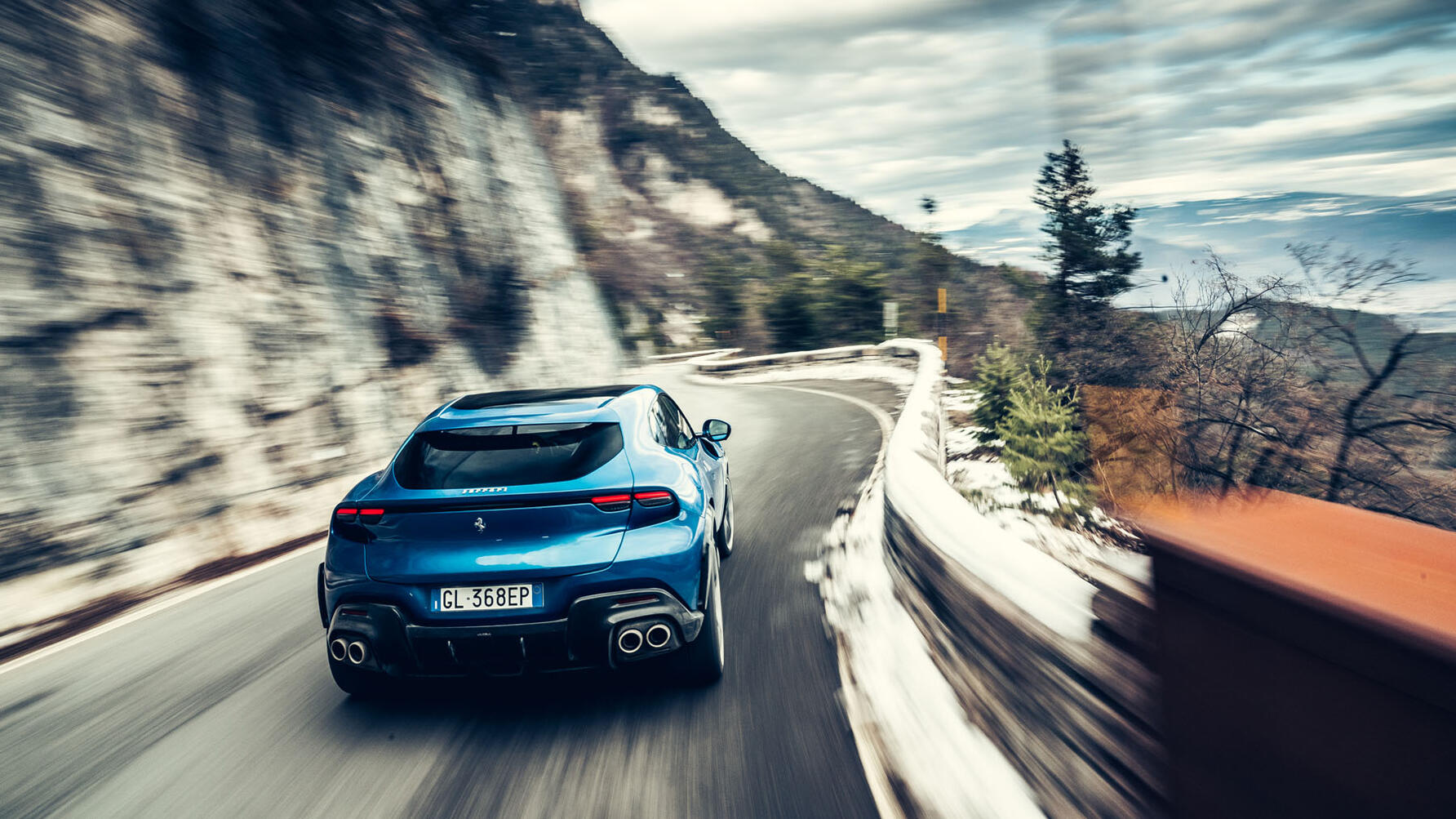 Which brings us to the thing that seems to have bothered Ferrari ever since the concept of a more practical variant was mooted: the dynamics. The truth is, you can't make an SUV handle like a mid-engined sports car without compromise. Not my rules, but those of Newton, Einstein, Galileo and Mother Physics, who reacts poorly to being taken advantage of. By raising a car up, you have to negotiate a maze of dynamic instability. This is the grail that has haunted chassis engineers through the ages; finding that blend of supple comfort and fine control at speed, a crusade in which the measure of success is entirely subjective. Hard one to balance, that.
So, you can't make a tall car handle like a low one, but you can try to oil those negotiations to make then slip past the dynamic gatekeepers. The Purosangue is both lower and shorter than you expect, but wide. The V12 that powers it is stuffed so far under the front bulkhead that it's surprising you don't burn your knees, and the all-wheel-drive system is a transaxle layout to aid weight distribution. The engine is forward, the 8spd gearbox at the back, and there's a PTU (power take off unit, like the GTC4Lusso) with a clutch on either side that allows torque to be transferred to either front wheel. The mass is centred with a slight rearward bias of one per cent, the CoG as low as it can reasonably go. 
Which all makes sense. But then you need to do something special with the suspension. Enter the spool valve. Now without making everyone's head explode, the suspension on the Purosangue uses what's called a TrueActive spool valve (TASV) from Multimatic. Basically compression and rebound endlessly modulated by 48V electric motors for each wheel via miniature gearboxes. Really. A suspension that reacts faster and can have a much broader range of abilities than traditional systems, so much so that you don't actually need anti-roll bars anymore. Body control and ride comfort. In theory, as little compromise as is currently possible. 
The big question is, does it work? Short answer, yes. And spectacularly. The Porsche Cayenne Turbo that tried to chase the 'Sangue down for a picture certainly felt bumps that the Ferrari cruised over, and after the third bout of hairpinned understeer and one very marginal... uh... deceleration event, was forced to back off. The Purosangue was at about seven tenths – I guarantee the Cayenne wouldn't see which way it went at full bore. The longer answer involves a little bit of explanation. The steering is an interesting one – because good steering is a relationship between the wheel itself and what happens with the body; it can be undone in short order by poor damper control. Ferrari sports cars, more than pretty much anything else, operate from the wrist. They require a flick to interpret intention, and have a habit of sticking any line you like. The Purosangue, while exceptional, requires forearms. You have to place it, where you'd almost think a 296 GTB into position. This is not, however, a criticism. If the Purosangue was too light, too ridiculous in its immediacy, it would feel like some of the other hyper SUVs – fake – and give you a slight feeling of motion sickness. Your inner ear often knows when electronics are feeding you false information. 
Top Gear
Newsletter
Thank you for subscribing to our newsletter. Look out for your regular round-up of news, reviews and offers in your inbox.
Get all the latest news, reviews and exclusives, direct to your inbox.
This is a car that can nibble at the edges of a bad road at low speeds and bloodhound a severe camber, but with wide wheels and winter tyres, that's almost to be expected. But cruising along, the Purosangue feels benign, quiet, comfortable... easy. Rear vision isn't the best, and the V12 whirrs away without the low-rev bass you get from a V8, but that's why God invented rearview cameras and exhaust valves. But out here in the Dolomites, above the villages but below the peaks, on the marginal roads, there are places where ascent grabbing hairpins are stitched together with flick-flack corners. A side to side tankslapper of a road. The Purosangue demolishes the lot.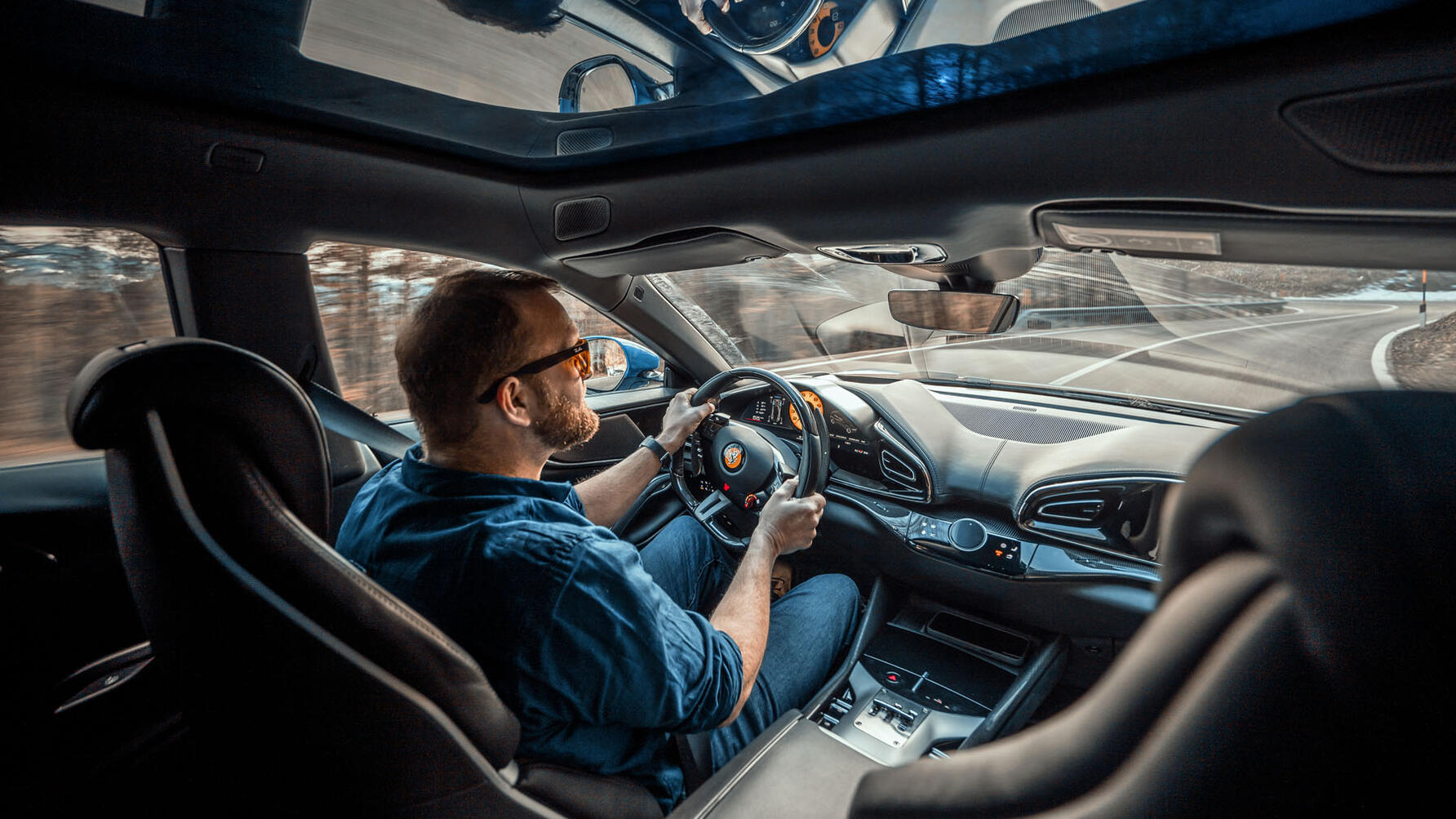 Where other SUVs run out of ideas, the Purosangue raises its game. Climbing further up the V12's rev range exposes new depths of ability, gearchanges punched cleanly through the edit of the view, a casual scroll at twice the speed you expect. It's got feel, and precision, and a delicious sense of connection. It breathes its way down the road. One of the reasons for all the extra feel is that the all-wheel-drive system appears to be extremely rearward biased. On a dry road and under heavy load – say, accelerating out of one of those hairpins, the rear tyres will spin merrily before the front end is tugged back into line. Similarly, this isn't an off-roader – think of it as a rear-wheel-drive car with a front axle helper rather than something that can lock a diff.
So what's the verdict? Well, Ferrari seems horribly insecure when it comes to the Purosangue. That it should be somehow ashamed at producing a taller, four door, four seat car. Apparently it's not an SUV because it has only four seats. Because it has a V12. Because it is made by Ferrari, there are no peers. But why not be less bothered by what the crowd thinks? The Purosangue is unique. It can speak for itself.
There is always a cost to things. A compromise. Without a price, a thing has no value. The Purosangue's compromises are well judged. The looks are subjective, the price only ridiculous if no one buys one. Admittedly, the car would be more sensible with a turbo V8, more practical with a bench seat. But who wants that? Even in the more door capacity, you want a Ferrari to bend the rules. The Purosangue actually is in a class of its own. But paradoxically, Ferrari has been so committed to distancing itself from the SUV tag that it has missed the point entirely; the Ferrari Purosangue is not 'another' SUV, it is, in fact, the only one.