Big Reads
Flat out in the astonishing new Ferrari 296 GTB
"It's a sound you'll love having poured in your ears, richer toned than the F8..."
The bends never end. Mile after mile of golden third gear curves, diamond-like chippings in the road twinkling in the sun, dappled shade rushing by, surface scrubbed and polished, tarmac twisting onwards, writhing back and forth, up and down, views bubbling at the fringes. Numbing in its monotony, if you couldn't appreciate the perfection of it.
I have to self-administer mental slaps to stop myself thinking I'm in a dream sequence with a chorus of angels on accompaniment. The car's not helping. The rhythm of this road is one the Ferrari 296 GTB slips into effortlessly. It compresses in, then springs out, a movement that comes as naturally to it as breathing to us. In and out, in and out. Just doing what it does. Just sweeping along.
Advertisement - Page continues below
It takes Mark and Charlie in the hired 'chase' car 10 minutes to catch up. They're green, the Seat Arona's brakes are smoking. I hadn't been going intentionally quickly, but every so often, when third became fourth became fifth, I was aware. Mental slap time.
Photography: Mark Riccioni
Encapsulated in those miles, though, is the genius of the 296 GTB. This is a deeply, furiously complex car. It never feels like that to drive. Neither on road, nor on track. But there's also another contradiction at the heart of Ferrari's latest and – well, let's share this now shall we – greatest* achievement. As the occupants of the hard-pressed Arona can attest, the 296 generates speed without effort. It's by no means alone in that, but so often these days the engineering necessary to give cars that astonishing rapidity further distances the driver from the experience. Not here. Along with the simplicity comes tactility. (*only technically speaking. In a back catalogue that includes the 458 Speciale, F40, F50, 288 GTO and 812 Competizione, there's no definitive.)
Advertisement - Page continues below
They're mutually compatible of course, but rare bedfellows in an age where battery and motor mechanics are easily understood, but the electronics that power them are a complete mystery and the end result fails dismally to connect on a human level. Well, assuming you judge satisfaction to be more than smoothness and silence. The 296 GTB is a hybrid, the most challenging construction of all: exploding petrol in combination with pulsing electrons. Voluptuous power curve meets torque from zero. Incompatible on every level.
Ferrari has further chosen to make a rod for its own back by removing cylinders. It's a bit of a revolution: Ferrari's first ever production V6. Another asterisk: the Dino was a sub-brand, remember. Look deep and you'll spot the famous red crackle covers, but pride of place in the engine bay now goes to a curvaceous burnished metal heat plate. Under it, nestling in the 'hot vee' of the opened out 120° cylinder banks, lie a pair of IHI turbos shared with the SF90. The turbines at both ends are slightly smaller, so they can spin faster (180,000rpm), run more efficiently (by 24 per cent) and respond quicker.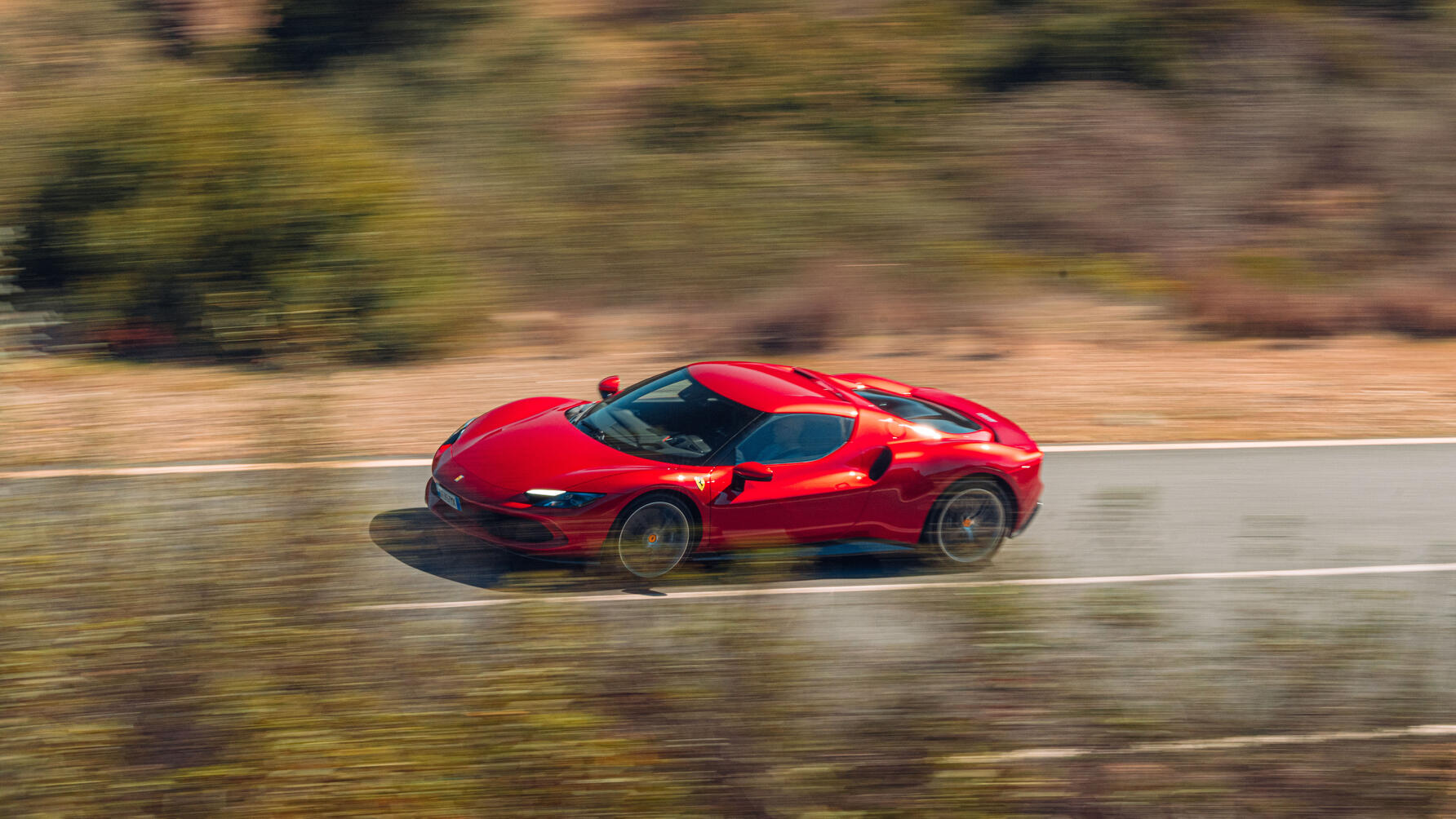 Behind the engine, before you get to the eight-speed twin-clutch gearbox, there's a disc about the dimension of a frying pan. That's the electric motor. Massively power dense, it produces 165bhp. Only one, where the SF90 has an extra two, each responsible for a front wheel. The 296 is rear-drive only. Which means this – I'm tempted to say entry level – mid-engined Ferrari has 819bhp. A mere eight years ago the holy trinity of hybrid hypercars didn't have that much more.
And none of them dispersed it as immaculately as this. Especially not the P1. Proper wild ride, that one. In the hills north of Seville this morning, in those moments when I went full Winnie the Pooh and greedily stuck my paw in the honey jar of power, honey was what I got.
And a sound that, if you wanted to carry an already contorted analogy one step too far, you could liken to the buzzing of bees. Relax, it's better than that. Sound you'll love having poured in your ears, higher pitched and richer toned than the F8 Tributo's flat V8 blare, more fizzy and energetic. Ferrari claims its engineers nicknamed it the piccolo V12 – little V12 – it doesn't have the trumpeting baroque glory, proud Roman pomp of an 812 in majestic full flow, but I can see where they're coming from.
What it doesn't feel – thankfully and amazingly – is particularly turbocharged. The F8's V8 does, coming across as a mighty force generator, more impressive in the mid-range than the top end. Not this one. It soars to 8,500rpm, and gives you a reason to go there, max torque only arriving at 6,250rpm. Nor does it come across as particularly electrified. The turbos and e-motor are there to enhance the V6, not to be the stars of the show in their own right. Of course there's masses of zero lag bottom end grunt, but the way it's blended is genius. You can deceive yourself into thinking you're driving an especially healthy naturally aspirated engine.
Ferrari has achieved this before, with the LaFerrari, but only by ensuring electricity was a token gesture, a AAA thrown into the V12 bonfire. But here you can let electricity play more of a role. On the lower left flank of the steering wheel boss are the haptic powertrain controls. Press eD and you have 15 miles of e-range from the 7.4kWh battery down behind the seats. OK, it's more like 10, but the point stands. Every village I come to I go into stealth mode and roll silently through. Supercars are attention seekers, heard before they're seen, but here's that extra dimension electricity brings – soundless progress and a more accepting audience. The residents of Berrocal probably heard me five minutes ago and many miles away because, boy, was the H9026 a cracking little fidget of a road.
Top Gear
Newsletter
Thank you for subscribing to our newsletter. Look out for your regular round-up of news, reviews and offers in your inbox.
Get all the latest news, reviews and exclusives, direct to your inbox.
We were in a rush, because track time at Monteblanco was beckoning and the further we'd travelled the better the scenery had got and, well, you know the score. So we'd taken a shortcut through the village centre. It was gorgeous – patterned cobbled roads, white shuttered houses, the sort of place that would normally have Mark and Charlie pulling over to capture the culture and people's reactions to the car. Because they were practically in it with me. Berrocal was so wince-inducingly tight and puckeringly narrow that in the café at the edge of the village square someone had to move a chair to let us past. It's a rural idyll of dogs, kids, grandparents and Friday afternoon ease – I'd have been mortified if the engine had been blaring.
We get through with just one scrape from the front splitter that illicits a smiling tut and a finger wag from the old chap leaning on a stick seeing us round a steep corner that just had the Arona tipped onto three wheels. I can't believe this supercar is weaving a way through here as easily as a compact crossover. Parents allow their kids to chase us on our 5mph ride through, because where's the danger and noise and smell and emissions? It's just a bright red racy parade float.
Clear of the village, manettino twisted past Hybrid and into Performance so the engine is always on, the 296 GTB is back to being a fairground ride and I'm in the slingshot flow, diving in, whipping round and firing out of each golden curve. There's an electronic differential, complex power management, evolved brake by wire ABS and something called 6w-CDS, but to me? Just two pedals and a steering wheel. Plus paddles, because I prefer to do gears myself. Get more of a feel for the powerband that way. Unlike the SF90 there is a penalty for taking slow corners in high gears – fourth is OK, but there isn't enough oomph from the e-motor to make mincemeat of fifth. And that's good. It's a supercar, you should have to pay attention, work with the car.
This one really rewards you for doing so. The steering is super fast, but Ferrari is on top of that now, so trust in the front end comes naturally. It's not super rich in road detail, but it's massively satisfying to turn: the weighting, the resistance, the connection, all are superb. Body control on these smooth surfaces is immaculate, traction effortless, everything operates in balance and harmony. It never feels heavy or caught out, it just carries you along, wants to entertain and amuse. I try to pick out faults, but all I come up with is that the brakes seem to release in miniscule chunks, rather than one smooth progression. I didn't get on with the short-travel pedal in the SF90. I do here. I like to left-foot brake, but the offset pedals are set up to favour right-foot use only.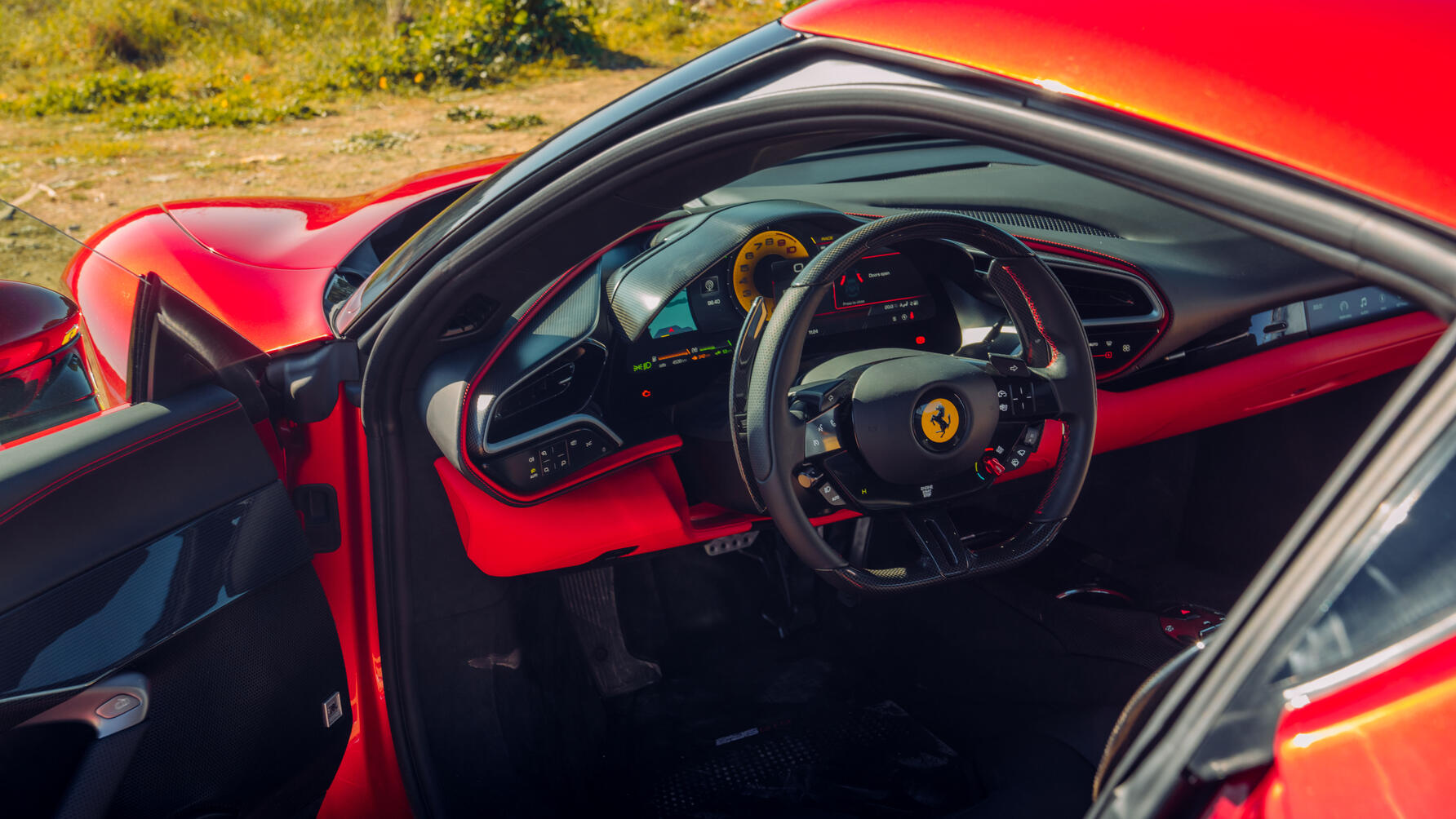 God, I bloody love this car. More than an F8 Tributo, more than big brother SF90. With that, Ferrari made the tech usable, here it's taken it to the next step: made it fun. But I struggle with the cabin. The screen control touchpad on the wheel takes concentration and effort, the actions aren't natural, inputs are delayed. The cabin design is fine, but hasn't moved the game on that much. Materials and finish have never been an issue for Ferrari. Practicality has. I still don't know what you're meant to do with an SF90 given its shoebox load bay. Not take it away for a weekend, that's for sure. This boot is generous and for that reason alone it's a much more usable car. There's a little wind noise, but you'll cope because eighth is long and the firm seats are well shaped.
Monteblanco circuit. The track cars are yellow, wearing the heavy handed stripes of the Assetto Fiorano pack. It's a £25,920 option that saves a mere 12kg and delivers only 10kg more front end downforce. You get a lightweight Lexan engine cover, but the main 'benefits' – if you think they are – are the fixed rate Multimatic dampers and Michelin Cup 2R (instead of PS4S) tyres.
It's a ripper on track. I'm chasing another 296 sporting mud guards. The cars are generating so much force they're pulling the surface apart and firing dust and chips out the back. My windscreen wears a protective film.
I can't get over the brakes, not only so strong, but so faithful – they don't bother me at all here. The power is never-ending, the thing keeps pulling. The front end is mighty, never short of grip or ideas. We start in Race mode, but it's withholding power at the exit, so I switch to CT Off. Oh. My. God. Race was a protective cloak. Now things are really moving around. The tail wags on the way into corners, through them, and out the other side. The front end won't unstick, the back is all over the place. But with control, with safety. The stability systems are still there, looking after you. I was probably faster in Race mode, but this is an absolute hoot. I scoot round, feeling like a hero in my protective electronic bubble – 6w-CDS, the car's central dynamic brain, marshalling ABS individually to each wheel, predicting grip, monitoring all movement across three axes, feeding that through a supercomputer and coming back with organic answers. Complexity? Completed it, mate.
My internal computer's given up trying to understand and settled for the dopamine rush. Cup 2Rs behaving like castors, dizzying speeds, I can't help myself. The 296 goads me, teasing me to keep up, yelling encouragement. I have an absolute ball in a car that crept silently through Berrocal being patted by passers-by.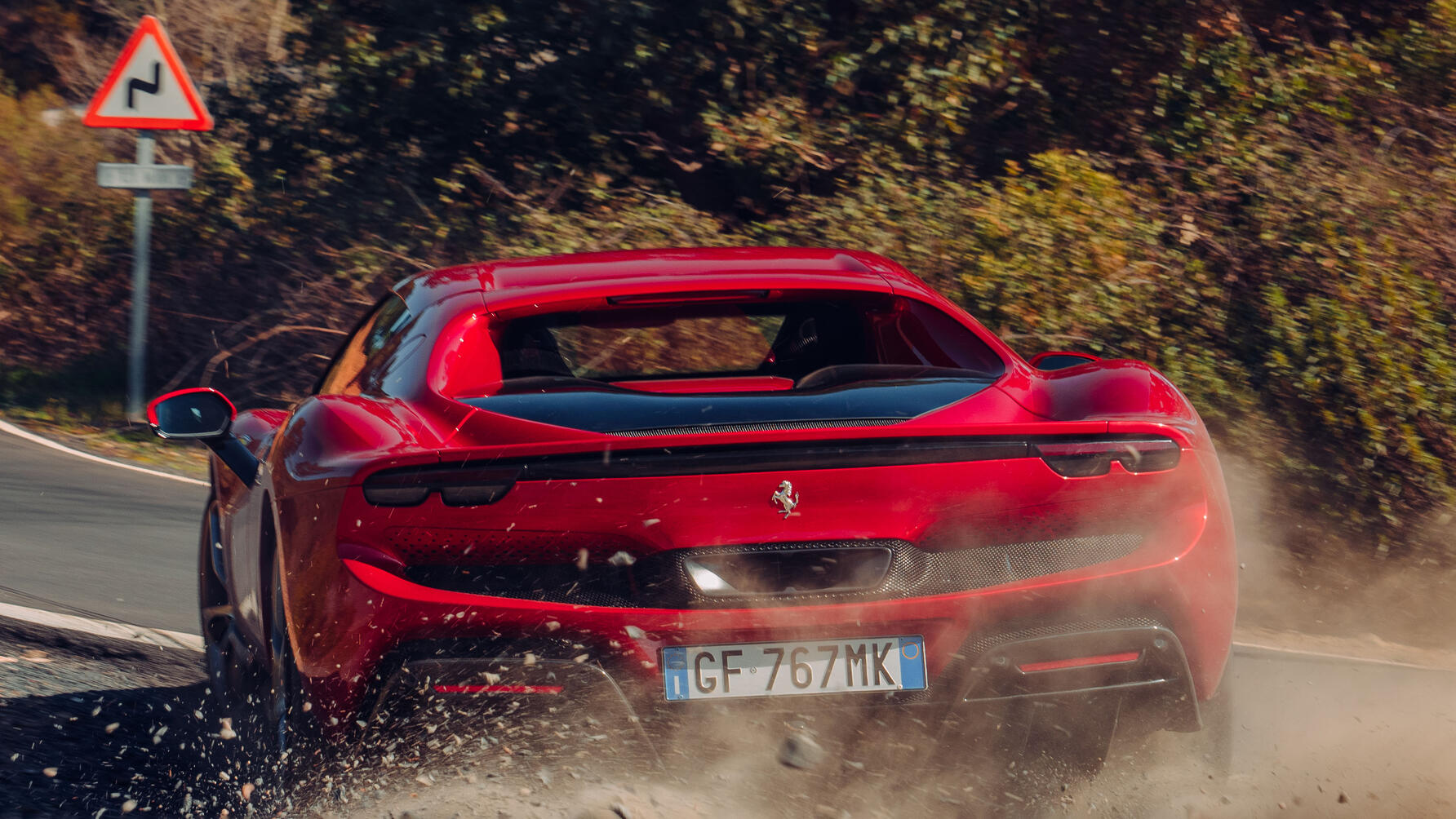 I can find faults. Some. The leather's slippy and I'd like the seats to rotate under me more. The infotainment is irritating, especially when CarPlay nabs the whole screen. Don't have a go at me for not testing the hi-fi.
The V6 is a thing of beauty, and so's the car itself; the visor-like windscreen, the buttresses, the 250LM-inspired side vents. This is not a revolution for Ferrari, the chassis is still aluminium, not carbon, but the integration of the systems is a new high. The 296 is corralled by the most dizzying bunch of acronyms I've ever come across. But no one does this stuff better than Ferrari, and never better than this, a car that dances so exquisitely to your tune, makes you feel like a hero.
The F8 stays on sale for a year, Ferrari claiming this is not a direct replacement. Yeah, right. It might be £40,000 less but who's going to buy one now? Those with an electric allergy ("Sorry, volts bring me out in hives")? You don't know what you're missing. This is electricity used to add depth and dimension to the supercar experience, there when it's beneficial, stepping back and working in the shadows when it's not. Perfect.
It's going to give McLaren some sleepless nights, that's for sure. Both firms will say that the Artura (670bhp and £182,500) isn't a direct rival, but they are just dancing around each other. Right now no one builds a better mid-engined supercar than this. And it's a bloody V6. For me it's less of a step change to lose a pair of cylinders than it was to add a pair of turbos. The purity of the product shifted fundamentally when 458 became 488 back in 2015. This, in a very modern way, is getting back there.