Big Reads
Go big or go home: Truckfest 2022
We take one of John Hennessey's mega-horsepower creations to its ideal UK-based location - Truckfest
Children are agog. Mums with prams retreat while dads puff out their cheeks and nod heads in synchronised appreciation. The most powerful road-legal truck in the world has made its grand entrance at Britain's biggest, most enduring lorry themed festival. Pity it wasn't moving under its own power.
Caution: this story is now reversing. I'm rewinding a month, to when the Top Gear office received word from Texas that John Hennessey was sending his latest four-wheeled metaphor for America on a pond-hopping foreign exchange. A picture of the most preposterous dandelion yellow pickup truck detonated into TG's group chat. What exactly do you do with a Dodge Ram TRX which left the factory blessed with a 702bhp Hellcat V8, went south to Hennessey boot camp and returned with a military grade off-roading upgrade and a 1,012bhp conversion?
Advertisement - Page continues below
They call it the Mammoth 1000 TRX. An uprated supercharger that ingests more air than the swept capacity of an Audi RS3's entire engine is bolted onto a 6.2-litre V8 and the result is more horsepower than the original Bugatti Veyron. Despite weighing near as dammit three tonnes, it'll romp from zero to 60mph in 3.2 seconds and rip through a standing quarter-mile in 11.4 seconds, choking a Ferrari Roma on its potent fumes.
Images: Mark Fagelson/Jonny Fleetwood 
The Mammoth invades my corner of Lincolnshireville amid a national cost of living crisis. Immediately it causes a personal one when a brim of the tank sets me back £188. Clambering back inside via the pop-out side steps, the dashboard calculates those 96 litres will get me 225 miles. And to think Texas is ready to riot over gas topping £1 a litre.
Advertisement - Page continues below
And sorry to be a killjoy, but this Limey has just spotted a more serious problem than the Deepwater Horizon fuel consumption. Summoning the energy to trek all the way around the back, I spot the Mammoth is missing a numberplate. Texan law doesn't demand a front plate so I'd not been worried to see the Mammoth arrive without one, but the lack of an ID out back is an issue. Emails are exchanged. Worried phone calls ensue. Somewhere between the Deep South and Middle England, a plate has gone missing, and replacements won't arrive until days after Truckfest. I'd arranged for the most overpowered, ridiculous Yank tank on the planet to star as guest of honour at Peterborough's answer to Glastonbury, but it's now depending on an act of kindness from one of the event's British guests to make its date with East of England Showground destiny.
Amid some traditional drizzle, help arrives early on Saturday morning in the shape of Sarah-Jane. A dainty 31-year-old with nails to make Wolverine wince isn't what I'd expected when Truckfest's organisers promised they were sending Thunderbird 2 to the rescue. More fool me. S-J's got the gigantic custard refugee loaded, lashed and bowling down the A1 in less time than I'd take to phone the AA. Aboard her flatbed MAN, I enquire why a self-styled girl-boss got into the trucking scene after nine years as a garage manager.
"I just got bored. I love meeting new people. Doing this, every day is different. And I love being a girl in a man's game." Contracting for a St Albans based recovery service, one day she's singlehandedly recovering a burnt out van from farmland, delivering a LaFerrari to a collector the next, documented across Instagram and TikTok. Right now she's gutted photographer Mark's taken her portrait before her hair straighteners have warmed up, but Sarah-Jane has saved the day. The carefully unloaded Mammoth is about to meet its adoring public.
"Ollie? Stan. Pleased to meet you," announces a voice from the region of my 37-inch tyres. A genial grey haired gentleman walking a matching dog greets me outside the Showground's dirt oval grandstand. "I'm chairman of the BRDC," he bellows over the blare of the public address system. "The British Racing Driver's Club?" "No, no, the P-RDC – Professional Recovery Driver's Club." Ah, makes sense. I thank Stan profusely for masterminding the Mammoth's arrival. "Oh, no problem at all, Ollie. You'll find this is a real community," and off he strolls with mutt stubbornly in tow.
Crowds are massing for the first arena display of the day, starring world-famous monster truck Swamp Thing. Honestly, I hadn't expected this many people watching. Driver Tony Dixon wanders over for a friendly chat, weirdly more impressed by the Hennessey than his own 9.3-litre, 2,000bhp leviathan. He's interrupted by a clipboard-wielding organiser beckoning the Mammoth forward into the arena, to meet Todd Dewey of Ice Road Truckers fame. He's here to open the show, but off- mic he's delighted to see something overpowered over here.
"Back home I gotta 6.7-litre Cummins diesel in my Ram," he grins as I gulp back tears from his knuckle-crunching handshake. "When I hit the gas it takes her straight up to 700 horsepower. I see these kids in their tuner cars and I'm smokin' tyres and rollin' coal, throwin' that s**t out. I'm just outta there!"
Todd addresses his fans with the confidence of Stone Cold Steve Austin, whipping the truckers into a froth for the interloper while I garble its statistics into his microphone. I'm instructed to perform two 20mph parade laps, but that becomes three, with gratuitous full-throttle galloping. Give the people what they want. The Mammoth rears up, snorts and devours the back straight. Last time something this big, heavy and American accelerated this quickly, it had Neil Armstrong on board.
Official duties completed, I park the Mammoth opposite a well-patronised pub, at about 10.35am, and set off to mingle. Truckfest is a phenomenon. Across the weekend more than 12,000 visitors will view 2,800 working and show trucks, brave Slingshot the passenger-ride monster truck (weighing 5.5 tonnes and doing 54 yards to the gallon), enjoy a fairground, fireworks, live music and worship at the open-air altar of heavy haulage. And this is just the Peterborough show – now in its 40th glorious year. There are seven sister events across the calendar.
Top Gear
Newsletter
Thank you for subscribing to our newsletter. Look out for your regular round-up of news, reviews and offers in your inbox.
Get all the latest news, reviews and exclusives, direct to your inbox.
Parping horns answer each other across the acres. Meatloaf clashes with clubland. Been a while since I heard Basshunter played this loud. It's a collision of cultures: American lashings of chrome and machismo mix with the British pastime of trudging about a field through intermittent mizzle. With chips.
I'm drawn to the rich odour of fresh polish and meet Hell Rider, the skull-festooned pride of overall-clad John Templeton. The shy Glaswegian's immaculate jet-black Scania looks clean enough even underneath to perform surgery upon, yet it's a working machine hauling 12,000–15,000 tonnes of cement annually. John's owned Hell Rider for five years, and rebuilt it into concours condition. Later, it'll win four awards including a richly deserved overall best in show.
Driving into the recovery truck enclosure, Matt Westy's cartoonish International Lonestar demands attention. It's part Pixar character, part Mad Max freak, packing a Wembley-spec sound system and a 15-litre Cummins engine. It's one of only four of the Texan-built beasts outside the USA. "Neil Yates is the owner," says Rochester-based Matt, gesturing to the truck's spotless livery. "I'm just the lucky one who gets to drive it."
Also admiring the Lonestar is Pete Johnson, owner of the best T-shirt at Truckfest. Emblazoned across his belly: 'This is what an awesome HGV driver looks like'. "I'm 71, you know," he tells me in that proud-of-my-years manner only older folk can pull off. "I was 52 years a trucker, out of Immingham Docks. Most people knew me as 'Juggernaut'. That's my radio call sign, y'see." What a guy. What a moustache.
Connor, aka 'Tattooed Gentleman' from Killingham bashfully agrees to be photographed with ink on display next to his Scania while local girls swoon. Matt Cherry and Stu Mann are at their 15th 'fest, displaying a beautiful 1945 car transporter. More than once, I'm reprimanded for referring to a truck as 'it' instead of 'she'.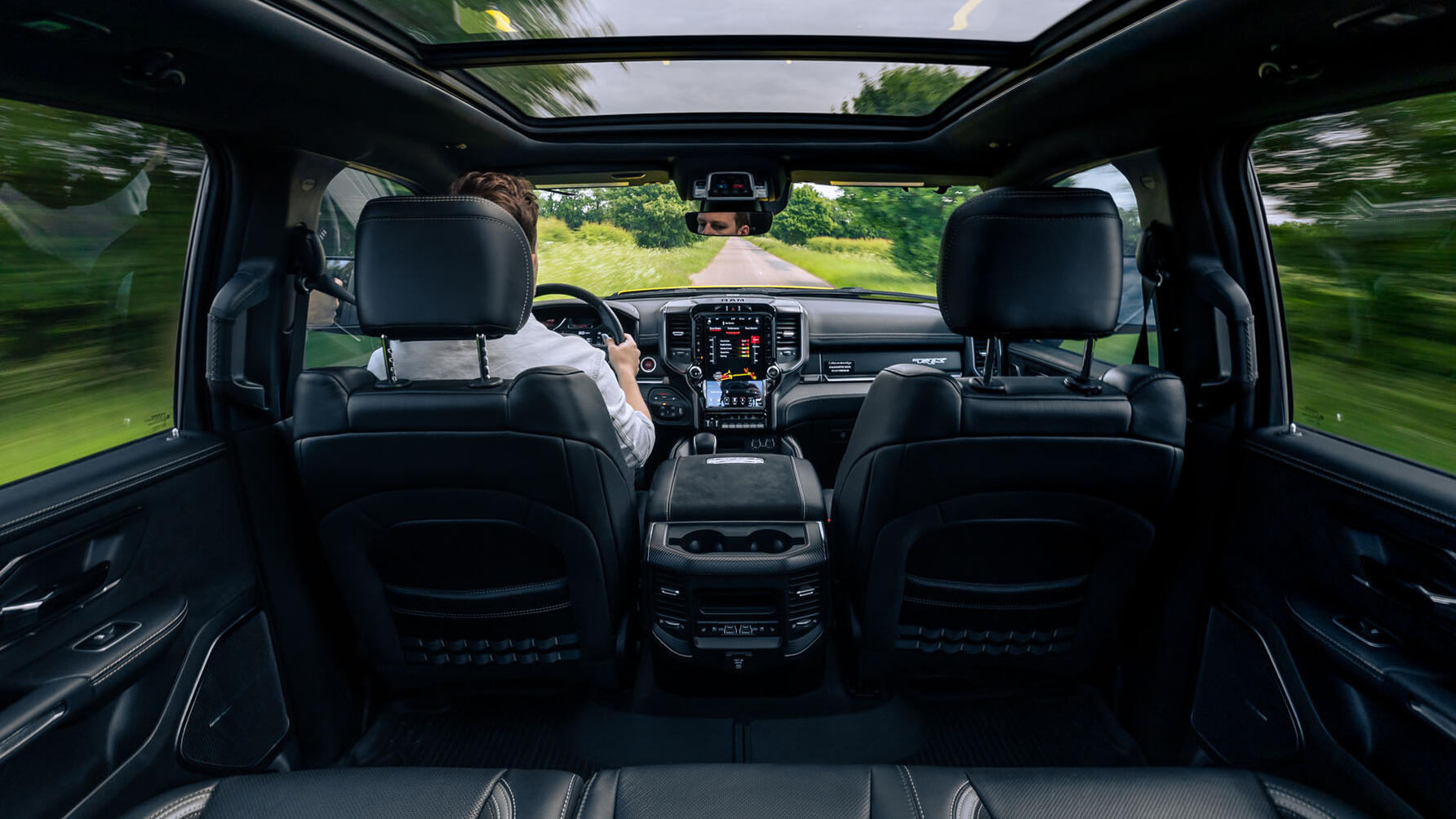 If you've been to car shows you'll have spotted they can get a bit tribal. Built vs bought. Original against restored. The car world's a broad church, but sometimes the congregation aren't singing from the same hymn sheet. Truckfest isn't like that. Everyone's united. Trucks are noble. They're art, self-expression, livelihood, family.
And matchmaker. Ogling a truck emblazoned in depictions of Emilia Clarke's Queen Daenerys Stormborn, Mick Griffiths introduces me to wife Mel to take up their origin story. "We met while hauling for the same paper waste firm," she smiles. "We've been together 20 years, married for 17."
Mick sensibly noted his good lady wife is the boss – she chose the striking airbrush treatment. "All of my trucks have been DAFs, so I name them something beginning with 'D'," explains Mel. "We both love Game of Thrones, so it had to be the Mother of Dragons." Is it just me, or do her eyes swim with as much adoration for her HGV as her husband?
We meet the Keedwells: Dee, daughter Ellie and grandson Jasper, three weeks old and sleeping through his first Truckfest. Their family of vintage and contemporary trucks swept 27 awards last year. Judges are busy commending today's entries, looking chiefly for cleanliness, noting age, mileage and any damage. There are classes for working and custom trucks, for vintage and classic entries and even for paintjobs alone – 850 will be shortlisted, whittled down to 80, before wins are declared.
Across the park, the Hennessey is mobbed, but I'm glad it hasn't stolen the show from the people for whom trucking is a way of life. We were all screwed last year when there weren't enough truckers – maybe you ran short of fuel or saw supermarket shelves empty?
I'll admit to having lived near Truckfest's home venue for years, seen the signs go up every spring and never bothered to attend, sniffily presuming it wasn't a scene I'd be interested – or welcome – in. How wrong was I? Thank you to the truckers. Without you, we quite literally wouldn't be here today.