Adventures
Going off-grid in the Jeep Wayout concept
Wondering what set of wheels will best help outrun the apocalypse? Wonder no more
The apocalypse is coming. Not 'if' according to some bits of slightly gloomy internet, but a definite 'when', driven by a self-stimulating paranoia that imagines every flavour of Doomsday. The walking dead feature a bit. Chatroom rabbit holes involve viral attack, dirty nukes, alien invasion, meteors and mass brainwashing by reality television. But one that keeps cropping up – and the one with the most likelihood of actually happening – concerns basic societal breakdown after a particularly violent stock market crash or technological giga-malfunction. Stuff stops working, wholesale; the general population goes doolally.
Responses vary almost as much as the imagined stimulus. Some detail what they might do with their final days (which generally involve drugs, sex and variations on suicide-by-cholesterol), others vomit religion all over their keyboards. Apparently there are billionaire cabals über-prepping with self-sufficient island boltholes, right down to seemingly normal people preparing emergency go-bags, or having a mildly bug-out capable vehicle. Bear Grylls survival amped up on the dodgy meth of internet speculation.
Advertisement - Page continues below
Words: Tom Ford
Photography: D W Burnett
But among the instructions for everything from a home-made water filter to founding a new strain of government is a neat segue into something a little less scary. The place where zombie prepper insanity dovetails quite nicely with the current trend for getting 'off-grid'; deliberately throwing yourself into a digital detox, being a bit more self-sufficient. Posh wild camping, in other words. The place where you can generate a sexy meme for the 'Gram while preparing for the end of everything.
Which kind of asks the question – a question repeated ad infinitum in those survivialist-prepper corners of the web that have now rendered my browser history even more suspect than usual – what's the best vehicle for getting the hell out of Dodge in a hurry? I think I have the answer: the Jeep Wayout. And it's not real, either.
Advertisement - Page continues below
Explanation: the subtle monster in the pictures is a real Jeep Gladiator, but the set of manufacturer mods render it technically a concept car, created as one of the design peacocks for the Jeep Moab Easter Safari. The Wayout is therefore a could-be, rather than a production truck, and no one has ever been allowed to nip off and have a proper adventure in one of Jeep's concepts. Until now.
To be honest, I'm not concerned about the hardware. The Wayout is simply a Gladiator-plus, already equipped with full locking diffs, low-range and four-wheel drive, a 3.6-litre, 280-ish bhp Pentastar V6 petrol chugging away through an eight-speed auto. What makes it fun are the 37-inch mud-terrain tyres tucked under a slight (2-inch) suspension lift and the custom camper touches. And there are a lot of very nicely integrated overland-style mods. Just perfect for the ultimate bug-out rig. So I'm going to simulate a cataclysm, and see if you really can just drive away from a city and set up home as far from marauding gangs of mutated street thugs as possible. In a nice way.
We begin in Detroit. As useful a backdrop for urban grit as it's possible to get without actually getting stabbed. We've seen the movies, heard the stories, and there are still plenty of abandoned car manufacturing plants standing stark amongst the outskirts, the kind of places Springsteen would pine for, and write some gravelly voiced ode to. There's a definite sense of economic engines set to idle, although further into town proper there's a proper buzz, the city's white noise reflected from the glistening flanks of skyscrapers dedicated to anonymous bizness. It's not as scary as the media would have you believe. Detroit has seen investment, and growth. Previously tetanus-worthy neighbourhoods are now places where you'd actually live, and the Eastern Market area has been gentrified with some of the best graffiti/street art I've ever seen, the layered and compound architecture of the town, built like a tiered cake of new over old.
Without any particular prep whatsoever, the next morning I simply imagine that society has imploded, and drive straight out of town
But it is still, quite positively, a city. The Wayout feels gently massive, and I feel like an idiot driving a very shiny and obviously unused wilderness rig past hip nightlife spots. The feeling of faux is strong, even if the Wayout is surprisingly thoughtful. Thing is, some of the current crop of camper-species 4x4s subscribe a little too much to the 'more is better' approach, bolting lights, racks, solar panels and literal kitchen sinks to every available surface, looking like they've driven through Mountain Warehouse covered in industrial glue. But the idea of camping out, for me, has always been a little bit more pared back – just that little bit more in tune with the place in which you camp than simply dragging absolutely every modern convenience out to the wild. Wilderness camping is more than just converting modern life to 12-Volt convenience.
The Wayout has extra fuel cans frenched into the rear wings, obvious and accessible, a subtly designed bed rack that incorporates ladder steps up to a capacious but simple, wind-out roof tent. There's a 270-degree wraparound awning on one side, useful – and by that I mean lockable – slide-out bed storage, a hefty 12,000lb Warn winch and a cab-top roofrack to which you can lash… well, whatever you wish to lash. There are heavy-duty towing eyes, industrial grade – but slim – rock rails, an accessible wing-mounted air compressor outlet for airing up tyres and powering tools. There are low-wattage lights scattered about – stuff that matters in the most practical of senses. There's also a snorkel, and everything is better with a snorkel. I even like the Gator Green/Sand body colour and super tough paint finishes.
Inside, the saddle-leather seats are inscribed with topographical maps of Moab, a dash sticker-bombed with some of the designer's favourite wild places, but otherwise standard. But even though it's not embarrassingly festooned, it still feels lightly out of place in town. And so, without any particular prep whatsoever, the next morning I simply imagine that society has imploded, and drive straight out of town to my predetermined, off-grid, runaway area. North. To the Upper Peninsula.
This part, at least, is straightforward. The roads have not been blocked by hordes seeking escape from my imaginary ground zero, so I just cruise up the I75 past Flint and Saginaw, Gaylord, Wolverine (yes, it exists), and Cheboygan for several hours until I reach the gatekeeper of the Upper Peninsula, the Mackinaw Bridge. A brief toll, a view over the narrowest channel between Lake Huron and Lake Michigan and we're off into our most convenient wild. Immediately, the general theme is one of trees. Lots and lots of trees. Homesteads are sturdy, the concerns of the big city several hours drive and intellectual lightyears away. The towns are brilliantly named. We pass through Fibre, and… um... Dick. But you can breathe here. As long as you enjoy the scent of pine, leavened with mulch.
Top Gear
Newsletter
Thank you for subscribing to our newsletter. Look out for your regular round-up of news, reviews and offers in your inbox.
Get all the latest news, reviews and exclusives, direct to your inbox.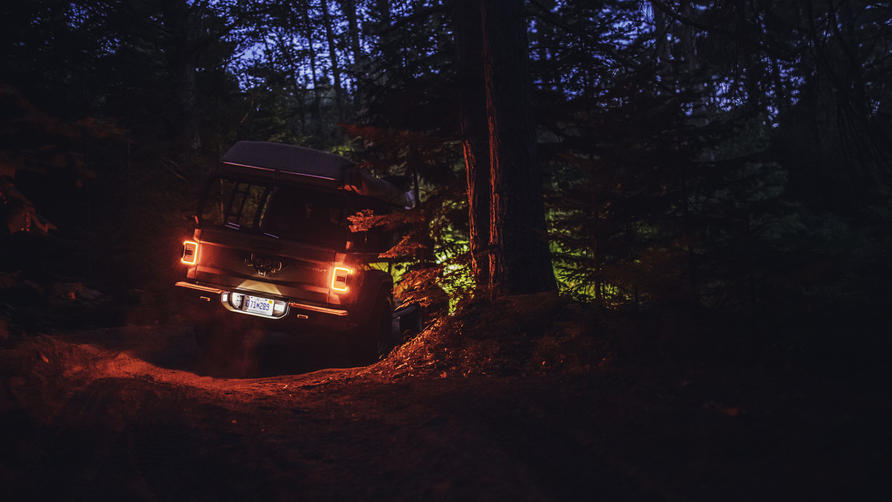 It is here we get generously lost in the Hiawatha National Forest, first having refuelled at an amazing petrol station where you have to note the litreage and then submit it, honesty-style, to the cashier. We purchase the correct ORV (off road vehicle) tags that allow you to drive on the many tracks and trails, and potter for what feels like hours. America: it's quite big.
Eventually we reach Paradise. A small town on Whitefish Bay, itself a meander of Lake Superior – the greatest of America's Great Lakes. It's a place that wants to be bigger, but deemed significant because it's the only thing out here. A micropolis. It's pretty in a practical way, stamped out prefab marching along the main drag arm in arm with log cabins that are one step from grown, rather than built, a couple of set-back industrial buildings cowed under the bored sky, squat and hunched. But the people are wonderful, and there's pride in the semi-isolation. The big-hearted, capable, useful, soulful proud you get in country folk the world over. They may be uninterested in making a frappé latte, but if you want to make it through a harsh winter, I know I'd rather have a woodsman than a barista. We have cranked through miles, though, and it's time to find somewhere to camp.
This involves country roads, of which there are many, none of which are paved. They aren't challenging in any way other than navigationally, mainly because mobile phone coverage is on the non-existent side of none, and my ability to read a paper map has atrophied. The Wayout is imperious. Suddenly in its element, we cruise and wander further into the woods down what can only be described as oversized goat tracks. The Wayout scritches past trees and bullies its way though, doggedly chewing through fine sand with all diff-locks engaged, articulating the hell out of itself for more than an hour. There are a few moments when I realise that my companions are confident because I am. And yet they know nothing of off-roading. Or extraction. I have built a house of hollow bricks, mortared with my own false confidence. Until we reach a beach, and my mouth drops open and refuses to close. Because we have found perfection, a living meme.
I pitch camp as the sun is going down over Lake Superior. A simple wind up of the tent, swing of the awning and roll out of the on-board cocktail bar (one of the Wayout's only theatrical additions). I wash in the lake, pour myself a drink and sigh.
There's a lighthouse on the bluff. The wind is light. The view is so pretty that it all tries to cram into your mind at once, and as you struggle to fit it all in, you find a kind of overloaded peace. A happy mental flatline. This. This is what getting away from it all actually means. No noise, no phone, no digital anything. The car might be slight overkill, but there's a fitness for-purpose here. The memory-foam mattress is soft, the lighting muted. And lying looking out over the lake might be the most peaceful I've felt for a year. You sleep better when your head isn't full of to-do lists.
Next morning, I find out that if wanderlust is a disease, it can be cured by horseflies. And mosquitos. The horseflies are the worst, the size of actual horses, clipping wedges of flesh from whatever they can latch their evil little mandibles onto. Enough to make you want to book into a Hilton and endure impersonal plastic just to be free of them. But we pack up and head out, and spend the next couple of days wandering around the Upper Peninsula, past the Pictured Rocks National Lakeshore, Munising, south through more forest to Rapid River and Ensign. We skip across various bits of tarmac, keep to the country roads where we can. The liberation is real, the forest poured around the lakes like oil. I 'cook' by placing disgusting fast food Hot Pockets into a simple metal box that sits over the exhaust manifold – by the time you arrive anywhere, there's a perfectly-warmed dough sheath steeped in unburned hydrocarbons ready to eat. I sleep wherever I feel like it. I revel in my complete uncontactability.
It's not long before we have to head back to civilisation, mind. The Mackinaw Bridge a physical separation and marker of return. And there's a deal of regret at having to go back to the hustle. The truth is that bugging out for a bit is good for you, global thermonuclear war or not. Cars like the Wayout are glorious enablers, with abilities a comforting 50 per cent more than even the most extreme adventurers would regularly need, Jeep the embodiment of American go-anywhere in the same way that Land Rover is for the UK. They allow you to strike out and embrace a quieter moment in the wild, and still take a measure of comfort. But more than that, they feel like freedom, and independence. Capability and self-sufficiency. On which, I offer some advice: don't wait for the world to end before you go out and get lost in it. It's too beautiful to wait.