Adventures
Hooning Jeep's demonic, 707bhp Trailcat
We drive Jeep's madcap Easter concepts, a Hellcat-engined Wrangler star of the show
You, dear reader, know the Dodge Hellcat. And if the comments sections are to be believed, you also love the Hellcat. It has over 700 horsepower, after all.
So Jeep's decision to shoehorn the 'Cat's almighty supercharged V8 into a Wrangler has likely prickled your attention as much as ours. Happily, it's one of Jeep's seven Easter concepts for 2016. Ones we've been given permission to drive…
Advertisement - Page continues below
Words: Stephen Dobie
If you're unaware, the American 4x4 maker - 75 years old, no less - has a little shindig each spring in Utah, inviting owners to throw their Jeeps at some of the most breathtaking scenery most eyes will ever see. As a reward for their incredibly protracted journeys into the middle of bloody nowhere, they are treated to first glimpse of half a dozen or so utterly whacky concepts.
As a rule, concept cars spin around on a motor show stand, only to live the rest of their life collecting dust in a warehouse. Jeep, though, whisks its Easter treats up mountains and through tricky off-road trails. Just to check they live up to the name, of course. Before this year's bunch clambers up Utah's 170 million year old Jurassic landscape, though, it faces a tougher test. TG's grubby mitts.
Advertisement - Page continues below
Now, you know that I flew here chiefly to drive the Hellcat Wrangler. Or the Trailcat, as it's known amongst friends. But I know it's a one-off concept with 707bhp, and while Jeep has laid out a fairly (and understandably) tame trail for us to sample its concepts on, that much power doesn't need much room to exhibit itself. So I'm going to exercise some rare caution and build up to it, via its concept car chums.
The military green Crew Chief looks like an Action Man play set scaled up to adult size. Jeep's design man Vince Galante tells us it's designed to have an Army general's posture, with its narrow body and impossibly tall tyres. The convertible roof is sadly fixed in place.
Climbing aboard evokes all the grace of falling upstairs, but once inside, it's icy cool. Jeep likes imbuing the design of its production cars with 'Easter Eggs' for owners to find, and these concepts take that idea much further: there are little toy soldiers glued to random surfaces and an aircraft-style compass, among other neat touches.
In truth, it's a little plain to actually drive, mating a somewhat lethargic 285bhp 3.6-litre V6 petrol engine with a five-speed automatic gearbox. It makes a decent enough racket - I think my ears are just delightfully surprised it doesn't have the diesel chug of a European SUV - but it's most enticing as a mere object.
Far more exciting is the Shortcut, a rambunctious little red thing that, if we're sticking with the toy analogies, looks like something Barbie's other half might drive. It's narrower than a Wrangler and a whole 26 inches shorter, making it a more rufty tufty off-roading device. It can squeeze through tighter gaps, and its approach and departure angles are more severe.
You'll note it's also shorn of a fair heap of body work, most obviously its doors. "We think experiencing outside and having nothing around you is really important to Jeep," says Galante. "You can't ever put the doors back on! We think that's pretty cool."
Top Gear
Newsletter
Thank you for subscribing to our newsletter. Look out for your regular round-up of news, reviews and offers in your inbox.
Get all the latest news, reviews and exclusives, direct to your inbox.
'Pretty cool' is an apt way to describe a car so open. It may be sunny in Utah, but with summer still months away, it's properly nippy. As I bound off round the test route, the resulting wind almost blows me clean out the side. The tartan seats look ace, but they aren't hugging me close.
But I quickly stop fretting about my wellbeing. The Shortcut's a riot. Its drivetrain is identical to the Crew Chief's, but with significantly less weight to haul along, this thing flies. It's a shame there's no V8, like in the 1970s Jeep CJ5 it merrily rips off, but there's still a nicely muscular noise as an undercurrent to all that wind.
There's a dirt track we're allowed to canter round, and with a sandy surface beneath the Shortcut's weeny wheelbase, it's possible to encourage spiky little slides from it, even at low speeds. The pictures prove I look utterly ridiculous driving it - I'm no Ken - but I'm slightly smitten, nonetheless.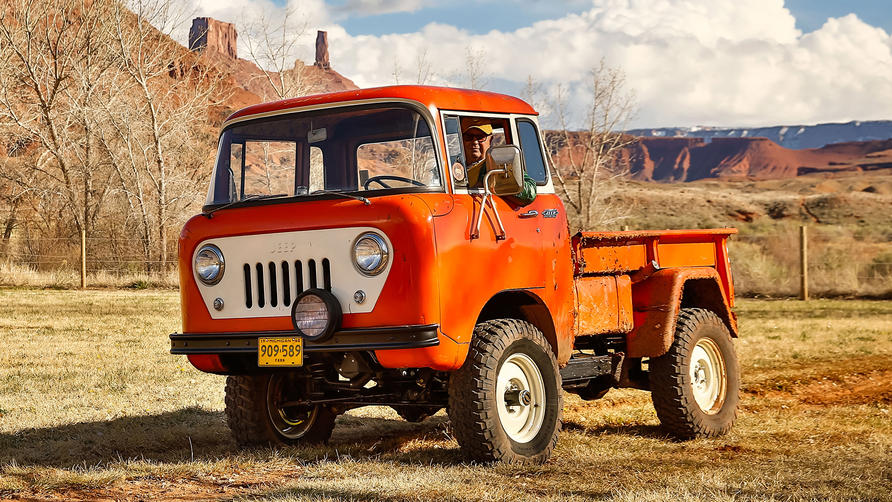 Happy I may be, but there's a line of cars to make my way through. The distinctly orange FC-150 is next. It's Galante's favourite, even if he didn't really pen this one. Rather, it's a 1950s Jeep Forward Control that's been rescued from dereliction. The design team left its scrappy, patina-rich body alone, instead spending their time on shoehorning the gizzards of a 2005 Wrangler underneath, and sprinkling a host of natty little design details inside and out.
What results is an incongruous mix. Its smooth, automatic transmission is controlled via horrendously offset pedals (both brake and throttle are to the far right of the steering column) while there's a large, unwieldy steering wheel. Despite its skinny tyres, it scrabbles gamely over the pock-marked valley floor, and like some sort of hardy little mountain goat, I feel it would tackle the far tougher terrains that soar above us with ease, too.
And then I get stuck. Really stuck. It's a sandy beach, and having neglected to actually notch its transmission into four-wheel drive (I was distracted by the duck-emblazoned headlining, an excuse never before proffered, I'll wager), I'm now just digging humongous holes in the wet surface with the stricken rear wheels.
Years of cartoons as a kid made quicksand out to be a real danger. I'm finally being swallowed by some.
The Jeep guys are miffed. An obscenely sized RAM pick-up arrives with a towrope, and gets promptly stuck itself. I genuinely don't think a bigger vehicle exists to wrench the pair of us out. Years of watching cartoons as a kid made quicksand out to be a real danger. Perhaps, some 20 years later, I'm finally being swallowed by some?
The massive RAM eventually finds some traction, we're freed, and the FC-150 has a whole new layer of dirty red patina. Feeling suitably admonished, it's time to skulk into the more sensible Renagade-based concepts.
These are the cars that feel closest to production. And despite being second cousins to a Fiat 500X, they're cool little things: the primer grey Commander previews a Renegade hardier than the range-topping Trailhawk, already a surprisingly adept off-roader. Extra ride height and knobblier tyres are about the extent of it, but it's neat.
Neater still is the Comanche pick-up. It looks wicked, with its flamboyantly pointless convertible roof, and it's genuinely a lot of fun. Jeep has given it a four-cylinder diesel, and specced thus, it feels like it could slide right into a production as a new Renegade derivative. The crossover pick-up is a niche even Audi hasn't yet tapped into, and I'd love Jeep to gazump the rest of the market.
Five down, two to go. The final pair of cars are a little different, in that they're crafted from Mopar parts. Mopar is Jeep's (and Chysler's, and Fiat's...) off-the-shelf modifying division. These are, if you have the inclination and a fat wallet, entirely realistic production propositions if you want a tarted-up Jeep. Yes, even the Trailcat…
First up, though, is the Trailstorm, modelled to echo the dazzling reds and oranges of its Utah backdrop, and exhibiting all manner of LED off-road spotlights and a colossal winch. One which I suspect would have done a better job of getting that stricken Forward Control out than a RAM and some rope. With half-doors and a canvas roof, it's exposed like the little red Shortcut, and rollocks along with similar fervour.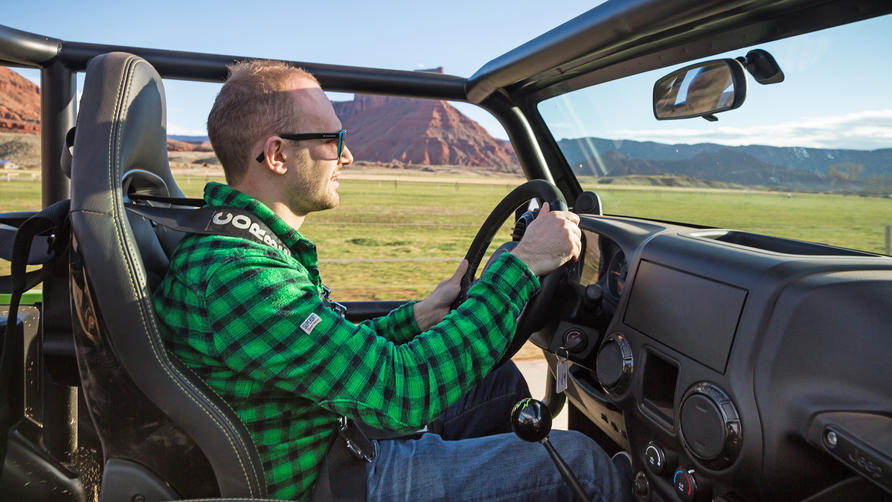 But I'll be honest, my mind is elsewhere. It's thinking of the loud, green monster I came all the way to Utah for. The Trailstorm, nifty as it looks, is the final formality before I can clamber into the Trailcat.
With two-and-a-half times the power of any other concept here, though, my sensible build-up routine still ends with a mighty great leap. All too literally: with the Trailcat's weird little metallic gate opened up, it takes a real hoist to get into its Dodge Viper seats without falling whence I came.
Yep, Viper seats to go with that supercharged Hellcat engine. In a Jeep Wrangler. 'Why?' is a perfectly valid question. "Because it's fun!" is Jeep's succinct answer.
And it really is fun. Turn the key, and the whole thing rocks as that gigantic 6.2-litre engine blasts into life. We're in an idyllic and quite beautiful part of the world, but all of its peace has been shattered by a ridiculous lime-coloured Jeep.
Changes over a stock Wrangler are bold and wide-ranging. The suspension components are seriously beefed up, the wheelbase is 12 inches longer, the wheels and tyres have a beadlock setup (allowing them to run at seriously low pressure), and there's a manual gearbox. Oh, and a very serious looking rollcage. It's a welcome precaution in what amounts to a small monster truck.
It's an expensive, nay, priceless concept, so best behaviour has been demanded of us. But it's really not easy. No car I've ever driven has made me quite so giddy, childish, and keen to act the hooligan. Happily, the speedometer is broken, so I've already banked one excuse for the inevitable telling off.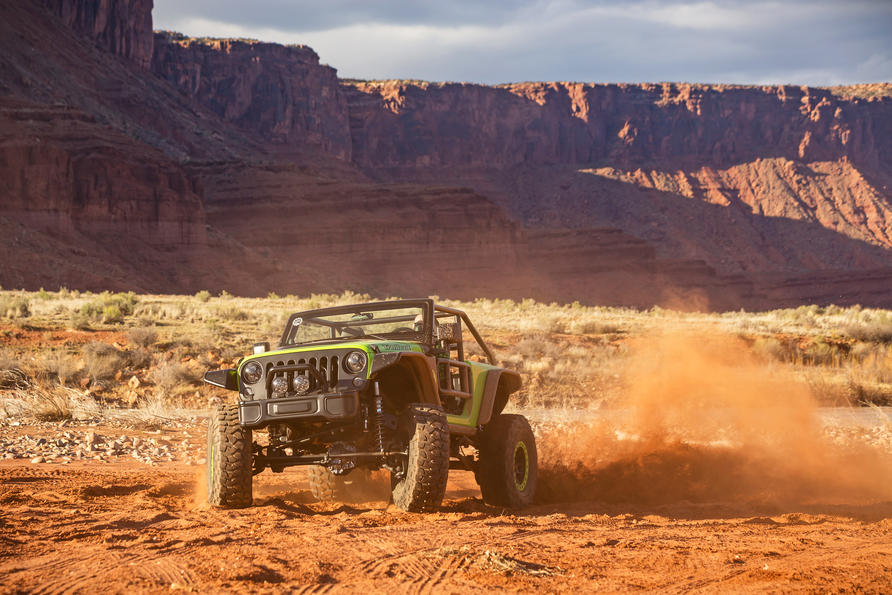 Acceleration is a glorious and ridiculous event, the whine of supercharger soundtracking a dramatic rise in the Trailcat's prow as it hurls itself at the horizon. But it's at its most mental when you're away from tarmac; see a rock-strewn hill, and the 'Cat all but commands you to career towards it at full pelt, clambering nonchalantly up with the ease of those insane Icelandic hill climbers.
And yes, it'll drift. Course it will. It may have super-grippy off-road tyres and four-wheel drive, but with a LaFerrari-chasing 650lb ft of torque, it's only ever going to do one thing if you're loutish with the throttle on a sandy surface.
But this isn't some dicey, unhinged muscle car; as a couple of the pictures testify, there's plenty of roll built into it, and it'll only act the hooligan under appropriately immature provocation. It otherwise pervades a sense of invincibility that makes it just plain, unadulterated fun, even on the relatively gentle test route we've been allowed access to. How fun it must be on the Jurassic terrain filling the sky I can only daydream.
But you don't have to. Buy yourself a Jeep Wrangler and a Dodge Hellcat, throw some money at Mopar, and you can have something just like it. If you're rich and daft enough, I implore you to. Just invite us to the trails with you, please…