Big Reads
Hyundai on the N Vision 74 concept: "the sports car will never die"
Hyundai's been on a design roll of late, and the N Vision 74 is arguably its best looker yet. We meet the man behind it
The motor show is dead. It was already drunkenly swaying on its feet and coughing up blood before the pandemic, but lockdown handed carmakers a useful cost-cutting case study. Does not spending millions on a display stand, peppering it with grinning droids in matching outfits and twirling turntables bearing the latest showroom models make a blind bit of difference to how many new cars you shift? Or how many hits your website gets?
'No' appears to be the answer, and motor shows are having their life support switched off at the wall. Apart from Geneva. That's now being hosted in Qatar. Because the only way to make an event less dignified than not bothering at all is to lace it with a human rights furore.
Advertisement - Page continues below
Photography: Mark Riccioni
You'd expect the concept of the concept car itself to have its eyelids gently closed too. But just because a one-off design study no longer has a rotating stage to call home, doesn't mean one can't still capture the imagination. Last year, no other car did that more effectively than the sensational Hyundai N Vision 74.
While BMW continues its self-sabotaging 'stop me before I design again' rampage, Hyundai's crayon department really has the bit between its teeth, and the leader of that squad is SangYup Lee, the Seoul-born ex-Bentley and GM designer who's overseen the likes of the Ioniq 5 hatch, Ioniq 6 streamliner, Tucson SUV... basically every great looking Hyundai since 2016.
Advertisement - Page continues below
He's talking me round a static model of the 74. We're in the verdant hills of northwest Germany at the Bilster Berg race resort, a fearsome private track built on the site of an ex-Cold War British munitions base. The N Vision 74 is not like other motor show starlets, in that it's by no means a statue. It drives – fast. Before I'm allowed to tackle this miniature Nürburgring in a priceless one-off, SangYup is explaining where this broodingly gorgeous creation sprang from.
"It's an amazing journey that Hyundai has been on for the last 50 years," he begins, speaking softly with carefully chosen words. "Most big OEMs have around 100 years of history but Hyundai has only been around for half of that. But there's still beautiful history in the company."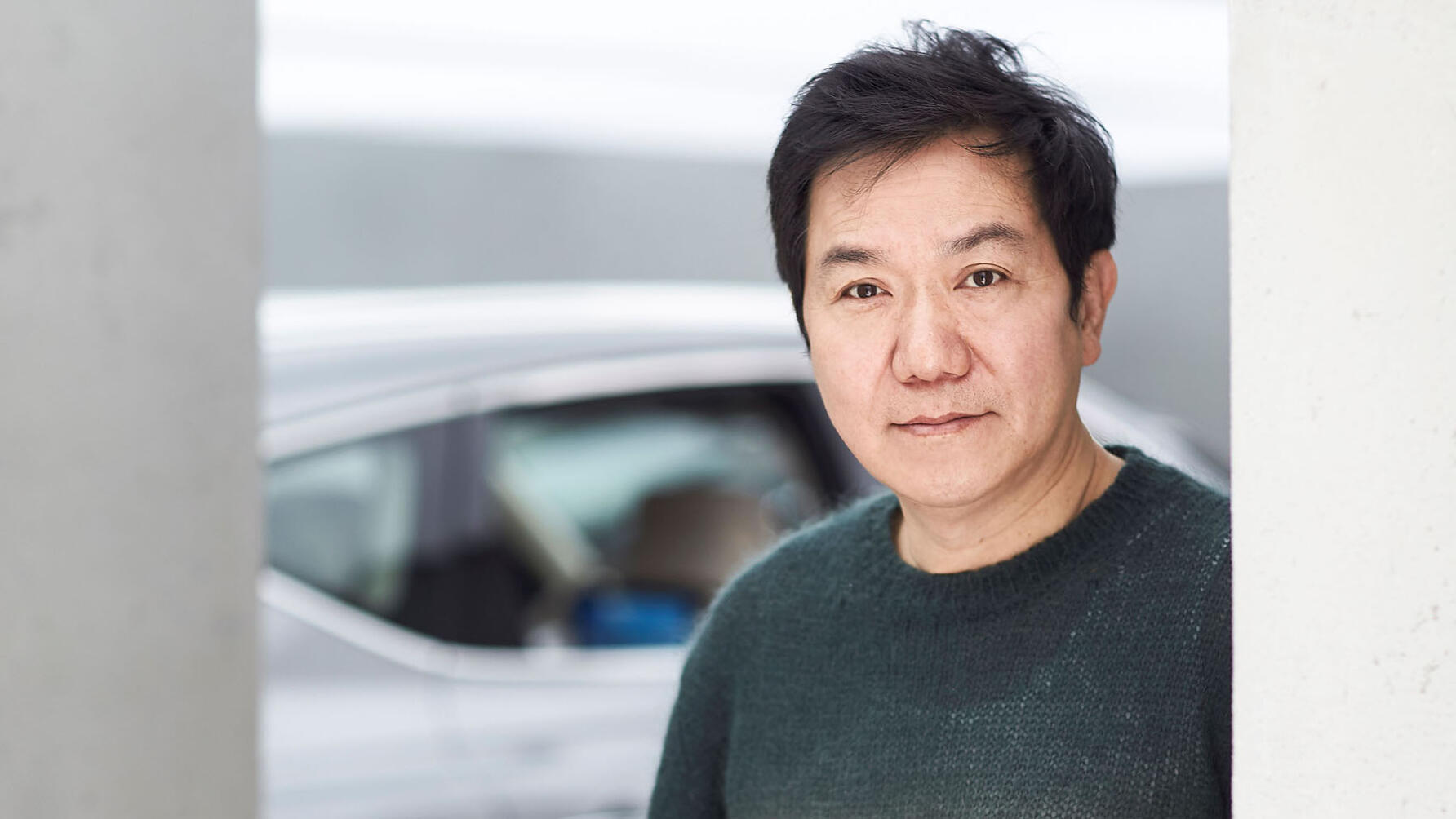 The history referenced by the N Vision 74 is a concept car called the Pony Coupe, a pointy two-door dreamt up for the 1974 Turin Motor Show. Hyundai enlisted the help of Giorgetto Giugiaro to dress a standard Pony saloon floorpan in bodywork that would plant Hyundai's flag on the design map.
"Giugiaro convinced the Hyundai management that when you go to an auto show, you need to have a sleek coupe," says SangYup. "Back in those days Korea had very poor street and highway infrastructure, but the company founder always wanted to build a performance car. So there's a great story there. They tried to put the Pony into production but the dream didn't come true. Now we have the design and the technology to make this car."
What the N Vision 74 does so cleverly is reference a what-might-have-been moment in Hyundai's past in its looks, while espousing ideas for future high-performance propulsion. It's what the engineers call a "rolling lab". SangYup repeats the word passion as he circles the car, pointing out details like the subtle badging ("We have no need to shout") and the pixel LED light signature ("A Hyundai signature – we're not doing Russian doll design, like most big car companies. We want to build a chess set, where each car has its own role, but they are obviously all from one team").
I admit to not having heard of the Pony until the N Vision 74 landed, dripping in references not just to its spiritual father, but other late 20th century classics. SangYup smiles, and pulls up sketches dated 2016 on his phone gallery, showing how long this idea's been gestating.
"Not a lot of people have heard of the Pony coupe, but Giugaro's designs are known all over the world: the DeLorean, the BMW M1, Lotus Esprit – he's a design master. Gen Z doesn't know about that history, but they see this as ultimate cyberpunk design. I like that element – it's contemporary with a cyberpunk strategy."
The DeLorean reference is a crucial one, because in an alternative universe, it's Hyundai's first sports car – not the doomed American-Irish gullwing – that would become the star of one of the all-time great Eighties film franchises. "Giugiaro admits the Pony influenced the DeLorean quite a bit – he kept those references when Hyundai didn't build the Pony. If there was no Pony, there'd be no DeLorean, maybe no Back to the Future." Great Scott.
Top Gear
Newsletter
Thank you for subscribing to our newsletter. Look out for your regular round-up of news, reviews and offers in your inbox.
Get all the latest news, reviews and exclusives, direct to your inbox.
But this is emphatically not a nostalgia trip, despite the shuttered rear window, the aerofan wheels, the semi-matte stainless steel-alike paintwork. SangYup bristles when I carelessly use the word retro in the same sentence as his bewinged baby.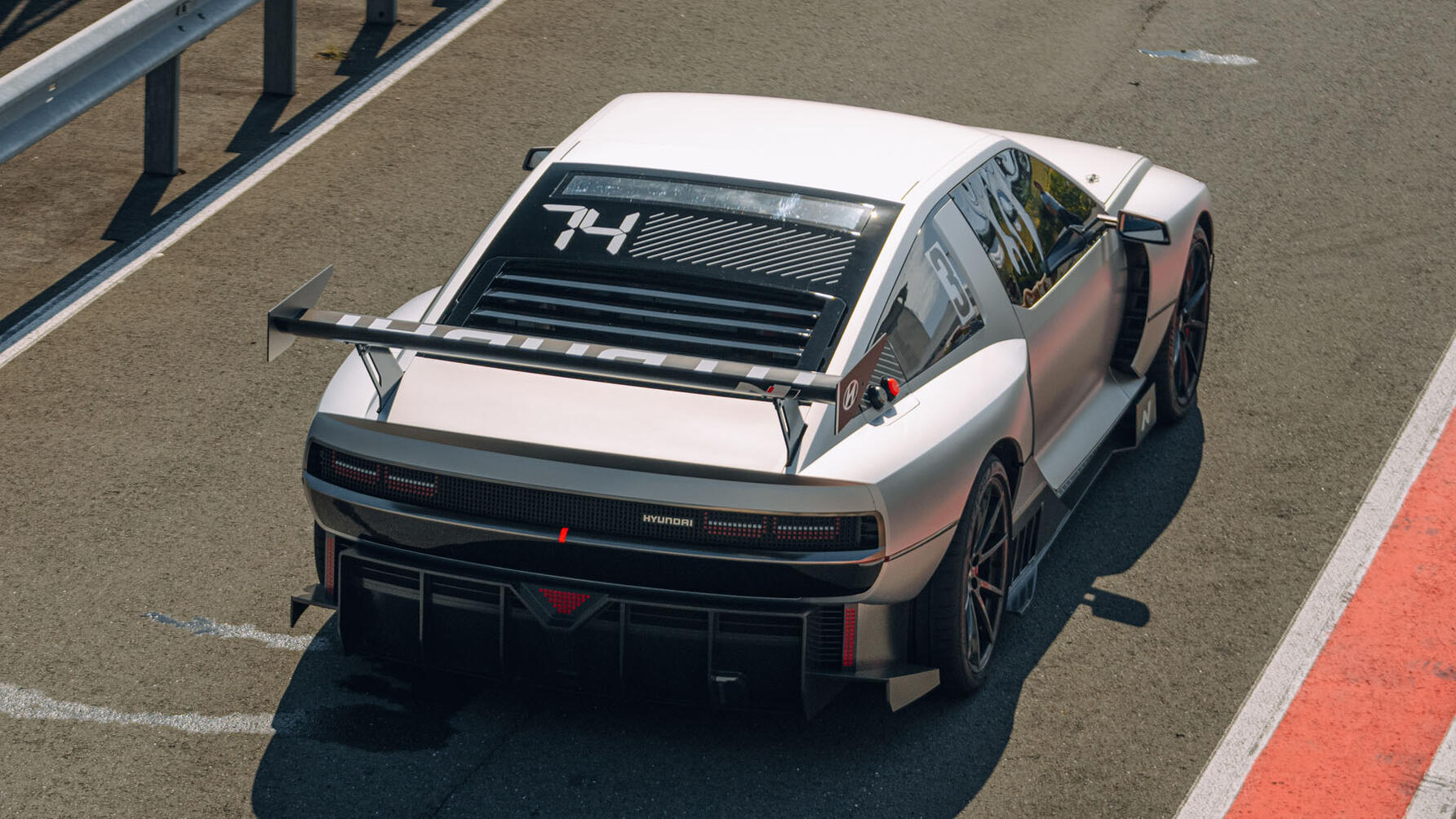 In fact, it's an object of national pride, a distillation of Korea coming full circle from upstart carmaking wannabe to design leader. "I saw tears in the eyes of people back in Korea when we revealed this car. This is their culture. Let's face it, 10–15 years ago, a Hyundai was a car you only bought with your head, not your heart," he admits. "We're not just trying to create a car brand, we want to build fans."
Something's bugging me. Was he under any pressure to showcase Hyundai's hydrogen hybrid tech not with a coupe, but an SUV? Sports cars don't really register these days. Everyone's scrambling to build taller, not lower.
"The reason for that is that a car is still an emotional product," SangYup reasons confidently. "It's the second most expensive purchase we ever make, and we wanted to raise the emotional value. Sports cars are never going to go out of fashion, because a coupe delivers emotion more effectively than any other car. The sports car will never die."
The N Vision 74 didn't need an exhibition hall to shine. Its digital launch dropped jaws onto keyboards worldwide, and demonstrates the endearingly humble confidence the Korean carmakers are rich in right now, as the insecure European old guard scramble to remain relevant. In more ways than one, it's a showstopper.