Review
Last chance sports cars: BMW M2 vs Audi RS3 saloon vs Porsche 718 Cayman GT4
The German big guns are all going electric soon. If you want an old school petrol thriller, get one while they're still hot...
Bookmark this one. I'm not sure how many more times Top Gear will bring you a good old fashioned sports car battle featuring one naturally aspirated engine, two manual gearboxes and three completely electric free powertrains.
Progress is great of course, but these are the last dance sports cars as you know them. BMW isn't protesting any claims its new M2 is the last non-hybrid M car. Porsche has confirmed the next Cayman will be electric, with its batteries heaped in the centre to evoke a mid-engined 'feel'. And the future of all Audi RS cars, from the R8 replacement south, is e-tron by 2030 at the latest.
Advertisement - Page continues below
If you read Chris Harris' poignant column, you'll understand why this can provoke soul searching from car folk. Is it fair or sporting to chide the BMW M2 for having all the visual appeal of a gangrenous war wound, to mark down Porsche once again for fitting the Cayman with the gearing from an Intercity train, and to sneer that RS3s are the most obnoxiously driven cars in Europe?
Photography: Mark Riccioni
There's a strong aroma of 'enjoy this lot while you can' about all of this. Buy another round. Don't think about the hangover.
Anyway, shall we cheer up? This isn't a funeral wake. These are three fantastic cars. Two of them, you'll have noticed, aren't very new. Henry V used a Cayman GT4 at Agincourt and the Audi RS3, just like a fair few of its owners, is approaching a midlife crisis.
Advertisement - Page continues below
But these are the fast, fancy badged Germans that many aspire to – 453bhp twin-turbo straight six BMW plays 414bhp flat six Porsche and 394bhp turbo five pot Audi. It's actually amazing in the petrol engine's twilight that there's still so much variety.
We considered bringing some humbler four cylinder contenders along: an Alpine A110, or the new Honda Civic Type R. Both are handling benchmarks that seduce you into loving driving all over again. Both compete closely price wise. But somehow, this felt like the natural grudge match. Is anyone considering an M2 cross-shopping it with a French tadpole powered by a Megane engine? M vs GT vs RS – that's where things get tribal.
I've spent a few days with the M2 before pointing it towards the North Yorkshire moors, wondering why it doesn't entice like the old car. Why is it not so immediately likeable, besides looking like a Halloween pumpkin in mid-November? After all, it's a quantifiably improved product versus its bestselling predecessor. Plusher. Quieter. Easier. More grown up.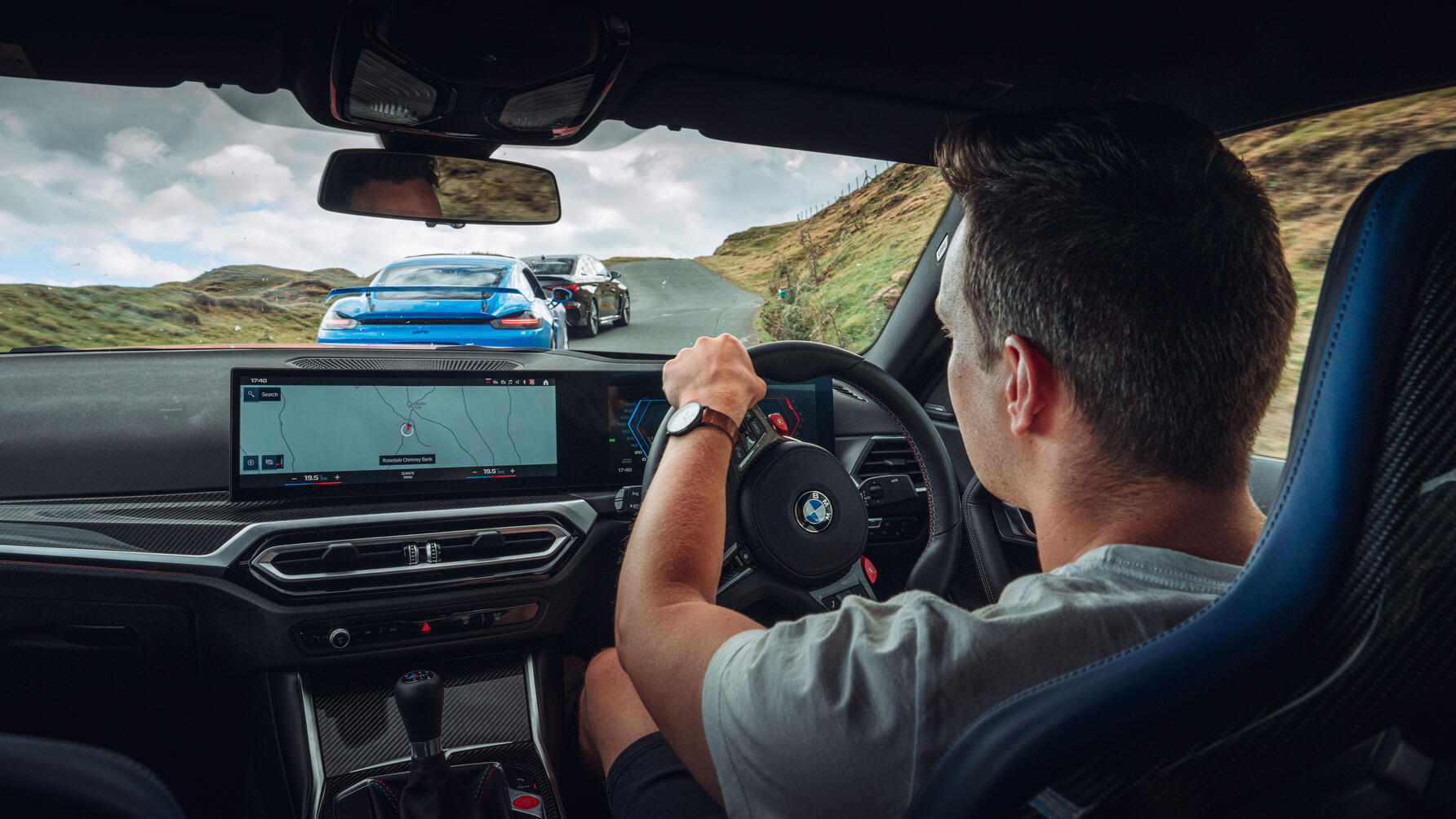 I suppose the downside is the M2 has been 'made better' in all the ways that matter least to petrosexuals. More refined, more spacious, bigger screens. A car of more bandwidth to more people more of the time – but because maturing has been made a bigger priority than fun, us lot feel our noses have been put out of joint.
Along with our left leg. Yes it's all very well eulogising the DIY-shift Beemer, but thanks to the idiotic carbon speed bump between your legs and the right offset pedals, changing gear in the M2 isn't the pleasure it should be.
The clutch travel is too long and spongy, and explaining away the chafe marks it leaves on your thigh will be awkward at home. And for this cobbled together afterthought, you pay an extra £545. Only one in 10 M2 buyers are allowing BMW to take the mickey that hard – 90 per cent of them are sticking with the standard auto, which makes the baby M feel even more grown up.
Ironically, the M2 only really needs fourth to demolish a road. The 3.0-litre engine is an absolute power tower. Sounds a touch diesely, but it delivers a truck-sized slug of torque from 2,500rpm while the Audi's five pot needs to really be spinning 1k more to do its best work. It's gone to the office and earned a promotion before the RS3's motor is even out of bed.
The gearlever itself feels permanently set to vibrate, too. As you feel it fizzing in the crook of your palm, there's a real sense the M2 is a little hot rod, struggling to contain its power.
Top Gear
Newsletter
Thank you for subscribing to our newsletter. Look out for your regular round-up of news, reviews and offers in your inbox.
Get all the latest news, reviews and exclusives, direct to your inbox.
And yet unlike the last M3, this isn't a fighty car. How has BMW done that? Effectively built a short wheelbase M4 with all that turbocharged wallop, but none of the cor blimey traction limitations or motorway slip road swappers. That's a very clever trick... even if some of that gnarly M2 character has been smoothed over.
But it feels big and it feels heavy, on roads where the Cayman is in its element and the RS3 is better than a fast Audi has any business being. The RS3 is like a rocket sled. It has two speeds: stationary and flat out. It's the one that you'll get your money's worth in first, extracting 101 per cent just popping to the shops. Yes, there's lag to contend with, and you sit perched on a woefully lacklustre chair facing a deeply underwhelming cabin thinking "How on earth can this dreary mix of fake piano black wood and pixels be worth 50 grand?" but it's so addictively, ruthlessly fast and makes such an evocative, trumpeting noise as it rushes along, you'll find yourself forgiving it.
Despite myself, I adore the plastic fantastic RS3. I love that it's an Audi Sport product that doesn't ride like a trolley jack. I love that it can mooch about politely like an A3, and at the tap of an RS button it goes berserk. Thanks to its clever rear differential it's no longer all about waiting for the front end to grip – the back axle helps out and fires the car out of corners like an aircraft carrier's slingshot. It's not a tactile, feedback rich life-affirmer: it's the car that you'll 'complete' first. But there is a point at which raw pace and an anachronistic engine is just undeniably seductive. So though it dismantles tyres and glugs fuel, it runs the sometimes frustratingly aloof M2 closer than BMW would like.
Inevitably, people will be cross we've brought a Cayman along. A GT4, too. "A Cayman's not a proper M2 rival because it's only got two seats," someone on Twitter might say if it still existed. Don't kid yourself. The M2's short of rear headroom and the huge carbon seats can't lean forward far enough to let anyone in. Even the most agile child will scuff the heck out of the precious carbon-shelled backrests on their way past. And besides, when was the last time you honestly saw an M2 (or any German coupe) four-up? The seats are there to assuage your guilt, not persuade you an M2 is a family saloon.
"A Cayman's not a proper M2 rival because it isn't practical enough." Er, are you sure? The nose compartment is big enough for a couple of airline friendly carry on cases and there's a rear boot for your hand luggage. There are big door pockets and the best cupholders ever devised.
The Cayman is the best packaged, best built sports car money can buy, and has been for 10 years
"It's too low and tricky to climb in and out of." True, the hip point is much closer to the ground, but the carbon-shelled seats are just as anatomy troubling as the ones in the BMW.
The fact is the Cayman is the best packaged, best built sports car money can buy, and has been for 10 years or more. The cabin looks dated these days, what with all the sensible buttons and needles on clock faces instead of screens, but that's downright refreshing after encountering the BMW multiplex, and you only have to spend a matter of minutes inside to revel in the inherent 'rightness'. The driving position, the control weights – they're perfectly judged to bathe you in confidence. The Cayman is a hugely flattering car. It doesn't punish your mistakes, but it's happy to indulge your ego. Somehow despite the massive grip it generates, there's a daintiness to it the other cars can't get close to.
You don't need the £82k GT4. The £73k GTS 4.0 would be just as good as a daily driver. Better, in fact, because with a smaller rear wing you can see what's behind you. The only reason people bang on about the Porsche's intergalactic gearing is because that's the only stone that Porsche left unturned in perfecting the modern sports car. Ace on track, genius on road, and eminently usable. It has the best steering here, the damping has a motorsport quality of unflappability to it, and the gearshift is a mechanically satisfying delight that murders the BMW's effort. The noise? Sonorous, but not antisocial. What a machine.
I genuinely believe that once the sun sets on this era of Cayman, it'll line up alongside the likes of the MkV Golf GTI and E46 BMW M3 as a real world all-time great. One of those 'we were too innocent to know it at the time, but that was about as good as it gets' kind of cars.
I should interrupt my own gushing to tell you that you can't actually buy one. Sorry. The GT4 model is now discontinued, as Porsche concentrates the remaining dregs of production on the psychotic GT4 RS. But none of these cars are easy to come by. I've heard rumblings that the UK's M2 allocation was spoken for even before any landed on these shores, so expect to see them trading over list price. The RS3's limiting factor is that Audi can't build the five-pot motor quickly enough, now it also finds homes in two different TTs, Q3s and RS3s, and it's a brown stain on the fleet CO2 count.
So, given we're now approaching the end of days, does it matter if there's an outright winner? Arguably not, but I can't resist a finishing order. And at the top, it's the Porsche. Every time I drove it, I swooned at its all-conquering brilliance. And wished the M2 was giving me the same pangs of 'want'. What more could you possibly want from a sports car?
The 'want' was missing when I first drove the M2 in Arizona earlier this year. A better, more rounded car, gaining manners yet lacking magic. But that was a only a couple of hours on some risible roads BMW itself had inexplicably chosen. So, a few months later up on the moors, I got up really early on a crisp morning and gave the M2 another chance. It turned into one of Those Drives. Where there are no dawdling Vauxhall Mokkas, no contraflows, no caravans. The potholes seemed to have healed overnight and the M2's turbos gorged themselves on cool, dense air.
As the pace quickened, the BMW's suspension continued to flow where the Audi's was getting caught short, still reacting to what had gone before while you're presenting it with a new piece of road. It pogos and porpoises and, eventually, calls time on the RS3's Road Runner pace. This is where the M2 gets into its stride. Like most recent M cars, you only start to understand how talented it is when you're travelling quicker than strictly advisable. That's where the Cayman's lip smacking balance and poise is a treat. It makes apexing a mini-roundabout rewarding, as that low slung centre of gravity pivots about your kidneys
The M2 drives like it looks. Burly. Broad shouldered and unapologetic. If it were a person it'd crack your knuckles when it shook you by the hand, with a glint in the eye that it'd done so deliberately to assert alpha male dominance. That might not be your cup of tea but it absolutely has personality, and it leaves an impression. Just perhaps, not quite the GOAT you might've hoped.
1: Porsche 718 Cayman GT4
Yes, it's the most money, but it's the consummate sports car. Proper 'last tank of petrol' stuff. 9/10
2: BMW M2
A real grower (apart from the looks). Vastly more refined than the old M2, so the magic needs seeking out. 8/10
3: Audi RS3 saloon
Better than you'd ever imagine from Audi Sport. Just lacks the last word in polish, but it is a formidable daily driver. 8/10