Big Reads
Living like an oligarch in a Rolls-Royce Phantom
A Phantom VIII at our disposal? No mileage cap? Time to aim for the Alps
For the next 48 hours I, Rowan Horncastle, am a "patron of luxury". That's how Rolls-Royce refers to its customers, those people who don't support football clubs, but own them; that travel by Learjet, not Easy. But what's it really like being a member of the automotive glitterati? Well, with the help of the all-new Phantom VIII, a £525,000 Extended Wheelbase, I'm going to find out.  
The plan is to go on a luxo road trip. The destination? An exclusive nest of wealth, perched high in the French Alps: Courchevel 1850. Being 750 miles away from my current location (R-R's suitably immaculate Goodwood facility) it's a bit of a slog. But that doesn't matter; I've donned my best kleptocratic nouveau-riche clothing, have a Phantom to indulge in, and, best of all, R-R has supplied a chauffeur – because no self-respecting 'garch would be seen behind the wheel. 
Advertisement - Page continues below
And here he is. Hold on, I recognise that aerodynamic head. Is that?... no, it can't be. Oh, for pity's sake... it's Ollie Marriage.
Words: Rowan Horncastle and Ollie Marriage // Photography: Mark Riccioni  // Video: James Gough
OM: Yes, it is. And I can't believe I've got myself into this, but, if we're going to do this properly, you've got to call me "Drive". That's how you refer to your chauffeur, apparently. What should I call you?
Advertisement - Page continues below
RH: Lord backseat overlord. 
OM: I've got a better name: Roman Ahornavich. Doubly useful as it could be your porno name. Anyway, now I've got you safely into the back (oh, the ignominy of having to open and close doors for you), it's time for me to get on with the driving. And what's up with those gold skis? And that rack?! Hang on, has it been drilled through the boot?
RH: Never you mind for now, Drive.  
OM: I don't know if you're aware of distance back there, but we're now about 10 miles into our journey and I've nearly crashed about three times. Running into the back of people. At first I thought it was because the Phantom weighs as much as a moon and the brakes weren't man enough for the job, but actually I think they've been purposefully engineered like that. It's impossible to brake harshly. No matter how suddenly you thwack the pedal, brake pressure ramps up slowly. It's the same with the accelerator. It's literally impossible to drive the Phantom aggressively. I'm going to have a go, though. Every time you reach for the champagne flute.
RH: I'm not sure if it's a compliment to your driving, the car, or the Moët, but it appears we've swallowed the south east of England whole. Never has the M20's ghastly corduroy surfacing been ironed out so silently. 
As we approach passport control at Eurotunnel, my isolation bubble is popped as Ollie cracks the window for border control. The ludicrousness of the situation I've manufactured really sinks in – Ollie is playing it straight. 
"Passports, please," the immigration officer says. 
"Here's mine. And this is my client's," Ollie says.
Top Gear
Newsletter
Thank you for subscribing to our newsletter. Look out for your regular round-up of news, reviews and offers in your inbox.
Get all the latest news, reviews and exclusives, direct to your inbox.
Crippling embarrassment sets in, but the guardian of our country is prim and proper and asks to see 'Sir'. Ollie then turns to me and asks if that's OK, before dropping the back window. We're waved through. Then summoned straight into the drugs check zone. More squirming from me in the back. And then again when Eurotunnel offers us an escort to the train, only to close the barrier on the car behind. Ollie's at it again.
"Excuse me, that car is with us."
"How do you mean sir?" The guard replies. "That's our security detail." 
It's not. It's our support car housing photographer Mark Riccioni and videographer James Gough. They need to work on their Spetsnaz stares.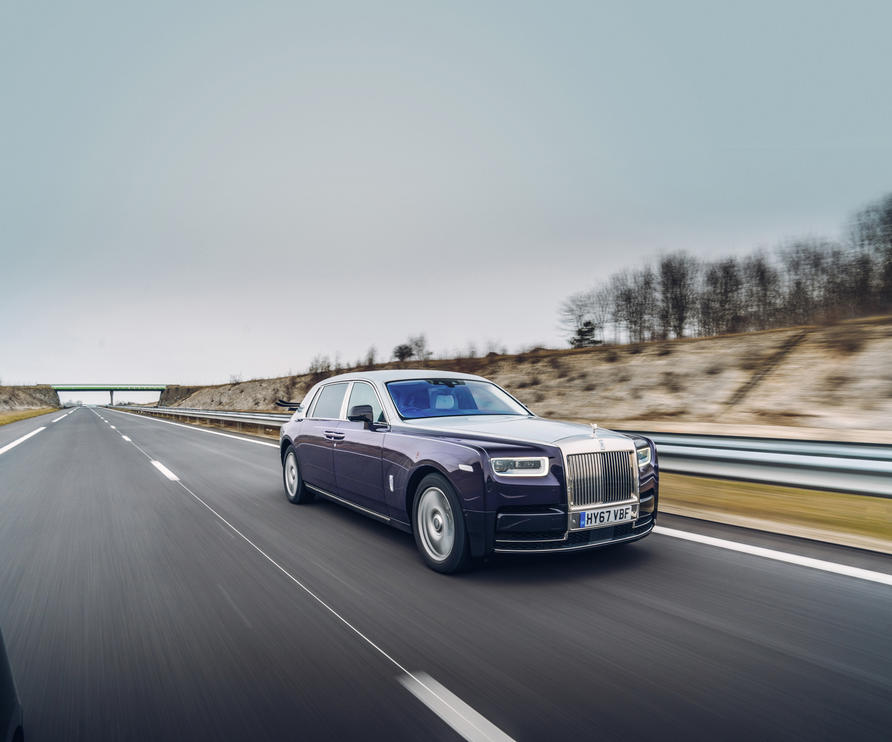 Some hours later…
OM: This is absolutely effortless. I don't know if you realise, but we've done 220 miles since Calais already. I've taken my shoes off, so I too can enjoy the carpet, and am guiding the car using nothing but the soft pads of my fingertips and letting Eleanor lead the way.
RH: Who's Eleanor? I didn't know you had room to hide more staff up there...
OM: It's how the cognoscenti refer to the Spirit of Ecstasy. Anyway, it's absolutely uncanny the way this thing goes along a road. It's so gentle and calming, so unhurried, even when you've built up a decent gait. How's it for you?
RH: Well, I've decided you don't sit in a Rolls-Royce Phantom. You nuzzle. Surrender your body to the plushness, let it massage and warm you. Perhaps raise the ottoman to adjust the angle of your feet, take a little bit of life's weight off. 
OM: I'm sorry, but you really don't need to raise your voice – there's 6mm-thick, dual-layer double glazing all round and more than 130kg of sound-deadening material pumped into the headliner, doors, boot cavity, bulkhead and even the tyres. 
RH: The serenity is weird, isn't it? Makes an S-Class feel like you've put your head in a super club's subwoofer. 
OM: I wouldn't know. I've got a hint of wind noise from A-pillars and mirrors, but that's it. The spokes of the steering wheel are in a weird place, though – I'm sure it's been done so the driver can't fully switch off. And Rolls doesn't yet have any autonomous features – no lane keep or any of that.
RH: Why would I want that? I've got a man in a suit to do that.
OM: Point taken. I've never driven a car that insulates you from noise or road surface like this one. It seems to be travelling about six feet above the actual tarmac. It's even doing well on fuel – 23mpg means we're looking at 450 miles before we need to stop. With all the drink you've been quaffing, your bladder's never going to last that long. And they don't do posh bogs at French service stations. 
RH: No. But I do have a crystal decanter. Remember the old spare water bottle trick?
OM: Roman. Put. It. Down. Oh, for heaven's sake, not over the carpets. You animal. We're going to be late for your dinner date with the Countess of Mayde-herr-Rup, so if you don't mind I'm going to stoke the furnaces a bit.
RH: Before you do, I need lunch. 
OM: We're still getting it from a service station.
RH: A boiled Fabergé egg, please. And an Orangina. 
The Phantom consumes the flatter bits of France without breaking a sweat. Evening arrives as the snowbanks start to rise, allowing me to admire the Starlight Headliner – 1,340 individually hand-woven fibreoptics to further enhance the cabin atmosphere, while up front Drive gets to admire the 'Gallery', an expanse of toughened glass running the full width of the dashboard that can house whatever the hell you want behind it – your kid's first brass rubbing, an original Banksy, perhaps a vial of your own DNA. The ambience inside the Phantom at night is cosy, intimate and sumptuous. I'm so relaxed I don't even mind when Drive swings it around the bends as we home in on Courchevel, finally scrunching gently up outside the Six Senses at bang on truffle raclette o'clock. For me at least. I tell Drive to take the car underground and valet it. So of course, the next morning…
RH: The car is still filthy. I thought I made myself quite clear that…  
OM: You know there's a point where the patron of luxury act runs headlong into blunt reality, right? Well, that was it. I did clean the skis, because they look so ridiculous I want everyone to notice them and realise the bloke in the back must be an utter plant pot. 
RH: How little you understand the patron of luxury lifestyle, Drive. When you're up here rubbing shoulders with the world's wealthiest, you want to have something they don't. Bespoke is BIG business for R-R. Remember the Sweptail? The most expensive new car in the world? Well, that was just the start. The Phantom's new spaceframe structure (which'll underpin replacements for the Ghost, Wraith, Dawn, and the new Cullinan SUV) could offer a cornucopia of coach-built possibilities for four-wheeled haute couture. My take was to get the TG engineering department to drill holes for the racks, then borrow a set of Foil Oro-Nero skis made from 8,000-year-old Chinese bog-oak complete with 14-karat gold-plated poles and bindings. Ballin'.
OM: Ballin'? Balls more like. They weigh a ton. And how much do they cost?
RH: A mere 50,000 euro.
OM: Dare you to ski on them. 
RH: I will. Later. First, some shopping. 
OM: What now? Platinum goggles? A sable coat? 
RH: Never you mind. Just drop me at La Lana. 
Delivered by Drive, via suicide door, to the public realm, I step out onto the heated pavement at one of Courchevel's most exclusive hotels. Walking in, I see by a woman with plastic surgery fit for Men In Black's prop department, Nebuchadnezzars of Beluga vodka and a rather sad-looking animatronic Polar bear. Odd. But not just a hotel, because to the right of La Lana's check-in desk is a Rolls-Royce pop-up shop. It's part of R-R's Hot Spot scheme, where it sets up boutiques at seasonal geographical magnets for the rich (Saint-Tropez, Saint Moritz, Ibiza, Marbella and Monaco, to name a few). This one has been open less than a week. Five cars have been sold already. 
While Roman's nodding sagely at leather samples and heading off to get those skis stamped on in a lift queue, let Drive tell you what the Phantom is like to, er, drive. It's marvellous. Not in a traditional way, of course, but it's so smooth. You can't help but guide it gently, as to do otherwise would not be a fitting way to treat Eleanor. Hairpins are hilarious. You send the prow out ahead to scout the way, then you follow along shortly after, simultaneously keeping an eye on how far out into the road the prow now is, and how close to the kerb the inside rear is. Blind corners require blind faith and the hope that whatever's coming the other way is willing to behave deferentially. 
The engine simply never intrudes, it merely provides seamless progress aided by an eight-speed automatic gearbox that uses GPS data to read the road ahead and select the correct gear. It's only if you up the ante that it occasionally gets caught out. As it does now as I home back in on Roman at Le Lana…
RH: I can smell the brakes. 
OM: Never mind that, look at the state of those skis – you've gone and got snow on them. How was skiing, by the way?
RH: Yeah, alright. I behaved like any self-respecting billionaire and paid someone else to do a jump over the car while wearing my gear – for my Instagram you understand – then retired to wash down some caviar with copious amounts of vodka at a mountain restaurant I had closed to everyone else so I could eat and sunbathe in peace. Anyway, enough of that. To the altiport, Drive!
OM: The altiport? Why?
RH: Well, surrounded by ski slopes and jagged mountains, it makes a strong claim to be the world's most picturesque landing strip. 
OM: Hang on, you haven't just had me drive you up here to admire the view, have you? What's that gold plane doing?
RH: That, my good man, is a Pilatus PC-12, designed by none other than Phillipe Starck to look like a posh cigar, natch. 
OM: You're not coming back in the car, are you? You're going to travel in something inferior. 
RH: Not as quiet and sumptuous, I grant you, but faster, I hope. We're going to have a race back to Goodwood, Drive.
OM: You're on. I've seen the weather forecast. The cloud's coming in fast and that means you're going to be stranded if you're not in the air inside 10 minutes. Think I'll go and park the Phantom in the middle of the runway. 
RH: Please don't. Just give me this last small taste of opulent Rolls-Royce lifestyle before I have to return to a life of beans on toast and Asos. 
OM: It has been good, hasn't it? What I've particularly enjoyed is the effect the Phantom has on people. On the whole, they've been so well disposed to it. I think it's so stately, so grand, that people just like getting up close to it. Best of all is the aftershock: they see the car first and then after it's gone past they twig the skis and do a complete double take. That was a nice touch, by the way. 
RH: Thank you. The Phantom has been a magnificent carriage from start to finish. You know that saying, "It's better to travel than to arrive"? Well, there are other luxury cars that are spacious and quiet and comfortable and maybe approaching as good to travel in. But there's nothing else in remotely the same league when it comes to arriving. Stepping out of it in Courchevel gave me both kudos and confidence.  
The Phantom is the death star of opulence, the magnum opus of refinement. This new one is no different, it's just cemented the status even further. It is the world's most luxurious car.