Big Reads
Making an RS of it: Audi RS5 vs its rivals
There's a new Audi RS5. Here it faces the BMW M4, Merc C63 AMG and Lexus RC F
What is an Audi RS car? What differentiates an RS to other cars in the range? These are fundamental questions. They're also questions the new RS5 fails to address.
What was Audi trying to achieve with this RS? Has it given up entirely on making its RS cars fun to drive? RS, RS, RS. No matter how many times I write it out, I still can't equate this particular car with that badge. I appreciate I'm giving away a verdict that is not going to be happy reading for Audi, but seriously, Ingolstadt, this was your answer to the BMW M4 and Merc C63?
Advertisement - Page continues below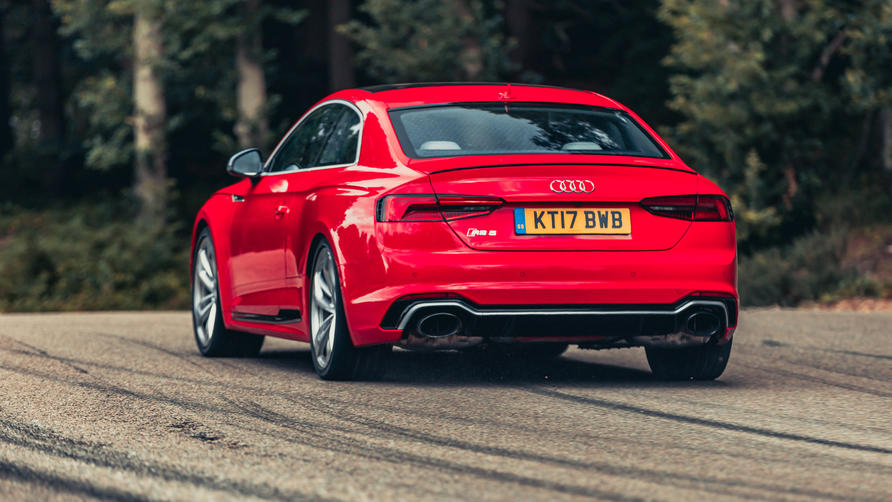 Words: Ollie Marriage/Images: Mark Riccioni
Or perhaps Audi Sport, the parent arm now headed by ex-Lambo boss Stephan Winkelmann, has got it right. That people paying the thick end of £60k don't want a car that might challenge them, just one that delivers speed with as little drama and engagement as possible. A faster Audi. That's fair enough, perfectly reasonable. But in due course I'll tell you why the RS5 doesn't fulfil that role very well, either.
Now, you might see the pictures of cars with smoke pouring from their back tyres, and you might deduce that the Audi's poor showing has come because it's four-wheel-drive and won't misbehave in the same cartoonish way. Not so. Smoking tyres are irrelevant. There, I said it. I drive like this on track for dramatic pictures, never on the public road.
Advertisement - Page continues below
So here's the new RS5. On price and power and practicality it lines up very nicely next to the BMW M4, and almost as nicely with the more expensive Mercedes and less torquey Lexus. That's the only car without turbos.
But visually they separate into pairs, the shadowy M4 teaming up with the magnificently garish limited-edition C63 Edition 1, while the Audi falls into step with the Lexus. Both tread a more conservative path: less carbon, more chrome, less width, more ground clearance, fewer wings.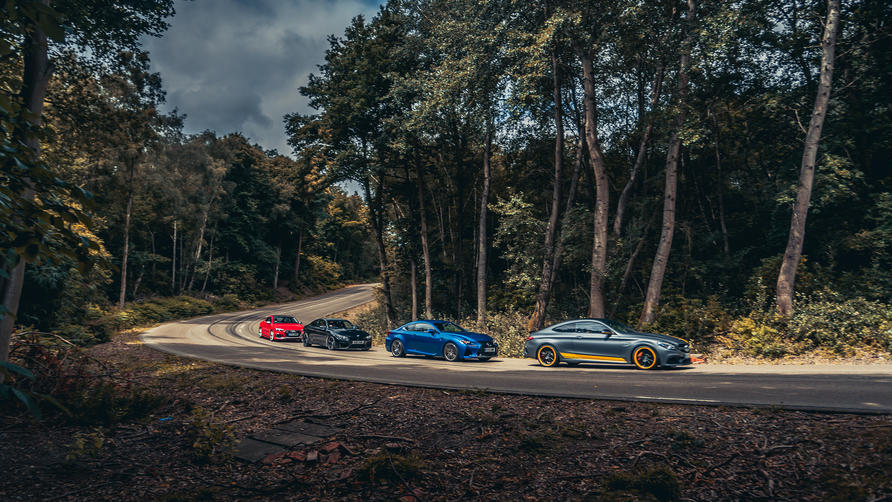 For my money, Audi has always done understated detailing very well, but here I'm not so sure. You see the black trim around the lights front and back? It serves no purpose other than a touch of cosmetic mascara.
And what's with the tarty wheels? Come on, Audi – you're better than that. Alongside the bespoke swollen arches of its German rivals, the RS5 comes across as a car that's had less energy – and direction – invested in it.
I wouldn't have my C63 with all the decals, but as a piece of design it's knock-out – its great coupe shape enhanced by fat, packed-out arches and just the right hint of aggression. It has real presence. Menacing in black or matt grey, I'd be tempted to go more subtle and let the arches tell the story. The M4 isn't as pumped (it's been around a few years now so it's all too familiar) and this Competition Pack car is cheekily doing without the 20in Competition wheels it should be wearing. Dynamically it's the right decision.
The Lexus looks big. Some in our party love the slashed lights, the pinched grille, but what I wonder is just how much more podgy it would look without them. As it is, it sits heavily on its multi-spoke wheels. Visual weight reflects actual weight in this instance – the RC F is 1,765kg, a quarter of a tonne more than the BMW.
It wants for nothing inside. Well, except the application of some ergonomic intelligence. The cabin is a mouse-operated, slider-controlled, multi-layered nightmare. The graphics are cheap, the operating system baffling, and members of the TG design department emerged shaking their heads at how many different typefaces and conflicting design touches there were. And if Top Gear's designers are having a pop…
Top Gear
Newsletter
Thank you for subscribing to our newsletter. Look out for your regular round-up of news, reviews and offers in your inbox.
Get all the latest news, reviews and exclusives, direct to your inbox.
What the Lexus does get right is the driver's seat. A beautifully shaped backrest that gives the whole car a GT vibe that the rest of it carries off pretty well. Because this is not a sports car. As we'll see, it's too heavy, too lazy for that.
There's no mistaking the intent of the Merc's seats. They do the clamping; you do the wincing. Sharp bolsters poke you in the thighs, thin padding rubs belts against backs. So leave the £2,595 AMG Drivers Package unticked unless you like a spot of light masochism.
Elsewhere, the Mercedes is very convincing. Great driving position, user interface, layout, materials. Same goes for the BMW, albeit with a layer of slap removed. It's a little less brash indoors. You'll never notice the cut-outs in the seatbacks – unless you have children who enjoy administering a toe punt to parental kidneys.
I can't remember the last time I was so underwhelmed by a car. The RS5 drives as if it's in a sulk
A quick word on practicality. They all cope with four people plus weekend baggage. Beyond that, all can be fitted with roofboxes, and probably towbars too. So they're justifiable. The Audi is the least controversial, of course. It's not one to upset the applecart, so it starts discreetly, gently pats gearshifts through and exhibits all the charisma of a TDI. But quieter. And perhaps less charismatic.
The cabin is very well organised, but – and you'll have spotted the theme developing here – it's not very sporty. The others proudly site their buttons for noisy exhausts, crashy suspension, punchier gearshifts and snappier throttles on the console. The Audi has a solitary Drive Select control, in a dark and secluded spot. It's as if it would rather you not use it. In fact, the message the RS5 conveys, full stop, is that it doesn't really want to do anything too taxing.
But what happens when you do? Disappointment, mainly. A lack of appetite on the car's part, a disillusionment on yours. It doesn't even feel fast, which is a remarkable thing to say for a car that recorded easily the fastest 0–60mph time (3.5secs in our hands).
It's the teenage athlete that wins the sprint, but sucks the joy out of parental pride by turning to you slack-shouldered and muttering, "I told you I was fast." Enjoy the moment, you want to tell the RS5 – don't be so sodding sulky.
Because the RS5 drives as if it's in a sulk. It's not just incompetence, but a doughy blandness. It's as if the engineers themselves had no enthusiasm for the task. The engine may be downsized, but Audi hasn't taken that opportunity to shovel it any further back in the bay; instead, wider front tyres have been fitted to combat the understeer.
But it hasn't brought any more balance to proceedings, and I'm pretty certain Audi has boosted the electric power steering to compensate, with predictably dismal results for feedback.
So I know what you're thinking. It's an Audi. It's quattro. All-weather performance is its thing. No drama, just more speed. Well, yes, but Audi already has a car that does that: the S5. If the RS badge is to mean anything, the car needs to have some pizzazz. The RS3, flawed though it is, has that; so too the RS6.
But the latest RS5 is automotive Teflon: once driven, instantly forgotten. And it's not like it delivers speed and security well – the chassis is fundamentally woolly, steering accuracy is poor, body control is weak. These are fast-car facets that shouldn't be got wrong, no matter what your car is designed to do.
Moving on. The Lexus is an idiosyncratic old girl. A plump GT with no torque and ridiculously long gearing (for all its faults, one thing the RS5 gets right is closely stacked mid-range gears), you only ever get to properly uncork it in second. The naturally aspirated noise is marvellous, although too muffled, and it's a bit of a muffled drive.
Purposefully so. Its brief is that of a GT, so it feels heavy under braking. You sense the forces building up through the front wheels – snappy direction changes are not in its repertoire. But I once wrote this was a better road car than the M4 and (Competition Pack aside), I still stand by that. The Lexus may be heavy, but it's well sorted. The M4 is lairy. Several colleagues approach it so tentatively I fear there must be a snake wrapped around the door handle.
The Competition Pack has tamed the tail's wilder habits. Snappy turbos acting on a tightly wound diff gave the back axle of standard M4s too much to do, especially given the precision and bite of the front end. The Competition is more cohesive. But copy the spec of this one – on its 20s, the M4 does not ride adequately.
But it's fast, buzzy, angry and compelling. I wish BMW would smooth out the gearchanges, polish the stability control and beef up the brakes, but it's a proper sports coupe, the M4, able to raise the heart rate.
It's not the best car here, though. That title belongs to the Mercedes. Not just because it has a twin-turbo V8 and the whole swoopy coupe thing going on, but because it's an addictive drive. The steering is meaty, grip is strong, it's better balanced and more predictable than any rival, disguises its weight well, kicks like a mule and sounds like thunder.
It's not quite as darty and alert as the BMW, and road noise is more of an issue than in the Lexus and Audi, but when colleagues turn to me and insist it's one of the very best cars on sale today because of the way it so perfectly fulfills its brief, I find myself agreeing with them.
Where does that leave the RS5? Lost, really. I can't remember the last time I was so underwhelmed by a car, had so much difficulty working out what it's for, who would buy it, what role has been envisaged for it. Audi's RS cars have long ricocheted between hit and miss. I can't ever remember one being this wide of the target, though.