Supercars
McLaren 570S Spider vs Audi R8 V10 Plus Spyder vs Mercedes-AMG GT C Roadster
Three drop-top supercars, in summer. On days like these... it rains. Hard
It's a gamble, trying to put the roof down.
Modern, mollycoddling drop-top supercars like these three all allow you to operate the roof mechanism while you're rolling along. When you do, you look like an intergalactic, ocean-going tart. But, being able to trickle forward while stowing or unfurling the roof means every microscopic opportunity for a hit of open-air action can be seized upon. Just as well, since it's forecast to rain today.
Advertisement - Page continues below
Underneath ominous clouds, it's the new Audi R8 V10 Plus Spyder ('Plus' meaning an additional 70bhp and that pert wing) and the Mercedes-AMG GT C Roadster (the wider, more powerful GT) that'll streak into an early lead. Literally.
Words: Ollie Kew / Photography: Mark Riccioni
While the McLaren 570S Spider languishes back at 25mph to let its origami hard-top retract, the Germans spirit away, accelerating to, um, 31mph with their old-school canvas tops aloft. For 15 agonising seconds, the McLaren watches the R8's carbon ducktail disappear up the B3135, fearful of a flurry of phone calls to Somerset plod reporting an angry Decepticon jammed mid-Transforming halfway down Cheddar Gorge.
Advertisement - Page continues below
Once the bong indicates the roof is secured, the slowest car here becomes the fastest. The McLaren explodes forwards regardless of gear or gradient, covering ground with an instant, neck-straining disdain. Baby supercar? The idea is lost on the power-crazed, instant gearshift, freakish traction alchemists from Surrey. Like the AMG and Audi, it'll easily outrace a four-second count from 0–60mph and crack on to 200mph, but in-gear, this is the fastest thing here. Would you want to do 200mph with the roof off? Me neither.
Was that a crack of thunder from the looming clouds overhead? Could just as easily have been the GT C executing a cacophony of downchanges. AMG has negotiated the stampede towards smaller, turbocharged engines better than most, and there's no question this is the better-sounding of the two V8s, delightfully lumpy and chuntering, while the McLaren's blaring buzz shouts of massive brawn but little interest in stiffening the hairs that run down your neck.
However. Even the guttural chug of the GT C's glorious 4.0-litre bi-turbo V8 is instantly outclassed when the glossy starter button dangling from the R8's steering wheel spoke is detonated. A tease from the starter motor later, the 5.2-litre naturally aspirated V10 brims the canyon with rich, yelping tones. You can't ogle the Spyder's V10 like the coupe's glass-cased centrepiece, but on noise alone it demolishes the others' bassier soundtracks and rules the experience of being in the R8.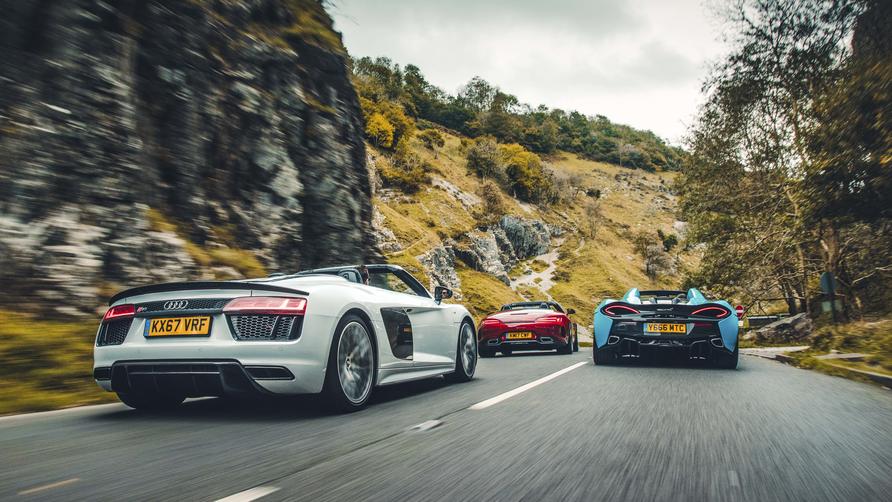 V10s are just the best engines, aren't they? This 602bhp virtuoso revs and revs and revs, balefully, earnestly, with palpable soul bursting from its block, working against the Spyder's extra 140kg of chassis reinforcement. It doesn't teleport along, drying your eyeballs like the hard-top. But so what if the pesky, flitty 570S gaps it like an F-18 leaving an aircraft carrier? Not once will you miss the absence of turbocharged torque. In fact, making the motor haul a little harder for a little longer makes the R8 Spyder Plus even more of an event than the objectively better coupe. Moments like that are what you savour when the sun disappears behind cloud cover and a thick, foreboding humidity hangs in the air. We're going to get wet.
Besides the girth, the R8's no more intimidating to thread along than a TT. That's its superpower and its kryptonite, because Audi's distilled everything that makes its cars so desirable – superb cabin, delightful details, sheer ease of use – into a 600bhp monster that makes you feel like a rock star, but likes to keep you a safe distance from the nitty-gritty of the drive. Like a TT. But making a powertrain this sensational so usable, so foolproof? Utter brilliance.
In a drop-top, it's less of a worry that the magnetic adjustable dampers take an extra bounce to settle post-bump, and the ceramic brakes' pedal is made of lemon drizzle cake. There's also some suspect packaging inside the Audi, as per its uncomfortable Lambo cousin, thanks to the chassis girders messing with the seating position, so you're a touch too high and too far forward. NBA stars, look elsewhere.
The McLaren suffers no such ergonomic clangers, besides taking practice to scramble in and out of, but suffers the usual frozen touchscreen, disobedient windows, a dodgy noselift and narcoleptic parking sensors. £227k, as tested, with all the carbon trimmings? Hmm.
Top Gear
Newsletter
Thank you for subscribing to our newsletter. Look out for your regular round-up of news, reviews and offers in your inbox.
Get all the latest news, reviews and exclusives, direct to your inbox.
The McSpider has a simple question for you. Is your priority driving? If 'yes', it's tough to fault the McLaren. Its steering communicates so purely about the surface, the grip and your proximity to its limits. But it's never distracted by a camber, or in need of constant watchful parenting.
The ride is taut but superbly controlled, and damped just-so. Normal mode is the one for road work. Sport and Track tighten things up even more, but there's no need to unless you're warping around a circuit. You'd have the coupe if you were that serious. Brakes are the only bugbear with the drive. The standard carbon-ceramics have unimpeachable force, but the stiff, left-foot-brake-ready pedal remains numb until it's stamped on.
The 570S is more intimate at sane speed than an R8, because you're so immersed in the messages the car's giving you. The Audi is never boring, but if you're a control fetishist, there's less to revel in. You marvel at its engine and the sublime paddleshift 'box, and simply use the steering, brakes and quattro. 'Chassis car' versus 'engine car', really. The McLaren is the best car to drive here: it's got the most chatty steering and the purest balance. If we were refereeing coupes, it'd win. But cabrios are about so much more than mathematically proving they're the best...
Where does that leave the AMG? Part Mardi Gras float, part wing-clipped WWII fighter plane. It's charming but contrived. A little schizophrenic, and difficult to gel with because it's so wide and boisterous.
It's intimidating to drop into, its hood enveloping rock-hard seats and that huge console, littered in buttons and knobs like the upturned tentacle of some robotic giant squid: a mythical monster with a Race mode. As the V8 is cradled behind front wheels turned by knife-edge sensitive steering, it's tricky to acclimatise to.
The GT C is tiring; a muscle car trying to be both boulevard cruiser and AMG's ultimate performance machine. At times, it drives like a car set up by someone who'd only ever driven one on Forza, all bellowing noise, over-keen instant reactions and yee-haw corner-exit slides.
Its roof whirrs away in 11 seconds – the swiftest here – and it'll surge way beyond sociable speeds with nary a hair ruffle too. So it's a great roadster, quick to get the roof down, with huge torque to lean on and steampunk AC Cobra bravado. It's just a pain that it requires fiendish concentration, and a few caught breaths and winced brows to thread along the roads it should thrive on. Plus, new-age turbo motors depend on active pipes to sound silly - so most of that incredible V8 rumble happens behind the cockpit. That hilarious barrage of exhaust artillery is caught up in the phat widebody's wake, so you outrun the fireworks all too soon.
Dropping the McSpider's rear window invites a livid turbo hiss inside, exhaled through a £3,370 sports exhaust. Those are the tips of a preposterous options spend. You could have this utterly tricked-out R8 for less than a basic £164k 570S Spider, but then someone threw £61,960 of garnish at the 'baby' McLaren. Its carbon trim pieces alone are worth the same as generously specced Golf R.
So, perhaps you'd be miffed the plasticky cabin has the cheapest finish, but the fundamentals are bang-on. Stellar visibility, a cosy driving position, and the £5,110 P1 bucket seats rotate your reclined posture so the small of your back supports as much weight than your bottom. Good GT car, this: the 570 is the least numbing after two hours in the saddle. You're getting the most exotic badge – the only one here not also worn by a diesel crossover – but least opulent cockpit. It demands your priority is serious-face, take-no-prisoners driving.
That makes it a spectacular supercar, but as the heavens open and the McLaren dawdles behind while shelter motors into place, it's the R8 I'm drawn back to. Not because I'm a complete melt and like all-wheel drive (much). In a proper supercar, I can see why you'd vote for a 'chassis car', and take everything terribly seriously, but when the roof has been jettisoned, the view has opened up to celebrate the sky and turbulence is billowing about your ears, a spellbinding engine is too seductive. 
The R8 Plus has deeper rock star quality to it, without the intimidation. It's more complete, more sorted, more theatrical, with no quality niggles and no need to drive at the speed of sound to just enjoy the thing, rain or shine. All you'd ever need from a supercar, even when the deluge arrives, and you're briefly limited to thirty-one miles per hour.