Future Tech
Meet the coachbuilt autonomous sports car that can't be crashed
Top Gear helps hypothesise the car of the future, blending Ford Ka funk with 3D printing and autonomous tech
Coachbuilding is back. And, if the technology being touted by Seymour Powell is to make it to reality, not just for those with an eight-figure bank balance and MSO on speed dial.
You'd be forgiven for not knowing who Seymour Powell are, but you'll have seen its work. Countless concept cars have been crafted here before wearing the branding of the manufacturer funding them as they spin around on a shiny motor show turntable. The interior of the Virgin Galactic spacecraft – in which Richard Branson nudged the edge of orbit – is SP's work too.
Advertisement - Page continues below
In short, they know what the heck they're doing. Who better, then, to help Top Gear design a sports car of the future. One which also claims to be uncrashable, but we'll get to that bit a little later.
With the help of a VR headset, we got to 'help' design the car, pulling lines and creases of its styling here and there, before SP's pros – Richard Seale and Jonny Culkin – presumably fixed them when we removed the headset to quell our queasiness with a cup of tea. If it was your (or a carmaker's) money, this could be done within SP's South London design studio or from the comfort of your own home.
And as for the mood board? Being given a completely open brief to design a ground-up car is actually quite intimidating, and a world away from concocting gaudy colour schemes via an online configurator. But we knew this sports car of the future – a totem for an autonomous EV that you might actually be proud to own – needed to be small, light and instantly vivacious to drive. 'Elise', 'Caterham' and 'motorbike' were among the first clichéd words to tumble out of my mouth the first time I sat in SP's design studio over a Nespresso in an achingly cool mug.
Advertisement - Page continues below
But with an open brief, there was no need to be so obvious. "What car designs have you admired?" asked Richard. With lightness and simplicity front of mind, I responded 'Mk1 Ford Ka' – a car which stayed on sale twice as long as convention suggests and which looked just as fresh and relevant in its twilight years. Then we discussed single-seat F1 cars – Richard's a big fan of the Lotus 49, whose cigar like profile was fed straight into the brief – before segueing to the idea of jet-fighter like cockpit for ultimate visibility. Ford Kas to F-35s in the space of a single coffee. How strong was the pod?
"Coachbuilding is a better business case than ever and it's just going to grow and grow"
"Car culture to us is still very important," says Richard. "It might be shrinking over the next couple of decades but there's going to be a sub-set we need to deliver good, well thought out design to.
"All these incredibly well-engineered and well-designed new cars coming out have become a massive middle-of-the-road compromise when it comes to passion and flair. We're seeing the 'special vehicle' departments in carmakers growing loads because technology is allowing them to do much more bespoke parts. It's a better business case than ever and it's just going to grow and grow."
The project we're building our sports car around is known as 'Lean'. Which stands not only for its featherweight construction, but the processes that go into making it. The basics aren't far removed from the mass platform-sharing going on in huge car groups like Volkswagen and Stellantis, with all Lean cars underpinned by an electric skateboard chassis, upon which you'd plonk different interior layouts and bodyshells. The latter could be bespoke-designed and 3D-printed, allowing even mainstream models to allow unique one-offs with no delay to their manufacture time. Batteries can be moved around to mimic front- or mid-engined layouts. Crash testing can be done virtually and suspension setups by algorithm.
It might even be that all those skateboards are built in one large factory, and local dealerships fit your chosen panels at the point of sale, bringing the car industry into every town in a smaller, friendlier way.
"Perhaps we can get back to the days when a vehicle truly represented where it came from, while developing skills and creating opportunities in local environments," says Jonny, "creating that passion from the ground up again."
It's all hypothetical – SP is an ideas firm, not a manufacturer – but it's easy to get sold on the idea of coachbuilding for the masses thanks to 3D printers. Especially if it's to make electric, autonomous pods something we want to enjoy on our terms.
Top Gear
Newsletter
Thank you for subscribing to our newsletter. Look out for your regular round-up of news, reviews and offers in your inbox.
Get all the latest news, reviews and exclusives, direct to your inbox.
"You might not only specify the type and size of vehicle you want," says Jonny, "but specify hand-beaten steel panels for something retro, or natural fibre because you crave sustainability.
"It's about setting up the underpinnings of the aluminium construction to allow the customer freedom to express themselves through the materials that are visible. That's where we as designers should be thinking in terms of self-expression and pride of ownership, which are going to mean different things to different people."
As well as allowing us mere mortals to design our own car at home, it could allow manufacturers to more nimbly produce short runs of exciting halo cars – and sell them at more attainable prices. "Imagine they're allowed 100 V8s a year offset by 100,000 EVs," says Richard. "This idea could allow them to quickly make something low-run to keep their brand alive."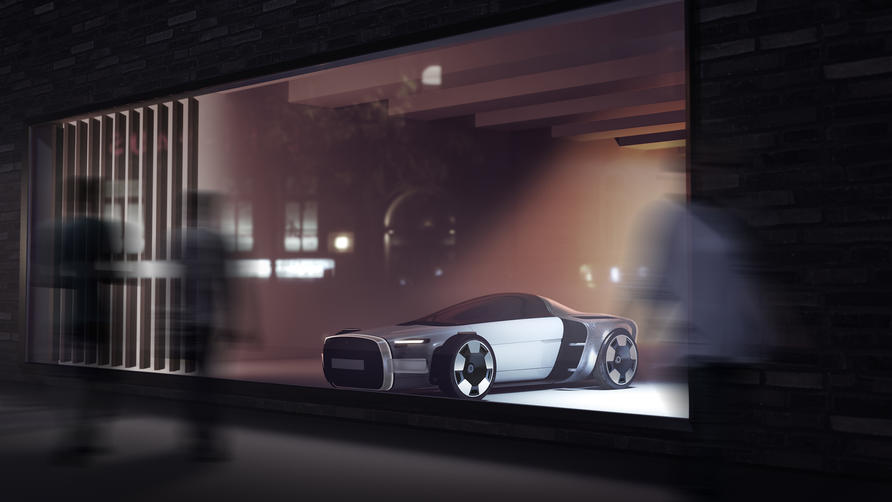 A Ford Ka fighter jet sounds ridiculous without context, but hopefully the car you see here lends it some credibility. Not least because it's genuinely benefited from SP's spacecraft work. "We learned a huge amount about lightness working with spaceship engineers and material innovators," says Richard. "It's a good piece of armory for moving into EVs where weight is a big factor to minimise.
"We called this car 'Lean' not only because it's leaned back to its bare essentials in terms of driving, but because only the really essential parts are there. That's the main transition from space travel to concept cars."
While it's a little slice of futuristic exotica, you're looking at something that weighs 750kg (sub-500 without batteries) and is roughly the length of a Fiesta; current driving environments means anything smaller doesn't come with much of a benefit. To SP's chagrin. "There's something very honest and accessible about the kei car world and I think London should be swarmed by them," says Richard.
"Why was a Mini okay in the 1950s but not now?" adds Jonny. "We got it all wrong when someone had an idea to make something bigger and more overengineered."
And so to Lean's pièce de resistance, it's uncrashability. At least in theory. Alongside its thoughts on coachbuilding, SP has also proffered the gamification of driving, the end point of how exciting autonomous tech could be if it was framed by the question 'how would you drive if you couldn't crash?'
The idea, shown in the animation above, is that if your car is chockful of safety systems – and it can read a long way up the road ahead – then you could (could, not should, note) treat your favourite pieces of tarmac like a one-way time trial. That means darting either side of the white line when there's no one around, aiming to clip every apex with a virtual buffer to stop you over-exuberantly entering the undergrowth, rather like the no-fly barriers which drones virtually doink into. It's essentially the safety of a racing sim, but in real life. And it's unarguably tantalising.
"Since we started talking about this Tesla have released the option to sit and play games at the front window," says Richard. "They've brought the fun back into it again. They've got the bravery to deliver those moments and I think it'll permeate outwards. The car industry has been far too serious for far too long.
"In the industry we're seeing lots of manufacturers turning to retro design to shift people across from internal combustion to electric. The reason an EV like the new Renault 5 – as well as the Honda e and Fiat 500 – goes down so well is because it's not too serious. We'll see gamification come in as much as retro."
While it's obviously wild to imagine driving with such reckless abandon on road – and SP admits this is a pie-in-the-sky concept – Jonny has a more realistic twist on the formula. "Let's say I own Lean and in the middle of the week plough round Goodwood or Donington, driving my car from the real world in a driving sim. Let's say post a 1:31.5.
"Then at the weekend I go on a trackday in the real thing with a head up display or AR headset that coaches me to do that actual lap time. Gamified driving in a sustainable, safe and highly visceral way."
"It's known as 'hedonistic sustainability'," adds Richard. "You should be able to have fun while you're doing the right thing, otherwise you're not going to do the right thing."