Big Reads
Is the new McLaren Artura a make-or-break car for the company?
It's Woking's first production hybrid supercar, with a lot riding on its orange shoulders...
There have been hybrid McLarens before. The P1, for one, and the Speedtail. But they were limited number, specialist cars. The Artura points the way to the future for the whole brand. It doesn't shout about its significance. In fact it's an exercise in familiarity: the nose, flying buttresses, indeed the overall stance, proportions and even the colour. It's challenging to work out if this is a new car – which must make it a tough sell for existing customers thinking of upgrading.
And there's more. Recently McLaren's technical approach has attracted some criticism because all its cars have largely been based on the same kit of parts: a two-seat carbon tub, with a twin-turbo V8 engine bolted on the back, driving the rear wheels through a twin-clutch gearbox. OK, a lot of that is true here, so we'll need to delve deeper. The engine is new from the block out: a wide angle V6 with turbos mounted inside the vee. Quick deviation here; engine bay temperatures are such that McLaren has had to enclose the turbos within heat shields and fit a chimney to blow the 900°C air vertically out of the back deck. You can see this rippling column of air in the rear view mirror.
Advertisement - Page continues below
The gearbox now has eight speeds rather than seven, the space for that has been found thanks to the absence of a reverse gear – that's handled by the 15.4kg, 94bhp electric motor clamped around the output shaft between engine and transmission. That in turn is powered by a 7.4kWh battery pack down behind the seats. Nineteen miles of e-range, says McLaren. Twelve, we say.
[node:field_carousel-themed]
Photography: Mark Riccioni
It has a lot in common with the Ferrari 296 GTB. Both firms say that they're not rivals, and seeing as the Ferrari has 140bhp more and costs an extra £50k you might agree. The rest of us, however... come on – the technical package, the overlap, is considerable. But the positioning is different. The Artura will eventually sit in a strict hierarchy, with the replacement for the 720S above it. Ferrari doesn't constrain the 296 in the same way.
Advertisement - Page continues below
The McLaren may have less power (totals of 671bhp and 531lb ft), but the carbon chassis (now produced at the new McLaren Composites Technology Centre in Sheffield) means it's lighter to the tune of 75kg. A sub-1,500kg kerbweight with fluids is impressive given the complex packaging. Not just carbon to thank here – McLaren also cites the reduced body panel count and a new ethernet-enabled wiring loom that'll permit over the air updates.
But McLaren wasn't prepared to introduce such technology to all aspects of the car. The steering remains electro-hydraulic because it delivers more tactility and feedback and there's no energy recuperation through the brakes. It would have interfered with pedal feel, says McLaren. It would also have improved efficiency, but then the hybrid tech isn't here for that, it's here as a performance enhancer. And in one key way it does a great job of that.
Turbo lag. Something McLaren's V8 has been roundly criticised for over the years. And now it's gone. Nail the throttle and the electric motor is there instantly, giving time for the turbos to spool up. If the revs are low there's still a fractional lull in-between. At high revs there's just massive thrust. OK, it's a second slower than the Ferrari to 124mph, but 8.3 seconds isn't hanging about. The performance is this surging, building wave sustained all the way to the 8,500rpm cut-out.
Yet it's a simple, relaxing car to operate. The instrument binnacle is perhaps a bit dominant and close to the steering wheel, but it needed to be because integrated into each outer edge is a rocker switch: the controls for the chassis on the left, powertrain on the right. In Comfort the ride on poor surfaces is firm through the conventional springs and adaptive dampers, you get some agitation through the carbon tub, but add speed and it starts to flow. See pretty much every other modern supercar. Comfort does everything you need on the road, but you have to experiment with the powertrain. Electric driving is compelling in supercars, the ability to creep silently into quiet villages and not broadcast your arrival in advance means your brashness is tolerated.
Comfort uses the electric as it sees fit, fires up the V6 without warning, but generally makes a decent fist of things. Use Sport if you want to keep the engine running, Track if you want extra aggression and to recharge the battery with maximum prejudice. Be warned, that still takes a very long time.
It's comfortable and quiet enough to cruise around happily in, doesn't bombard or distract you unnecessarily. It's long geared enough to hit high-20s mpg, steers satisfyingly. It's not a car that's demanding to drive, or constantly at you to give it the berries – it second-guesses your mood.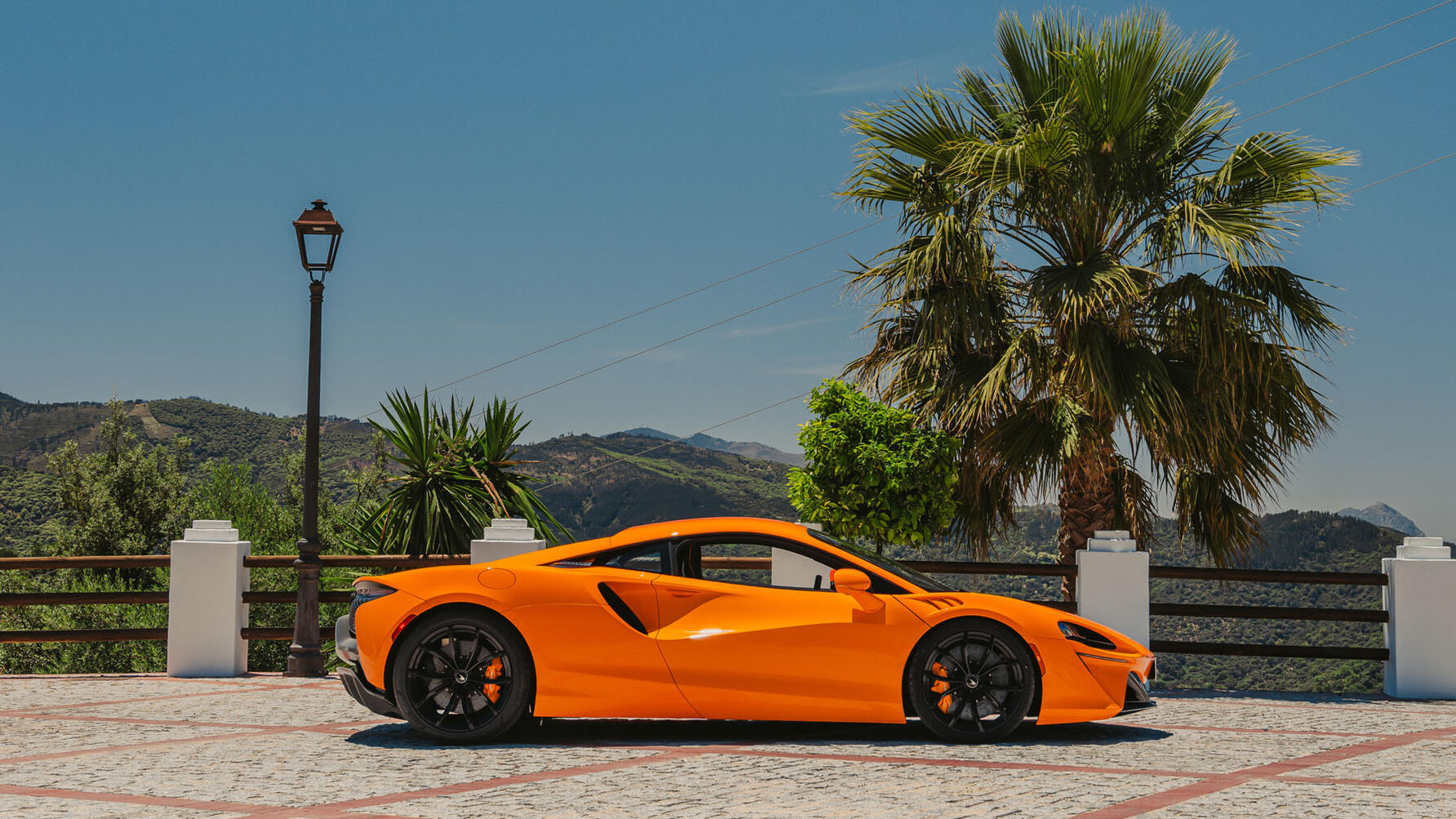 Which makes its track performance more of a surprise. Because it really does hit hard on a circuit, gaining focus and determination to a level I hadn't expected from driving on-road. The Artura has a delicate, accurate, communicative front end, but also one that's hugely resistant to pressure, generating enormous grip through the loaded-up front tyre and resisting understeer. Pile in on the brakes and it'll be the rear that starts to edge wide. But it does so very progressively.
In fact it does everything progressively. Get back on the power and it's instantly with you, and thanks to the new electronic differential (the first mechanical LSD in a McLaren) smoky slides are there for the taking. You also sense the differential helping out when you're not on the ragged edge, maximising traction and drive out of corners. McLaren has resisted diffs until now because they can interfere with steering purity, but this electronically controlled LSD does a great job. When all's said and done there's not been a McLaren that's easier to exploit and play with than this.
Top Gear
Newsletter
Thank you for subscribing to our newsletter. Look out for your regular round-up of news, reviews and offers in your inbox.
Get all the latest news, reviews and exclusives, direct to your inbox.
The standard-fit carbon ceramic brakes were my main niggle. Few complaints on track – they're very strong with reassuring pedal feel, just got a bit grumbly under repeated extreme use (hardly surprising with ambient temperatures of 37°C at Ascari). The bigger issue is on the road. There's not enough initial bite in the pedal – you brake but seem to surf onwards not slowing as much as you expected.
But, boy, is the body control impressive. You can brake, turn, accelerate, do whatever you please and the car has got you covered, the chassis always feeling like it has the measure of the power. Sure, it means the Artura is less wild and free-spirited than the Ferrari 296 GTB, but there's so much tactility through steering and chassis that it's a genuinely exciting car to drive. On the road I'd found it hugely capable, but missing the last bit of magic. On track I found it.
Plus it sounds better than the old V8. Ferrari achieved this as well and although this V6 isn't as intense and expressive as that, it has a tuneful mid-range, the kind you'll actually enjoy listening to as you put some miles on the clock.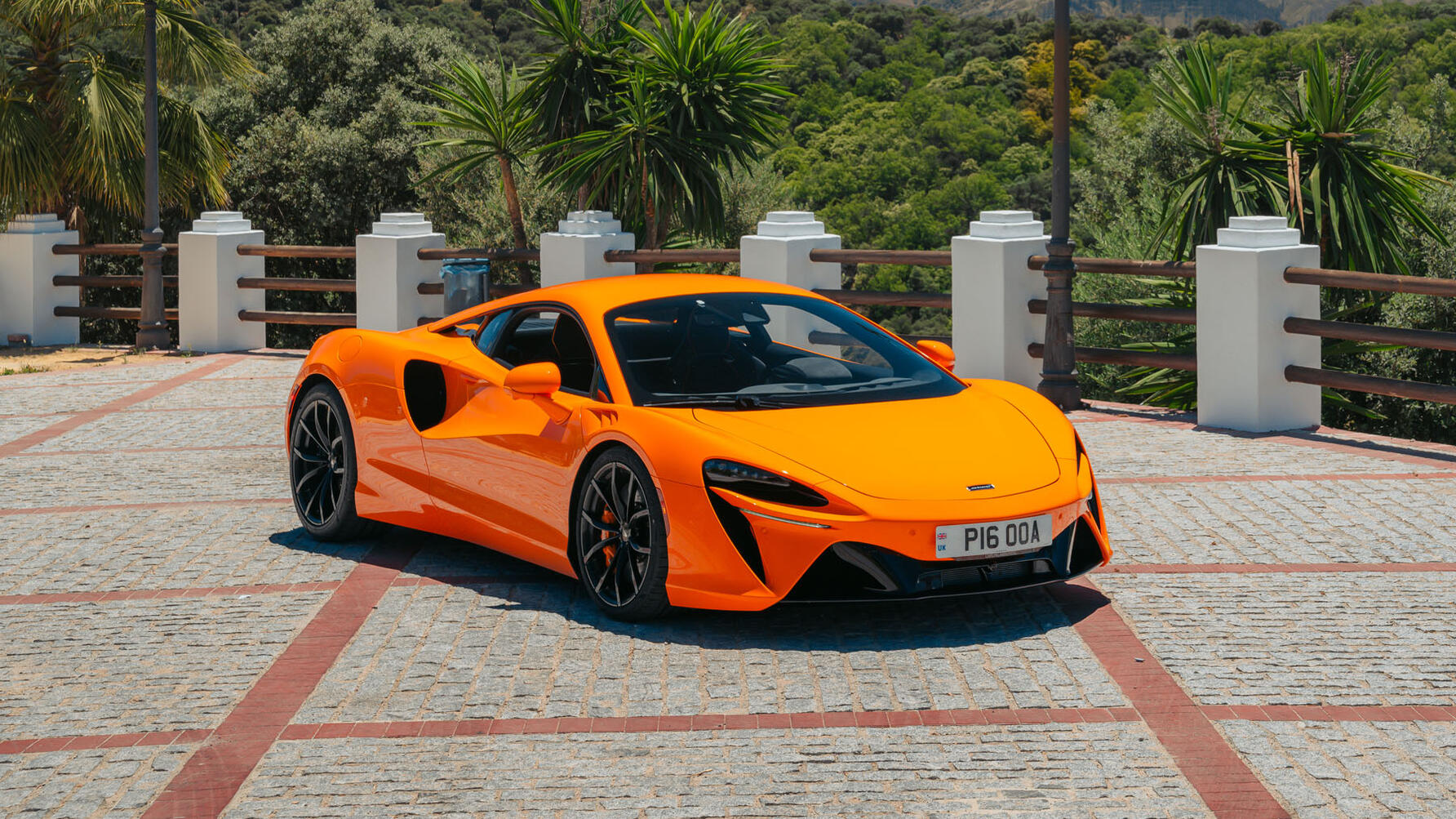 I'm not sure supercar buyers give as much of a toss about hybrid as the car companies themselves at the moment. The firms have been forced to develop cars they're probably finding more challenging to sell. But there's precious little drawback to the Artura being a hybrid or using a V6. It's a more tuneful, torquey set-up, drivability is much improved, e-power is a whole new thing to play with and the overall weight penalty is negligible. Offered a choice of the car with or without the hybrid, I'd absolutely have it – it's a performance enhancer.
Some points of housekeeping. Luggage space is decent, 160 litres under the nose, plus a rear parcel shelf. Cabin stowage includes cupholders, phone slots, places for wallet and keys plus a big door bin that's shaped so things don't fall out as the door swings up. Cabin quality and habitability is great. It's more luxurious than the old Sport Series, better insulated, wrapped in more tactile materials, visibility is good and the Artura is logical to operate with neat phone integration, simple dash menus and a responsive central touchscreen. There aren't many frustrations in here. If your hips permit, have the standard one-piece Clubsport seats rather than the £3,300 Comfort seats. They're as comfortable, much more supportive and sit you lower.
McLaren has not lost its ability to charge for things: a sports exhaust is £4,700, to have your brake calipers painted is £1,570. Do have a close look at the £6,800 Technology Pack though, which brings adaptive LED headlights, radar cruise and lane departure, 360° park assist and a 12-speaker Bowers & Wilkins sound system. That last is the best I've listened to in a McLaren. Still doesn't have enough surround, but is richer toned and more balanced than before.
So should you do it? The addition of e-power, as it did for the Ferrari 296 and SF90, gives the Artura more scope and range. It makes it more than just about the drama and excitement, it adds depth to the experience. What's more likely to hold buyers back is McLaren's rep for reliability and warranty recalls. Our car still failed to recognise the key most times. Peace of mind comes courtesy of the five-year warranty (six for the hybrid's battery), and a three-year service plan.
It's a well executed, engaging car, the Artura, but visually doesn't do enough to communicate the advances that have been made. Instead this is McLaren integrating the technology and doing so very slickly. We'd have liked to see fast charging and brake regeneration to improve efficiency, a greater kick of e-power, too. But this is a very easy supercar to get on with. Maybe not as vibrant, explosive and alert as a Ferrari 296 GTB, but a better thought through daily driver and at £189,200, over £50,000 cheaper.
If we've got a criticism at all, it's that the Artura feels slightly constrained, pegged back to hit particular performance parameters. It's no secret that the same kit of parts will underpin the replacement for the 720S – this can't tread on toes. But the Artura sends McLaren into the hybrid era with confidence and capability. Shame you'll be hard pushed to spot it.