Big Reads
This is the new Mercedes-Maybach concept
Be upstanding for the 750bhp, all-electric 'Vision Mercedes-Maybach 6'
Many private jets descended on the coast a few hours' drive south of San Francisco last weekend. When ultra-high end classic car concours Pebble Beach is happening, so is the money.
So it made sense for Mercedes to hijack Monterey car week to deliver an all-new insight into its future thinking on über-luxo brand, Maybach.
Advertisement - Page continues below
And it's thinking was big. Huge, in fact. The Vision Mercedes-Maybach is almost six metres long, an imperious looking, super-swoopy coupe that takes its cue from epic 1930s Mercedes models like the SSK and 540K. Mercedes insists the 6 is not retro, but latter-day Gatsbys – these days most likely located in Silicon Valley or Wall Street's hedge funds – definitely figure. Luxury, you see, is getting younger, and more discerning than ever.
"Our sensational Coupé represents the ultimate in contemporary luxury. It is hot and cool," Daimler AG's design boss Professor Gorden Wagener says somewhat bafflingly. "With its intelligent appeal and reduced, technoid look, it perfectly embodies our design philosophy of sensual purity and our pursuit of aerodynamic efficiency."
Advertisement - Page continues below
Sensually technoid, then (blame Google Translate). It's certainly hi-tech, if not quite as far out as the psychedelically imaginative Rolls-Royce Vision Next 100, which is chasing a similarly minted future demographic. Like the Roller, the Maybach 6 also junks dreary old internal combustion in favour of fully electric propulsion, a format signalled by the LED strips that run the length of the sills.
There are synchronous electric motors on each wheel, with batteries stored under the floor. Mercedes (-Maybach) claims 550 kW or 750bhp overall, enough to power this flamboyantly tailored behemoth to 62mph in less than four seconds, although such unseemly behaviour would no doubt hobble its 200-mile range.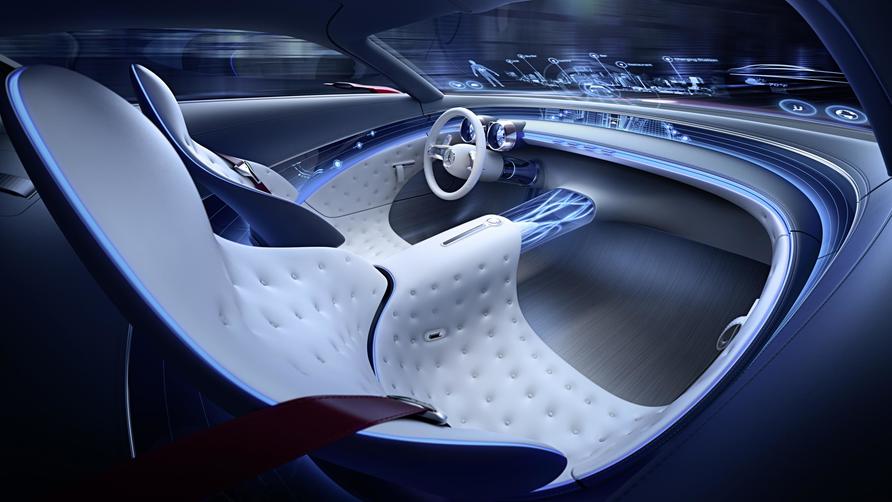 The 6 can be replenished wirelessly or via an electromagnetic field, and quick-charging fires enough juice into the system in just five minutes to deliver 65 miles of range. Well, rich people don't want to be faffing about with chunky cabling, do they?
That elongated tear-drop shape is also said to be inherently aerodynamic, despite the huge grille – inspired, says M-M, by a pin-striped suit – and the dramatically protuberant feature lines which give it its basic form. The rear end tapers beautifully, deliberately echoing the shape of a super-yacht, and the split rear window and ultra-slim tail-lights pare everything down to a powerful essence.
There are no spoilers or other ugly aero appendages, but there's no talk of downforce, either. Rich people have better things to do than worry about excess lift on the autobahn. Unless it's actually happening. The wheels are humungous 24-inchers, with transparent, body-coloured shields covering their spars.
Luxury gets a modern makeover inside, too. Entry is via vast gullwing doors – Mercedes has previous here, of course – and the occupants are treated to a 360° lounge experience. The inner door trim effectively becomes the dashboard, and while the seats mimic a Chesterfield sofa in a stately home, the digital display flows across the windscreen and into the side of the car.
Top Gear
Newsletter
Thank you for subscribing to our newsletter. Look out for your regular round-up of news, reviews and offers in your inbox.
Get all the latest news, reviews and exclusives, direct to your inbox.
The interior is also psychometric, 'body sensor displays' within the seat leather monitoring the occupants' vital functions to automatically adjust the cabin temperature or begin massaging. Yes, the Maybach isn't just a mobile chiropractor, it can tell when you've had a difficult day.
If those inside can stir themselves long enough from their lavishly appointed torpor, they'll notice elm wood and traditional cowled instruments and an old-fashioned steering wheel, which Mercedes describes as 'hyperanalogue'. Well, rich people like something that's a throwback to the old day… oh, you get the picture.