Big Reads
New Nissan Z around the Las Vegas F1 circuit
The seventh-generation Z has arrived... what better way to make its debut than around Sin City's upcoming track?
Arrive at night and it's all hot, sweaty flashes of arhythmic light, every glance full of bright temptation. Don't think, do. Cheerfully succumb. In the day it's like a cheesy seaside holiday resort in the middle of the desert, heavy lidded hangovers battered by dry heat, a million bouts of post-party beer fear sweating themselves towards the next evening's boozy redemption. But somehow it works, mainly because Vegas knows what it is, and rolls with it. Despite all the promises of big budget magic shows in fake, half-scale Venetian cathedrals, Vegas itself is under no illusions.
Which makes it excellent fun, in the main, as long as you don't take it too seriously. And fun is what we're here to have, albeit in a more exciting format than sitting morosely at a slot machine jacking the gamble-handle back and forth like a sad fleshy robot. We're here to drive the new Nissan Z, successor to the 370Z and 350Z, this time without the numerals, suggesting some sort of finality. Which, to be fair, it probably is – everything being developed from this point on is likely to mix some sort of electrical assistance into the traditional recipe. But for now, there's a 400bhp twin-turbo V6 stuffed into the long bonnet, short-tailed profile, a manual gearbox and limited-slip diff. These are the kind of ingredients we like. The kind that are getting rarer by the minute.
Advertisement - Page continues below
We're also here to take a look at something that promises to be quite the spectacle, even by Vegas standards. Next year, Las Vegas will host a Formula One Grand Prix, staged on the very streets currently thronged by stoned and wobbly tourists. A circuit with one of the longest straights on the F1 calendar, right down the middle of the Vegas Strip. It promises to be interesting, to say the least. More detail on that later. But first, we must Z.
Photography: Dave Burnett / Las Vegas News Bureau Media Library
This feature was originally published in Top Gear magazine
First impressions are good. It might have familiar proportions, but the new Z is more sinewy than the cars that went before, tighter, more athletic. From the square jaw of the grille opening, stuffed full of obvious functioning radiators, through the rake of the roof and into the chopped tail, this is a car that looks rear-wheel drive all the way through the profile. The hips are wide, the stance solid. It's a pleasingly compact little thing, full of neat little homages to Zs past. You'll see the ghostly reflection of the 240's original rounded headlights in the DRLs, spot the nod to the 300ZX in the squashed oblongs of the tail-lights, even vestiges of 200SX from certain angles. None of it feels like pastiche, and that's a fine line to walk. It's not the most striking from dead front, a bit too cute, but every other angle works hard.
Advertisement - Page continues below
Inside, there's a vaguely retro steering wheel, with a dominant 9.0-inch touchscreen in the centre console that houses all the usual connectivity you might expect. There is also a triplet of gauges (Boost, Turbo Speed and Volts) on the top of the dash, another hat tip both to Nissans of the past and the car's obvious sporting intent. You sit low and comfortable, view over the long bonnet unobstructed, even if some of the fixtures and fittings feel a little bit on the cost-conscious side. Mind you, starting at $40,000 (just under £32k) for the Sport model, you'd probably expect that. The one we have here, and the one you want, is the Performance model, the same 400bhp, but complete with standard limited-slip diff, better brakes and other upgrades. There's a nine-speed auto no-cost option, too – which is also very good – but we've opted for the six-speed manual. If you're going to go old school, you might as well commit. Fire it up, and you're met with cultured chuff rather than anything too exotic, but it's purposeful and appropriate, at least in town, and it dawdles without significant fuss; the clutch is light, the new steering tidily accurate, the ride excellent even on Las Vegan bomb site roadways. But enough of that, we need to be out where we can breathe, and let the Z find some space.
A scant couple of hours later, and we're in the middle of the desert, laughing out loud. This really is the best Z since the analogue stylings of the 240 and 270. The steering is 50 per cent better than in the 370Z, with delicacy and feel the last generation of Z simply couldn't muster. The engine boosts early and hard, meaning that you can surf the six gears without too much trouble. It's rapid without being scary, satisfying without having to work too hard or break speed limits badly enough to warrant jail time. It does, however, feel a bit 'US spec'. It undoubtedly suits the fast, flowing ribbons of these desert backroads, but chuck it at bends with the kind of violence we're more used to in the UK, and the Z will gently heel over the front diagonal until it sets the front suspension. Give it slightly harder springs and more aggressive damping and you'd razor the edge of the steering and get it to turn in harder – which would suit European roads better. But then it wouldn't ride as nicely, so you pays your money.
Still, there's plenty going on to keep you amused. The brakes are strong and sure, and standing on them into a corner very definitely will set the back moving around – something that's uncommon these days. Lean into that instability and turn, and the back end swoops around with an eagerness that's a bit surprising at first, until you realise that the Z is progressive and calm when you push the limits of traction. It's not snappy, not aiming to take your head off, just happy to play. It also helps that there's a good dose of steering lock to help unwind yourself out of trouble if you happen to get really very cocky on dirt desert roads. Allegedly. And you know what? It's uncomplicated, easy fun, at relatively normal speeds. Where you have to concentrate to drive something like a GT-R properly fast, the Z offers more at a lower skill and risk level. Less intense absolutely, but more accessible. If that's the point of a Z car, this one nails it. The fact remains that if it were left to someone like me, I'd tweak the turbos, tie it down slightly more, solid-bush the already very nice gearshift and make the exhaust a little more fruity, but that's what the aftermarket is for. And it feels almost as if Nissan has left a little headroom for that to happen.
Still, many hours later, I'm flinging the Z around the countryside like a happy idiot, watching the fuel gauge drop worryingly quickly. This is not an economical car, no matter which way you look at it. Fishtailing out of sandy side roads, carving sticky corners in 40° heat, the performance clutch taking everything I can throw at it. There's launch control, there's rev matching, there's a host of useful gadgets, but the Z is happiest with traction control and ESP off, doing its thing as the chassis engineers intended. It doesn't ever want to bite, but it's happy enough to play rough, and one of the friendliest little sports GTs I've driven in a while. Sports cars kind of inevitably get heavier as they get older, building up features and extras like scar tissue, leaving their lightness and flexibility behind, but the Z has gone the other way. A few hundred miles later, and the sun starts to droop – it's time to head back into Vegas for a little track action. Even if that track doesn't quite exist. Yet.
Pitching back through the desert hills towards Las Vegas as the sun sets is one for the highlights reel – especially if you're fond of a roadtrip. The desert is hot and wide and naturally calm. But the lights of Vegas are a jewel on the horizon. It's a slow desert with a frantic neon heart pulsing away in the middle of it, a world of mild copyright infringement or tribute, depending on which side of the dusty line you stand. And driving through Vegas in an as-yet-unreleased new Z gives you a bad case of main character syndrome, where everyone else is just a bit part in the blockbuster of your life – especially if there's a camera present. People shout and wave and jump in front of the car to get a picture. I'm surprised – it's not exactly the flashiest of things, especially here. But America seems to look fondly on the new Nissan Z. Incredibly small sample, but that's good.
Once we're in the city proper, you realise that Vegas is already a circuit board of human life, people its sparks, shouldering their way from one debauched node to another. And soon? Soon it's actually going to be a real life, 3.8-mile street circuit with 14 corners, three straights and a couple of DRS zones. Thing is, Formula One is not new to Las Vegas. In 1981 and 1982 the city hosted two races, officially known as the Caesar's Palace Grand Prix, owing to the location. Which was essentially the car park of the Caesar's Palace casino complex. A horrible, repetitive, three-fingered claw of a track, it was widely hated by the drivers thanks to the monotonous layout and constant Nevadan heat, attracted few fans and became regarded as one of the worst circuits ever visited by F1. But the interesting thing here is that the title sponsor for both races was none other than Nissan/Datsun. The pace car was a 240Z, replete with lightbar and stripes. So we're going to run the as-yet-unbuilt 2023 Las Vegas Grand Prix circuit in the new-style pace car from the original sponsor, to see if the reputation can be rebuilt from scratch.
However, we've only found our way to the beginning of a hastily plotted route, a hunk of wasteground just around the back of Top Golf, by the Harbour Island apartments. Many links of temporary fencing, not very much F1 vibe. The sounds of the city curve around the corner in waves. The white noise of excess. It sounds like static. After a few minutes of pondering and a little observation, it hits. This far off the Strip and away from the glitzy hotels, you realise, as with every big city, there's a stripe of underbelly that's probably best not to mess with. Away from the Disney-esque facade, this is still a gaudy, dangerous city filled with sharp and needy people. This much neon allows for a lot of shadows. That's the problem with fake light: it ups the contrast. The darkness is still real, and deeper than you expect.
Top Gear
Newsletter
Thank you for subscribing to our newsletter. Look out for your regular round-up of news, reviews and offers in your inbox.
Get all the latest news, reviews and exclusives, direct to your inbox.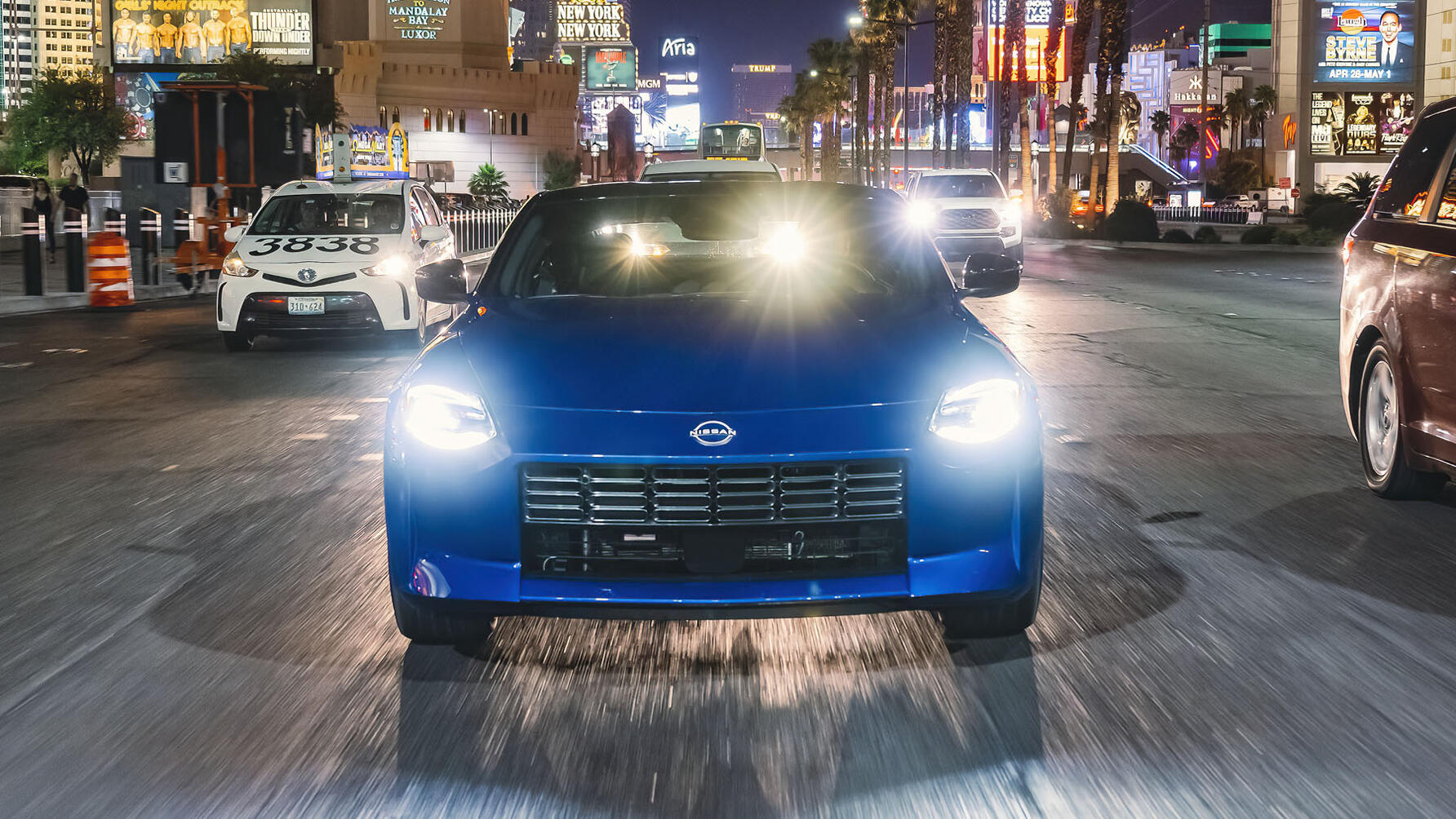 Still, we turn away from surreptitiously palmed handshakes and ponder the layout. Turn 1 is basically a hairpin left, the circuit running anticlockwise. Turns 2, 3 and 4 run through the Rochelle Avenue Intersection, and make up a kink left into a double-apex right that's going to need some serious resurfacing before an F1 car can get down it. The same goes for the run up Koval Lane to Turn 5, a 90-right past Caesar's Forum. A big loop around the MSG sphere – we couldn't get down this bit, so had to circumvent – then down Sands Avenue before turning left at Treasure Island and onto the Las Vegas Boulevard, better known as the Strip. By this point, I've not slept properly for 36-odd hours, and the circuit could be pulling loop the loops and I'd be committed. And it's here that the F1 cars will hit the 1.2-ish mile straight. There are a couple of long curves, but essentially you're looking at flat out: 212mph past casinos and resorts and people drunk on cocktails held in glasses that look like bongs. Then it's a couple of slow corners, onto the third straight – about 800m – of Harmon Avenue, and back past the pits.
First appraisal? Vegas is not ready. The restructuring is yet to take place, the surfaces hard on a road car, let alone an F1 race car with ground clearance measured in millimetres. By using the Strip, you're cutting the city in half, and the logistics alone are enough to give you a migraine. The casinos here are all-powerful, and limiting their income even a little bit must be a nightmare to manage. You'd think this was a town where atheism ruled hard, but there are gods here – they're just harder edged, and worship at the altars of profit and loss. The profit is the temptation, the loss guaranteed. Eventually, anyway. Interrupting that is hard. Then there's constructing the pits, making run-off areas, resurfacing the entire route – this is not a small investment. To host the F1 circus, Vegas is going to have to pull off some big tricks of its own. But if the city and F1 itself can do it? This could be a really fun, exciting addition to the calendar, some Vegas jazz hands for the fans.
Race at night, when it's cooler and the Strip is lit up like, well, lit up like the Las Vegas Strip, and it would look like some sort of racing fever dream. We shall see. As for the Nissan Z, we won't. The Z, with its turbos and V6-ness and lack of efficiency isn't slated for Europe. Which is a travesty. Yep, we're all inevitably headed in the direction of electricity, and that's a good thing for the environment, but these last few old school cars are turning out to be some of the best we've ever seen. The Z is a friendly, good looking, effective sports GT that has huge appeal. But as we park up the Nissan, we have to leave it for the American market. It turns out that the old saying is true after all; what happens in Vegas, stays in Vegas. It's just a shame that the same applies to the Z.