Big Reads
Pain, Train, Automobile: electric Kia EV6 GT vs A Train
Can Kia's performance EV6 cut the GT mustard and get to the south of France, or will the TGV save a marriage...
Everything's better in France. At least that's what Mrs Burnett always says. But then she is French so she's definitely biased. A holiday in La République is guaranteed then, but not how we get there. The plane is out – because Laura's all into the environment and that – so it comes down to train versus car. She says the train is better, which I haven't been able to work out. Maybe I'm biased. These things can get heated in the Burnett household.
And to cut a long story short, this is how I find myself sitting on a French motorway overtaking every Dutch person with a caravan. It's 16 hours since I left the house this morning while the wife catches rapidly up in a TGV. I'm not going to lie, it's been a very peaceful journey – let the train take the strain and all that – but the south of France is a lot further away than I remember it. I drive an electric car in my spare time, I thought this would be fine. Especially in Kia's new EV6 GT. Mainly because it literally has GT in the name, it was made to make this cliched run to the south of France Nice and easy. [These jokes didn't stop for the whole holiday. Count yourselves lucky there's only one here - Laura]
Advertisement - Page continues below
Photography: Jonny Fleetwood & Laura Burnett
Words: Sam & Laura Burnett
I would never tell her this, but I'm actually a little jealous of Laura on the train. I spoke to her on the phone a little while ago and she was having a glass of something boozy and fizzy  [It's also much easier to read your book on the train, and you don't have to stop everything for a wee!] in the middle of qui sait où south of Paris. Even by French standards that's rather frowned upon on the motorway. It's not like the rest of the country on the autoroute here – everything is out the window.
Advertisement - Page continues below
Take the service station food, for instance. Bizarre sandwiches with roulette wheel ingredients and bread that crumbles like cheap toilet roll, overpriced gummy sweets and warm water. The toilets deserve to be tried in The Hague and every stop has a ridiculous one-way system that squirrels away what you're looking for and punishes the slightest mistake by spitting you back on to the motorway. Which you have to pay extra for, by the way. The amount they charge you in tolls [Great for those of us who don't drive though. My train ticket was probably cheaper than what you spent on motorway tolls alone!], every trip should come with a free travel mug or torch.
The Kia doesn't complain though. It's perky, it loves life. And everyone [Well, everyone who is still listening to you go on about it. No one get him started on the range and economy :( ] loves it back, it's like leaving the house with a puppy. Middle-aged Dutch men come over to see why I've got one when they're sitting on a 12 month waiting list. A German fellow with a Taycan wants to talk horsepower, and another Dutch couple snigger at the fact that their lower spec EV6 is pushing on for 300 miles of range out of a full juice from the 77kWh battery while I'm just tickling past 200 with my extra motor and 577bhp. They do like the paint though.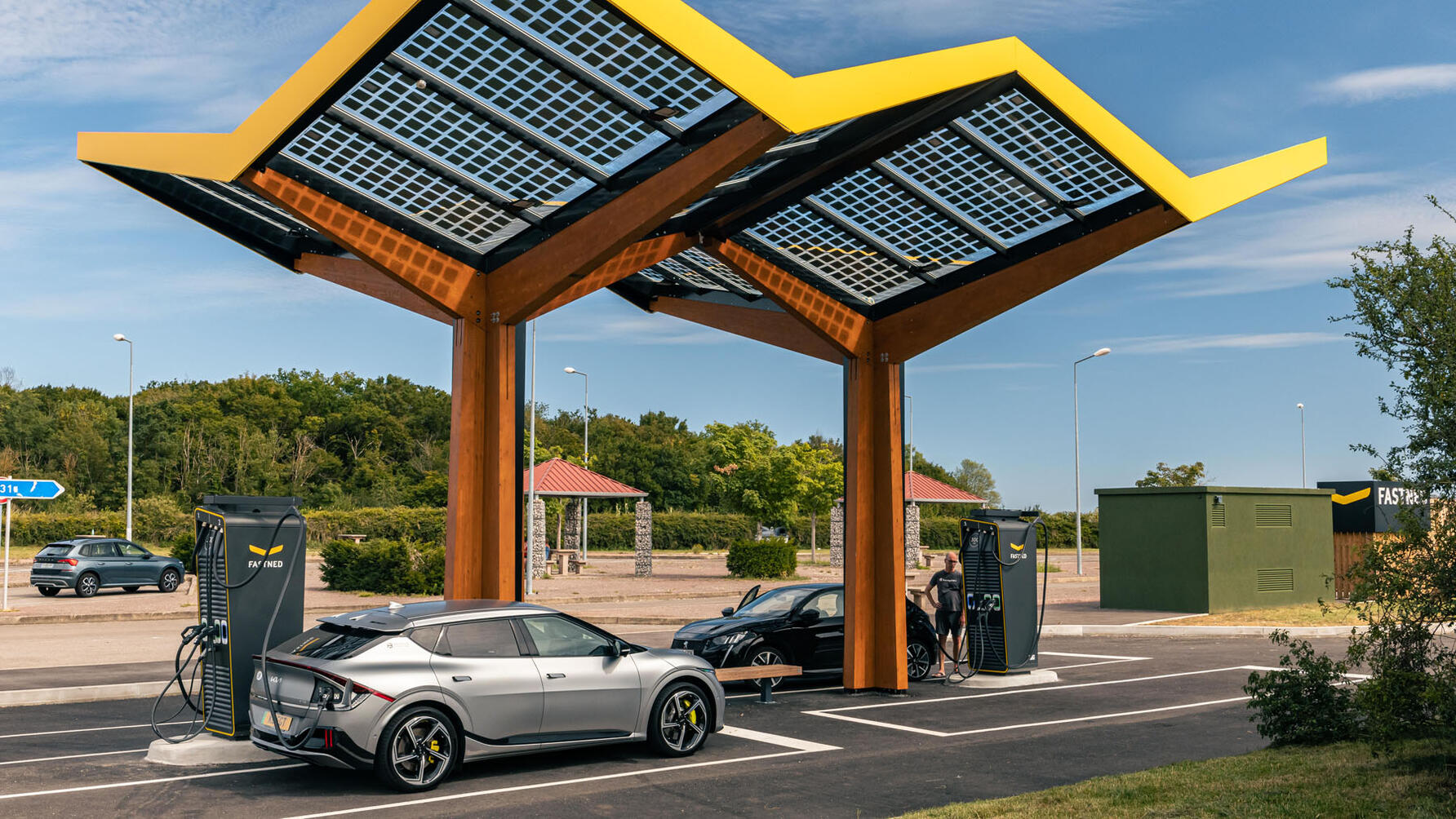 Laura tells me it's good that she's on the train, because she's 17 per cent more likely to die in a car crash because she's a woman. She's been listening to feminist journalist Caroline Criado Perez and her podcast again. I've been listening to Celine Dion, and I'm Alive. I bite back any further comment and promise not to crash on the way back home. [Well, you would be fine, but I would have a severely ruptured intestine and wouldn't be taken seriously by the paramedics]
Ah Nice, what a place, what a whirlwind. Endlessly glamorous coastline unfurls in either direction sipping at the vivid lukewarm sea while the sun beats down. Laura's got just the hat for this sort of place. I pick her up from the train station and she's in full holiday mode already, relaxed and ready to go. We've even got things to talk about, [This is a genuine luxury in our marriage - a story we haven't told each other seven times already] which would be all but impossible had we driven the 900 miles from south London to here together.
She hates the car, but that's the default with anything I show her. But especially the SUVs [Horrible things, especially to cyclists]. This one gets points because it's electric, the seats are comfortable and it has lots of legroom. Minus points for the contrast stitching and any time I put it into GT mode to try out the 3.5 second 0–62mph figure. Secret bonus points in my head if she was trying to eat anything at the time though. A complicated and occasionally quite dangerous game.
The Kia's a car fitting for a glamorous young [Only one of us is still young] couple like us, though. I love our little Volkswagen e-Up back at home [To be fair, I love our e-Up too] – it does great mileage, but it gets cut up left, right and centre because people assume it's being driven by an old person. The EV6 GT is much more like it, even if I'd cry myself to sleep at night over the 2.7mpkWh I averaged in it.
A new day, the same relentless sunshine that characterises every single day on the Riviera. How do they tell what time of year it is? I leave Laura preparing to head down to the sea for a swim (I've seen Jaws, I know what it's like down there) and head out to a bakery. Because everything's better in France, especially the bread. [And the pastries... Don't forget the pastries!]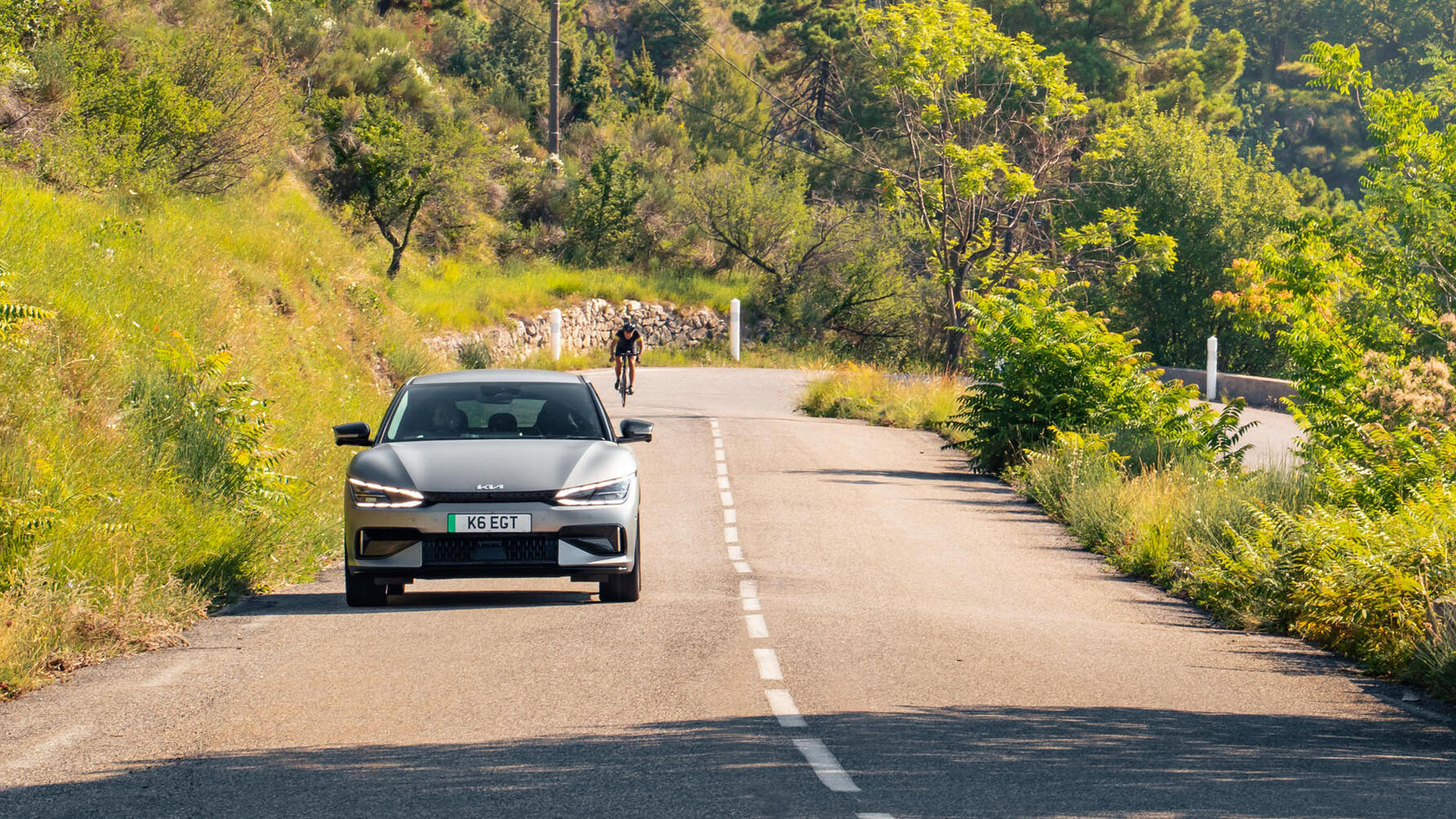 Do I need to head 45 minutes down the road to Monaco to find a baguette? Possibly not [You missed out on a lovely swim], there is in fact a nice little place about four minutes' walk from where we're staying, but that would defeat the point of having driven here in a pleasant car. And Monaco has the virtue of being many hairpins away along [Just looking at the pictures makes me feel sick] the hilly coast, if you carefully avoid the toll-ridden motorways. I succumbed to them on the way down, merely because it would've added five hours to the trip and I didn't have the stomach.
Top Gear
Newsletter
Thank you for subscribing to our newsletter. Look out for your regular round-up of news, reviews and offers in your inbox.
Get all the latest news, reviews and exclusives, direct to your inbox.
I almost don't have the stomach for the Col de Braus, my first chance to unleash the perky acceleration of the fastest Kia that's ever been made. There's 577bhp and 546lb ft arguing with two tonnes of lanky SUV, whatever the chassis engineers have done to crank up the steering, tighten up the ride and gee up the electronics. The car fairly rockets up through the hills, all four wheels scrabbling away, but my insides struggle to keep up. I feel like I'm on a rollercoaster, only the in-ride photos don't normally turn out so well. [You spend a lot of time waiting round for rollercoasters, they do have a lot in common with EVs]
Monaco is another world entirely, even by the cuckoo standards of Nice and its neighbouring enclaves of super rich huddled in their villas around sandy coves. Driving through Monte Carlo is like exploring a giant wedding cake, it gleams impossibly and there's a policeman on every corner posing like a catalogue model in short sleeves and white gloves.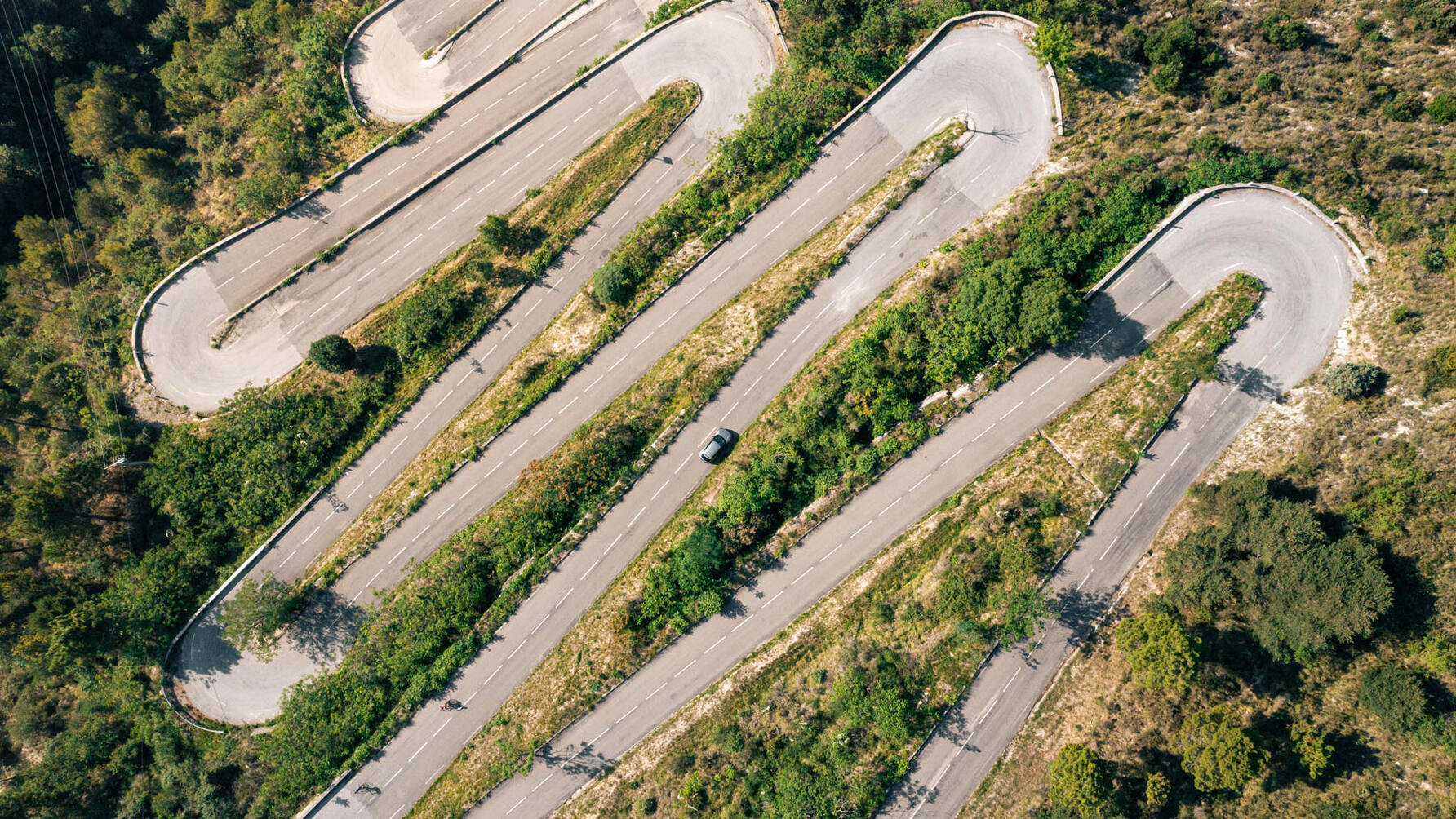 The place must be filled with middle-aged Dutch tourists because even here the Kia catches a few eyes. And possibly a few parked cars, the streets are horribly tight away from the harbour. Laura's noticed that I've been gone a while, I find a nice little bakery back just over the French border that sneaks down a back street and throw in an éclair just because it's a sensible move to keep the missus sweet. Unfortunately it's 45 minutes back to the hotel, so I eat the baguette on the way. It's still warm, and très delicious. [It's a good thing you didn't eat my eclair. Extra points to the KIA for keeping it intact despite the hairpins]
Over a tasty fish-filled dinner in Beaulieu-sur-Mer is probably the right time to slip it into conversation that the train ticket was one way, [I wasn't choking on a fish bone] but the EV6 GT has done well enough over the last few days to be allowed to carry Laura home. Besides, she'll snooze most of the way between Rhône and Marne, and I just have to promise we can stop at a shop on the way back so she can get some bread and some mustard and cheese. [And some teeny tiny bottles of French wine, ready for my next train trip] Everything's better in France. [Particularly the high speed trains]