Best of 2015
Particle accelerator: off-roading in the insane Ariel Nomad
Creators of the Atom produce an all-terrain super-buggy. Ollie Marriage gets muddy
Guilt, that's what I'm feeling now. Mud is arcing into the cockpit. To be fair, there's not a lot to keep it out. Great globs of it are spattering against the seats, cage, pedals, belts, me, and, well, that's about all there is in here. This is a car built of nothing but nooks and crannies – it'll never be as clean again as it was yesterday.
Because yesterday I watched this Ariel Nomad being built. And this is it, currently the only one, the one they're keeping for best. And now it has grime where the sun don't shine. So yes, guilt is occurring. But, as the wheels spin and the gyroscopic forces fling yet more Salisbury Plain clag into my face, it's hard not to get carried away.
Advertisement - Page continues below
I mean, come on, what's not to love about a car that's part special forces all-terrain fast attack vehicle, part latter-day beach buggy, with a light dusting of quad bike and the spirit of Baja oozing from every pore? It's Tamiya made real, and it's mega.
The off-road Atom. In terms of design philosophy and execution, the lineage is clear, but there's more to the Nomad than taking an Atom, raising the suspension and bolting on a set of knobblies. Although that is exactly where they started. They tested it, they liked it, so they decided to do it.
Nevertheless, if this sounds like a bit of a leap for a company that until now has created nothing but hardcore track weaponry, there's something you should know about the men who run Ariel. Between them, Simon Saunders and his two sons, Tom and Henry, own four Defenders.
Advertisement - Page continues below
Tom has a penchant for motocross, and when I asked Henry why there were half a dozen dirty mountain bikes lined up in the yard outside, I learned that a 20-minute tea break is not enough to scratch the surface of Henry's passion for charging about on bikes. Also, Ariel is based in rural Somerset. I can't imagine there's much demand for Atoms locally, but Nomads on the other hand...
All the 'bodywork' is made from traffic-cone plastic
So, the Nomad takes the lessons learned from the Atom and heads in an entirely different direction. About the only thing that's carried over is the digital dash and switchgear. The chassis is all new, not merely an Atom with an extra top section, but redesigned from the ground up, and it only weighs 15–20kg more, too. All the 'bodywork' is made from traffic-cone plastic – virtually indestructible.
The engine is a 2.4-litre K24 Honda powerplant, the extra capacity giving better torque and low-rev drivability. It drives the rear wheels only through a six-speed gearbox. You'll be able to choose from a wide range of tyres and suspension, with these BFGoodrich Mud Terrains being about the most gnarly, and the spangly remote-reservoired Öhlins dampers the topmost of a four-tier range.
Oh, and you can add a light bar and a winch and aerials and flags and a whole lot more.
The idea is that the Nomad is a platform that, with the right spec, can turn its hand to everything from off-road racing to green laning to beach buggying to, well, Ariel will admit the military has already come knocking.
We arrive in time for lunch. In addition to the six Atom build bays in the assembly room (bay five is currently being used to build the Nomad), there are three workstations for the Ace motorbike and two trestle tables. This is where they have lunch. Jerry cans are pulled up, lunchboxes fetched and a sandwich van draws up outside. They're the last but one stop on the van's route out of Crewkerne, so there's often not much left.
Top Gear
Newsletter
Thank you for subscribing to our newsletter. Look out for your regular round-up of news, reviews and offers in your inbox.
Get all the latest news, reviews and exclusives, direct to your inbox.
Despite that, it's a happy scene, the sort of industrious, friendly, close-knit place you'd want to work. Successful, too. Around 1,400 Atoms have been produced in the last 15 years, demand is still strong and when they announced the Nomad back in January, they had 20 deposits in the first week.
What strikes you first about the Nomad is its size. It's tiny. Shorter than a city car, but with around 300mm of ground clearance and an attitude of unstoppability. Off-road types like to speak of approach and departure angles, but here there aren't any.
In basic trim, it weighs about 650kg, but this one with the winch and extra lights and huge 235/75 R15 tyres is probably a little over 700kg. Still, that's not much for a car pushed along by 235bhp and 221lb ft. Not much at all.
So the next most surprising thing about the Nomad is how fast it is. 0–60mph? 3.4 seconds. 0–100mph? 8.7 seconds. It's blistering, this little thing. Naturally Ariel is considering garnishing the four-cylinder with a supercharger…
But the first thing you have to master is getting in and out. Yep, the aperture is about the right size and the steering wheel removes, but try the left-leg-then-arse-then-right-leg technique and you'll be left with a stranded limb. Two hands on the roll cage, both feet in, then slither down. Dukes of Hazzard-style, that's where it's at.
Despite the open-lattice framework, it feels cosy – the Atom's single twin-seat mould has been replaced by two separate seats, which improves seat rigidity and has allowed the handbrake to be moved to the centre console, where it's at less risk of getting gunged up. It's a bit weird to be looking through a full windscreen, weirder still to notice it has wipers, but apart from that, it's very familiar, with a near-perfect driving position.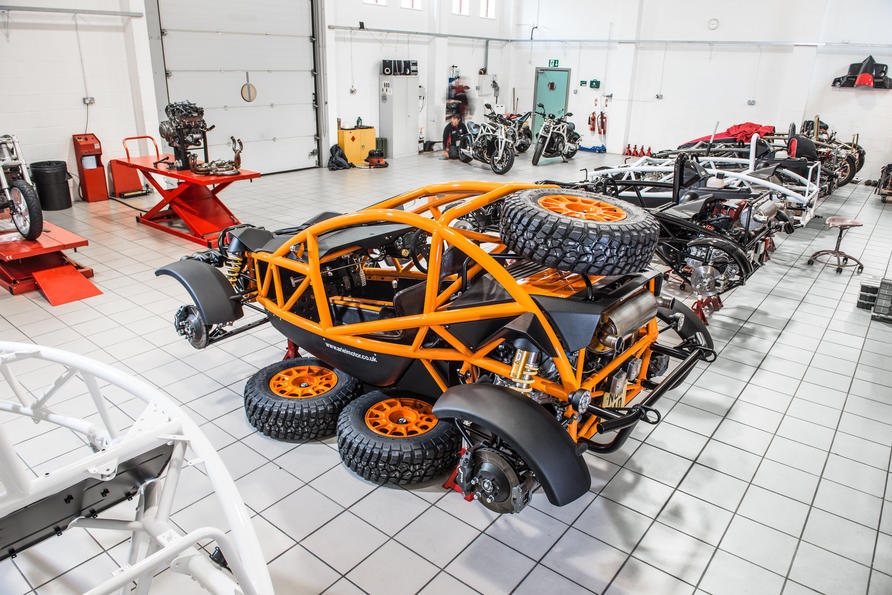 The naturally aspirated 2.4 fires up as smoothly and benignly as you'd hope from a Honda, and getting it rolling is simplicity itself when you have a gearbox as dexterous as this. We head up to Salisbury Plain. There are familiar Atom traits: gales up your right trouser leg, delicious induction noise by your left ear; and others that are new, principally significant tyre roar above 50mph and a feeling of almost total point-and-shoot invulnerability.
It's fun on the road, though. Not quite the whipcrack that the Atom is, but still properly amusing, with a fast steering rack and good balance. The front wheels carry 1.5 degrees of camber to help turn-in, while the rears are bolt upright for maximum traction.
The Nomad also has a twin-spring set-up. Each coilover damper has a chunky long spring and a shorter, softer secondary spring. Think of them as the off-road and road springs respectively. The soft one helps the Nomad deal with potholes, speed bumps and the usual detritus of black-top driving, while the long one is there for the, er, bigger impacts. Total wheel travel is roughly the same as a full-house WRC rally car.
The big tyres build momentum and don't particularly like to be deviated from their course. There's resistance through the steering, quite a bit of lean on the soft springs and, soon after, the rear tyres will start to slide. Tyres with a tread pattern that's all tall, narrow blocks and deep avenues fundamentally struggle to key into flat, hard tarmac. Stability is strong, though, and the ride comfort is superb – it glides where the Atom fidgets.
Still, to see it in its best light, we need to head off road. Salisbury Plain, the British Army's go-to place for a spot of light practice warfare, isn't short of places to do this, and today, as it's Good Friday, they're having the day off. We've got the run of the place.
We head in from Tilshead on mucky by-ways, which soon highlights the Nomad's biggest issue. Mud ingress. At 8mph, those towering tread blocks are already very effective at acting like shovels, scooping up material and sending it straight through the Nomad's wide open flanks. Unsurprisingly, one of the options will be a set of cover panels to stop this happening. Have them.
0–60mph? 3.4secs. 0–100mph? 8.7secs. it's blistering
From dank green lanes we emerge onto high grassy plains. Nomad playground. Now the suspension gets a chance to show what it can really do as the Nomad hurtles merrily to and fro, sucking up punishment and skipping and skimming about. It's great to be able to look down the open footwell and see those stunning gold Öhlins dampers compress and expand, wheels dancing to their tune.
With 65 per cent of weight on the rear axle, traction isn't a problem unless you choose to make it one, and so adjustable is the suspension that you can tinker with the set-up to change the driving characteristics. But that's only if you want to get geeky – as it stands, the Nomad is terrific. I find myself imagining I'm some giant remote-control Baja buggy, and it's like I'm reliving my childhood all over again. I dreamt of this when I was little, of being able to insert myself into a Tamiya Frog remote-controlled racer; now here I am. It's magic.
I'd assumed, wrongly as it turns out, that the Nomad would only be proper fun when going balls-out, but when we find some gnarlier terrain, all steep slopes and deep ruts, it's a revelation. It's lovely to just crawl slowly about, to let the car feel its way over obstacles, to be small and neat and agile, to be so in touch with your surroundings.
There's no low-range gearbox, of course, and there are occasional hiccoughs in the throttle control on light openings, but when all's said and done, the places the Nomad can get to will astonish you, as will the manner in which it does it. It's wonderfully supple and confidence-inspiring.
I love it, I love the fact it's something so different yet feels so usable and, well, relevant. Sure, it's a toy, a plaything, but it's so simply and logically thought through, so well executed, you wonder why no one has done it before.
Honestly, I'd have one of these over an Atom or a Caterham or any other track-day machine. I'd like to take one on a track day actually, just to show them. And I'd far rather drive it off-road than a Defender, too. Stuff guilt. I've got to get me one of these.