Big Reads
A Quiet Place: watching horror movies in the back of a BMW i7
TG gets a closer look at BMW's techno starship, the new, seventh-generation electric 7 Series
It's all in the imagination. Well, sometimes. Having just given a list of movies to the man from BMW who's in charge of the new 7 Series' Theatre Screen, I suspect he's wondering whether to get on with downloading them or have me sectioned. "What would be really great," I blabber, "is that bit where Leatherface is brandishing the chainsaw above his head. Then there's the scene in No Country for Old Men where Javier Bardem's psychotic hitman terrorises the gas station attendant with a coin toss... 'You need to call it, I can't call it for you, it wouldn't be fair...'"
It's odd, don't you think, that for all the intergalactic firepower summoned up by BMW's all-new 7 Series techno starship, that a screen that folds out of the roof is apparently its most TikTok-able feature. Cars have had TVs in them since the Seventies, and I remember driving a 750i in 1995 that had one integrated into the dash. Yet somehow that or a headrest monitor just won't cut it anymore, so Munich has served up a 31.3in set-up slim enough to hide in the roof lining, but sufficiently clever to have an 8K touchscreen display with built-in Amazon Fire TV. It's beautifully engineered, yours for £10,500 as part of the Executive Pack. 
Advertisement - Page continues below
Of course, you'll also need the Bowers & Wilkins surround sound, preferably the version with 36 speakers and 1,965W of output and exciters in the seat backrests. It's all activated via 5.5in touchscreen remotes in the door panels which also trigger the automated rear shades. It's quite the entertainment hub, not so much a drive-in cinema, more of an actual driving one. As we're testing the new Seven in Palm Springs – Sinatra and the boys used to escape here from LA, drinking cocktails beside his piano-shaped pool – we figured it was a chance to scare ourselves senseless with a midnight showing of something stupid in the middle of the desert. Hell, we can even watch it in 32:9 cinemascope. 
Are we trivialising this important new car? Perhaps. This is the seventh generation of BMW's range-topper, a model which debuted in 1977 offering greater dynamism than Mercedes' patriarchal S-Class, and more modernism than Jaguar's fusty gin and cigars XJ. Close to two million have since been sold, and there have been innovations aplenty. Remember, it was 2001's fourth-gen car that ushered in the Bangle design era and premiered the overwrought but prescient iDrive. Yet it's still the S-Class that's preserved the edge as the putative 'best car in the world', which must be irksome in Bavaria. This explains why BMW has chucked everything into the new car in an effort to finally, definitively topple the old foe. 
Advertisement - Page continues below
The rules have changed, mind you. There are petrol, diesel and hybrid versions of the new 7 Series but the pure electric i7 now provides the centre of gravity. BMW is reorienting the luxury car experience around onboard well-being, a delirious digital experience via its new OS8 software, and world-class sustainability. Whither the ultimate driving machine? We'll see. 
While the movies download, I manage to secure 20 minutes with BMW CEO Oliver Zipse. It's nearly truncated to two when a mischievous enquiry about BMW perhaps buying McLaren brings the shutters slamming down. Moving swiftly on... to the less contentious matter of the company's design language. Needless to say, there are those who think the new 7 Series is further proof BMW hasn't just lost its marbles, it has thrown them deliberately one by one into a giant bonfire. Let me tell you, being confronted by a car park full of new Sevens is a real kill or cure moment. In white, with all the shiny bits in gloss black, or fully 'murdered out' in an expensive matte finish, the i7 looks defiantly different and wholly modern. The M Sport Package Pro helps, pumping things up with 21in alloys and bigger brakes. The upper lights become the focal point at night, and that vast grille can be illuminated, too. There's also the option of Swarovski 'iconic glow' crystal glass, though this might be a bit much unless your surname is Kardashian. Oddly enough, it's not the split level headlights and brick outhouse front end that's most bothersome, but the surprisingly generic rear. This is ironic given the rumpus 2001's E65 iteration caused back in the day. It's slippery, though, with a drag coefficient of just 0.24. Aero efficiency is an important asset in the EV world. 
Anyway, here's what Mr Zipse said (once he'd calmed down). "There is no such thing as a future oriented design without controversy. We want to spark discussion about what we're doing. I want controversy. If we don't have it, then you already know it's too easy. Out of the controversy you get engagement. Digitalise it, electrify it, make it a bit bigger. That's the answer." 
This will forever be a subjective area. Here's my hot take: BMWs may be a long way from beautiful, but they're highly distinctive.
Our route into the desert involves some unexpectedly entertaining roads. It's not all arrow straight round here, no sir. Although you might imagine this would punish a big EV, it's a revelation. The new car is underpinned by a steel and aluminium flexible vehicle architecture engineered from the outset to accommodate three different drive types. There's enhanced body rigidity and a wider front and rear track, so it feels planted. Powerful, too. The xDrive60 has a combined 536bhp from two electric motors, and 549lb ft of torque overall. The lithium-ion battery pack provides 101.7kWh of usable energy, and with a cell height of just 110mm it sits comfortably under the floor. 
BMW claims between 3.1 and 3.3mpkWh, and a range of up to 388 miles. It has also worked hard to keep the best and worse case range scenarios closer together. Finally, someone has figured out no one likes the randomness that mars so many EV range calculations. Charge at home at 7.4kW and you'll get 62 miles back in around 2.5 hours. On a 195kW rapid charger, BMW claims the i7 will go from 10 to 80 per cent in 34 minutes.  
Chucking your 5.1m long electric super limo into a corner isn't really top of the list of priorities in 2023, but it's still a BMW and old habits die hard. However, there are plenty of new ones, too. An active rear axle is an option that brings with it rear steering – up to 3.5°, which helps low speed manoeuvring and sharpens cornering inputs at higher speeds. The i7 also has the further option of Executive Drive Pro, which is basically a 48V anti-roll stabilisation system that also suppresses body vibrations. In fact, the whole car has remarkable acoustic properties, down to clever mountings on the front axle and on the motors. Together with the inherent silence of its electric powertrain, the i7 might have pilfered one of Rolls's key attributes. It redefines refinement.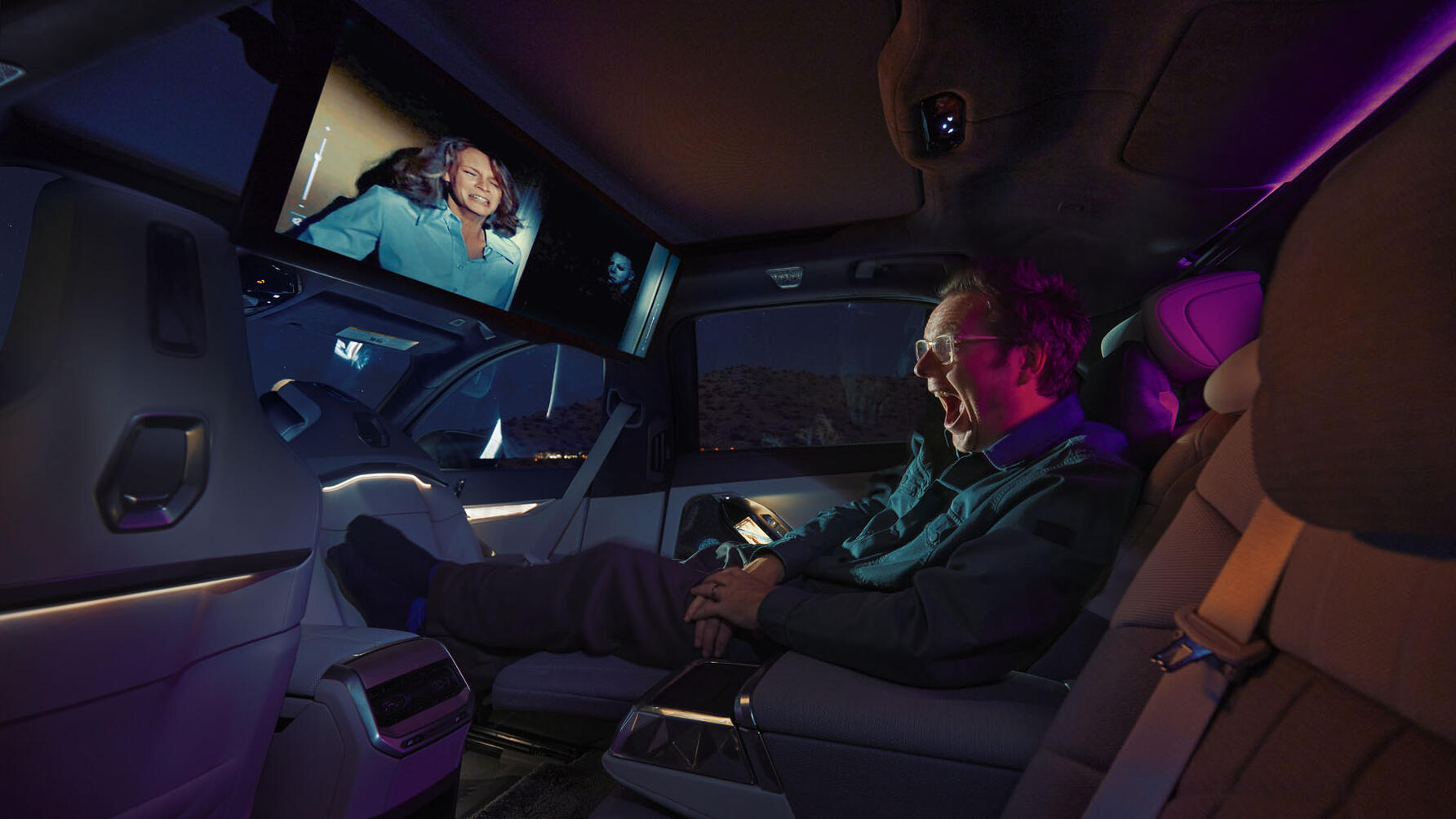 And yet it still seriously hustles, only waving the white flag at the far and frankly idiotic end of its dynamic envelope. Also included is BMW's 'near-actuator' traction control system which means that corrective inputs are now 10 times faster than usual. Time was when I would have sought out the traction off button on every BMW, even a 7 Series, but that's a heroically pointless activity now that also requires sub-menu delvage. That said, BMW will sell you an armoured version of this car, so a reverse J-turn at the very least must be on the cards. That I'd like to try. 
Top Gear
Newsletter
Thank you for subscribing to our newsletter. Look out for your regular round-up of news, reviews and offers in your inbox.
Get all the latest news, reviews and exclusives, direct to your inbox.
As night falls, we are led to our desert location by local law enforcement officer, Sheriff Michael Myers. Horror fans will immediately recognise this as the name of the serial killer in the Halloween franchise, a coincidence that does little for my state of mind, especially when it turns out that Halloween is one of the films that has been downloaded to the Theatre Screen. 
This self-inflicted nerve-jangling paranoia is in stark contrast to the i7's interior which has got to be the most mindful currently available. The curved display we know from the iX, and it's being rolled out across the range. This is core to BMW's push to digitalisation, and combines a 12.3in instrument display behind the wheel with a longer 14.9in main infotainment glass touchscreen. It's easy to use – even subsuming the climate control within it isn't the ergonomic disaster I'd feared. It also means that the four-zone system's air vents are almost imperceptible. Nice. 
Beneath the central screen is the 'Interaction Bar', new on the 7 Series, which has a crystalline surface and backlighting, and stretches pretty much the width of the cabin. Activate the hazard lights and the whole thing pulses red; it also takes its colour cues from whichever of the My Modes you've gone for. Red for Sport, green for Expressive, etc. These also alter the sound signature, as codeveloped with Hollywood movie soundtrack maestro, Hans Zimmer, mostly variations on an escalating sci-fi pulse. 
I wonder if he's watched one of his films yet in the back of an i7. He ought to. Order the Executive Pack and you'll get perhaps the most comfortable seat ever fitted in a car: the front passenger seat slides and tilts as far forward as it'll go, leaving the rear occupant free to recline to 42.5° – a record in this class – and there's no gap in the calf support area, either. Unfortunately, with the screen lowered, the driver's rear view is comprehensively blocked. It's an uncharacteristic own goal, because BMW hasn't fitted a rearview camera mirror (like Land Rover's ClearSight one) to circumvent the problem. 
This isn't an issue right now. So well has the i7 become a hermetically sealed luxury capsule you'd simply never know that we're sitting in a desert scrubland miles from anywhere. Just me and... a rampaging maniac on a giant screen.
Roadtrips in the US always take on a cinematic feel – every lone shack or creepy old house is home to some nefarious activity – but this is ridiculous. Psychologists reckon we enjoy horror movies because it provides a safe mechanism to mentally rehearse how we'd deal with age-old primal fears. Like being eaten by a predator, for example. Sensation seekers also enjoy the adrenalin rush that follows fear. All I can feel is my blood pressure rise. I might stick on Paddington 2 instead. 
The screen itself is possibly a bit too close to the rear seat occupant, and critics think it gimmicky. But there's no doubt it's meticulously engineered and brilliantly resolved. Luxury cars are increasingly about amplifying the overall experience, as much as anything else. The i7 isn't just a great EV, it's a milestone car for electrification and for BMW. The ultimate driving machine? It's even better than the real thing.