Big Reads
Rain starts play: Jaguar F-Pace SVR vs Route Napoleon
The fast 4x4 leaves us increasingly grumpy. Can Jaguar's supercharged F-Pace change that?
Ugh. A noise equidistant between a sigh and a grunt. It can be heard in our office all too frequently these days, as another shiny new performance SUV has its covers whipped off. Or on location, from the mouth of a photographer as foreboding clouds appear up above…
Many of the fast 4x4's key ingredients ought to be right up our street, though. As regular performance cars increasingly have their engines downsized to overstressed, under satisfying four-cylinder turbos, here's a corner of the market where the massive V8 isn't just alive, but very, very well. With rather a lot of car to drag around the place, mind you.
Advertisement - Page continues below
Words: Stephen Dobie // Photography: Greg Pajo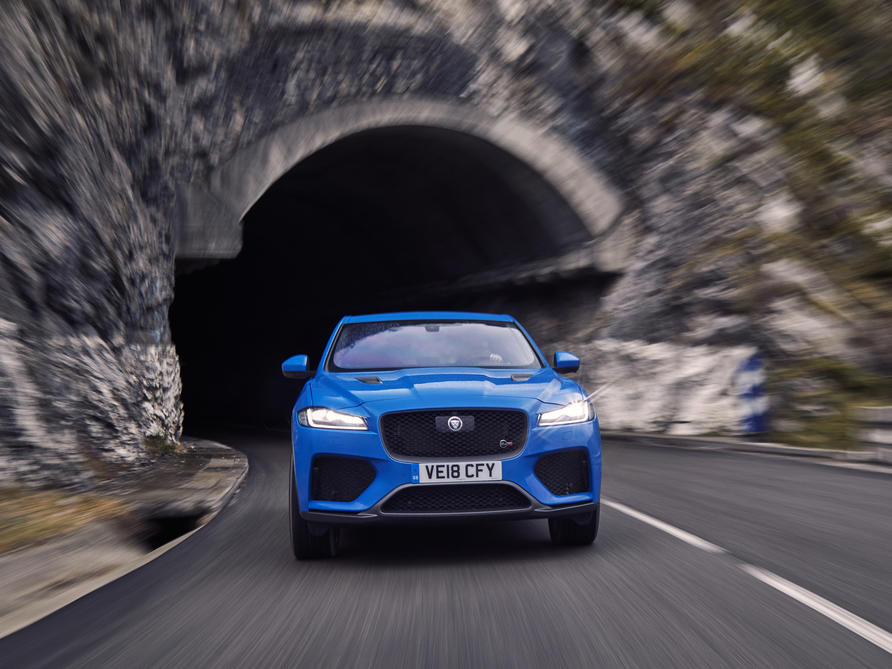 Among 2019's crop is this, the Jaguar F-Pace SVR. It's got the mighty V8, alright. Jag's tried, tested and (if rumours are true) soon to be replaced 5.0-litre, supercharged rather than turbocharged so it even has that lovely linear acceleration us boring car journalists like to wang on about. While capable of almost 600bhp in the Project 8 saloon, it's a little less punchy here, but its 542bhp still makes the SVR good for 0-60mph in a smidge over four seconds. Pointless, but many of the most amusing things in life are.
It arrives not only promising the usual mixture of everyday comfort and batsh*t potency these cars specialise in, but after a massive delay caused by a 'critical parts supply issue'. It's wading into battle with year-old weapons.
Advertisement - Page continues below
We're not ready to cut it any slack, though. Thus we've taken it to Route Napoleon, a 200-mile stretch of road steeped in history (yep, it's named after that Napoleon) and which features in just about any online list of Europe's best driving roads. Though it's probably not a whimsical Google search that led Monsieur Bonaparte to travel the twists and turns between Grasse and Grenoble back in the early 1800s.
It's a stern test of any car, let alone one possessing two tonnes and a centre of gravity to rival a stack of Ferrero Rocher in a crowd. Jag's adamant it's done the hard yards, though, on top of a base F-Pace that's already pretty good fun for an SUV.
'For an SUV'. It's a caveat I find myself using a lot these days. Even the really good 'uns – a Stelvio Quadrifoglio or Cayenne Turbo – are tangibly not as good as a lower-slung saloon car would be using the same oily bits. The latter doesn't feel game for a laugh unless you tick the pricey four-wheel-steering and ceramic-brake options on the configurator, for instance.
The F-Pace SVR has neither of those technologies. What it does have is stiffer chassis components over standard, an all-wheel-drive system that heavily favours its rear axle and an active exhaust system which continually varies how much racket it's making, rather than having a simple on/off flap. This is a sporty SUV for the couth driver.
And so it transpires on the run up from Grasse. We've emerged from bed early in the hope of beating some ominous weather alerts, and Greg is sat in the passenger seat clutching his camera, so the first hour or two is smooth and easy-going. A deportment that comes easily to the SVR.
"What is the point in having an SUV that's not comfy?" its dynamics boss Ross Restell tells me. "People won't be going to trackdays in these very often so there's no point in it being unpleasant to drive normally."
The problem is it drives so pleasantly, I'm beginning to wonder quite why you'd buy one of these over a 20 grand cheaper V6-powered F-Pace. Driven briskly – as opposed to aggressively – the SVR exhibits a bit of roll, some push at the front axle, and the general demeanour of a car that wants you to settle into its supportive thin-backed seat and just swallow miles. A V8 that's riotously vocal elsewhere is all but silent in here. The SVR feels its weight and heft and, perhaps, like a missed opportunity.
Top Gear
Newsletter
Thank you for subscribing to our newsletter. Look out for your regular round-up of news, reviews and offers in your inbox.
Get all the latest news, reviews and exclusives, direct to your inbox.
We've reached Castellane, a pretty little village overseen by the 184m-high Notre Dame du Roc like a 19th century CCTV camera. This is where Route Napoleon starts to get really scenic. Or it would be if a deeply worrying black cloud wasn't homing into view like the mothership in Independence Day. It's stealing the light – and thus the scenery I'd promised Greg – at an alarming rate. Time for him to whip out the camera and grab as much stuff as we can before the rainpocalypse arrives, then.
Which leads to two important turning points. One, I have plenty of time sat in the car to fiddle through its various modes and activate the "real character change in Dynamic" that Ross promised. Two, and perhaps even more crucial, is the sheer amount of water that falls out of the sky before I have the chance to explore the SVR's true ability. As the rain gets too much for Greg's dronework (is that a word yet?) a window of opportunity opens up for me to drive the SVR a bit quicker.
What follows is the most slapstick drive I've had in any Jaguar. Rivals specialise in that clichéd point-to-point country drive, the one where the state of the weather above or the tarmac below don't ever stymie your pace. If you're to achieve that here – without armfuls of oversteer – you need to pare back your inputs, being mindful of how much you overlap throttle and steering. The SVR is perhaps the most driver focused SUV of the lot, in that it dances to your tune but will show you up if you're not paying due attention.
When you settle down it feels wonderfully neutral and impeccably balanced for its size, wanting to plough on at corners only if you're thoughtless. But there's such a rapscallion buried within its Dynamic mode that settling down takes some willpower.
Rain can put a dampener on a car photoshoot in more ways than one, but today it's been transformative, both in how crazed the F-Pace feels and how much drama emanates from the hills above us for the images. This is an achingly beautiful area on a bright sunny day, but there's an innate brooding on a stormy day that's equally captivating. Or so I tell the sopping wet Greg I'd left at the roadside in an attempt to justify the 'trawlerman just back from sea' look he's currently rocking. Oops.
We continue further along Route Napoleon, the weather and visibility deteriorating as we go, the F-Pace winning me over with each passing corner. Would I love it as much in the dry? It's hard to say, but there's no denying all the heavy-set, high-riding stuff that makes enthusiasts groan about SUVs is proving a boon today. An old XKR-S – the wildest car I've driven with this engine up front – would be a bloody nightmare in these conditions. I've no wish to trade for one.
Especially when it comes to turning around, prodding everything back into comfort and just settling into a relaxed mooch back to base. The SVR's aloof nature had left me cold this morning, but now I know there's a pugnacious fighter buried behind a few button prods, I'm suddenly in deep admiration of how little work it makes of more genteel driving. Where other super SUVs might feel like family cars with a hot rod engine uncouthly shoehorned ahead of the dashboard, this feels the car the F-Pace chassis was always made for.
It's an annoyingly good device when your gut instinct opposes you to such things. Enough to stifle my sigh when the covers fall from its next rival? I can't promise that. But I'm certainly not dreading my next drive in a performance SUV. Especially if rain is forecast.