Big Reads
Renault's RS16 SuperClio: the full story
We go behind the scenes with Renault Sport's fastest ever car
"It's a SuperClio – all the DNA of the current car, but going further with the attitude." That, in the words of Renault Sport boss Patrice Ratti, is the Clio RS16.
SuperClio may sound like a naff one-make series for knackered old 172 Cups, but it's actually a very good way to sum up the wide-arched welterweight fighter you see before you.
Advertisement - Page continues below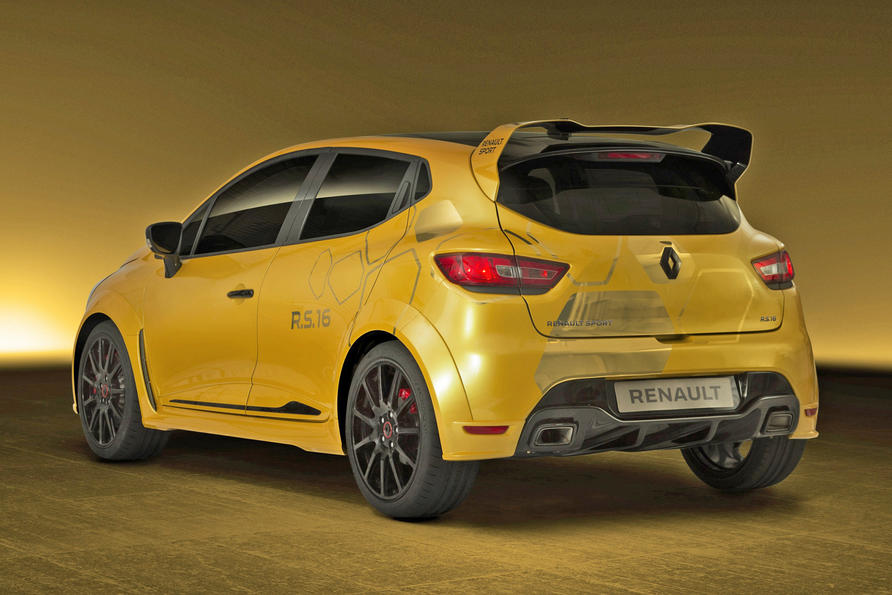 Words: Stephen Dobie
'Super' because, in theory, is the fastest road car in Renault's history. It could be the fastest front-drive car around the Nürburgring, should Renault decide to actually take it there. And if it makes production, it'll be one of the rarest, most expensive hot hatches ever.
And 'Clio' because, well, that's what it is. The five-door body shape is familiar, while the engine and driveshafts remain at the front. You might have read all the key stats already, but to recap, the key change from the slightly lukewarm Clio RS of norm is a heart transplant from the mad Megane 275 Trophy R, giving the dinky Clio a 271bhp, 2.0-litre turbo engine linked to a manual gearbox. Yes, after three years of our begging, Renault has given us a stick-shifting Clio RS again.
Advertisement - Page continues below
The Clio RS16 is the end product of five months of warp-speed development by a small skunkworks team, headed by Ratti. It's officially a concept to celebrate 40 years of Renault Sport, but after spending time with the development team, we suspect it's rather a lot more than that. Both left- and right-hand-drive cars have been crash tested. You don't do that sort of thing if a car isn't going to make the showroom…
"We said 'let's make a car we can homologate'," says Ratti, "a return to crazy cars!" Those crazy cars in question are sprinkled through Renault's history, the mid-engined, rear-driven 5 Turbo and Clio V6 craziest of all. Perhaps some onlookers will be disappointed the RS16 hasn't steadfastly followed their pint-size supercar makeup.
"We toyed with putting the engine in the rear, but that would make it heavier, and not a better car," says Ratti. "We want a car that weighs 1,200kg. The Clio V6 weighed over 1,400kg."
Keeping the weight low hasn't been easy – there's a weeny lithium ion battery, while the rear seats and air con are both in the skip – but actually making the drivetrain work has been trickier. Rather like an organ transplant, an engine swap isn't a simple out-and-in job.
We're given a guided tour of the RS16's innards in a secret lair within Renault Sport's Les Ulis base. Outside the building wears all the panache of the Slough HQ in the opening credits of The Office, but inside it's a mecca for enthusiasts of hot hatches and engineering.
You'll first notice the RS16's styling. In the flesh, it's purposefully muscular rather than outright attractive, looking pumped-up and ready to punch like a mk2 Focus RS. The RS16 tracks 60mm wider than a regular Clio RS, vital for increasing its mechanical grip. The bodywork has had to follow, but to keep weight and complication down (five months is not a long time), the new wings are merely composite fibre extensions of the standard ones.
Top Gear
Newsletter
Thank you for subscribing to our newsletter. Look out for your regular round-up of news, reviews and offers in your inbox.
Get all the latest news, reviews and exclusives, direct to your inbox.
This is a car operating on a different plane to the push-button-powersliding Focus RS
That bit was easy, then. The suspension is more complex. The rear setup is lifted straight from the Clio R3T rally car, but the front arrangement is an amalgamation of the Megane 275's and the 2009 Clio RS's. The latter car is widely recognised at the hot Clio's zenith, and when we question how the parts of a 197bhp car are viable here, we're told the mk3 RS's suspension uprights were overdesigned, with a more powerful offshoot always kept in mind. It never happened.
As such, it appears the mk4 Clio wasn't built with such tolerances: bracing its newly torquey engine is a component from the Renault Kangoo van, of all places. The electronics, though, were the trickiest bit of all. Getting a latest-generation Clio to speak to components from an outgoing-generation Megane was the biggest obstacle of the whole development. But good news! Electronic components from a Dacia helped solve the problem. Really.
All of that is just preamble, of course. A steroidal Clio is not about cooing over, it's about driving. That comes in July; for now, we've been privy to some laps in the passenger seat with David Praschl (below), the development driver who's been putting in the hours at Renault's Millbrook-like Aubevoye proving ground.
"If I had to compare Clio RS16 with Megane 275 Trophy R, I'd say that there is less inertia on the Clio. This makes sense, since the car is more compact. It is therefore easier for all types of driver to get to grips with," he says.
From the other side of the car, though, it feels very senior. It's ruthlessly fast, a feeling aided by a launch control system, and exaggerated by an utterly raucous Akrapovic exhaust system whose noise is unhindered by back seats.
And it feels supremely planted. In low-speed corners, there's nothing but absolute traction, even in this black test mule, which is shorn of any electronic nannies. The Megane's limited-slip differential, a simple transfer across, appears as magical as ever.
Oversteer only arrives in really fast, fourth-gear corners, when Praschl provokes the car with a slapstick lift of the throttle mid-corner. As he does so, he catches the slide rather than attempt to hold it. This is a car operating on a different plane to the push-button-powersliding Focus RS.
It's a point we put to Antoine Frey, a dynamics engineer at Renault Sport. Will it be fun? "Our target was to be close to – or better than – the Megane," he says. "We want less roll than a Megane, and to be fast on circuit. But the balance is more fun. To add grip is good, but too much can make agility difficult. And we don't want it to be too radical – it must be fine on bumpy roads, and not just a track car." With the adjustable Ohlins dampers of the Trophy R on board, though, the driver will also be able to tweak the car's behaviour to their tastes – and talents.
If the RS16 gets made, of course. That's something that ends up being the most pertinent question whichever member of the RS16 team we speak to. The answer is unequivocal: the decision is financial, and it will be made in the summer.
But… There's the crash testing we've already alluded to. The ability to slot the RS16 into the Clio RS's Dieppe production line has been assessed. Numbers (200-300) and prices (40,000-45,000 euros) are openly discussed. And when we ask about the ten-strong team behind the RS16, Ratti tells us "purchasing and manufacturing guys have been involved from the start to constantly assess the chance of production." If a limited run of RS16s doesn't come to fruition, I'll eat my Arai.
Which brings us to the next most pertinent question. Just how much faster is it than that Megane, a former Nürburgring record holder, no less? "There's no plan to take it on the 'Ring, we've not been asked to," says Frey. But the answer feels quick and well prepared. And since our visit, Volkswagen has taken front-drive cars under the 7:50 mark on the Nordschleife.
Renault would be fools to not tee up a return to the Green Hell, to target taking six seconds or more from the Megane Trophy R's time to undercut the reigning Golf Clubsport S. A big clue they're no mugs emerges when Praschl explains the car's dynamic testing at Aubevoye.
"We chose a route that combined all kinds of difficulties: an uneven section with pot-holes to work on vertical lift, big corners to test road-holding, a hairpin to check traction, etc. We also used the speed ring to study stability at 200kph (125mph) plus," he says.
There's one track where all of that stuff matters. One track where 40kg of downforce at 125mph, the figure produced by the RS16's racecar-sourced spoiler, is more than nerdy pub ammo. If you're going to call something SuperClio, it needs a badge of honour. In the world of front-driven hatchbacks, they get no stronger than the Nürburgring lap record.