Speed Week 2023
Revealed: Top Gear's best performance car of 2023
We've whittled it down to three, plus a wildcard that couldn't be left behind... time for a roadtrip to separate the best from the rest
"It's going to be a final three. Plus one," says editor Jack, giving me the kind of side eye usually reserved for someone reaching for a bottle during a bar fight. "So... four?"
"No. It's a final three, but we've decided that the 5 N needs recognition, a highly commended sort of thing."
Advertisement - Page continues below
"I haven't voted yet."
"No. Because you'd pick the wrong things."
So goes what stands for democracy in the Top Gear household, a verdict delivered just as I spill 98 RON sustainable petrol all over my boots and down the side of a gloriously filthy Porsche GT3 RS. Turns out a jury-rigged electric fuel pump doesn't have an automatic cutoff, and the fuel gauge has a bit of real time lag. But it's not so much of a problem: waterproof safety zones are all in place, petrol evaporates, skin grows back, and the serious road testers at TG generally make good choices. What helps is that although a decent lawyer could make a case for a few of the cars here, the standouts are more three-dimensional than you'd think. The ones the assembled crew gravitated to without thought.
Photography: John Wycherley
Advertisement - Page continues below
After nearly a week on Gotland, the Lamborghini Huracán Sterrato elbowed its way into position not by being a better car than the Porsche 911 Dakar, but by being a more outlandish and porous translation of a broadly similar mission statement. It's a bit silly but wholly self-aware, success measured in the width of a smile. The Porsche 911 GT3 RS upheld Stuttgart's honour by not simply being the best track car – which it is – but also by blending perfectly reasonable road manners at dawdle speeds. TG head of oversteer Marriage described it as "ruthless", and it is. And then there's the Honda Civic Type R, which flew in under the radar and subverted everyone's expectations by being the kind of rounded, exciting hot hatch we've been wanting from Honda. So we overfuel, wipe up the mess and head out of the Gotlandring for a little exploration of the island, to figure out which is best.
As we pull away, the Ioniq 5 N detaches itself from the 600kW charger and silently shadows the group like an electric grim reaper come to claim internal combustion souls. Which, in a way, it is. Though after a few miles and a bit of hard thinking, things don't look so grim. There's a fundamental question here as to whether an electric car should ape the characteristics of an internal combustion engine to appeal to people who like driving rather than just people who like speed, and the Ioniq 5 N represents the start of what really clever people can do when faced with a problem that's part art, part science. You've got the power and control, but you have to lace the cocktail with emotional feedback, or it's just blandly effective. After all, you could just drink ethanol if you want to get drunk, but we all enjoy a bit of flavour and a little paper umbrella.
The Ioniq 5 N, bluntly, feels like a brainstorm in real time. Everything, everywhere, all at once. Endless drive modes, torque splitting, noise generators, clutch kicks, torque interruptions, bonkers noises, 'rev' counters, launch controls.
It doesn't dance around, but it certainly has rhythm
It's complicated and initially overwhelming. And it's still heavy and physically big. But the way the electronics work give it a sense of purpose that's missing in a lot of accelerative EVs. It doesn't dance around, but it certainly has rhythm, and runs down Gotland's sweeping tree-lined back roads magnificently. It's fun, and not just because it accelerates like a firework. Once you've driven it, the sound is the only thing that feels like a gimmick, because the physical controls are adding in the texture that most electric cars need to feel less linear and smoothly featureless. Given that this Speed Week is about looking at what the future holds for performance cars in a new age, it feels entirely appropriate to have it feature in the final consideration. And although it is by no means perfect, it has passion at the root. Something tremendously encouraging. On the basis of this as a starting point... we're going to be OK.
Gotland is an island that lacks the kind of mountainous geography that lends itself to epic driving roads, and there's a low speed limit which everyone seems to abide by, so this isn't the typical road thrash. But what an island. Coastal roads that shadow the rocky sides of the brackish Baltic, tree-lined, swooping avenues of the interior. There's the cute capital of Visby where medieval meets modern and a main square, Stora Torget, lined with cobblestones and cafe culture. But it's out in the countryside where things get interesting; life is slower here. More relaxed. Breaths are deeper and time runs more like honey than water. Trawling through the back roads, somewhere near the Blå Lagunen, we pass a couple of older ladies who smile and tell us to slow down – while we're travelling at all of 35mph. But it gives you perspective on cars we've been hammering around the Gotlandring's insane rollercoaster of a track for the past few days.
The perspective is hugely useful. Immediately it feels slightly odd to have a Huracán here in 2023. It's a car that's been around since 2014, a staple of Speed Week, a model that's recently germinated ever more intense variants. And yet the Sterrato is a step away from devastating lap times and into the realms of a more conscious humour. In a world where supercars seem to be shiny repositories of unused potential, the Sterrato widens the brief. On-road it doesn't fear a pothole or ungraded edge. It's a friendlier Lamborghini, more forgiving, more amiable, and yet it retains all the Lamborghininess you could want. Parked up by one of the temporary wooden fishing villages that dot the island at Grostäde fiskeläge, it still looks like a spaceship. Even at mild speeds, that naturally aspirated V10 still reaches out and tweaks your attention, there's still that childish glee at seeing it pull away quickly. It never stops being interesting – a note taken as we board the ferry at Fårösund at the top of Gotland and it becomes the centre of attention for a bunch of ecstatic children.
Top Gear
Newsletter
Thank you for subscribing to our newsletter. Look out for your regular round-up of news, reviews and offers in your inbox.
Get all the latest news, reviews and exclusives, direct to your inbox.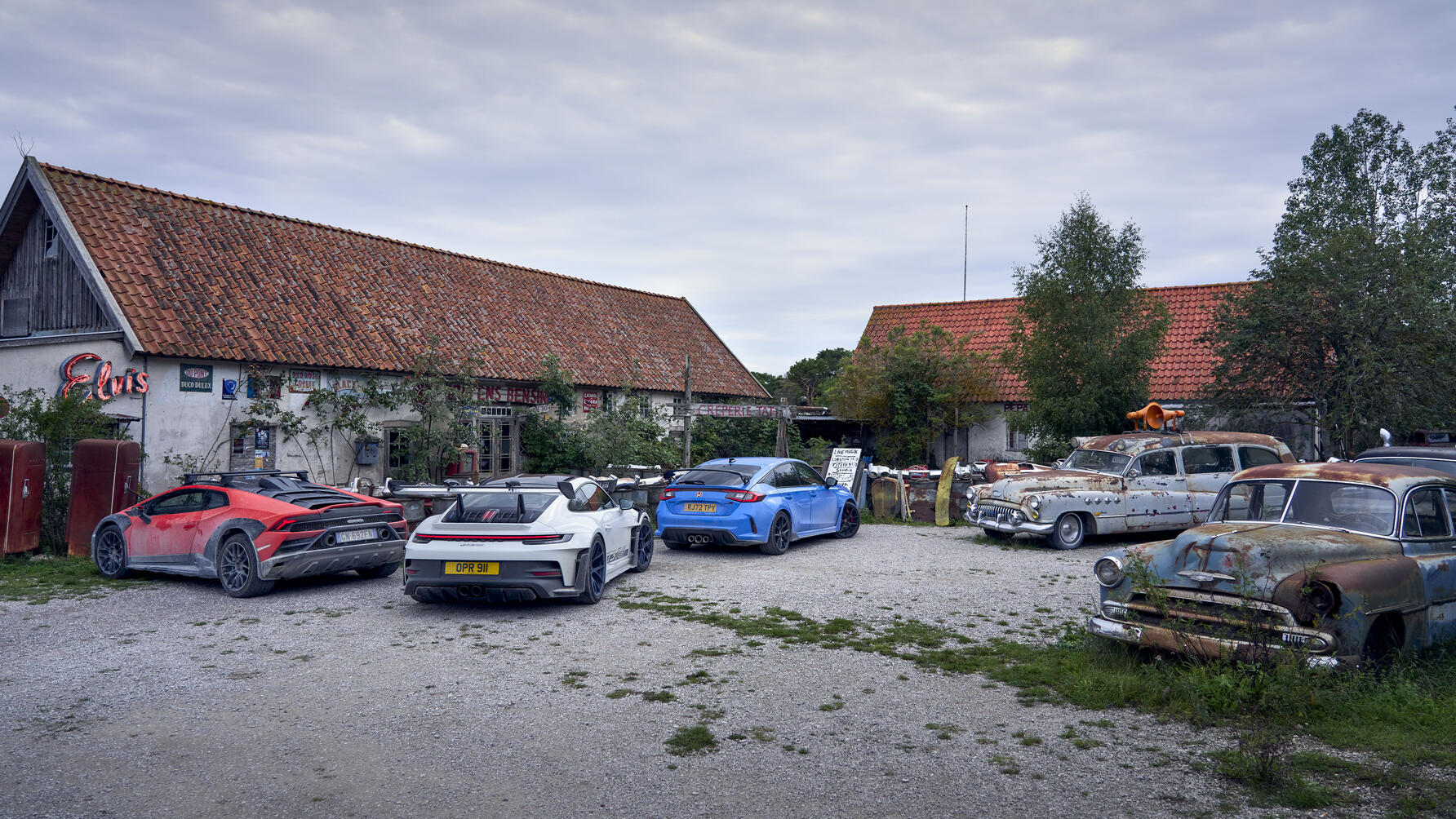 The RS also gets plenty of attention. A car that looks immediately like a racetrack refugee, a bit too serious for road work. You do feel like a bit of a berk, as we did, turning up to the local Coop to buy cake. It feels like it's road legal purely to make it more convenient to get from track to track, and if you use this thing hard on a public road, then bluntly, you're an idiot. It's got the kind of pace that gets antisocial in second gear, and keeps ratcheting police patience from there. But that's the thing about this Porsche, it's a car that offers options. As you get used to it, it polishes your inputs, refines your abilities, makes you better.
It carves and slices roads and racetracks with monotonous brilliance. The gearbox is as happy butting the limiter as it is trundling through town. The motor can be background noise, or build to a raw, 9,000rpm mechanical climax, and the suspension is firm but compliant. The genius here is that there's always more – more grip, more revs, more speed, more ability. Every question you ask of it, it has an answer to. It makes you want to up your game because it always has more to give.
Spend some time in it on the road, and it remains brilliant, but as we land on the island of Fårö, some 43 square miles that have broken off the top of Gotland, there is the slight suspicion that the aero, the damping options, the switches and dials, the very committedness of the RS makes it a bit tryhard. But when you dig deeper, they aren't add-ons to the RS experience, they're a part of it. Customising the car's set-up to both you and the circuit you're driving on is a vital, slightly nerdy but wonderful aspect of track addiction. But that's what sets the GT3 RS apart here, you have to want this. To get the best from it, to understand it, you have to go to the track regularly, you have to indulge it. It's not a car, as capable as it is, that you can just jump into and understand in 20 minutes. It's immense, a lesson, but also not an everyman.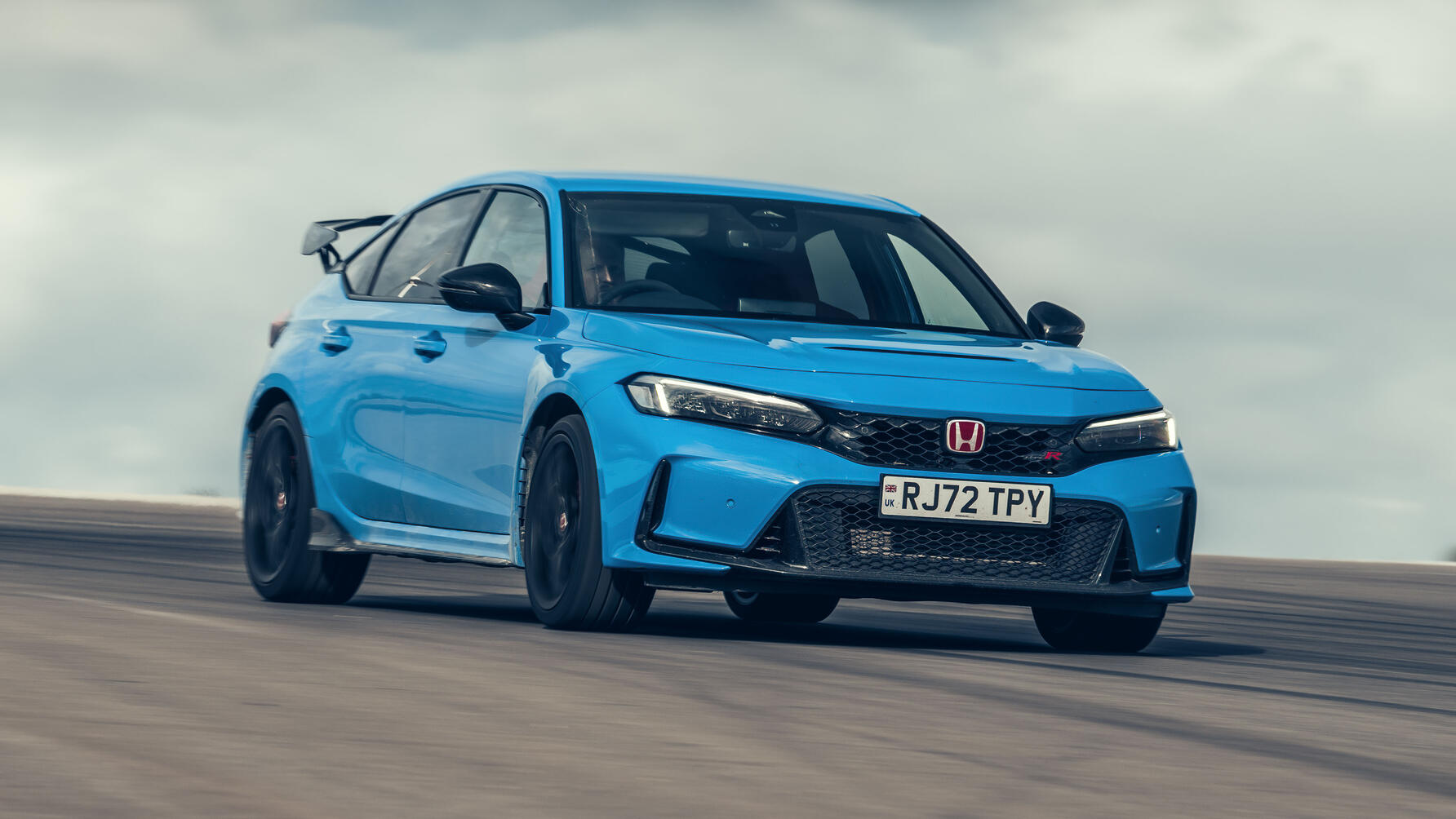 Unlike the Civic. The boring, hatchback Civic. In a celebration of extremity, the Type R could seem like a minnow in a shark tank. It's a hatchback with five seats and a big boot and could absolutely be used as a daily driver without any serious compromise. Where's the fun in that? In the days of 400+bhp AWD mega hatches and EV family cars that do 0–62mph in under four seconds, it's simply outgunned during on-paper skirmishing, lacking the stat power to win playground games. But that's where the Civic scores points, out here in the real world. Where you actually need it to be good. The interesting thing about the Civic Type R is that it's a sneaky little thing. It doesn't look mildly ridiculous (unlike the previous FK8), and doesn't seem too spiky with a relatively modest 325bhp available from its 2.0-litre turbo four. But it takes everything you need and want and does it well. The manual gearshift is a joy. The precise, ultra pointy turn-in always a revelation, the grip on offer genuinely astonishing on road tyres. As we do a lap of Fårö – not long – up past Holmudden and back down to Langhammars it starts to impress even more. And as we stand and look at the limestone sea stacks – the rauks – on the seashore at sunset, almost everyone looks at the Sterrato and the GT3 RS... and then looks back at the Civic, and nods.
It's not the fastest or most expensive car here (even though £50k is no joke), it's not even the most thrilling. But it's the car that you'd get the most out of, more of the time, on road or track. It's a co-conspirator rather than a challenge, and it's one for the drivers. In terms of nailing the brief, the Honda Civic Type R is it. And that's why it wins Top Gear's Speed Week 2023.
Speed Week wouldn't be possible without...
It's a huge undertaking. It involves months of planning and organisation involving dozens of people. Special thanks this year have to go to Annette Glover and Lena Kolmodin at Gotland.se for their help in connecting us with Gotland's eco-community and businesses, Hemal Mistry and Tomas Backlund from Scania, David Richardson from Coryton, Emma Poneskis for educating us on sustainability, and most of all to Gotlandring itself and its ringmasters, Alec and Lina Arho-Havren and Thommie Sylvander.
To read everything from Top Gear's 2023 Speed Week, click here