Big Reads
The secrets behind the making of Mad Max: Fury Road
Director George Miller reveals the story of 2015's most intense car chase
"Have you heard of something called the 'Edge Arm'?"
The question is posed to TopGear.com by Mad Max: Fury Road director George Miller. "It's the coolest cinema-making instrument that was ever invented," he says, with a mischievous smile. "We would not have been able to do this movie without it… it's just extraordinary."
Advertisement - Page continues below
Words: Vijay Pattni
Forget the cast of Hollywood stars, or the 150 cars hand-built specifically for the movie, or the ten-year delay in finding the budget and location to shoot, or the gruelling, desert-based 138-day shoot, or indeed finding enough matter to blow up. It's the 'Edge Arm', according to Miller, that was most central to this year's Mad Max: Fury Road.
Fury Road, you'll doubtless recall, is a two-hour-long, exploding car chase masquerading as a movie. It's also one of the finest action films of our times, and perhaps the most physically demanding to watch.
It's like in those old Western movies, everyone had their favourite horse, and the Falcon is Max's horse
Advertisement - Page continues below
And all of it was possible thanks to a supercharged V8 off-road racing truck with a roof-mounted, gyrostabilised camera crane that could extend more than 20 feet in length, rotate 360 degrees and achieve full motion in any direction.
"It's all black," Miller smiles, "and is such a cool-looking thing. It's got a great stunt driver, while next to him in the front seat is a crane operator working toggle switches. In the back seat there's a camera operator, and then there's me, the director, sitting in the middle with this screen in front of me.
"It's like being in the middle of a videogame," he says, grinning. He might be in his seventies, but Miller's enthusiasm for blowing things up knows no bounds.
"We can swoop up along the 'War Rig', right up into Tom Hardy's face. We were out there in the desert, real vehicles, real people, real crashes, in the middle of it," Miller explains. "They're like a three-headed beast. It can be so dangerous if they get it wrong…"
The Fury Road team ended up with two 'Edge Arm' camera buggies, because Miller just loved them. "I got so addicted to it," he says.
It's certainly a far cry from the original Mad Max; the original 'Road Warrior' movie that arrived at the tail end of the 1970s. "The budget of the first Max was very meagre – 350,000 Australian dollars in those days – and everything was on a shoe string," Miller recalls. "Even to the extent where we had to deliver the scripts on my motorbike.
"It was very low budget film-making."
Top Gear
Newsletter
Thank you for subscribing to our newsletter. Look out for your regular round-up of news, reviews and offers in your inbox.
Get all the latest news, reviews and exclusives, direct to your inbox.
A beat. "A lot of the budget went on the car, and polishing and fixing it and doing it up."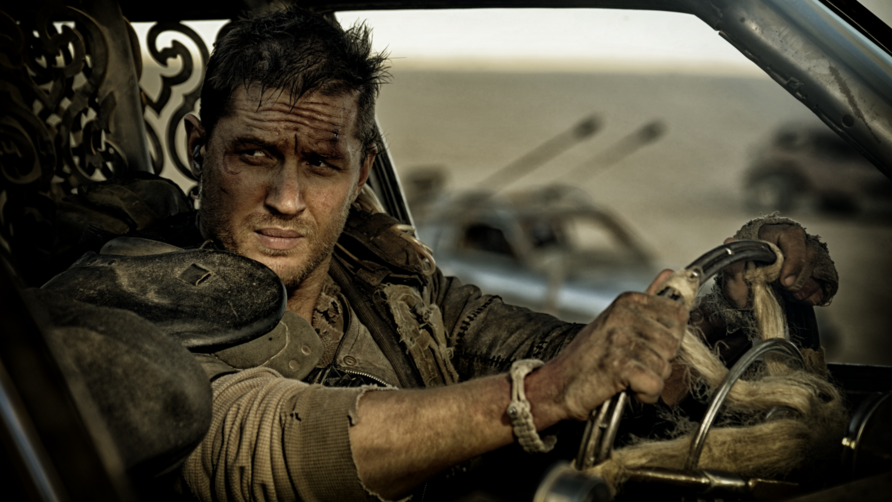 'The car', of course, was Max's original Ford Falcon, an idea that came from Miller's late producing partner Byron Kennedy, who sadly passed away in a helicopter accident three years after the first Max was finished. "He was a car freak," Miller says. "The contours of that car, the engine… it's like in those old Western movies, everyone had their favourite horse, and the Falcon is Max's horse."
Naturally, a Falcon had to be found for Fury Road, to continue Kennedy's legacy. New for 2015, meanwhile, was that monstrous 'War Rig'; a mix between a Czechoslovakian Tatra and Chevy Fleetmaster, merged into a six-wheel-drive, 18-wheeler with two V8s end-to-end. Yes, all of this happened, and it is excellent.
Tricky to film, too. "The most difficult stunt – in terms of pulling it off – was when the War Rig rolls at the end [of the film]," Miller says. "Initially we started off that stunt, and I said, 'There's no way we're putting a human in that vehicle'.
"But CG didn't make sense in a movie in which everything is real," he adds. "We looked at models, but that would look hokey. Then we looked at a remote-control War Rig, but we couldn't get it…[he makes a precise steering-wheel-gesture] on the spot. So we did it for real."
That involved flipping a giant truck between two massive rocks, to land in front of a high-speed camera shooting 1000 frames per second… in one take. "When it worked, it was just very gratifying. We wouldn't have an end to the movie otherwise. That was big," says Miller.
'Big' doesn't even begin to encompass the sheer scale of the Fury Road endeavour. Want some quickfire numbers? At the height of filming, there were 1,700 crew members – with an average of 1,000 people on set at any one time – as five 8x8 German military transport trucks hauled gear across three football-pitch-sized distances six times over 138 days.
The 'Buzzard Excavator' used 1,757 spikes - from a total of 5,000 hand–built spikes constructed for the remainder of the 'Buzzard' cars – alongside, of course, a stupendously modified old Benz for the head of the 'Gas Town'.
"The 'People Eater' is a sort of beancounter of the 'Immortan Joe'," Miller says, "so we figured if he had a Mercedes stretch limousine, he might as well decorate it with about every fancy car grille he can find."
Oh, and those men on poles? They were actual men, on actual poles, leveraged at the bottom with… engines, naturally. "Initially I thought they'd be done in CG, but one day I looked up, and they'd figured out the pendulum of the guys, using car engines as a weight at the bottom," Miller recalls.
Only in a Mad Max film. Top Gear takes a step back. Above all the mayhem, all the explosions and the violence and the cars, we ask why. Why did Miller come back to the world of Max?
"I didn't," he says emphatically. "Max came back to me. I never wanted to make another Mad Max movie. The story kept popping into my mind and I kept on pushing it away.
"But in this case, it was a long flight across the Pacific one night from Los Angeles to Sydney, around 14 hours. I was in this half-awake state, and suddenly I was dreaming, and the story played out. It played out and kept playing, and by the time I landed, I told my producing partners, and said, 'I think we're going to make another Mad Max movie'.
"You get excited by the story," he continues, "the chance to use new technology. I'm very curious about film language. This is a brand-new language not much more than a hundred years old, and it's read universally."
Miller's theory is that most of this language started pre-sound, 'in the Buster Keaton and Harold Lloyd movies', and in the westerns. "There were always chases," he smiles. "The modern day equivalent is the car, and basically if you look at the Mad Max movies, it's basically a western on wheels. I love filming those sorts of kinetic stories."
I never wanted to make another Mad Max movie. Max came back to me
With all this adrenaline and all those supercharged V8s and petrol and combustion on his CV, is Miller some kind of heavy-metal, dyed-in-the-wool petrolhead with super-unleaded pumping through his veins?
He laughs at the question. "For some weird reason, I love filming action scenes with cars – my favourite sequences in movies were always the action ones, the chariot race in Ben Hur, to Bullitt, The French Connection, Steven Spielberg's Duel. It's a basic use of cinema.
"So I shouldn't really say this, but I drive a hybrid Lexus." TG is lightly stunned.
"I'm not a huge petrolhead, but I make sure I surround myself with total freaks who are."