Big Reads
Setting an electric lap record at Ferrari's Fiorano track
The Little Car Company's Testa Rossa Junior takes on Ferrari's home circuit for a very significant lap
Racecar shakedowns at his factory's local track are no longer an option. Ever faster machines are igniting safety concerns at the antiquated Autodromo di Modena, and whenever a prototype noses out of the pits, colour film-wielding spies lurk out the back of the circuit. The Scuderia's secrets are available to the highest bidder. Ferrari hasn't won the Formula One constructors' championship since 1964, and it's now innovative Cosworth-engined Brits like Lotus and Tyrrell in the ascendancy.
Meanwhile, even in Italy, even in the Seventies, it's becoming increasingly 'frowned upon' to test racing cars on public roads. A decade previously, the hills around Modena would echo with the shriek of motorsport V12s. Times are changing, and Enzo needs somewhere to hone his thoroughbreds free from public (or clandestine) gaze.
Advertisement - Page continues below
Luckily, Signore Ferrari has astutely bought up a patch of farmland opposite his factory in Maranello, northern Italy, where the company's been established since 1947. And it's only a couple of years since the omnipotent Fiat acquired a 50 per cent stake in his brainchild, ensuring its (Italian, not American-owned) survival.
Photography: Dennis Noten
Flush with cash and a generous back garden, Enzo plots a private track, lassoing the old white farmhouse with the red door he now resides in. The circuit contains vignettes of the world's most fearsome racetracks: Zandvoort's banked Tarzan turn, the Gasometer hairpin at Monaco (now La Rascasse and Anthony Noghes) and even the second Flugplatz jump at the infamous Nürburgring Nordschleife – a blind summit atop the Suzuka-style bridge.
Advertisement - Page continues below
By using a figure of eight, 1.9 miles of Scuderia boot camp was squeezed into the facility, and it was ready for business by April 1972. Fiorano – the home circuit of Ferrari, where everything from the 308 to 812 Competizione and beyond was honed – turns the grand old age of 50 this year.
The outright lap record belongs to Michael Schumacher. Back when in-season F1 testing was allowed, he got a 900bhp V10-powered F2004 around here in an astonishing 55.9 seconds. A LaFerrari takes one minute 19.7 seconds, 21secs quicker than a Testarossa in just 1.8 miles. That's the pace of progress.
But in Fiorano's half century, it's never played host to an all-electric lap record. Easy to see why, really: Ferrari hasn't yet built a pure EV. When Top Gear discovers there's a bar waiting to be set, we don't just wonder and fantasise. We get on the phone to Maranello and pitch something that'll have high-pressure Lavazza coffee sprayed up the red walls in surprise.
While Ferrari itself may not have quite got around to going totally battery powered, the British have gone ahead and done it for them.
Introducing the latest Christmas must-have toy from those big kids at Oxfordshire's Little Car Company: the Ferrari Testa Rossa Junior. This 75 per cent scale replica of a 250 Testa Rossa – the late Fifties racer which took three victories each at Le Mans and Sebring – follows on from its 'Baby' Bugatti Type 35 and shrunken Aston Martin DB5 Volante, and I'll venture it is the most exquisite vehicle you're reading about today. But even among Little Car Company machines, the TRJ is special. So it ought to be, for £100,000.
See, Ferrari is very particular about who it licenses its trademarks to. Garnish something you've cobbled together in your shed with prancing horse shields and lawyers will be at your door before you can say 'disastrous F1 tyre strategy'. But Ferrari was so impressed at the Little Car Company's craftsmanship it's given all 299 examples its official blessing, on one condition. The miniature 'red head' had to be faster and boast better handling than all other Little Car Company creations. It tops out at just over 50mph – plenty for popping Fiorano's leccy cherry.
Under the hand-beaten aluminium bodywork and leather seat wearing Ferrari's approved cowhide lies a 16bhp electric motor driving the rear wheels through an open differential. It's a proper little racer, equipped with a spaceframe chassis, coil springs, and Pirelli tyres. The brakes are Brembos from a Ducati superbike. Intricate wire wheels are a bespoke commission from Borrani, who fabricated the 250 Testa Rossa's original rims. On the Junior, they're a popular £8,000 optional extra.
I'm six feet tall, so access is tricky: the doors are only implied, so I step aboard trying not to scuff the seat, and chest-dip down where the seductive bodywork is braced until my size 12s rest on the pedals from a 488 Pista. Not pastiche homages: the part numbers are identical. Nardi has created a bonsai version of its iconic timber-rimmed steering wheel. I adore how the 250's dashboard has been reinterpreted: instead of a rev-counter or oil pressure gauge, the correct font dials now show charge level, battery / motor temperature and a 0–100 per cent power meter.
Top Gear
Newsletter
Thank you for subscribing to our newsletter. Look out for your regular round-up of news, reviews and offers in your inbox.
Get all the latest news, reviews and exclusives, direct to your inbox.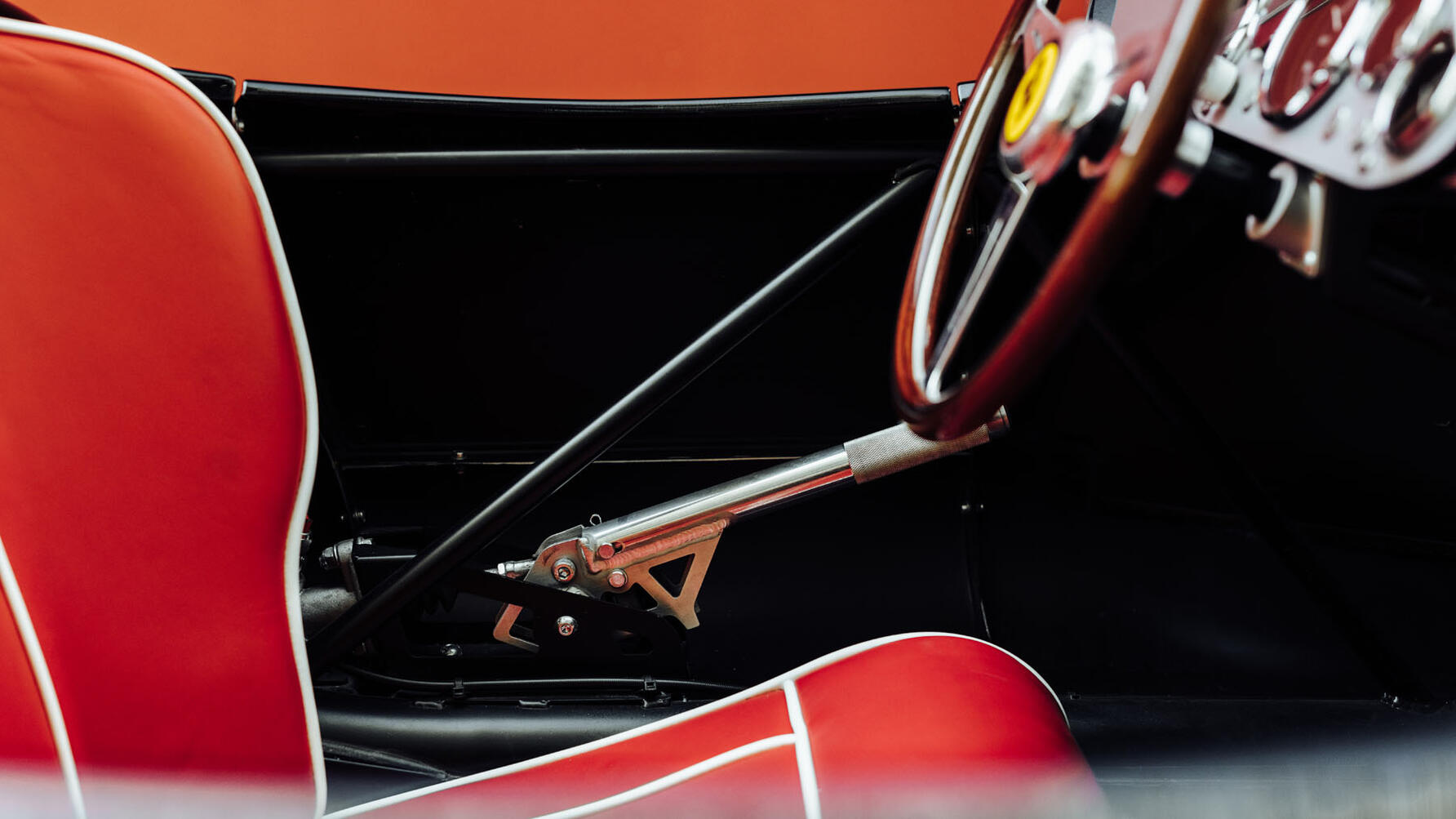 Best of all, the tiny key acts as a cute facsimile of Ferrari's manettino mode switch. Just like an 812 Superfast, this changes how the car behaves. Novice mode allows just 1.3bhp and a 15mph top speed. If you're a billionaire buying for little Nikita, you can ensure he's not going to hurt himself. Comfort mode takes you to 5.3bhp and 30mph. Steady on.
Sport ups that to 13.2bhp and 40mph. And for us today, the LCC technicians have unlocked Race mode, for the full 16bhp, 50mph fury. Authentically for a Fifties racer, there's no airbag, no roll bar, and no seatbelt. Buono.
Fiorano is a serious test track. The pit garage is festooned with multiple TV screens showing a live feed of each corner. Sensors within the surface relay gigabits of real-time data for engineers to analyse, and the circuit is usually booked up for activities a year in advance. I have a couple of hours to sneak out, get the photography and video done, and make history.
I'm just relieved to get moving. It's 38° in the shade and my race suit (which, like the car, is two sizes too small for me) is sodden with sweat. The pit crew warns me that track temperature is 62º, approaching the level Ferrari would cancel a session for overheating the tyres.
It only takes half a lap to get a feel for the 270kg TRJ. It's easily the most accomplished Little Car to drive yet – the under-bonnet triple battery pack (good for 60 miles of range, swappable in three minutes) gives a proper front-mid-engined balance. Very modern Ferrari. The steering kicks and jiggles joyously, though I have to adopt the birthing position for the turn six left-hand hairpin to stop my right hand bashing into my left leg at the apex. The TRJ's swift enough to dry out my throat and contact lenses, but disappointingly it lacks the oomph to unstick the rear.
Happily, the brakes only act on the back axle, so you'll flail sideways with a hard stop. Not to worry – the pedal is well modulated and reassuring. The brakes even contribute a bit of regeneration back into the batteries. Impressive.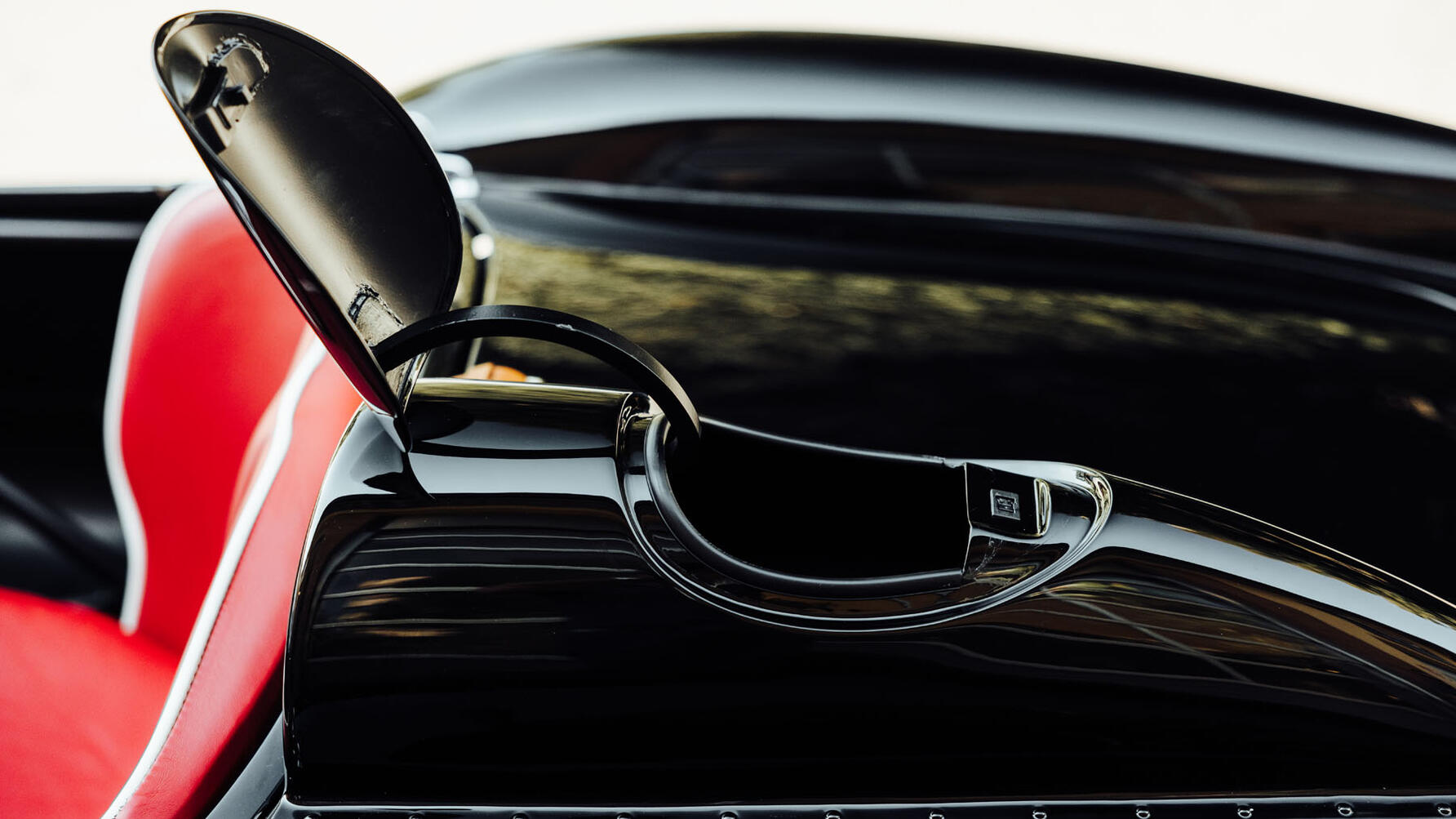 I need to get my laps on the board – time is a cruel mistress. I amble around on a warm-up lap, weaving some heat into the tyres (when in Rome, right?) and concentrate on carrying maximum momentum out of the final corner. All Fiorano lap times are set from a flying start – makes you wonder why Ferrari bothers with launch control really. I'm over the line on the limiter at an indicated 80kph, and leave the confidence brake into turn one as late as I dare.
There's a momentary shudder of understeer before the TRJ obliges. It's easy flat through the Maggotts and Becketts-style esses, and I manage just a slight lift into the switchback right-hander to preserve speed for the climb up onto the flyover, where the car feels sluggish. Over the hump, it scythes down the hill leaning hard on the squealing front left tyre.
Don't brake. Don't brake. BRAKE! Learning from my clumsy earlier attempts at the hairpin, I lean my torso right over the patriotic kerbing to carve a tighter line, then activate personal DRS (also known as 'ducking') and pick a line though the sinewy second complex.
Sometimes, there's a speed limit out of the final turn. The factory is no longer a rural outpost, now surrounded by the swelling Maranello. Residents of flats overlooking the pit straight complain about the noise, so Ferrari kindly limits cars to trundling past their neighbours before gunning it under the bridge. No such inconvenience in this whispering interloper. Flat to the line, the first semi-official electric Ferrari stops the clock at 2mins 29.7secs.
It's not that Ferrari is taking this seriously, but one of the guys offers to adjust the TRJ's tyre pressures. We've got enough range for another lap, but motor temp is critical. What would Enzo do?
This time I'm neater, braver, and faster. Slashing three seconds from my personal best, the first electric lap record at Fiorano is 2mins 26.9secs. That's a mere 1min 17secs slower than an SF90 – the current road legal lap champion. Box, box, box.
Can't imagine my benchmark will last very long. Will the first grown-up e-Ferrari be half as much fun as a three-quarter scale homage? One wonders. But have faith – I mean, look at their track record.