Big Reads
Speed Week 2017: Porsche 911 GT3 vs AMG GT R
The classic track sports car - the Porsche 911 GT3 - takes on Merc's hardcore AMG GT R
You can't beat a GT3, can you? Seriously. That's not a rhetorical question. Is it possible to build a superior track-ready, road-legal sports car than Porsche's two-seater 911? Two German companies have had a go recently. One of them is called AMG. The other, cheekily, is Porsche itself. So they've got a head-start.
The new GT3, or 991-gen 911 v2.0 if you prefer, conceals a new 4.0-litre flat-six behind some rethought aerodynamics. The facelifted front bumper is droopy-lip ugly, but working in tandem with a steeper rear wing and token diffuser, it squashes the Revenge Of The GT3 into the track – or an unsuspecting road – with the same force as the current GT3 RS.
Advertisement - Page continues below
Words: Ollie Kew/Photography: Rowan Horncastle and Mark Riccioni 
Its naturally aspirated alto of an engine ("engine" seems too uncultured a word for the screaming heart dangling out back) spins to 9,000rpm, and wrings out nigh-on 500bhp. And as you might have spotted on a few fleeting internet discussions, you can have a manual gearbox in a GT3 again, swapped in for the irreproachable, insta-shifting paddleshifter at no fee. Thought you'd save a couple of grand doing the leg- and arm-work yourself? Hah! Jog on, enthusiasts. You've made Porsche backtrack on PDK-gate and you're going to fork out for it.  
Actually, this one's a long way from the optimum spec of GT3, unless you really, really fancy one as an everyday hackabout. Sure, it's got the £6,498 carbon-ceramic brakes, but the squashy electric chairs are too much Carrera, not enough racecar. It simply doesn't feel purposeful enough not to have to vault over an evil carbon bolster. This one's got nav, the Bose hi-fi, air con and no scaffolding blockading the rear window. It's a GT3 Lux, if you like. A skinny salad, with cheesy fries and mayonnaise. 
Advertisement - Page continues below
So, if you worry about cocking up your überschports car with a rogue box ticked, 
I present the AMG GT R. The chef's special, as recommended by the waiter. There is no manual option, but the seven-speed dual-clutch transmission is spectacular. You can't deselect any interior accoutrements, but despite coming equipped with electrically extendable splitters, rear-wheel steering, a Burmester hi-fi and a 4.0-litre, twin-turbocharged V8, it's 15kg lighter than the standard, wayward AMG GT.
This one has a roll cage, which blocks what little rear visibility is left unimpeded by the huge wing, and bucket seats you don't so much sit in as clamp your torso into like a leather-coated exoskeleton. Wedged into the chairs, peering towards the endless bonnet with that monumental centre console and letterbox windows hemming you in, it's like lying in a bathtub on the Starship Enterprise.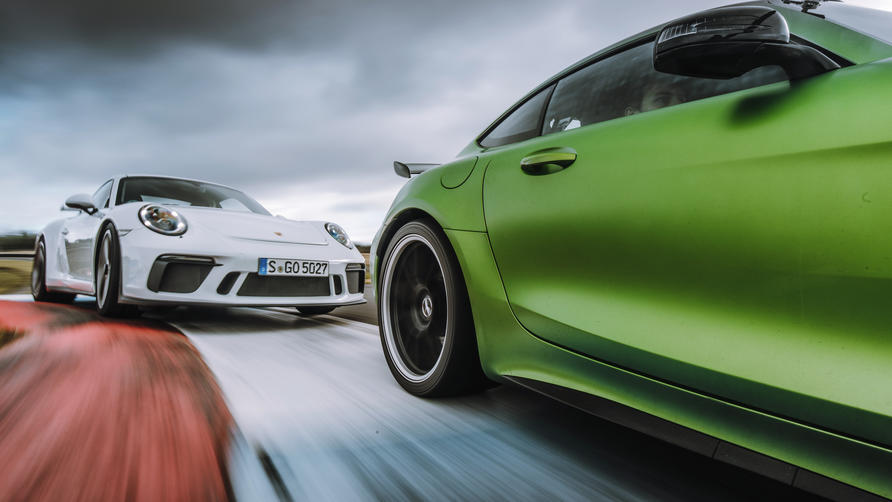 Think it's relaxing? Forget it. The AMG is all blood and thunder, a sensory sense of occasion overload. And here's the maddest thing – it's the steering that completely dominates the seat-of-your-pants, sweaty hands thrill of taming the GT R. No, not the engine. Not the bombastic, unbelievably responsive V8 tucked up into the dashboard, which once and for all erases any excuses BMW might have about turbo engines having the acoustic range of an ITV talent show reject.
The AMG shudders the ground at idle, burbling and chuntering like it's gargling the super-unleaded, not vaporising it. The cacophonous roar bellowed by its massive central tailpipe, flanked by two hidden outlets billowing superheated air into the diffuser, jiggles jowels and troubles bowels depending where you've got the throttle.
But it's not all happening in your wake – there's a pulsating cackle reverberating into the cabin too. It's a scintillating monster of an engine, every cubic centimetre the worthy successor to the old 6.2 V8. Still not as mad as the steering, though.
The rewards from its mesmeric powertrain and suffer-no-fools handling are addictive
All AMG GTs have absurdly reactive steering. It might as well ditch the wheel and have a toggle switch to change direction. Three clicks, either bolt left, dart right, or straight ahead. But the R rationalises the ridiculously over-sensitive front end by turning the rear wheels in tandem, so the back is ready to follow the giant nose into the bend. There's an idea.
Top Gear
Newsletter
Thank you for subscribing to our newsletter. Look out for your regular round-up of news, reviews and offers in your inbox.
Get all the latest news, reviews and exclusives, direct to your inbox.
Porsche installed RWS on the GT3 in 2013, because you can't cook up a front end that turns in this crisply, on a car with weight balance like a diver on the tip of a springboard, without getting the rears involved. Against every expectation, it's the plain-Jane Porsche that's more intimidating.
Despite being able to see out of it, steering steadily, singing mechanical music rather than artillery fire and having a lot less power, the GT3 is a bloody handful in the wet. All safety systems on, it's broadside before the revs have even spiked. 
Its Cup 2 tyres are clueless in the moist conditions. The GT R's one rung down the sadistic rubber ladder, and it's a lot friendlier for it. This is a car that wants you to impose yourself on it. Why else would AMG have dreamt up a 10-stage traction control ratchet to hone skills against?
The GT3 needs technique and massive respect. No gimmicks, no tolerance. If you're not in the mood – if you're not raising your game – then don't even bother. The wide green noise machine is a bloody good car pretty much all the time. But the GT3 is only as talented as you are.
If you're crap, it's a nightmare, admonishing your mistakes like a disappointed martial arts master. If you're good – a genius, even – it's still better. Flattery isn't in its vocabulary. The GT R is a laugh-a-minute muscle car from an aristocratic German finishing school, and the GT3 is a frustrated Le Mans racing car with cupholders.
And that's the quandary. Even after it dried out, and the GT3 warmed its slicks and warped around Knockhill, I had more fun in the GT R. More smiles, less serious face. But if you offered me a teleporter and both sets of keys now, I'd feel I had more unfinished business with the GT3. One more lap. Just one more after that. The rewards from that mesmeric powertrain and suffer-no-fools handling are addictive. 
The R is a wildly better AMG GT. More supple on the road, more trustworthy everywhere, now the turn-in isn't so headbangingly instant. The engine's a masterpiece, and there's mega play-value built into that ratcheted safety net. It's always on your side. It's also contrived and caricatured. A bit try-hard and overstylised in places.
Afterwards, the 911 seems plain. Clinical. Until you get your act together and discover that transcendent motor and scalpel-sharp balance are a drug you'd crave hit after hit of, whatever the risk. For sheer focus, you can't beat a GT3. But AMG's splendid über-coupe has got closer than anything else.