Big Reads
Speed Week 2017: R8 Plus Spyder vs Lexus LC500
Are the Audi and Lexus the heaviest, softest cars of TG's Speed Week? Or wolves in sheep's clothing?
On-paper stats only tell half the story. On paper, we have two cars sharing 18 cylinders and 1,072bhp. They couldn't be any riper for an appearance at Top Gear's Performance Car of the Year test.
Yet there's something novel about each of them being here. The Lexus LC500 and Audi R8 Plus Spyder have all the ingredients of cars that could monster this test, but the recipes they follow mark them as outcasts in the pit lane. I'm here to tell you why they're not.
Advertisement - Page continues below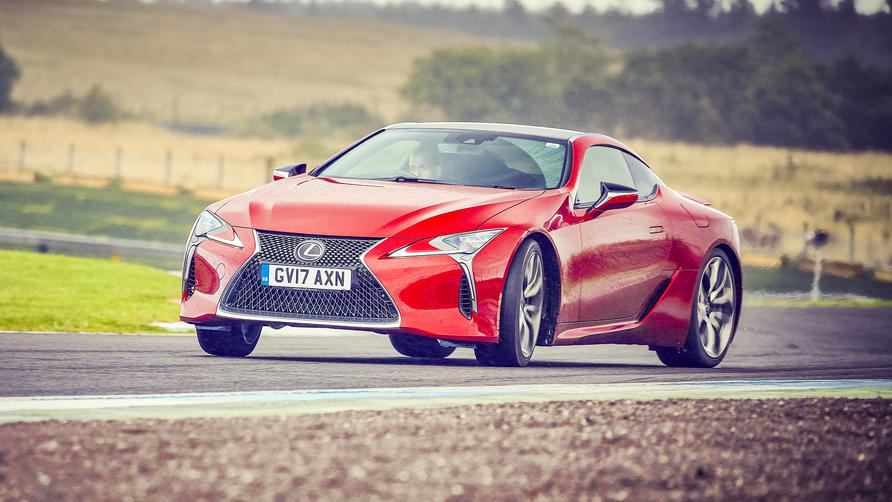 Words: Stephen Dobie
Bringing a 1.9-ton Lexus coupe to a trackday with a GT3 in its midst very much fulfils the 'knife to a gunfight' cliché. Only forget 'knife', the LC500 is more like a Hattori Hanzo sword. Same imbalance, just more beguilingly crafted.
It's just so sculptured. Once everyone's had their fill of the Ford GT's bewitching aero, this is the car they all want to pore over. Pick an angle, any angle, and it's easy to lose unhelpfully large portions of our tightly packed schedule just gawping at the thing. Even Lexus's own LFA might struggle for attention alongside it.
Advertisement - Page continues below
That's before you've climbed inside, which is another five minutes of the day, gone forever. Lexus has tried lots of quirky cabin features over the years – many of them crap – but the bits that work really work. The LC's dial references the LFA's, a TFT display mishmashed with beautiful craftsmanship, while you twiddle between the car's drive modes (or loosen the ESP) via a knurled dial curiously placed above the instrument cowl.
Enough prodding about, though, time to find out what the car's actually like. And what it sounds like when you find the red bit of that dial. Because while you can buy a hybrid LC500, you don't want to. You want this identically priced 5-litre V8 version, the manga-futurist styling draped over an incongruously old-school naturally aspirated engine. One that sounds every bit as atmospheric and soulful as you'd hope.
Which makes the stodgy responses of the paddleshift auto all the more disappointing. Here's a Hanzo-sharp engine, a nat-asp V8 at the crescendo of its life with the soundtrack to match, lumbered with a gearbox that slushes through changes like, well, a Lexus does.
There are ten ratios (yes, ten) but you'll barely use half of them on a wet Knockhill. I can only imagine the RSI you'll get if you're in manual mode for a dual-carriageway roundabout. The steering has a similar amount of stodge, and for getting a feel for this tricky circuit in the peeing-down rain, the AMG GT R proves a far friendlier, more predictable companion. Seriously.
What the LC500 takes is acclimatisation, and it all but demands you to ratchet everything into its sharpest modes. The shifts and steering improve, and while it doesn't metaphorically shrug off its weight and transform into a hard-hitting track special, talent does emerge.
The front-engine/rear-drive balance can make it a wild ride in the wet – Chris Harris emerges from it spouting joyful expletives – and it hits so hard up the straights when you've built the confidence to wring its neck in the corners. It never quite feels as sharp as it looks – let's hope and pray an LC F remedies that – but every minute spent in this car buries it a little more under your skin.
Top Gear
Newsletter
Thank you for subscribing to our newsletter. Look out for your regular round-up of news, reviews and offers in your inbox.
Get all the latest news, reviews and exclusives, direct to your inbox.
Mind, it's not the only one equipped with a howling nat-asp engine ready to trouble Knockhill's decibel meter. The Audi R8 has possibly the most theatrical engine of Speed Week 2017, save for the Huracan's, which is essentially the same 5.2-litre V10. It's mated to a far cleverer gearbox than the LC500's, and you could while away hours just snapping up and down through its seven speeds.
The engine is equally intoxicating as it burbles gradually through a high gear or when it's whapping off the limiter in a low gear. Playing tunes with an R8 V10 could talk round the staunchest of car-hating environmentalists, I'm sure of it. It's a superstar drivetrain, in a bona fide supercar. Even if the roof is made of fabric.
And it drives all four wheels of probably the most flattering chassis of our whole grid. The R8 is second only to Audi's own RS3 if you wish to feel skilled beyond your station in these conditions, only its additional 200bhp and more rear-biased attitude mean it's a far greater entertainer. It has a dizzying array of driving modes, like the Lexus, but it's sharp and precise in all of them.
The simplest short cut is the chequered flag dial on the steering wheel, standard when you upgrade to the Plus, which costs £13k more than standard and also adds 69bhp, carbon trim and ceramic brakes. You've a choice of Snow, Wet or Dry modes, each with the electronics loosened enough to make you feel like you're having a positive and influential impact on which way the car's pointing. But there's still more than enough grip to project you out of a corner like you've stumbled into a tensed-up catapult.
Frighteningly quick, bafflingly sharp cornering ability… if it all sounds like the soft, heavy roadster is in danger of outdoing the proper hard-top heroes, then there's one component that ensures the R8 remains an underdog: the brakes. Lord it's fast, but shedding even small amounts of that speed ahead of a corner requires strong forward planning. Ceramic they may be, but they struggle with the Spyder's 1770 kilos. Its heft ultimately stems any chance of a real upset taking place.
So perhaps on-paper stats are telling after all. That doesn't stop the Lexus and Audi putting huge smiles on everyone's face regardless. Our most unnatural track warriors barely pause for breath all day.