Electric
TG's concept of 2021: the Porsche Mission R
Concept cars are supposed to be a tantalising glimpse of the future to come, in which case, sign us right up to the Mission R
Concept cars are speculation generators.They exist to hint or point, to stir things up, to create a buzz. To make noise. Yes, even the electric ones. Just as well, because boy has the Mission R got a lot to say.
But of course it's not saying anything. We are. The next Cayman, possibly. I wouldn't be unhappy about that at all. It looks terrific and although we don't yet know how that car will be powered, we can say that the stylistic devices of this one more closely resemble a Taycan than a 911.
Advertisement - Page continues below
An electric Cayman then? Porsche itself says it doesn't yet know. Pull the other one. Going on a standard industry eight year model cycle means the 982's replacement will be here in four years' time. The design will already have been signed off, so too the packaging, which means the technical specification must be set. Heck, prototypes will probably already be rattling around somewhere. Perhaps it could be both hybrid and electric? All pure speculation.
Photography: Mark Riccioni 
I'm more interested in what the Mission R says about Porsche's attitude to motorsport. That it can be electric for one. But we already knew that because it competes in Formula E. Urgh, Formula E, motorsport made beige. If I was Porsche I'd want to make sure my electric motorsport programme looked beyond that too. This does. Porsche's statement that the Mission R has the performance of a 911 Supercup car was interesting and not just for what it says about this car's track performance.
Advertisement - Page continues below
The Supercup championship is a one-make race series that follows the Formula One calendar. But the racing 911 story has been done to death. It's not too much of a stretch to say that a one-make electric race championship is just the support act F1 needs to show it has an answer to Formula E and is looking forward rather than back. But let's, for a minute, look way back – 40 years ago the BMW M1 Procar series supported F1, a first step that two years later saw BMW take the big leap into F1 itself. Perhaps that will be the Mission R's ultimate role: a launch pad for Porsche's return to Formula One.
This is a one-off concept car that runs, and runs well. Because Porsche. The electric motors that power it – one on each axle – are taken from the Taycan Turbo S, but run here not on 800V architecture, but 900V. Nothing new for Porsche, as it's the same as the 919 Hybrid. And yes, the Mission R was engineered and developed by the same team. They know what they're on about. More voltage means more power: 429bhp for the front axle, 644bhp for the rear.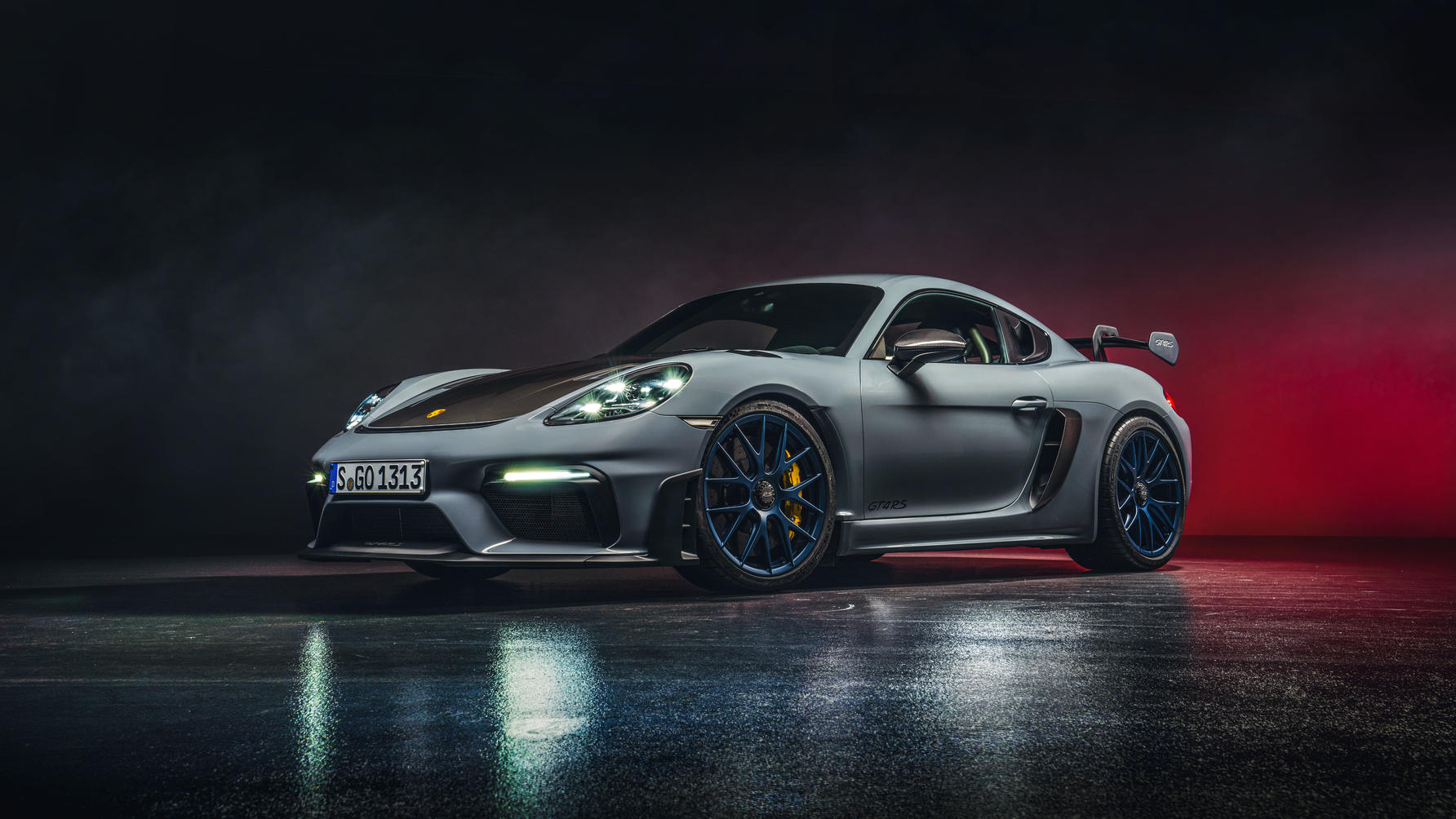 More interesting than the way it goes, is the way it stops. It's fitted with conventional disc brakes, but when I drove it 60 per cent of the front braking and all of the rear braking was done by regeneration. It has the ability to recharge the battery under braking at 800kW. Yes, 800kW of regen. That's incredible – the fastest charge it can accept via a cable is 350kW. Moreover it means pretty much every watt that goes out of the car under acceleration is reinserted as you slow. OK, it's not a perpetual motion machine, but it's a very useful way to extend your range. A range that would allow the Mission R to run flat out for 30–40 minutes – the same race duration as the Supercup typically lasts.
Which brings us on to the battery. Look how low the Mission R is, under 1.2 metres tall. Thinking that makes it a bit of a squeeze to sling a skateboard of batteries underneath? Correct. Instead it's a 250kg chest behind the seats, with a capacity of about 80kWh. Its location is essential, Porsche says, not only for the outward anti-SUV aesthetics, but to lower the driver as much as possible and improve the dynamics. Centralising the heaviest mass allows the Mission R to rotate better into corners.
It does change direction very well indeed. There's a section at the Porsche Experience Center in Los Angeles where you come firing up a hill over a blind crest, then plunge down through a quick right into a long, cambered-in left then a further right-left flick-flack. The steering wheel never stops moving yet the Mission R charges through it without apparent effort. No sense of the mass working against it, not least because the negative effects of 1,500kg are already offset by a suitably chunky set of slicks.
There's enough power to unhook them, though. It's bumpy around here, able to lift wheels into the air and remind you that this car hasn't done that much development work. It skips over the worst sections, there's a grumble of understeer as the front tyres reach their limits, but you feel secure because what the suspension lacks in full racecar sophistication it at least makes up for in reaction time. There's not a huge amount of mid-corner steering feel, but massive turn-in grip gives you confidence to push hard, knowing you can always call on huge braking power if you need it.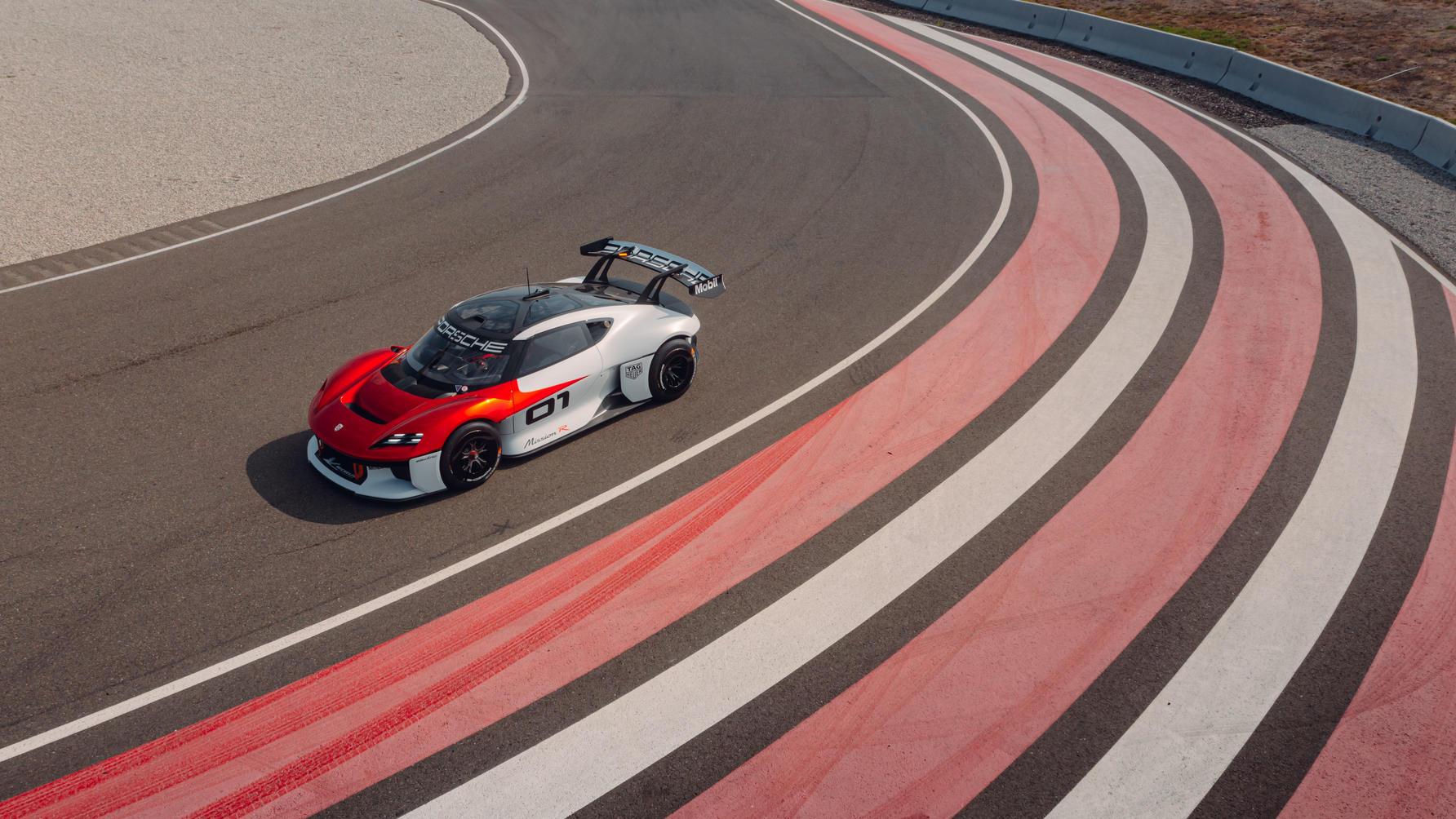 The brake pedal itself is a little mushy by racing standards, but then I'm shoving at electrons rather than hydraulic fluid and what's best is that Porsche seems to have nailed the handover between regen and disc. If there's a transition from one to the other, I can't spot it. No issues with the throttle either. Of course there's no lag or delay with electric, but there's a lot of power to distribute and it could all be rather sudden and hectic. Instead it's intuitive and accurate, easy to vary and adjust your line through corners.
Point it straight and when the slicks are cold the Mission R is able to spin all four of them off the line. Porsche says 0–62mph is dealt with in 2.5secs. I say Porsche forgot to press stop for a few tenths. It has roughly the same power-to-weight ratio as a Bugatti Chiron.
Top Gear
Newsletter
Thank you for subscribing to our newsletter. Look out for your regular round-up of news, reviews and offers in your inbox.
Get all the latest news, reviews and exclusives, direct to your inbox.
The interior may not be as opulent, but it contains some radical thinking. At the moment FIA regulations insist production based racing cars use an additional steel roll cage inside the car's existing structure. That limits interior space and access and adds significant weight. So the Mission R does away with it, instead featuring a carbon-fibre exoskeleton strong enough to fulfil the brief. Glass panels fill the gaps in the latticework above your head, letting in light. It's bright and airy inside, complementing the design.
The seat uses 3D-printed pads placed on a one-piece moulding that runs from the headrest all the way down underneath you. The material it's made from you also find on the doors. It looks kind of like carbon fibre. Similar layered construction, but the fibres are natural, so too the glue it's impregnated with. Not quite as strong as carbon, but ethically sensitive.
Even the aero has a soft side. There may be a giant wing on the back, but it's not all about downforce. Hydraulic actuators could give it a low drag mode, à la DRS. Because it's a concept Porsche hasn't made that work yet, nor the more interesting elements at the front of the car. The intention is that the aero flaps ahead of each front wheel should open and close, either stalling air, or allowing it to flow onto the front wheel. The engineers believe this would aid yaw performance on turn in.
Are you getting some idea of how many ideas the Mission R incorporates? Concept cars are often accused of being nothing more than show ponies, designed to carry the ego of the designer rather than the future philosophy of the company. This is different. It contains so much direct clever thinking as well as so many indirect hints of possible directions. Read into it what you will, but my main takeaway is this: I was worried about the future of motorsport in the electric era. This has done more than anything else to put my mind at rest.