Big Reads
Thrashing a 986bhp McLaren P1 GTR against a helicopter
The Senna has landed. Here's the time we went nuts in the track-only P1 GTR
The nerves set in about three days beforehand. Up until the phone call, I'd been telling myself the P1 GTR was just a car. A car with four wheels, an engine, two seats and a steering wheel. Practically a Mazda MX-5. What was there to be intimidated by? But then my memory bank would churn a bit, "You've driven a McLaren P1", it would say, "was that just a car? Let me twang a few nerve endings to remind you what 900bhp felt like through the rear wheels on a damp road." And I'd have to confess to myself that, no, the P1 had more in common with an especially volatile and creatively destructive piece of military hardware than a car.
And then McLaren phoned up. "We're going to send someone down to show you the ropes, tell you what's what, give it a bit of a demo run for you". Someone, in other words, to hold my hand, someone to make sure I don't sling £2 million worth of race-bred, track-ready hypercar into the wall at Turn 1 on the Red Bull Ring (far more likely to be Turn 3, actually – the downhill braking zone there is an utter nightmare). "Anyway," the voice continued – and I could tell he was building up to something here, "Bruno Senna will be flying into..."
Advertisement - Page continues below
Words: Ollie Marriage // Photography: Rowan Horncastle and Richard Pardon
I can't remember what was said after that, other than I felt slightly dazed as I walked back up the office to tell my colleagues that McLaren was sending a driving instructor out to impart some tips. 
Bruno is imparting tips. I'm trying to listen, but I'm feeling slightly overwhelmed. I mean, just look at the GTR. More specifically, look at that rear wing. That's 400kg of downforce right there. It's nuts. Earlier I watched it being backed off the truck. We all did, in fact, because although there's some mighty tasty metal in the pitlane, this is, well, this is it. The star of the show. The big kahuna. The main event. 
Advertisement - Page continues below
So we gathered as a stadium tour's worth of cables, trundle cases and spares was offloaded and watched as the McLaren roadies (OK, pit crew) set up shop in garage 19. And while the rest of the team whistled at the Inconel exhausts, pointed at the wing, said "Wiiiiiiing!" and picked up one of the aluminium wheels clad in slick Michelin rubber ("Sliiiiiiick!"), I retreated to the back of the garage to take stock and drink in the scene. Charlie Turner, who's sensitive to these kind of things, came over, "Just be safe, mate," he said, "no one's expecting you to be as fast as Bruno. Enjoy it." From across the garage, Tom Ford piped up, "He's only saying that – you'd better be bloody fast!" 
Fast. How much fast do you want? How fast can a road car, or even an extreme track car, actually be? How far can they be taken? There are no lines drawn, the only limits are those provided by physics. So we start with 1,000bhp, and to that we add racing slicks to help transfer that to the tarmac, and to make doubly sure it doesn't come unstuck we plonk on 660kg of total downforce at 150mph. The GTR hits 150mph three times on each lap, a lap that takes under 93 seconds at an average of over 105mph. Nothing else here would get within 12 seconds of it. 
The P1 GTR is being built on the production line at Woking alongside the 'regular' P1. It does a stint at MSO (McLaren Special Operations) a few miles away late on in the build process, but for the most part the underpinnings are common: carbon tub, front and rear aluminium subframes, a twin-turbo 3.8-litre V8 and an electric motor nestled under the left flank of the vee, drawing power from a battery pack behind the seats and adding its torque to the driveshaft before the gearbox. 
There's now 197bhp from the e-motor (up 21bhp) and a heftily unnecessary 789bhp from the fossil-fuel-fed one (plus 62bhp), yielding a pretty heady 1,000PS (986bhp). Oh, and weight has been stripped out almost everywhere – the fixed rear wing means there's no need for heavy hydraulic struts, polycarbonate replaces glass all round, including the windscreen and there's extra carbon. In total, about 150kg has been shaved out. Plus the suspension conponents and geometry have been heavily revised – although that's all adjustable anyway. 
This is a track car after all. McLaren isn't as prescriptive as Ferrari is with its XX cars: it will let you take your car home (and rumour has it Lanzante has McLaren's tacit approval to convert customer GTRs to road use), but this is meant to be the ultimate track-day weapon. And we're at a track, where an ex-F1 driver is attempting to bolster my confidence… 
"Really, you have nothing to worry about," says Bruno (he's a genuinely lovely bloke), "I think you'll find it friendly to drive." You won't find 'friendly' among the many adjectives I'd use to describe the standard P1. We look at the steering wheel (it's based on the design of Lewis's 2008 F1 rim), talk about the controls, the IPAS and DRS, get comfortable in the car, pull the straps down tight. Bruno is going to take me out in it to start with. The wheels, freshly removed from tyre-warmers, go on with a fierce screech from the airguns, the internal jacks are retracted and, when instructed, Bruno fires the GTR into life and we're waved out.
Let's cut to the chase. It's PREPOSTEROUS. 
Top Gear
Newsletter
Thank you for subscribing to our newsletter. Look out for your regular round-up of news, reviews and offers in your inbox.
Get all the latest news, reviews and exclusives, direct to your inbox.
I have no idea how I'm going to get close to it. Bruno may be laid back and endearing in real life, but he's the last of the late-brakers. Twice, slowing from 170mph, he overshoots the braking point for the Remus hairpin. Thank the god of all track marshals for tarmac run-off. 
We are having slight issues in the car – not personally, I hasten to add (although the first time he braked that late, my mind spent the split second between the onset of panic and the savage jolt of braking power dreaming up the inventive retribution I'd exact once out of hospital). It appears the addition of 75kg of extra passenger has upset the weight distribution, so in the bumpier braking zones, the ABS is getting confused, grabbing one side, then the other, the end result being we're not only braking stupidly late, but the back end is jinking left and right like a sped-up Scandi flick. It's… discomforting.
The forces are so great, the car so rowdy and Bruno working so hard that there's naff all I can do to influence proceedings, so I resign myself to whatever fate has in store and watch what he's up to. 
Bruno muscles it into corners under brakes, sorting out oversteer and understeer with faster steering inputs than I've ever witnessed, lightning jabs at the wheel that leave me astonished and daunted in equal measure. He's a driving mongoose. If the car needs inputs like that to stay on top of…
Eventually it's over, and I'm allowed to flop out of the GTR. Bruno apologises for the extra-curricular excursions, blames it on the ABS and has a word with the engineers. I'm left to contemplate what I'm up against. I will say one thing for the GTR – it seems uncannily stable on the straights, and the traction out of corners is utterly astonishing. My neck hurts. Five laps of 2.4g side loadings is enough. 
My turn. I resolve to take it steady, to spend 2–3 laps getting familiar with the power, the grip, the brakes. But here's the thing: the snatchiness, the dartiness I experienced with Bruno – that's all down to driving style. Because you know what? The P1 GTR is an outrageously magnanimous car to drive. Far more so than the road car. The problem with the road car is you have this light, accurate front end, and then a 903bhp sledgehammer arriving at the back, easily capable of spiking the tyres. It's exciting alright, but not easily managed.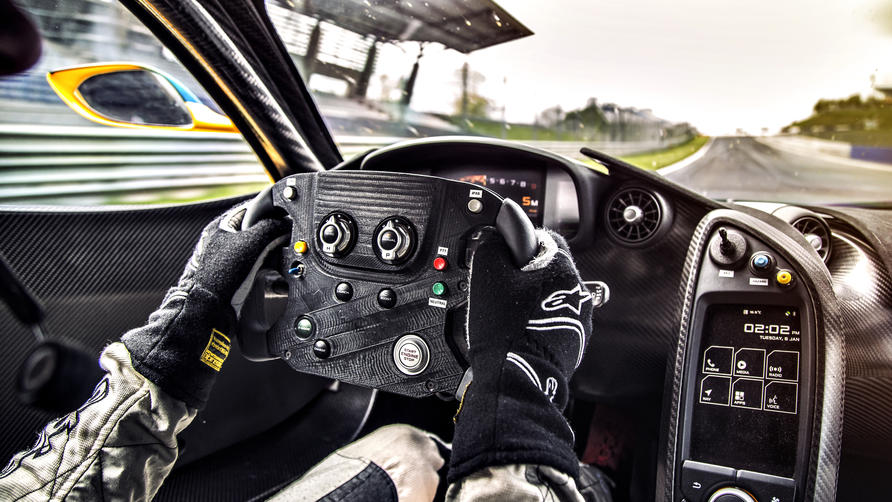 The GTR gives the P1 the grip it needs to cope with the power. I'm tentative for about two straights and three corners, but that's about as long as it takes to feel confident in it. Then you can start to push,to be blown away by just how much front-end grip and turn-in strength there is and how clearly it communicates. And now you don't have to be scared of the throttle pedal, you can use more of it, earlier in a corner, than I'd have believed possible. 
On my second lap, I think I'm getting fuel starvation through the downhill section. I'm not – it's the traction control cutting in. How has McLaren managed to make a 986bhp car this approachable, this drivable? The set-up is astonishing. There's so much feel through the chassis, the steering is so beautiful to use, you always know precisely where you are with it. You can take it to the limit – how ridiculous is that in a car with a Nomad's worth of downforce working on it? The speeds are outrageous, just bananas, but the GTR is so talkative and engaging you can use everything it's got, rely on the whiff of understeer to let you know the car is working hard. 
I can only assume the e-motor is doing its stuff – there is too much noise, excitement, accessibility and power higher up the rev range for me to bother sampling the lower end. The only indication is that there's no turbo lag. None. Just instant, perfectly metered response. The only thing I struggle to get my head around is the brakes. I just can't bring myself to brake as late as Bruno, nor push the corner entry quite as hard. 
I ought to be so intimidated by this car, but instead I'm just dazzled by it, blown away. It's utterly tremendous. It makes me laugh out loud, this £2 million track weapon – it's actually fun to drive, wonderfully unintimidating. On my third flying lap I'm within a second of Bruno. He probably wasn't trying, but that made me feel good. 
We're in the pits, all smiles. The McLaren boys are happy, I'm gurning like a muppet, when we hear the clatter of rotors and Blacky Schwarz parks his Cobra attack helicopter in the paddock. Ha. Everyone swarms, even Bruno wields his cameraphone. We decide what to do with it. "Ollie, can we get you back in the P1, please?" says Charlie. Like I need to be asked twice. 
What follows is the best 20 minutes of my life (sorry, darling), as I'm chased around the Red Bull Ring for ten laps by a helicopter gunship that can pull more than twice the g-force, and is so close at times that the rotor clatter drowns out the V8 and I can feel the air pressure waves thud through my ribcage. I should just check out now. It'll never get better than that.