Big Reads
The Torsus Praetorian vs Mount Etna
The Praetorian is no ordinary bus, but then again, Mount Etna is no ordinary mountain...
Anxiety management is simple in theory, much harder in practice, though the basics are exactly the same whether it's opening night on stage, a first date, or the first time you attempt to catch a bullet with your teeth. You just break that thing down into the very basics. Perform a piece you know. Go out for dinner or a movie. Take a bite of something. Make it sound simple, and it loses its power. So today, I'm going to drive a bus up a hill. Which sounds perfectly sensible. There's a tiny bit of extra risk in this case, mind. Because it's not a normal bus. And it's definitely not a normal hill. Ah.
The 'hill' in question is Mount Etna here on the east coast of Sicily, and it's one of the most active volcanos in the world. Something that's made blatantly obvious by looking up from the coast and seeing the mountaintop quietly smouldering like last night's campfire. Mountains, as a general rule, are supposed to be reliably dull. They should not be prone to smoking. But then again, they aren't supposed to explode either, but the evidence of my own eyes suggests that Etna doesn't listen. Glance up from the road out of the town of Catania and the vertical panorama is corrupted; green scarred by a broad swathe of black that cascades down from the top like a dodgy line of code. Etna very much isn't offline. An active stratovolcano (the conical ones that tend to be more explosive than the more genial shield volcano), it's the tallest in Europe, has a tendency to randomly spurt molten rock. As a result, the whole thing is actually getting taller. Over a six month period in 2021, Etna layered so much extra molten icing over itself that it actually grew by 30 metres. It smokes more than a 2001 diesel Transit, and the most recent eruption considered 'major' was actually in February. Of this year.
Advertisement - Page continues below
Luckily for me, the term 'bus' also covers a lot of intellectual ground, because this is not your average item of public transport. The Torsus Praetorian is a normal coach in the same way that a great white shark is a fish. It's leaner, meaner, more capable. Designed from the outset to be a multi-people-mover with extra ability, a super-sized MPV. It's got big tyres, even bigger suspension and more diff locks than it has axles. It also looks like it's been designed with dark thoughts at 2am, eyes gritty from lack of sleep and an imagination doling out semi-lucid nightmare fuel. The luxury coach of the apocalypse. A bit of kit necessary because when a vicious waterfall of molten rock wounds an entire island, leaving behind a thick keloid of black scar tissue, humans adapt. We build a road up it and make tourism happen. Obviously.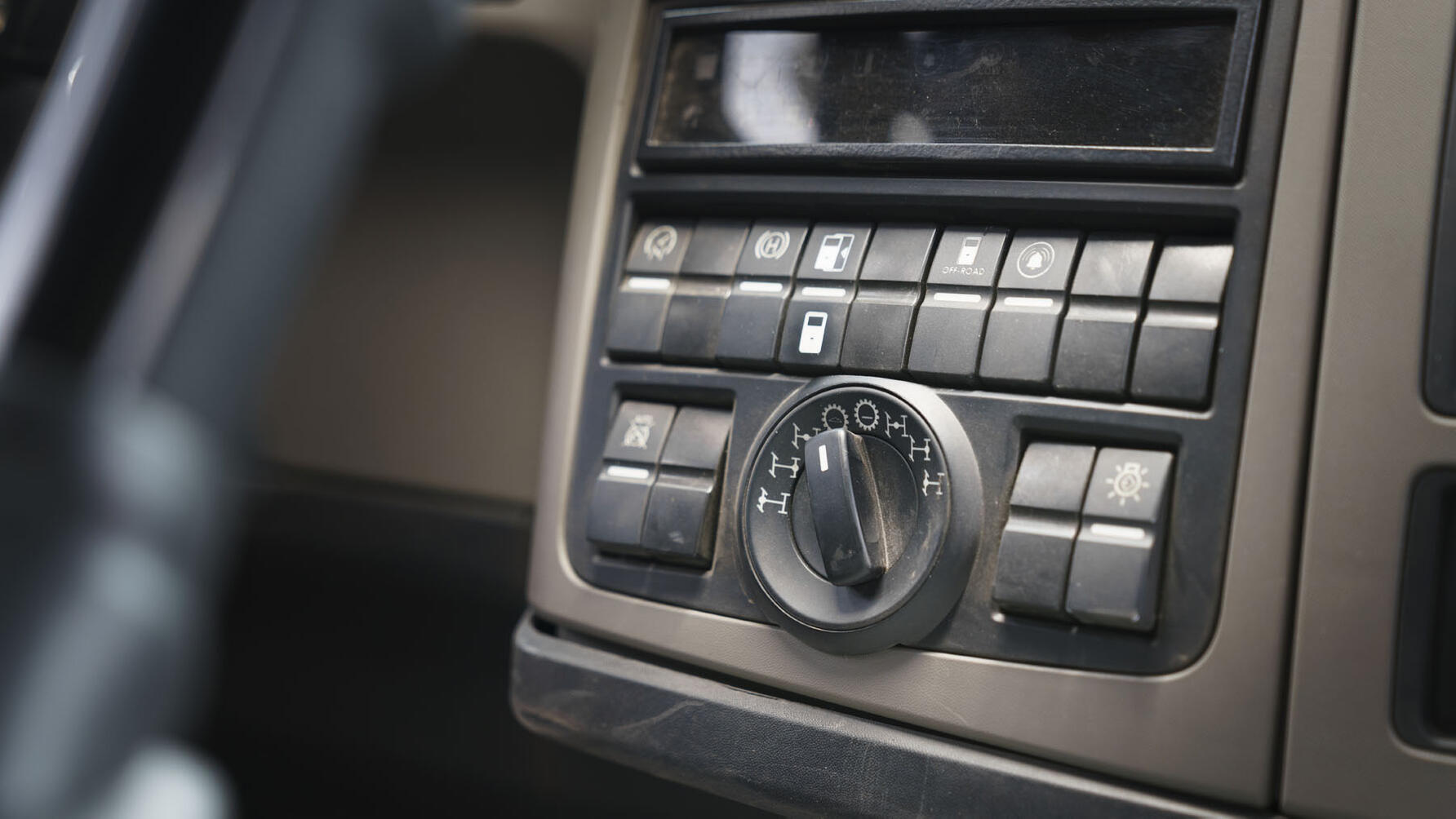 There are roads up to the top of Etna. Rough, broken roads that tend to wander in the face of unusually mobile geography. We will be employing some of those lesser-used routes today, to see if the Praetorian is actually capable, or just a butch-looking bus. But first, I've got to learn to drive it on Sicily's tight and twisting tarmac mountain roads – if I can't handle it, I can't drive it on the mountain's barrierless switchbacks. No pressure.
Advertisement - Page continues below
First impressions? It's big. It'll take 34 people plus driver, all of them with spacious leather seats, seatback charging points, air-conditioning – all the things a modern traveller might expect. The driver sits slung out proud of the front axle, clutch on the left-hand side of the steering column, brake and throttle on the right. The view forward is generous, the view behind a long aisle bracketed by seatbacks. Three-point turns are a pain. Release the air brake, slot first, and it pulls away with ease. Albeit slowly as I gauge the extremities and try not to scrape it down roadside trees, churches and huge lumps of black lava.
Usually, you'd be diplomatic with the drivetrain on a specialist bit of kit, try and encourage the meshing of gears and negotiate some measure of mechanical sympathy. That doesn't always work with the Praetorian; it likes big, positive inputs delivered with the bluntness of an iron bar. But that's not to say it's particularly difficult to drive, it just needs adjusting to. And you have to watch the speed – the raised suspension, big boofy tyres and general weight mean that the Praetorian is not particularly nimble. Get too excited on the way into a mountain hairpin and momentum will extract a heavy price for the sin of speed.
This is not a surprise. The Praetorian is all about making something that is largely unique in its fitness for purpose, but purposely not mechanically unique. Underneath, there's a ladder chassis and drivetrain from a MAN 4x4 truck, complete with selectable all-wheel drive, a selection of both differentials and locking mechanisms and anti-roll bars the thickness of my wrist. Mounted near the front is a 6.9-litre straight-six diesel that produces a lowly sounding 290bhp, and a much more impressive 848lb ft of torque – giving you some idea as to what this engine's purpose really is; it's a big, low-rev shunter rather than a peaky power maker. And then there's a 12-speed semi-auto with a proper transfer case. And in this format, 'semi-auto' means four forward gears via a traditional manual box with a clutch, but when you arrive at fourth, you press a switch and start again in the position of first, which is now fifth. Same again at eight: you flick a switch and start at first position in ninth. We didn't use the top end of the box, simply because Sicily isn't quite big enough, and the stuff we're driving on needs more earnest gearing.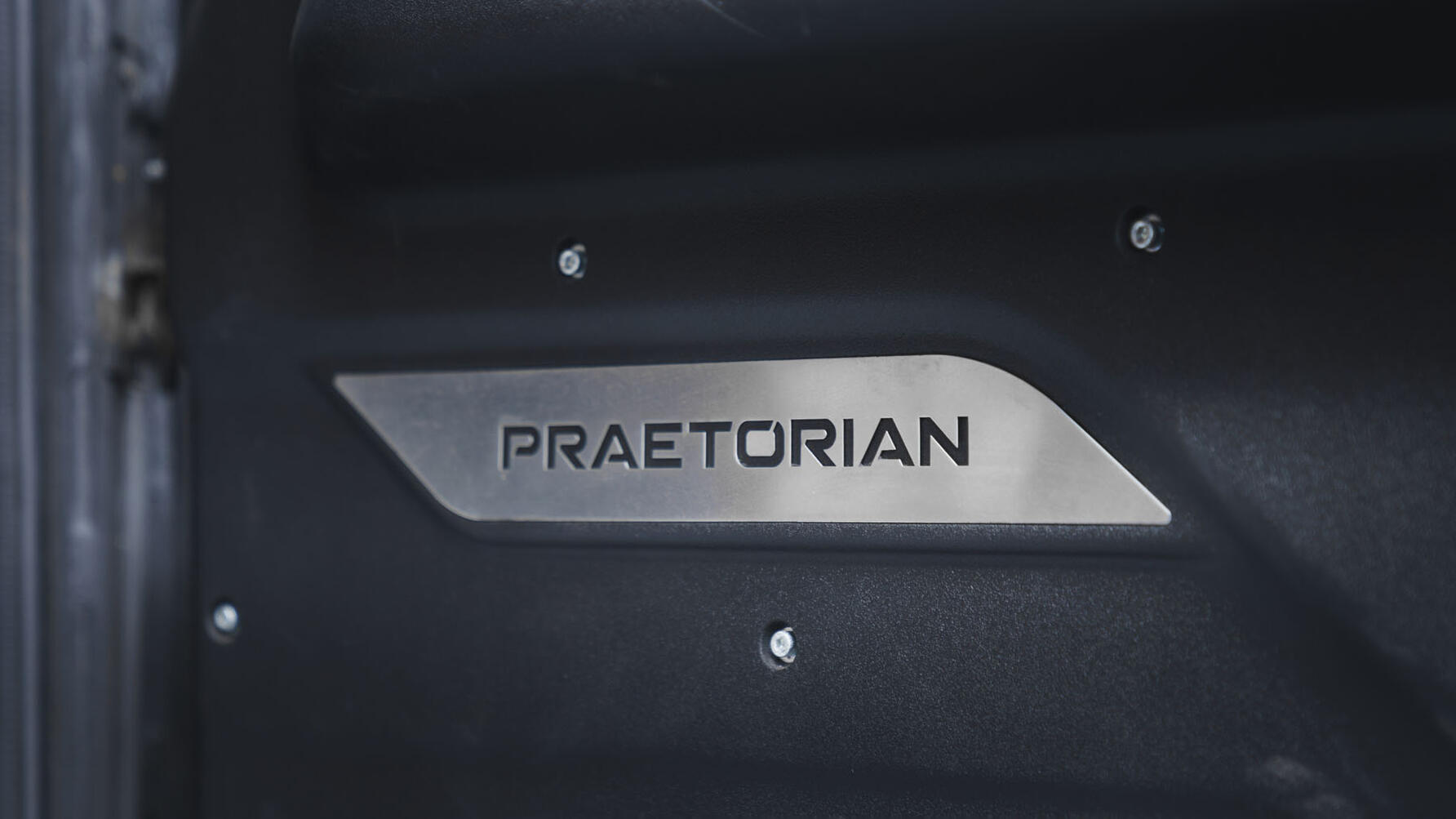 On top of the truck chassis sits a hat of a triangulated spaceframe a bit like a racing car. So the Praetorian is both sturdy and safe (and capable of meeting very stringent safety standards), if not particularly light – it weighs 13,600kg in basic trim. The fancy corsetry then provides a handy base on which to hang a hardened skin of plastic panels. Now, the panels in question are both exceptionally tough and easily replaceable if damaged. This is good. The MAN global network can be accessed for servicing and maintenance, and everything is warrantied up to the eyeballs. So even though the Praetorian looks like a very specialist bit of kit, it's actually a machine that can keep downtime to a minimum. And the basic structure – without the 34-plus-driver seating of our version – can be used for pretty much whatever you want, from an off-road giant ambulance, to a mobile workshop to a command centre or tourbus. Off-road camper? Yep. And a good one, at that.
Apparently I passed some sort of test, because it's not long before we're faced with a barrier into the national park and some proper volcano off roading. Engage four-wheel drive from the dial on the dash, and we're off. Now, the lower slopes of Etna are green and glorious, the local flora taking advantage of the fertile volcanic soil to produce everything from citrus fruits to hazelnut harvests. But as you rise above the forest line, it suddenly looks like a bomb has hit the place. Which it kind of has. Petrified trees that have been boiled where they stand reach like skeletal fingers through the veil of black sand, a rudimentary track looping through the lower valleys. The lava is cold now, obviously. Sharp and crunchy underfoot, unwelcoming and alien. And yet life will find a way. There are bushes scraping existence from the spiky black sand, flowers every now and again – even, somewhat incongruously, butterflies.
And then, even those little flares of life simply stop, and it feels like you're on Mars. The script of the landscape is misspelled, like someone dictated it down a bad phone line and now a section makes no sense at all. Kill the big diesel and step outside and the silence is loud enough to be impressive and oppressive at the same time. You can hear your stomach rumble, hear the rasp of your breath. We learn that a fortnight previously, NASA was testing and photographing the Mars rover here, and you can see why. Up above, the fuse of the mountain burns endlessly just above the caldera where we are, down near an observation post that looks like some sort of interstellar base from Star Wars.
It's humbling stuff, this. Possibly more so when you find out that Torsus as a company springs from the backing of a specialist conversion company called Pulsar Expo (which converts equipment for organisations like the United Nations and big mining concerns). PE is owned by a Ukrainian couple, the Dzhukashvilis, and currently, all other Praetorians are back in Ukraine running humanitarian extractions and doing aid work. If you want to get lots of people moved around when someone's bombed out your road infrastructure, I couldn't think of anything better. Driven correctly, the Praetorian is extremely capable, and unique. But stood on the side of a living volcano, driving a vehicle like this, knowing what we know about where the rest are, your own problems seem very, very small.
After a bit of light marvelling at the landscape, it's time to descend – low ratios and diff locks for the tricky bits, slacken off the transmission for the more benign sections. Truth be told we could probably drive up here in a four-wheel-drive car if careful enough, so we go and find some lumps and bumps to see what the Praetorian is capable of. Imperious is a good word, picking and shambling its way across rough terrain like a camel, a cadence to the suspension that you pick up after a while, and move with. It feels comforting and bombproof, bringing to mind the name; the Praetorian Guard was a specialised unit in the imperial Roman army that provided the great and the good with protection and intelligence. Well-informed bodyguards, basically. Which fits nicely when describing an all-conquering luxury monster coach.
Top Gear
Newsletter
Thank you for subscribing to our newsletter. Look out for your regular round-up of news, reviews and offers in your inbox.
Get all the latest news, reviews and exclusives, direct to your inbox.
The Praetorian may be quite specific – overkill for many and most situations – but Torsus also does a smaller, extra robust people mover based on the VW Crafter 4x4, and there are talks about electric versions for industries like forestry. But if you're going to come and take a look at views like this, then why not bring 34 of your friends with you? Places like Mount Etna are too good not to share. Vakhtang Dzhukashvili, when we talked to him, said that Ukrainians have a saying: "Freedom is our religion." The vehicles Torsus produces offer their own kind of freedoms, permitting access to places like Mount Etna for those who might otherwise not get to experience them. And that feels like the kind of religion I can get behind.