Big Reads
Track Pack: BMW M4 GTS vs Lotus 3-Eleven
Budding trackster with £120k burning a hole? £240k? Step this way
Normally the first thing I do when the track gates open at Dunsfold is disable the stability control. I did today – you don't get shots with smoke pouring from arches, and wheels canted contrary to the direction of travel without first dismissing the e-nannies. I even went so far as setting the BMW's M1 button in my preferred modes for doing skids (stability off, Sport Plus throttle, Comfort steering, since you didn't ask).
Advertisement - Page continues below
Words: Ollie Marriage
Photography: James Lipman
This feature was originally published in Issue 282 of Top Gear magazine.
But at some stage during the day, it all calms down, Stig-smoke dissipates and the nannies are re-engaged. And this, oddly enough, is where it got interesting. I was looking for ways to start this story, to show both similarities and differences between the Lotus 3-Eleven and BMW M4 GTS, to find some small common element that characterises and encapsulates them, and here it was.
Advertisement - Page continues below
You know and I know that these cars have precious little in common, but they do approach a similar destination, just from very different starting points. One is a road car modified for the track, the other, well, a detuned racing car is perhaps the best way to describe it. Both have forced-induction six-cylinder engines, are rear-wheel drive, have roll cages, fire extinguishers, adjustable suspension, maximum-attack aero devices, carbon body panels, wear the same Michelin Sport Cup 2 tyres and cost within a few grand of each other. At around £120,000. Not cheap.
And both have stability control. It's operated by a button in the BMW. Press it for M Dynamic mode, or hold it longer for "you're on your own, Sunshine". The 3-Eleven has a traction knob. You twist it: anti-clockwise for safety first, or spin it the other way for safety last. Spin potentially being the operative word.
I promise I won't dwell on traction control for too long, but indulge me for a minute. The BMW has conventional traction control – it rather jerkily reins in your worst excesses, grabbing the brakes and jarring the car, orange light flashing indignantly. It felt sluggish and struggled to realign the car quickly. Of all the cars I've ever driven, it is the M4 GTS that could really use a Ferrari-style side-slip control. The car is born to drift, so it should have a drift mode. Anyway, I digress – this is lazy stability control.
The Lotus has fizzy traction control. It even sounds good. You know the noise an F1 car makes with the pit limiter engaged? There you go. It's that staccato crackle, the exhaust signalling high-speed Morse code. You never get out of shape because the electronic parameters detect things before you can and cut the throttle. Seemingly hundreds of times per second. You have this awareness that the car is currently doing everything it can to sort things out and it's doing it at a rate you can't conceive. The dial? That just controls the amount of slip. Proper motorsport traction control.
But then the 3-Eleven is a product of Lotus's motorsport department. Not the automotive department, note. Yes, underneath there's an extruded aluminium Exige chassis and the familiar Toyota-sourced 3.5-litre V6 with added supercharger, but the engineering and development has been carried out by the people that create Lotus's GT racers. A lot of the engine mods that enable this motor to deliver 460bhp were first developed for the Evora GT4. Then there's the Xtrac sequential gearbox, adjustable Öhlins dampers, AP Racing brakes, fire extinguishers and battery isolators – you can even have an FIA-spec roll cage that makes this eligible for international motorsport.
This all seems to be going the Lotus's way, but let's not judge too hastily here.
You have a choice of two 3-Elevens: Road or Race. This is Race. It loses weight (35kg) and gains power (50bhp) and cost (£34,000 – splutter). The Road version has a standard H-pattern gearbox which I like the sound of, but if you're going to have a daft car with no windscreen, you want the one with the most ridiculous power-to-weight ratio. 460bhp pushing along 890kg means 517bhp/tonne. Enough, Lotus believes, to rival the lap record around here – their simulations show it should achieve a 1:14.0 lap time. The German Circuit? Seven minutes flat.
Top Gear
Newsletter
Thank you for subscribing to our newsletter. Look out for your regular round-up of news, reviews and offers in your inbox.
Get all the latest news, reviews and exclusives, direct to your inbox.
The GTS is almost 30 seconds faster around The German Circuit than the conventional M4, but is also almost 30 seconds slower than the Lotus – 326bhp/tonne courtesy of 493bhp and 1,510kg. That's only 68bhp more and 30kg less than standard, yet BMW charges more than double. I'm going to cut to the chase here: you're paying for exclusivity. Only 700 GTSs are being built worldwide, a mere 30 of which are coming to the UK. Still, that's more than the 311 3-Elevens Lotus will ever build.
This all seems to be going the Lotus's way, but let's not judge too hastily here. The GTS features water injection to cool and condense the air in the intake manifold, allowing the turbos to run more boost. There's a tank in the boot you have to keep topped up. As well as the roll cage and adjustable suspension it has an unusual fat-weave carbon bonnet, straps for doorhandles, a door card that seems to be some new blend of carbon fibre and wool (or perhaps it's just been put on inside out), an Akrapovič exhaust and orange detailing. Including those wheels. Several of my colleagues believe I crashed through a tuning shop on my way here this morning.
But Dunsfold is dry, and so far we've merely established that the BMW has clumsy traction control. We spend the morning doing pictures with it turned off, and they're suitably dramatic. Then a heavy April shower blows through. I don't think I've ever driven a car with more difference between its wet- and dry-weather behaviours. OK, it hasn't helped that we've peeled a few layers off the rear tyres, but the GTS appears to be driving on ice, the rear letting go with alarming ease. It's the electronically controlled differential that's at work here. The standard M3 can be a spiky thing, and I'm guessing BMW has recalibrated it with dry track work in mind. In the wet, it's pushing too much power through the outside wheel into Dunsfold's insta-low-grip surface (decades of aviation fuel impregnation will have that effect). The result, on one particularly memorable, and, with hindsight, ill-advised run down the runway, was snap oversteer at 132mph. That focused the mind.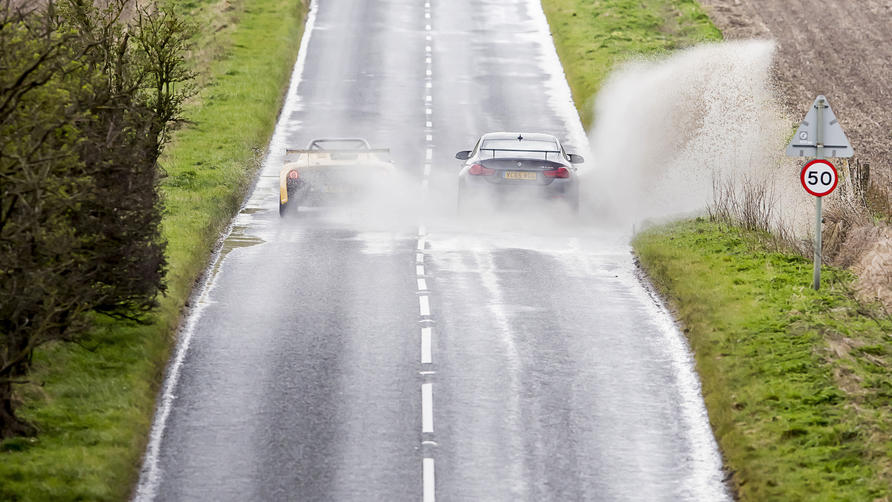 You're expecting I'm going to say the Lotus was even more treacherous, but the truth of the matter lies in the knowledge that a) it has no roof and b) it was raining.
For the sake of research, I did man up for a few minutes and found the 3-Eleven danced just as ably in the wet as in the dry. But in the dry… wow. The speed is the first thing that catches you. Because there's so much of it, and it's so relentless. All the sensations are ramped up because of your exposure, as you sit, head poked out of this covered bathtub into a world hectically fast-forwarding around you. With 64 per cent of the weight on the back axle, there are no traction issues, it just pummels gears two through six into submission so each becomes a brief, barely punctuated explosion of momentum, to the accompaniment of shrill supercharger and rasping exhaust. It sounds like a very large, very angry swarm of wasps.
It's addictive because it pulls off the trick of feeling massless, like there's no inertia to overcome. The supercharger's pulley response is incredible – it's like the best naturally aspirated engine you can imagine, but with the instant hit of a sledgehammer. The initial kick forces the air from your lungs, which is instantly thrust back in due to the fact you're now doing 100mph and your mouth and eyes are still big, shocked circles in your face.
The initial kick forces the air from your lungs, which is instantly thrust back in due to the fact you're now doing 100mph
The speed and immediacy. Wow. And, of course, it handles and drives like you already know it will. Dazzling steering feel, remarkable suspension compliance, staggering cornering grip, amazingly magnanimous chassis that makes it almost as skid-friendly as the BMW through corners, while carrying 10mph more. It sears round Dunsfold like a jolt of pure energy. It makes your nerves jangle and your body tingle.
However, a couple of things do affect the experience: the brakes are massively over-servoed, light brushes resulting in mosh-pit head snaps. I like a bit of left-foot braking, but the offset pedals and hair-trigger reaction make that tricky. But that's OK, as with the suspension and spoiler, that can be adjusted to suit. What can't be so easily overcome is the weight distribution. With only 36 per cent over the front wheels, they're not pressed into the road as convincingly as the rears, which means it pushes a bit through corners. You'd barely term it understeer, and if the brakes were more manageable I reckon you could dial it out, but if the 3-Eleven has a weakness in its dynamic repertoire, that's it.
It's magnified here because front-end grip is something the BMW excels at. It has little of the Lotus's talkative steering, but so positive is the GTS's turn-in grip that you always know exactly where you are with it. And, besides, in a car this oversteery, it's never going to be the front end that gives up first. So you can turn in hard and fast, and relish the grip and composure it has.
Now it feels different to a standard M4. Where that feels wayward, this is keyed in, and when you get back on the power in the dry, the differential actually works with you. Hands wrapped around an Alcantara steering wheel, the GTS feels pretty bloody special. It's a genuinely exciting track-day car that's alert, together and a bigger step up than I'd expected. You still have to gather up occasional slips, but that's surely just the car checking you're on your game, isn't it?
If I'm honest, you don't really notice the water injection and extra power, the sensations of which pale alongside the remixed soundtrack. The new exhaust gives the straight six a much sharper, raspier edge, there are flares and crackles when you lift off and pops and booms on the overrun. Naughty. Still not that much induction noise, and the gearing is a bit curious, with too big a step between second and third, but all in all… you would.
It's irrelevant to crown a winner here. The decision a potential buyer will make is more likely to be 'and' than 'or'. If I were to be brutally honest, the BMW pales somewhat alongside the Porsche 911 GT3 RS, and the Lotus isn't as intoxicatingly bonkers as a BAC Mono. But both are compelling cars that demand more than mere road driving can offer, while being so diverse that each reveals the strengths and weaknesses of the other. What a pair. What a garage line-up.