Big Reads
The Transfagarasan Highway: the world's best road?
Romania's highest road has all the ingredients in the Perfect Road recipe. But can it live up to the hype?
There are many characteristics that contribute to a great driving road. A string of great corners, probably draped over a mountain. Scintillating views as you ascend or descend. And a nice, remote location to ensure you've got it mostly to yourself.
The Trasfagarasan Highway in Romania gets a lot of that stuff right. Hundreds of corners, dissecting a section of eye-wateringly pretty Carpathian mountain range, which – yep – is slap-bang in the middle of nowhere.
Advertisement - Page continues below
But good luck getting it to yourself. Perhaps with some light assistance from – ahem – a British motoring TV show, it's now Romania's prime tourist spot. Get to the Transfagarasan (pronounce it like Transfer-garrison) after 10am and you'll more than likely join a train of 20mph tourists sticking phones out the window to record their selfishly slow ascent through the Highway's most famous set of hairpins. A fact not helped by its slim opening window; over 2km above sea level, it's typically shut from October to June because of how treacherous the weather gets.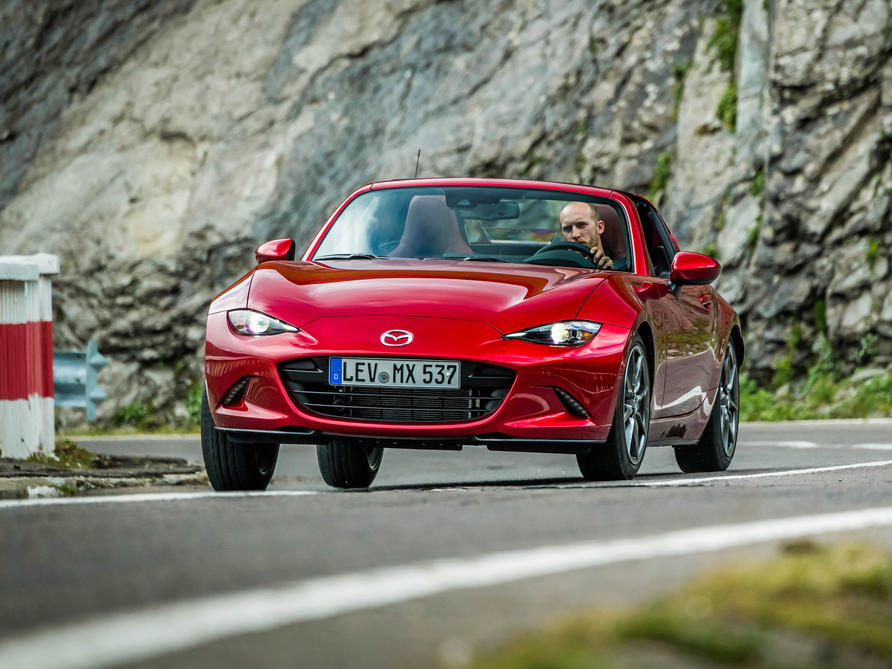 Words: Stephen Dobie
So what you do is set your alarm early for a smash'n'grab run up to the pass's highest point before all the roadside cheese stalls open (seriously), encouraging snail's-pace Dacia wagons as they do.
Advertisement - Page continues below
That's exactly what we did, with the latest Mazda MX-5 primed and ready. The top-spec 2.0-litre version now comes with – hurrah! – more power, signifying the roadster's biggest performance leap in years. It now produces 182bhp, revs harder and higher, to 7,500rpm, and comes with a standard limited-slip differential to ensure its newfound muscle is meted out neatly by the rear wheels.
It's still not a car that flings itself sideways with a prod of the throttle, remaining a My First Sports Car that needs provoking into silly behaviour. It'll only catch you out if you've clumsily gone looking for trouble. In truth, that's nigh on perfect for the Transfagarasan. While our presenters brought a trio of 500bhp convertibles here, having something with a third of the firepower takes away a significant amount of jeopardy.
Stay in the historically fascinating (and quite beautiful) city of Sibiu and you'll begin the Highway's 60 miles from the north, with a handful of tree-lined hairpins leading you to the sticker-splattered sign which officially kicks off the Transfagarasan. You'll know you've left your journey too late if there's already a swarm of cars haphazardly parked around it…
From here, the road's pace picks up, and after a dozen or so corners wondering where the scenery is, suddenly everything opens out: the mountain in front of you, probably cloaked in ice-cool mist if you've arrived early enough to enjoy the place to yourself. The road may only open in the heat of summer, but you'll be frantically prodding at the heated seat button if you're in an MX-5 with the roof down. Trust us.
The severity of the climb, with the hairpins strung out above you like fairy lights leading to the angel atop a Christmas tree, is absurd. Good job the MX-5's got a nice power boost to make light work of the relatively short straights between each corner; just long enough to contemplate changing into third gear, but worth keeping in second to avoid flustering yourself with a belated downchange as you turn the steering almost to full lock ahead of your next climb.
With the danger of plummeting down the hill gone, you're absorbed fully into the process of working the car as hard as you dare
Time things right and you'll punch right through the mist in a couple of corners and emerge above it, basking in the sun at the Transfagarasan's peak, albeit with the pass's postcard view somewhat covered in cloud. No problem: the distraction would only have delayed your onward progress.
Top Gear
Newsletter
Thank you for subscribing to our newsletter. Look out for your regular round-up of news, reviews and offers in your inbox.
Get all the latest news, reviews and exclusives, direct to your inbox.
Because, like all the roads that carried the heavy burden of 'world's greatest driving road!' before it (we're looking at you, Stelvio Pass), if you stop when you reach the vista you've seen in pictures, you've really not driven the best bit. As the tourists and cheese-hunters slowly wake up and start following in your wake, it's time to drive through the tunnel that cuts through the mountains and takes you to the southern leg of the Highway.
Make the briefest of stops at the tunnel's end – the views haven't suddenly disappeared – then enjoy a much smoother flowing, more enriching hour of driving, as the road more gently descends the mountain and through more trees to the simply astounding Vidraru Dam. (The road from the Stelvio's peak to the town of Bormio is similarly refreshing after the stop-start nature of the picturesque hairpins that take you there.)
Here the MX-5 is in its absolute element. It's a car most comfortable just below its grip limits, and maintaining momentum in third gear – only blipping down to second for the really tight stuff – you'll never care that it's not as serious as a Toyota GT86, nor as punchy as an Abarth 124. Its slender kerb weight lends it wondrously quick reactions, while it feeds every detail of the road service through your hands and bum.
Ah yes, the road surface. With the Transfagarasan's opening window so small, the highway authorities presumably take every chance they can to resurface stretches of it, using severely questionable methods that look like nothing short of ploughing the tarmac. Anything lower-slung than the little Mazda would jettison its splitters and sills like something resembling the sickening finale of a game of Buckaroo, thanks to huge divots in the road that greet you right at the exit of blind corners.
As do sleeping dogs. Most sections of the animal kingdom are strewn across the Carpathian Mountains, and while locals will warn you about bears – and keenly scroll to a blurry mobile phone picture of their last sighting, presumably taken at speed – you're considerably more likely to encounter the region's copious stray hounds. Hundreds of them cover the roadside in places, the braver (or stupider) among them taking a rest right on the tarmac, their most restful place often being the kind of spot a keenly driven MX-5 might bound towards from a second-gear corner.
Fear not, no dogs were harmed in the making of this feature. Nor, sadly, were any stroked or petted. While it's tempting to pull over and quickly make friends with the local câine, their wild status probably makes it unwise if you've not had a whole fleet of jabs.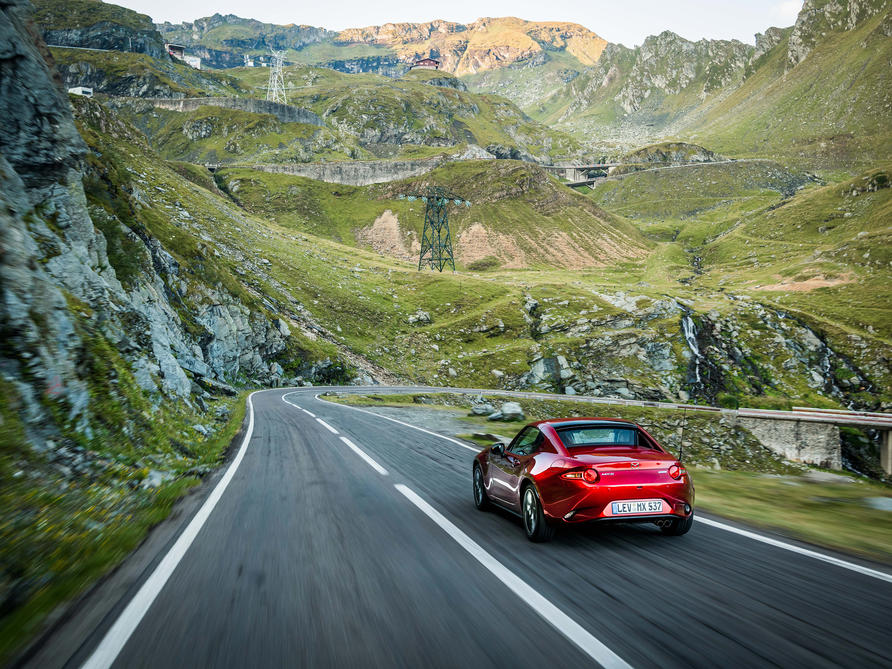 Soon the tree cover returns, the views completely disappear, and in truth the road gets better yet, with dozens of beautifully flowing, nicely cambered corners. With the danger of plummeting down the hill and the distraction of Insta-pleasing views completely gone, you're absorbed fully into the process of working the MX-5's newly keen engine as hard as you dare. And without going especially fast, forever the magic of the little Mazda.
We arrive at the dam, attempting (and failing) to squeeze its phenomenal height into a portrait iPhone pic, and spying the next tunnel that takes you to the final leg of the Highway. It's already spewing out hundreds of cars, each with at least one phone-clutching arm emerging from a back window.
Thus the run back to Sibiu is slow, no matter how easily the MX-5 overtakes trundling Sanderos. When there's so many of them, it ceases to be worth the hassle. Better to drop the roof (assuming it ever went up) and bask in the sun, returning to the Transfagarasan's peak while properly taking in the views you'd whizzed feverishly past when this whole road was your plaything. It's not even lunchtime yet, and driving nirvana has already been taken over by those who don't seem to particularly engage with the process.
A great driving road, then? It's got most of the right ingredients: a string of great corners, draped over a mountain. Scintillating views as you ascend or descend. And a nice, remote location. But you'll only ever get to fully tap into your car's potential for a precious hour or so. The lesson? If there's a road you adore, only tell a select few people about it. And certainly don't announce it on a British motoring TV show. Oops...