Big Reads
Is this the ultimate Bugatti day out?
The last prototype Veyron, the only racing EB110... and things got even more unusual from there
Where to start? Sitges-Terramar, now there's a track that needs its own story told.
First time I've ever seen a car slide sideways down a slope. Then there's the people. Andy Wallace, he of nonchalantly-doing-300-in-a-Chiron is here, so too legendary chassis guru Loris Bicocchi. Couple of my heroes right there. I have lunch sat between them, eating Chinese brought here by a Smart ForTwo with the numberplate EB110 GT. That's an odd one. The next day I drive a Veyron to a monastery to ask permission to shoot on their road. That was peculiar too.
Advertisement - Page continues below
It is, by any measure, not a normal story. So to help ground myself I'm going to tell you a back story. History records that no Bugatti, since a Type 57C driven by Pierre Veyron in 1939, has won Le Mans. But more than that none has finished Le Mans. We can go further. Because, across a time span of 81 years, only one solitary Bugatti has actually competed at Le Mans. This one. This actual one.
Words: Ollie Marriage // Photography: Rowan Horncastle
No 34, an EB110 SS road car, factory prepared to compete at La Sarthe in 1994. Still using the original manual gearbox, 4wd and modified road-car suspension. Commissioned by wealthy French publishing magnate Michel Hommell, his dream was for the car to be driven over 1,000km to the circuit from Bugatti's then state-of-the-art factory at Campogalliano, and driven away afterwards. It would prove to be a one-way journey.
Advertisement - Page continues below
The race wouldn't go according to plan. The EB110 was certainly fast in the new-for-1994 'supercar' class, the race organisers levelling the playing field between LMP and GT cars, only for Porsche to subvert the regs by turning its old 962 racer into a road car (the infamous Dauer Porsche) and then back into a racing car. But the EB110 ran well, ran fast, ran as high as sixth overall. Just had a small appetite for turbos. Five, as it turned out. And then a tyre failure less than an hour before the end caused Jean-Christophe Bouillon to spear into the barriers just before the first chicane on the Mulsanne straight. No fairy-tale finish back in 1994.
Another story. This one's even better. These cars – the EB110 Le Mans car, the silver EB110 (the only other racing EB110, it competed at the Daytona 24hr in 1995) and the Veyron – are owned by one man. He doesn't want to be named – not because of privacy, but because he doesn't want his story to detract from theirs. But I'm going to tell it anyway, because I think you'd like him. He got bitten by the EB110 bug (sorry) when he sat in one at a dealership in Vienna when he was 16. He started buying them at the bottom of the market. "They were around 150,000 euro – the same money as a Gallardo. And I thought: 'That can't be right, the same money as Lamborghini's entry-level car'. They made thousands of those, when this, they only officially made 128 of. And since Bugatti was already a million-euro brand because of the Veyron, they had to be hugely undervalued, right?"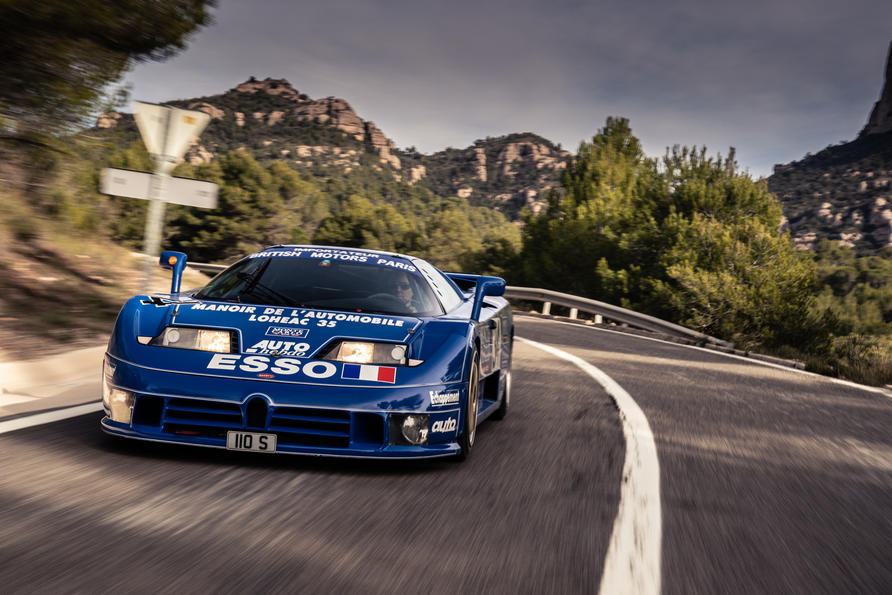 So, over two years he bought 10 of them, watched the prices go up (not least because his buying behaviour stirred the market) and then sold them for the three cars he really wanted. It's just those though. He's a Bugatti nut. Barring a pair of Smarts there's nothing else. But these are special cars, and historically significant (his EB110s are both signed by Romano Artioli; the Veyron, the very last prototype, proudly carries Ferdinand Piëch's signature). As an aside, it's worth noting that EB110s are now selling for roughly twice as much as Veyrons. The last one sold went for over two million euro.
We were meant to have a Chiron as well, direct from Bugatti, but it got called away for "engineering reasons". Not a euphemism for "crashed", but a need for emissions testing. Shame. It deprived us of a complete Bugatti hierarchy of 4wd, quad-turbo machines. Its absence does allow the Veyron to shine more brightly. I used to think it looked portly, but as time has passed, I've realised it has great stance, seems hunkered in on itself, the curves exaggerated, curving until they can curve no more.
There's also a denseness to it that speaks of engineering depth and integrity, even if it comes at the expense of driving finesse and agility. A statement, as much as a car. And what it told us back in 2005 was that the Bugatti brand was back, on solid ground and had the might of VW behind it.
That was a very different message from the one conveyed by the EB110 14 years previously. Its gestation was more troubled, if no less noble in its aims and intentions. Again, it sought to re-establish the marque, and got the financial backing to do so. Over the course of two years a factory took shape at Campogalliano. And, once that was done, they let the architect have a go at doing the car.
No, really. Famed designer Marcello Gandini refused to change his radical original proposal, so the firm turned to the guy who did the premises, Giampaolo Benedini, to now do them a car. He did a fair job. Maybe not as exotic as some other early Nineties hypercars, but it was distinctive, be-slatted and, above all, compact. Impressive, when you learn that he'd managed to package 4wd and a quad turbo 3.5-litre V12 in there. No luggage space, though. None.
Top Gear
Newsletter
Thank you for subscribing to our newsletter. Look out for your regular round-up of news, reviews and offers in your inbox.
Get all the latest news, reviews and exclusives, direct to your inbox.
On the flip side: 603bhp. Enough, both then and now. The initial 553bhp EB110 GT arrived in September 1991; just six months later Bugatti announced the SS, with an extra 50bhp and shorn of 150kg, thanks to carbon panels inside and out. Because this one's been adapted for racing, it starts once you've flipped the ignition-cut switch down and pressed a tiny button labelled démarreur. There's a whine and a rattle before it settles into a gravel-in-a-paint-pot idle. It's somehow perfect. As is the cabin, right down to the dusty dials, rough felt dashtop and matt wood gearlever.
I crawl off down the broken tarmac. It feels stiff, rigid, the engine chunters and hiccups, grinds its teeth and gnashes its jaws. So grumpy and short-tempered is it, that when I venture a fraction beyond 2,000rpm and start to hear the engine bay fizz and hiss, I instantly back off, fearful of what it's about to do next.
And this place intimidates me. As I head down the straight of this kidney-shaped oval, the 60° banking rears up over me like a breaking wave. Imagine this in 1923. The place only really hosted races for that one year, the circus moving on not because of safety concerns, but financial ones. That's another story worth telling: the builders didn't get paid, so at the inaugural event they turned up and demanded (menacingly, we might assume) the gate takings and prize money.
After 100 years of rewilding, the surface is largely awful. I skirt potholes and rubble, but my confidence builds; I get used to the noise, venture higher up the banking, get Andy Wallace out alongside me in the Veyron, Loris Bicocchi in the silver EB110. We form up and parade around, the Veyron's smooth rumble a world away from the EB110's anarchic noises.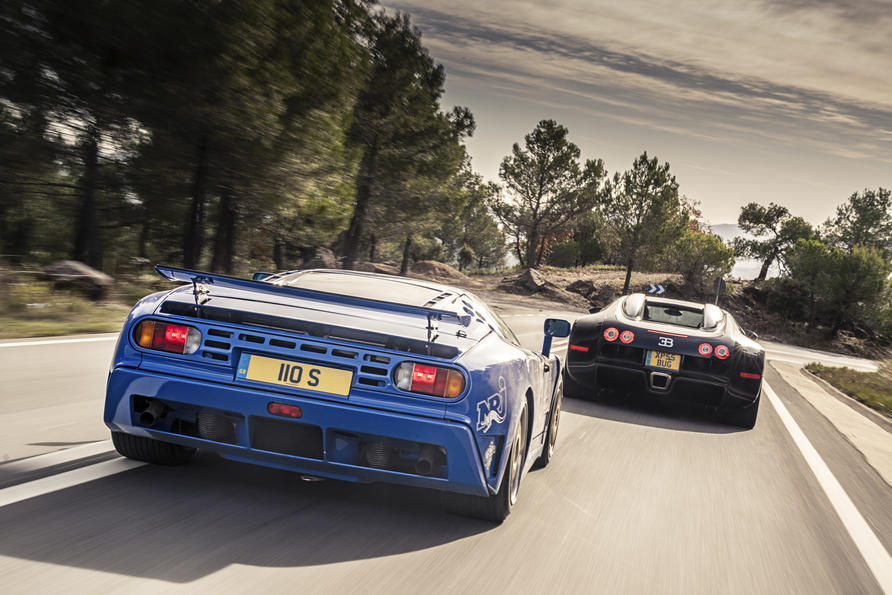 Actually driving though? Not here. Perversely for a racing car, I'll be able to push it more on a road. So, the following day, we drive up into the hills west of Barcelona. I use the Veyron to explore these smooth, sinuous routes. It's a torque monster, a bottomless pit of propulsion. It whooshes and surges, but is so slick and polished, so well engineered that your thoughts glide off it, there's nothing for them to stick to. The Teflon hypercar.
The EB110 is automotive Velcro. Everywhere you look, a hook. Something to make you pause, think, consider what it's up to or why it was done like that. Even summoning up the blood isn't really enough to make the springs compress much around corners, and it's not massively eager. Let's blame the inertia in the 4wd system for just taking the edge off its turn-in bite. But once into a corner it's stable, composed and, provided you manage to keep the turbos on the boil, you'll get yourself a gale force exit out the far side.
Ah yes, the turbos. Up to 3,000rpm their bark is worse than their bite. Afterwards, very much the opposite. This is not a modern turbo engine, that finds its boost level and flatly, dully sustains it to the 6,500rpm cutout. Oh no. The higher you venture, the wilder the noises, the more eye-widening the thrust. And the faster the pistons pump, the more air the turbos seem able to cram into them: this isn't a deep-chested motor, but a frantic, fizzing V12 that hisses and thrashes and soars. It's equal parts terrifying and life-affirming. Apparently, drivers of the time reported it accelerating as fast as race prototypes such as the Ferrari F333SP. I get out trembling.
But then I look forward and, the sad fact is, I can't see any alignment between Bugatti and racing now. But there wasn't really any then, either. The Le Mans EB110 happened because a rich guy wanted to do something special. Let's hope we see his like again.