Big Reads
UPDATE: Project Swarm, TG's mini Mitsubishi monster truck
Technically, it's a Mitsubishi L200. But it's also a TG project truck, which means it's a bit more than that
If I were a teenage millennial, you'd currently be looking at a line of smiley-face emoji and possibly an aubergine. Because I'm a smidge past my 31st birthday (*41, cough*), I'll be more literal; I am very excited by the arrival of Top Gear's new Mitsubishi L200.
This is because I am a big fan of the odd vehicle-based adventure, but sometimes I end up in places where the vehicle gets slightly overwhelmed. Well, for once, that isn't going to be a problem, because I'm going to actually build a vehicle specifically for a little trip I have in mind. And the L200 is the base car…
Advertisement - Page continues below
So. We begin with a standard, circa-£30,000 Mitsubishi L200 Double Cab pick-up, Warrior spec, in Electric Blue. That means the high-power version of the 2.4-litre four-pot turbodiesel (178bhp and 317lb ft), mated to a five-speed automatic gearbox. The engine itself has an aluminium block, runs MIVEC variable-valve timing and apparently returns around 40mpg, as well as being some 30kg lighter than the engine that went before it. This is all good news, as is a capacious fuel tank that should allow decent range from a standard fill-up.
Underneath, it's part Shogun, nicking a modified version of the front suspension (the rear is still a tried-and-tested elliptical leaf spring set up) and the 'Super Select 4WD II' selectable drive control for the AWD. That means you can run RWD high range (2H) for best fuel efficiency, 4WD high (4H) via a viscous diff for slippery bits, high range with locked centre diff (4HLc) for snowy/muddy stuff and low range with locked diff (4LLc) for crawling. Sounds complicated, but it's actually just a rotary dial in the centre console  - you just spin it to win it.
Advertisement - Page continues below
Inside we get five seats, leather, slightly late-'90s multimedia including bluetooth phone and the like, plenty of driver aids and a generally pleasant if not especially surprising cabin. First impressions? This is actually really rather nice. The engine has plenty of twist, and positively disappears at a cruise. You'll never mistake it for a petrol when you start it from cold… but it's a cracking light truck engine. The handling and ride is exactly as you might expect from a leaf-sprung rear end - it leans over a bit and shudders like nobody's business if you hit a decent pothole - but I fully expect that with a bit of a load in the back it'll settle down. And it'll take more than a 1000kg in the bed, meaning that it qualifies for commercial vehicle tax breaks (which drop the price to £25k).
All in all, it's a properly solid base from which to begin. But begin what, I hear you ask? Bluntly, I'm going to build a Euro-spec pre-runner. Now, pre-runners are to Baja off-road racing what 'gravel cars' are to WRC. They're fully specced and thoroughly upgraded production vehicles used to – you guessed it – 'pre-run' stages of hardcore off-road desert races and check for important things like cliffs, boulders and deathy bits. They tend to have the suspension and general demeanour, but without the full-blown race engines and general sense of sado-masochism.
Also, I've got a thing about off-road trucks, so this kind of makes sense. The list of ideas has been somewhat random and altogether fabulous, with some of the more outré fantasies having to be shelved because they were either a) impossible for the budget, or b) completely illegal.
First up will be an external rollcage to keep the bed in touch with the cab, and to keep the interior useable. After that we'll be taking a look at exhaust – I'm thinking something either side-exit or vertical – a comprehensive remap for the 2.4 turbodiesel, some very large tyres on appropriate wheels, new differential options, wheel arch flares, and some pretty serious suspension upgrades. There'll be a couple of inventive surprises, new seats and interior bits, a distinct lack of bumpers and very likely a lot of winch. It will look nothing like it does now, and that makes me very happy. The only things Mitsubishi have asked me to feature are black wheels, the electric blue base colour and the engine. They said nothing about what state of tune that engine had to stay in, however….
First job on any build is always, always decide what you want to achieve, and then plan how to get there in the most effective manner possible. Unfortunately, this is Top Gear, so in reality it involved coming up with 352 mildly silly-but-fun-looking ideas, and then panicking about not having enough time.
There are, however, some basics that could be covered. Firstly, I know that I'm going to be going somewhere sandy – probably Africa – for the L200's adventure when it's finished, so the thinking is to do – as discussed – a kind of Euro-spec pre-runner. The term has widened over the past few years, because you can technically pre-run in anything, but generally, you're looking at a vehicle with some of the upgrades of a racing truck (suspension, cage, tyres, winches, bumpers etc), but maintaining the road-legality and some of the comforts of a stock vehicle.
The plan involved drawing cartoon trucks so badly that it made every designer in the TG office either wince or laugh their heads off
Top Gear
Newsletter
Thank you for subscribing to our newsletter. Look out for your regular round-up of news, reviews and offers in your inbox.
Get all the latest news, reviews and exclusives, direct to your inbox.
So. We know we want the look and the rugged nature, but also the air-con and radio. The L200 is a good place to start, which is why we picked it: relatively simple, very rugged. Next up is a plan, which involved drawing cartoon trucks so badly that it made every designer in the TG office either wince or laugh their heads off. Then contact the man with all of the contacts, in this case a chap called Paul Cowland, who basically knows anyone with anything useful, to order up a wishlist of bits: suspension, wheels, tyres, exhaust, engine tuning - the good stuff.
After that, time to engage an actual engineer, to make sure that all of those bits, y'know, work. Step forward Ralph Hosier of RH Engineering (see below), who will oversee both the bolt-on bits and the do the proper custom fabrication - not everything comes off-the-shelf on this one.
Ralph has already laughed - and again, winced - at some of my ideas. He'll be supported by Brad and Dave - the team who are going to be largely responsible for the actual creation of the truck. Rather than me, who will be more .. um.. architect than actual builder.
The L200 - which we're calling 'Project Swarm' -  is currently at his yard being pulled apart to see exactly how extreme we can go without compromising usability. This, my friends, is where the stress and excitement really starts…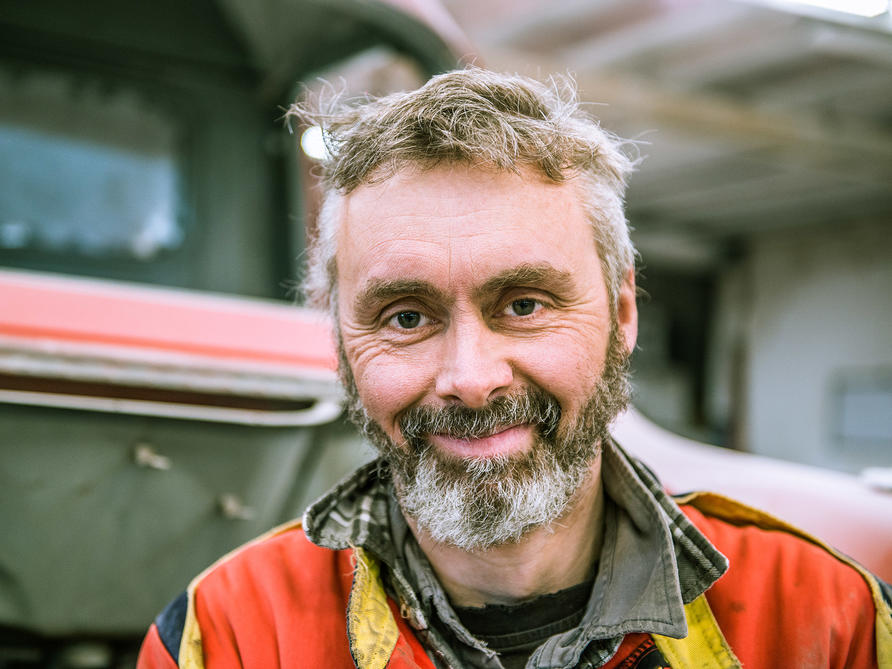 Meet Ralph
Ralph Hosier is a chartered engineer who has been at the cutting edge of automotive product development and research for more than 25 years, so he should be able to handle a very odd project truck.
He's worked with Bentley, Jaguar Land Rover, Ford, numerous racing organisations and many private clients, on areas as diverse as engine development, electronics and whole vehicle prototype construction. He holds a B.Eng (Hons) degree in Computer Systems Engineering, a Diploma in Engineering and is a Member of the Institute of the Motor Industry (MIMI), Member of the Institute of Engineering and Technology (MIET), Chartered member of the Engineering Council (C.Eng.) and - handily - a Member of the Guild of Motoring Writers (MGoMW).
If you recognise him, it's because he's been on the telly in shows including Supercar Megabuild and Top Dog Cars, completing automotive engineering challenges, and has written four books, including the go-to guides on converting and preparing Land Rover and Range Rover products for serious off-road work.
He's also a very nice bloke: he's played a lead role in developing Coventry MotoFest (turning the ring road into a race track), and, most recently, has been pivotal in creating a training centre and teaching wounded service veterans engineering skills to diploma level for the charity Mission Motorsport.
He was also the technical lead on the world's fastest lawnmower, a charity project to raise awareness and funds for heart disease charities, and has a Guinness World Records certificate. Which should be enough…
All I've really discovered is that he appears to run on strong tea and biscuits.
UPDATE TWO
I told everyone that I want a MotoPed 'Survival' mounted in the load bed, and an actual aeroplane wing as a roofbox. From which drones would launch. No one seemed particularly surprised. I've already found a man who can make the wing section; it can't possibly fail. And I've had the MotoPed ordered from the USA (where they are manufactured), so it's too late to change that now. It cost a good chunk of the budget, so I really do hope it's not complete crap.
But prioritisation is key. However, I am not prioritising. I am running around trying to find someone who can make me a rollcage. I've already been to meet two companies who are desperate to be involved in the project - I assume it's a bit more interesting than churning out motorsport 'cages one after the other, something a bit different - but neither can make me one in the timescale I need.
Basically, the external rollcage I want doing is the basis for lots of the other bits - without knowing where that sits, it makes it hard to work out where other stuff might need to be. Stuff like the suspension, exhaust, bed loader… argh.
Ralph and Dave are busy pulling the front end off to work out how big we can go with the wheel and tyre package. I'm tempted to stay fairly conservative with a 33/34-inch tyres because I know they work, I know we can get them, and I know they'll not require a full-house re-engineer of the differentials. But Ralph seems to think we can go bigger. And he's an engineer and everything.
Projects never run smoothly. But I was kind of hoping for one or two wins before the first inevitable loss. First, I'd done a lot of looking wistful into the near-distance and daydreaming of random things that the truck must be able to do, and the things I'd have to have on the L200 to enable it to do them. Some were a given, like a sizeable upgrade in tyre size, so it was off to Ralph the engineer's to see what we could fit that might still be useable on a 1000-mile plus adventure.
Running something stupid like 44s wasn't really an option, but anything over a modest increase (something in the 33-38-inch range) would be needing a bit of a suspension lift. While we're there - upgrading the rear leaf springs, front coils and damping - we might as well look at polybushing the entire thing.
And flaring the arches. And carrying two spares in the rear, like a proper pre-runner. And, for a bit of fun, why not have a small…er… off-road moped in the back? Because I've been obsessed with these things called MotoPeds for a while now, but couldn't actually afford or justify one.
And many lights. And if we've got lights, then there must be cameras. Which might need somewhere to live. Like an aeroplane wing. Ok, so this is where it all started to get a bit weird. But phonecalls were made, and many, many things were ordered. It was fun. We were all friends.
Trouble is, one of my main design wants was an external rollcage. And, after many calls to various suppliers and a couple of fruitless and time-consuming meetings, saw the L200 delivered to a man who promised to get one fitted in the timeframe we needed.
A man who then, a couple of weeks later when I was expecting the Mitsu back with a nice chunky rollcage, refused to answer calls, emails, texts… A man who then dumped my car at another rollcage manufacturer, who I turned up to with an extremely bad attitude.
It's a silly story, but not an uncommon one: most project car/resto people who have to rely on outside help have been here at one time or another. A blessing in disguise though, because Protection and Performance, where the L200 was dumped, do a lot of good 'cages.
They weren't involved with the disappearing rollcage man. They understood my need for something a bit unconventional. But we were also too far behind schedule to leave it with them… so more planning ensued. Time had been marching on, and there was suspension arriving on Tuesday, wheels on Wednesday, a winch on Thursday and nobody had even ordered the whip aerials…