Big Reads
Volvo XC40 vs Jaguar E-Pace vs DS 7 vs BMW X1
TG's big crossover showdown. New Volvo takes on Jag, BMW and DS
The cars are filthy. This is because it's February and we're out in the countryside. Some cars look good grimy (we once had an Audi R8 that looked utterly mega wearing 1,500 miles of road clag), but these four all seem keen to get to a car wash. I can't put my finger on what it is that makes some cars wear their dirt with pride, while others look like they're battling a rash, but we are talking about crossovers here – SUVs for an urban audience. 
Words: Ollie Marriage / Photography: Lee Brimble
Advertisement - Page continues below
But that's doing them a disservice. So successful is the crossover that the latest breed is designed to be all things to all people. Hatchbacks with more space and more style. These are the latest: the Jaguar E-Pace, Volvo XC40, DS 7 Crossback and BMW X1. 
It's possible to buy any of them for less than £30,000. Possible, but not easy. Say you'd decided that you didn't need more than a 150bhp diesel, front-wheel-drive E-Pace (E doesn't stand for electric, remember – that's the I-Pace). But could you tolerate a manual gearbox? 17-inch wheels? Fabric seats? No, a sweet spot in the engine/gearbox/spec/options can be found at around £33–35k. Which is quite a bit, although not as much as the cars we have here, of which the Volvo, a £39,905 First Edition, is the cheapest...
You can have any of them with petrol engines, and you're probably tempted to, but Volvo, for one, still forecasts that two-thirds of XC40 sales will be diesel, so that's what we have, each with around 180–190bhp. Automatic gearboxes, too, as manuals are so 2008; and 4WD (except the DS 7), to make sure we can get out of the car park. 
Advertisement - Page continues below
You're thinking the DS is an interloper, right? Clearly doesn't have the badge kudos of the BMW, Jag or Volvo. Doesn't matter. Because crossovers, particularly premium crossovers like this, are so new, benchmarks haven't been established – there's no right or wrong badge, no accepted class standards. In a way, that's what we're here to sort out.
Time for a static appraisal. We can ignore the BMW for the time being. Depending on the distance you're standing from it, it could just as easily be an X3 or X5 – this one's smaller, that one's far away. Too generic BMW and pure SUV, when we're after something new. Yes, like the X2 you have coming along in a couple of months...
The Volvo is something new. It's built on a brand-new platform, intended from the start to be a crossover, not shared with a Mini and an MPV (X1) or borrowed from the ageing Land Rover Evoque (E-Pace). It's a confident piece of design, boldly square.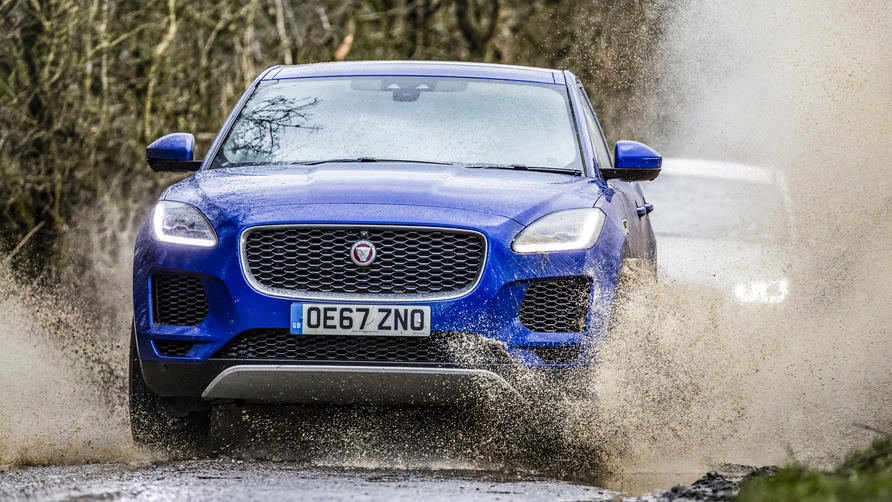 Volvo's design language is well suited to a crossover; Jaguar's, less so. The need to build it around existing underpinnings and give it a recognisable Jag face has required compromises. And Jaguar is too shackled to the idea of what a Jaguar is. For all its age and history, the design still seems to be finding its feet, and the result in this instance is a car that doesn't quite have the road presence it needs. But then neither does the DS. Here, the designers clearly realised the basic shape of the car was way too plain, so they set about hiding that away behind chrome, polished wheels, lights that spin (they really do) and so on. And then they forgot to stop. Too. Much. Design. Compare and contrast with the less adorned, yet more striking Volvo. 
Inside we go, and initially things look better for the DS. It's longer than the others and, on paper, has easily the biggest boot. But I can only assume this is because the 555-litre figure includes the underfloor area, while the others don't. From where I'm standing, the BMW looks the most spacious, plus it has a lower load sill, and a big underfloor area... its SUV roots paying dividends. None is small, though – all have bigger boots than a VW Golf, and more rear legroom. They'll do the family stuff. 
The BMW will do it best, though. It's notably well packaged, with good rear leg- and headroom, even if the seats themselves aren't that comfortable. That's a rare stumble for the XC40, too – the backrest is too upright, the base not long enough. The biggest packaging faux pas belongs to the DS – you can't get your toes under the front seats. OK, you can if you raise the front seat, but the driving position is already too lofty. Lovely soft rear seats, mind you. The E-Pace (middling space, decent seat comfort) does what it needs to do, but no more.
The Jag's dash is lifted from an F-Type. I wasn't sure about this, but actually it works well. The layout is clean and well organised. It looks – and for the most part feels – expensive (well, if it's good enough for a £80k sports car...). You sit higher than you expect – the highest of all these cars, in fact – but the driving position is natural and the controls are crisp and accurate. I'm not sure the seats needed to be this narrow, but as a whole the cabin is a success in this company. 
Top Gear
Newsletter
Thank you for subscribing to our newsletter. Look out for your regular round-up of news, reviews and offers in your inbox.
Get all the latest news, reviews and exclusives, direct to your inbox.
The DS 7's interior design is wilfully... berserk. It's mad. So much design, so much not knowing when to stop designing.
As is the Volvo's. Dark, yes, and like the Jag you have to be able to dig your way through the touchscreen menus, but it's logical, nicely assembled and feels like it's worth the money. I'd go for a softer, more welcoming, more Scandi interior vibe, though. More brown and cream than black. Just suits the tone of the car better. 
The DS 7's interior design is wilfully... berserk. It's mad. So much design, so much not knowing when to stop designing. It's beautiful – until you have to interact with it. There's not much stowage because the centre console is full of electric window switches, information on the digital dash is organised in largely illegible diamond shapes, choices are buried so far within the menu system that it took two of us 20 minutes to turn the screen brightness down. 
Then there are the niggles that shouldn't be there. Because it's designed by the French for left-hand-drive markets, the control wheels on the steering are the wrong way around (the right operates the central screen; the left, the dashboard), the glovebox is tiny because it's full of fuses, and the electric boot button is on the far side of the tailgate. These are all things that, on a car this expensive, should have been sorted if DS wants to be taken seriously as a premium marque. The Crossback is bafflingly hard to get on with. 
But also very well made. It feels like a big, expensive, luxurious car, and that contrasts starkly with the BMW, which comes across as comparatively penny-pinching. The plastics are cheaper, the layout is plain, the luxury is gone. On the plus side, while the DS 7 makes you feel tense because you haven't got a clue how to operate it or where to find anything, the BMW is a paragon of simplicity. There's a central clickwheel, so you're not forced to try to jab a jiggling touchscreen, there are actual physical dials on the dashboard – it's all easily understood. 
And the low scuttle makes it easy to see out and place the car on the road. And being a BMW, it drives well, provided you place the emphasis on handling, rather than ride and refinement. The BMW is reasonably nimble and well balanced. Better than that, it has the best engine/gearbox combo here. There's not much to choose between any of these engines for refinement, smoothness and noise intrusion, but if you value response and alertness, you need this or the Jaguar. 
The downside to the BMW is that it's a little harsh. Suspension noise intrudes, there's a lot of racket on coarse surfaces and the damping isn't as polished as the Jag's – or the Volvo's, for that matter. It feels engineered down to a cost. 
The Volvo is the surprise package here. It might not steer or handle as crisply as the BMW or Jaguar (it's not far off, though), but there's a strong argument for the XC40 being the best all-round car to drive here. That's right, a Volvo that's better to drive than a BMW or Jaguar. It depends on where you place your priorities. These are crossovers, they need to do the daily stuff well, and both the X1 and E-Pace are compromised. The Volvo has a more cushioned approach, tackling rough roads smoothly and dexterously. Its behaviour is calm and competent, it rides expensively on springs and dampers that have been brilliantly tuned for composure in a straight line, but progressive roll resistance around corners. It doesn't feel sporty per se, but gives you a feeling of quiet satisfaction. 
If only the engine were more alert. This is the Volvo's Achilles' heel. There's too much turbo lag, which is a quibble when trying to plan cornering, and downright frustrating when pulling out of junctions or accelerating into a gap in traffic. Nor is the gearbox alert or smooth enough. 
Actual turn of speed once the engine is roused is good – in fact, all four deliver a decent amount of performance. You won't want to use it all because they're diesels and are better surfing the mid-range torque than sending the rev needle around to 5,000rpm (5,400rpm in the case of the high-revving X1). But the DS feels way quicker than 9.9-to-62mph, and even the porky E-Pace isn't left behind. 
Jaguar ought to be both proud and ashamed of the E-Pace. Proud that it's made the car drive the way it does when it weighs so much, ashamed of that weight in the first place. 1,843kg. Heavier than an equivalent big-brother F-Pace, 150kg heavier than either the safety-conscious XC40 or the practical X1. It's also a chunk heavier than the car it's based on, the Evoque. 
It smacks of a car that's been rushed to market, a need to compete now, not do it better later. But to Jag's credit, the only time you notice is when you look at the fuel economy. We got 35.7mpg from the E-Pace, where the BMW (almost always the best at blending power and economy) returned 42.3. The others filled the middle ground: Citroen just under 40mpg, Volvo just over. 
To be fair to the Jag, it encourages enthusiastic driving. It has the sharpest, most direct steering, the least roll, is alert to throttle and brake. Because it's tall and seems narrow inside, it doesn't feel as if it should be capable of going around corners as flat and evenly as it does. Body control is exemplary for a crossover, and when you do get on the power in a corner, you can feel the power transfer to the back axle... the balance shift. It's the keenest to drive. But at low speed, the firmer suspension is more of a distraction. It can't perform the Volvo's trick and simply relax.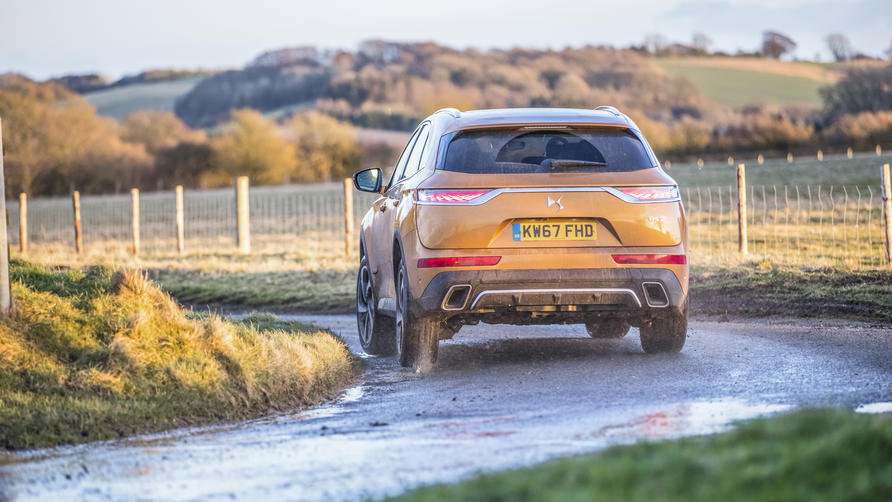 The DS tries, it really does. The primary ride, the float over undulations, is good, and the clever twin-spring set-up means most bumps don't make it past the defences. The suspension is well insulated. But the secondary ride, the patter on rough surfaces, isn't as good – the DS is fine, so long as the chassis isn't given anything too taxing to do. Or treated onerously. Lob it about and you'll discover it's a cumbersome thing that gives nothing through the steering and has no desire to discover what 'handling' is. 
And that's fine. Honestly. DS is a luxury marque, not a sporting one. A particular type of luxury, true, one that puts all the glitz on the surface and attempts to hide the more mundane realities underneath. But it is quiet and comfortable and bafflingly French and, well, expensive. 
Ignore the list price of this one. It does it no favours. The £43,535 Ultra Prestige is DS chancing its arm. It'll be a vanishingly rare choice. And besides, most people buy through a lease deal. The trouble here is that lease costs are heavily governed by predicted residual values and how the car trade believes that car will be viewed. And the news for DS is not good. Nor for Jaguar. Using a comparative lease calculator reveals a monthly lease cost for the DS of £513 per month, and £534 for the Jaguar. Both the BMW and Volvo will cost you roughly £140 per month less. That's a huge amount. 
There is an easy winner here, and that's the Volvo XC40. It's fresh, it's modern, it's an intelligent, cleverly targeted, attractively designed and well-executed car that shows real ability across the board. It's good to spend time in, easy to interact with, is cosseting when you want, yet quietly satisfying, too. It's the all-round package. 
The others string out behind it. The E-Pace and X1 battle it out for second and third. Which you place on top depends whether you prioritise practicality or style and driving. We've given the nod to the Jaguar because it fits the crossover brief better with its upmarket interior and crisp dynamics. It might be heavy, and based around old underpinnings, but Jaguar has done well with the cards it was dealt with. 
But it has no time to stand still. If we could have got hold of an X2 in time for this test instead of an X1, we would have. The X1 is perhaps too sensible, but what undermines it more is the fact it doesn't feel expensive. All its rivals here have more upmarket cabins and better noise insulation, while the DS 7 is a notably more luxurious, tactile product. Unfortunately, in other areas, the French car is just too idiosyncratic, too much of a niche choice to succeed. There's too much gilding on this lily. 
But beyond that, what this test shows is how the crossover class is maturing and developing. We might reject the needless off-road image, but in other areas – comfort, equipment, practicality – they're carving a niche for themselves above conventional hatchbacks. And the Volvo XC40 is carving it deepest of all.